Worcester 'Bandstand' pattern teapot and cover, c1780
(p1184)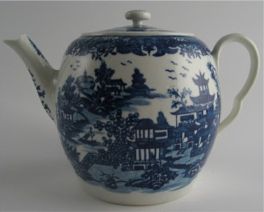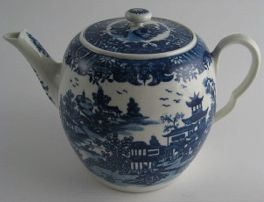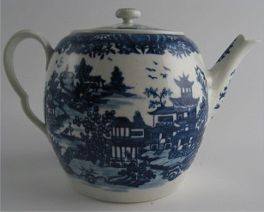 A beautiful Worcester teapot and cover, decorated in a blue and white with the 'bandstand' pattern, so called because of the bandstand looking building in the lower centre of the main print. This delightful barrel shaped teapot is from the famous Worcester factory c1780.
Click here to check price and availability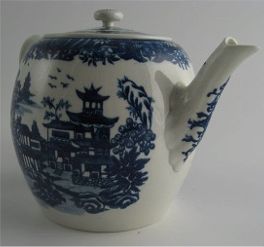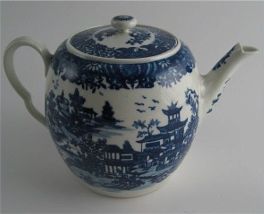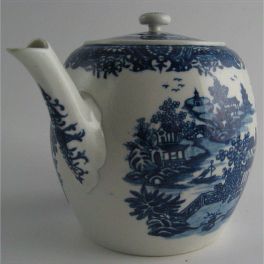 The main printed scene appears on both sides of the teapot.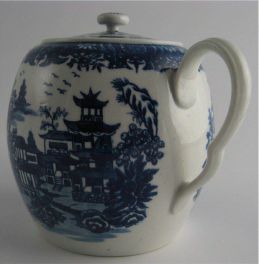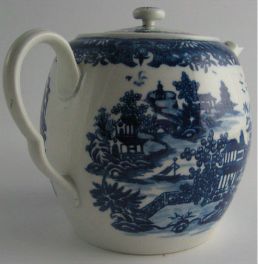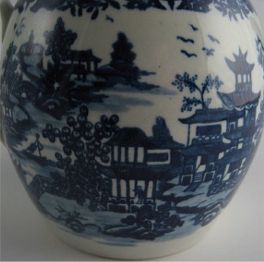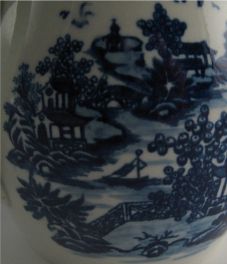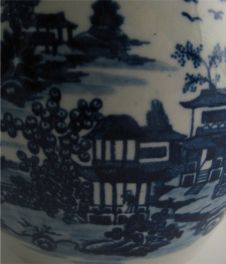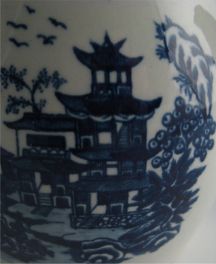 The centre picture above and below shows the 'bandstand' like building in which stands a figure. This is surrounded by Islands on which are more oriental buildings and trees and between the islands sails a little boat.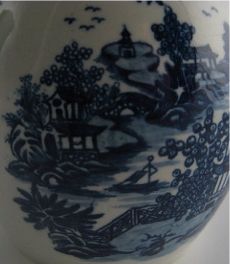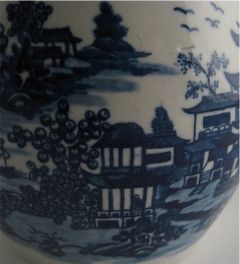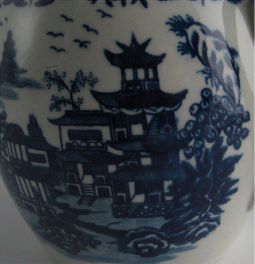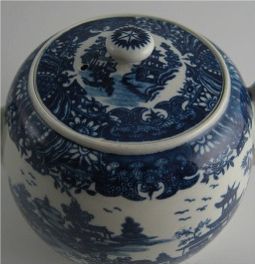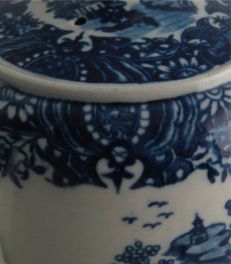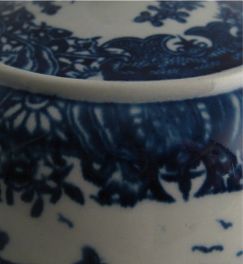 The shoulder of the teapot and the rim of the cover are decorated with an elaborate wide blue and white border of an oriental type of design.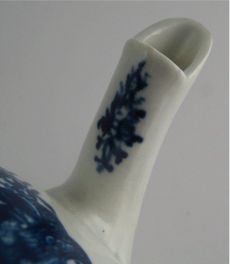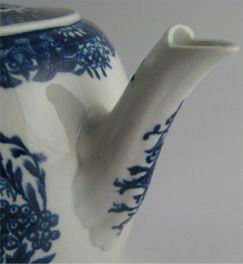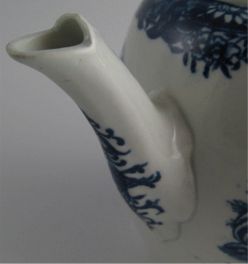 The moulded shaped spout is decorated on the top and lover portion with foliate decoration.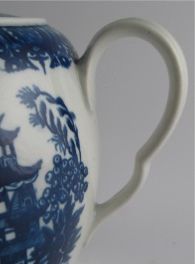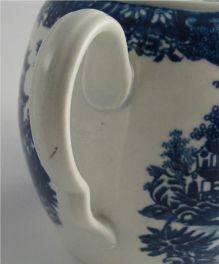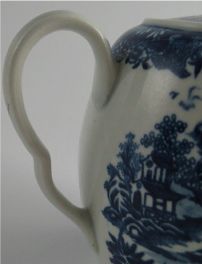 There is an ear shaped handle to the teapot.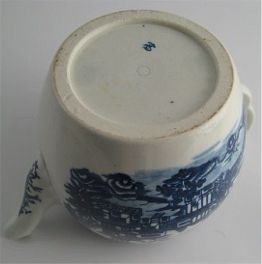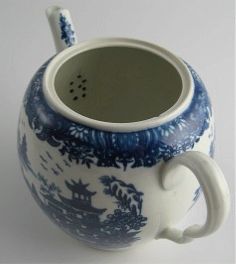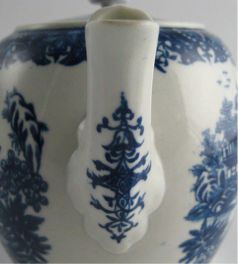 The underside of the teapot is marked with a Worcester disguised numeral mark making it look like a Chinese mark. In this case the disguised mark appears to be an 8.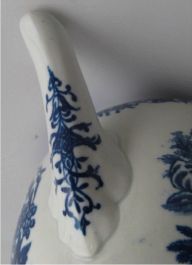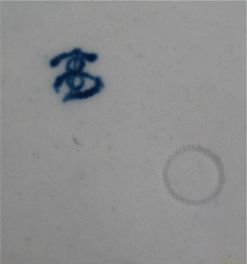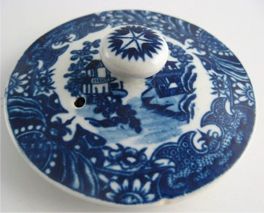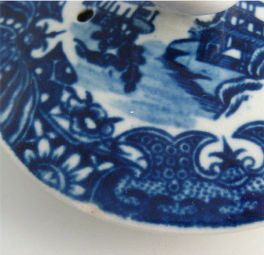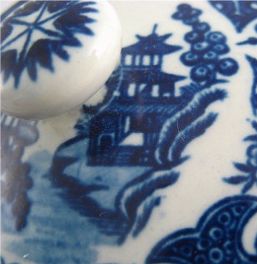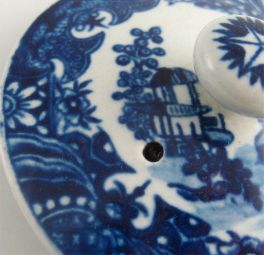 The cover of the teapot is decorated with a print of the bandstand and temple on Islands.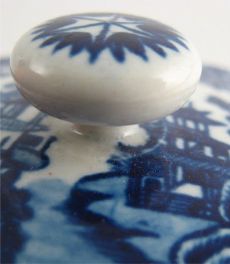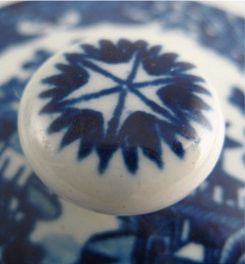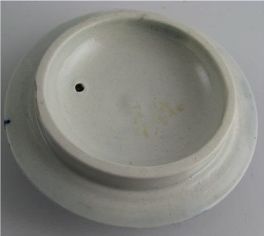 The finial of the cover is of a button shape the top of which has a blue and white star type of design.
This is a delightful Worcester 'Bandstand' pattern teapot and cover, c1780.
Size and Weight: (values are approximate)
8¼" (210mm) length of the teapot from the tip of the spout to the back edge of the handle.
5½" (140mm) height of the teapot to the tip of the cover finial.
1lb 6oz (633gms) total weight of the teapot and cover.
Marks:
The underside of the teapot carries an underglaze Worcester disguised numeral mark, intended to look like a Chinese mark. This mark I believe is an '8'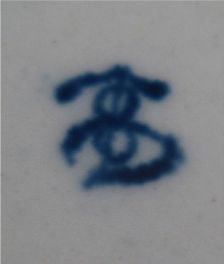 This beautiful teapot is generally in very good condition with no cracks, repairs or restoration. There are just two very small chips, one to the inner rim of the teapot, as shown in the first two pictures below. The other a very tiny chip to the rim of the cover, as shown in the second two pictures below. Both of these chips are very small and do not detract from the beauty of this early Worcester teapot.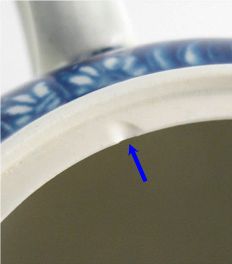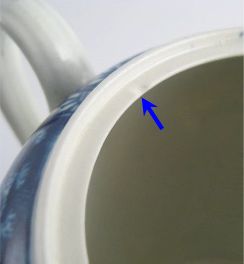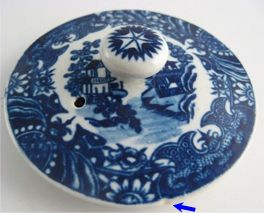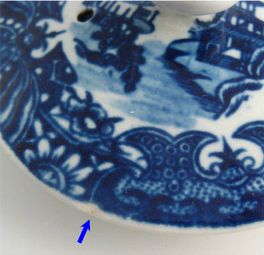 ---
All information contained within any article on this website was considered to be accurate (as far as can be ascertained) at the time of writing. TeaAntiques.com Limited makes no warranty and accepts no liability regarding the accuracy of the content.
Copyright © 2000 - 2022 All rights reserved
TeaAntiques.com Limited. Company Incorporated in England No.: 5086843