Factory 'X' (Keeling) Slops Bowl, Shanked body with blue border, red flowers and gilded swags, pattern 94, c1800-1805
(p1191)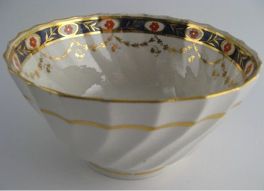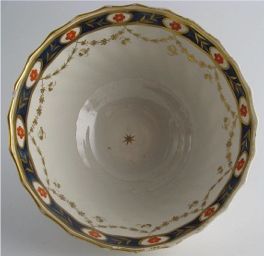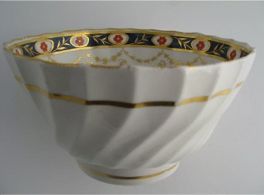 This delightful Keeling (Factory 'X') slops bowl has a shanked body (spiral moulded fluting) with underglaze blue border and floral enamel and gilt decoration. The item is very well and finely potted and dates from c1800-1805.
Click here to check price and availability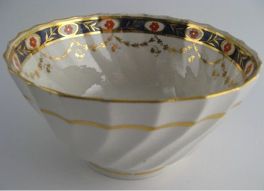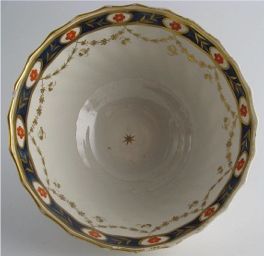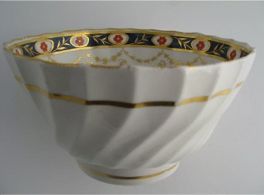 The decoration of the slops bowl includes an underglaze cobalt blue wide border to the inner rim of the bowl. This border has open white ovals in which are orange flower heads with gilded dots at their centre.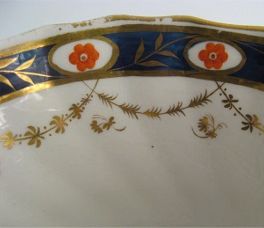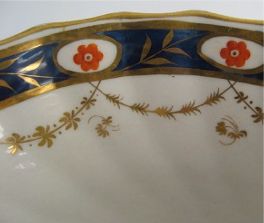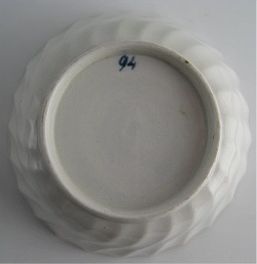 A delicate foliate swag threads its way around the floral panels within the blue band. Below the blue band border there is a very delicately gilded fine foliate swag. The fine quality of the gilding is excellent.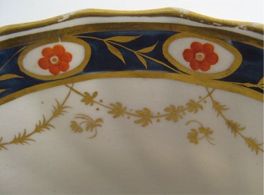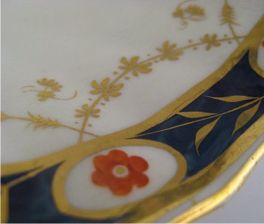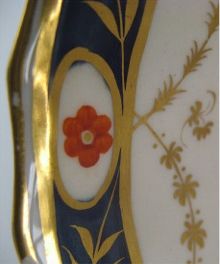 The ovals into which the flowers are applied are given a gilded frame and the border is edged on either side with a gilt line in a honey rich gold.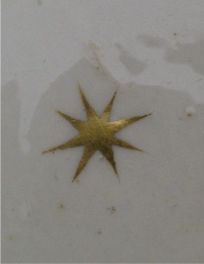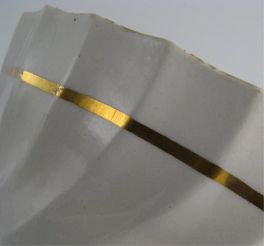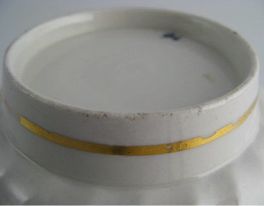 Around the body of the tea bowl is a gilt line and a further gilt line runs around the raised foot rim. There is a gilded star in the base of the slops bowl.
This is a fine Factory 'X' (Keeling) Slops Bowl, Shanked body with blue border, red flowers and gilded swags, pattern 94, c1800-1805.
Size and Weight: (values are approximate)
3¼" (84mm) height of the slops bowl.
6¼" (160mm) diameter of the slops bowl.
9½oz (273gms) weight of the slops bowl and saucer.
Marks:
The underside of the slops bowl is marked in blue with the pattern number 94.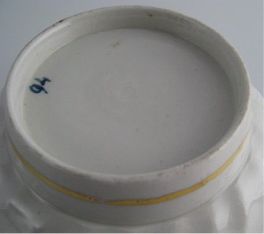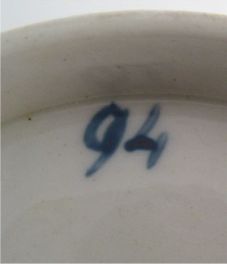 Generally, the slops bowl is in good condition for its age. The only minor imperfections are a small chip on the rim as shown below and some wear to the gilding, this is mostly to the gilt lines around the bowl and foot and rim of the bowl. Again, this is shown in the pictures below.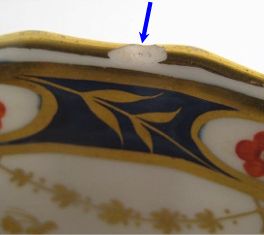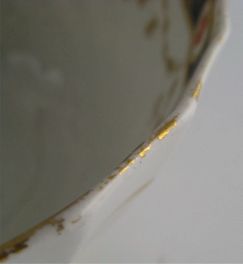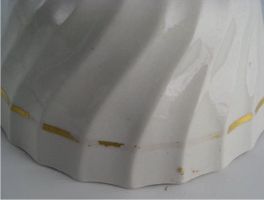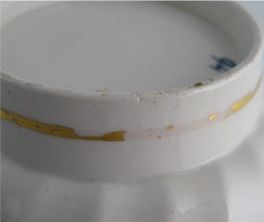 Despite the chip and wear to the gilding in places, this is a fine example of early Keeling wares for the collector.