Chamberlain Worcester Sucrier, Oval Shanked Body with Cornflower Sprig Decoration, c1795
(p1218)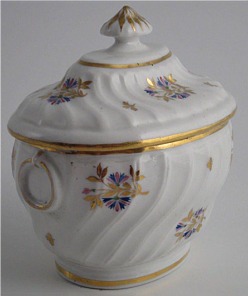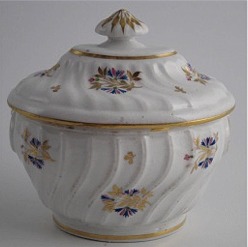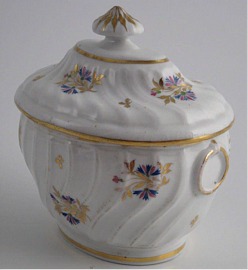 An attractive Chamberlain Worcester shanked oval sucrier and cover, dating from c1795. The body is decorated with 'cornflower' type of floral sprigs.
Click here to check price and availability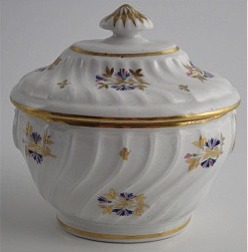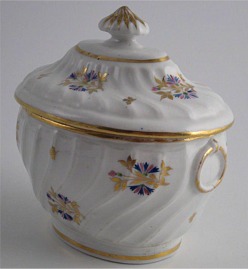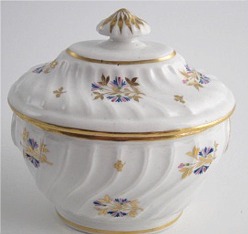 The body of the sucrier has a beautiful oval and waisted shape. The body is moulded with spiral lines that are known as a shanked moulded body. Each of the spiral lines has a double line to it, referred to as 'tram line' and is a feature of the Chamberlain's Worcester manufacture.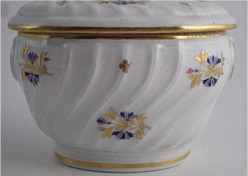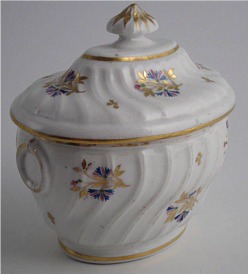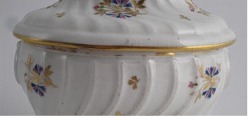 The main body of the sucrier is decorated with 'cornflowers' executed in blue, pink and green enamels with gilt foliage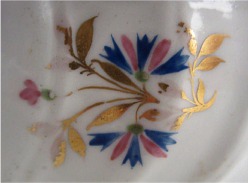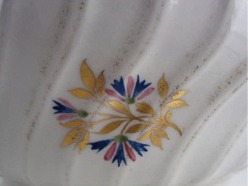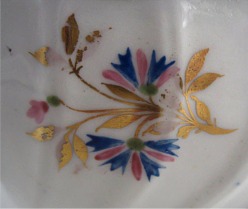 At each end of the sucrier is a moulded and gilded loop handle.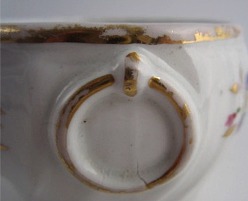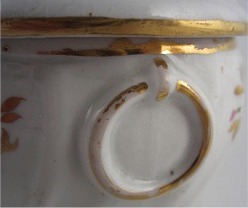 The rim of the sucrier is gilded and the base is rained on a thick oval foot rim.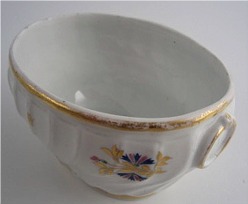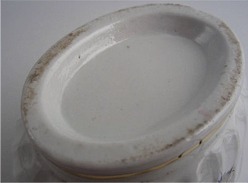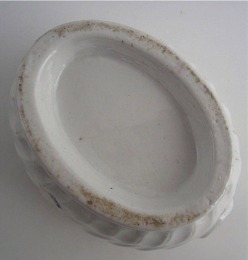 The oval shanked lid of the sucrier is decorated in the same way as the sucrier itself with four 'cornflower' sprigs the rim of the cover is gilded and there is a further gilded oval on the top of the cover.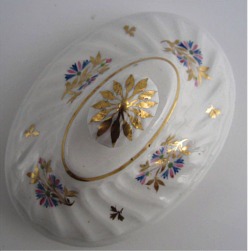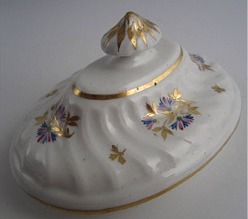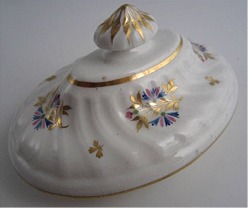 The cover has a typical flat oval mushroom shaped finial, this having spiral mouldings to the top portion and embellished with gilded lines.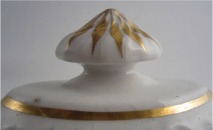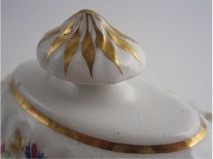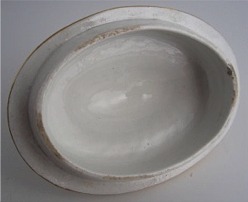 This is a lovely Chamberlain Worcester Sucrier, oval shanked body with cornflower sprig decoration, c1795.
Size and Weight: (values are approximate)
5½" (140mm) in height to the top of the cover finial.
5½" (140mm) in length.
4" (100mm) max. width.
16oz (474gms) total weight.
Marks:
There are no manufacturer's marks on the sucrier or cover. It is from the Chamberlain's Worcester factory c1795; characterised by the tram line spiral fluting and mushroom shape to the finial.
This beautifully elegant sucrier and cover are generally in good condition, with mainly some signs of wear.
There is a fair amount of gilding wear, particularly to the loop handles and rim of the sucrier. One loop handle has a tiny firing crack, this from the manufacturing process, not damage.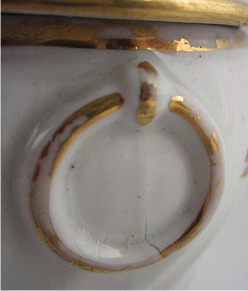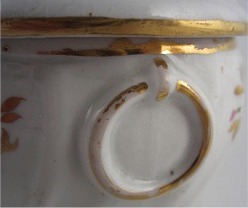 The body of the sucrier has a few areas where there is some kiln smut in the glaze - like fine black speckles, this again a manufacturing flaw rather than later damage. There are also a few areas of light crazing of the glaze.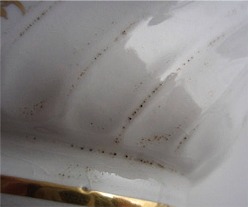 On the underside of the cover's rim there are some rough unglazed areas with a couple of small chips, these again could be from the time of manufacture and are insignificant.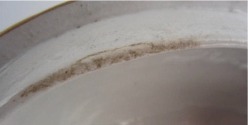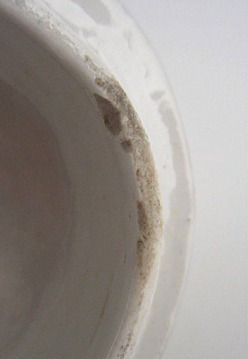 Although there seems to be quite a list of slight flaws from manufacture, this is still a very desirable Chamberlain's Worcester sucrier and cover for any collector.
---
All information contained within any article on this website was considered to be accurate (as far as can be ascertained) at the time of writing. TeaAntiques.com Limited makes no warranty and accepts no liability regarding the accuracy of the content.
Copyright © 2000 - 2022 All rights reserved
TeaAntiques.com Limited. Company Incorporated in England No.: 5086843