Coalport Oval Teapot and Stand, Red & Gilt Vine Leaf Decoration, c1800-1805
(p1232)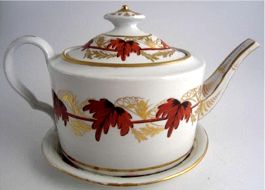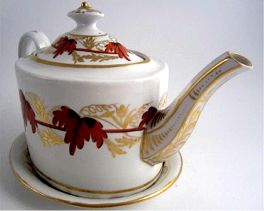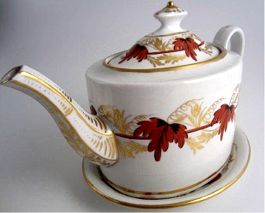 An attractive Coalport teapot and stand of oval straight sided shape, beautifully decorated with a red and gilt vine leaf design, c 1800-1805.
Click here to check price and availability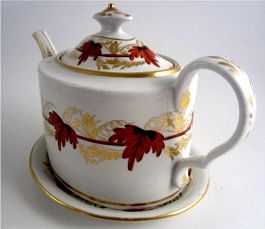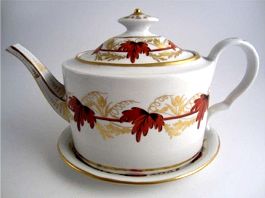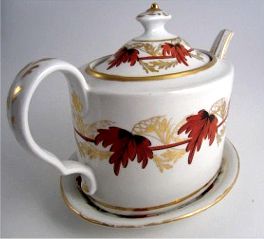 The teapot has its original oval stand, which is lovely to have with it. The teapot is of a pleasing straight sided oval shape and fits comfortably on its stand.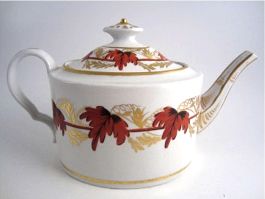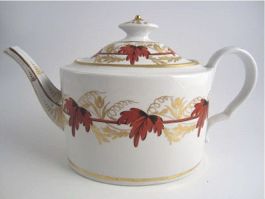 The decoration is of a bold centrally placed band around the teapot's body. This comprises large red stylised vine leafs linked by a red line, about which are finely gilded leaves and vine tendrils.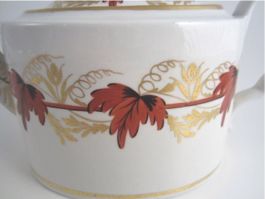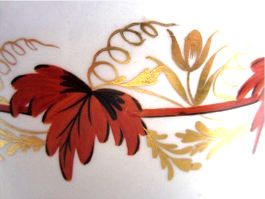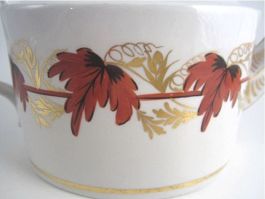 There is also a gilt line running around the base of the teapot and another edging the lid opening.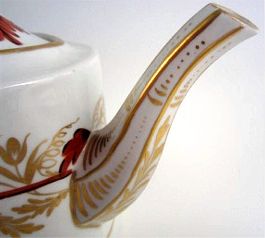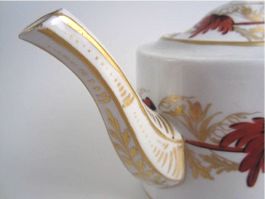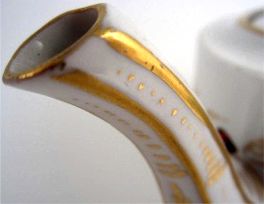 The elegant spout is of a six-sided faceted shape, beautifully decorated with applied rich gilt decoration.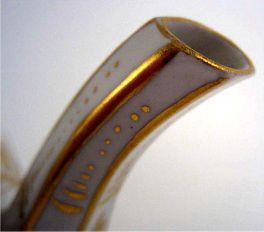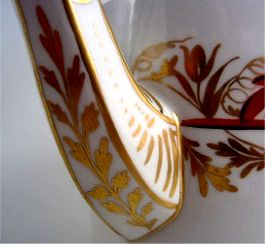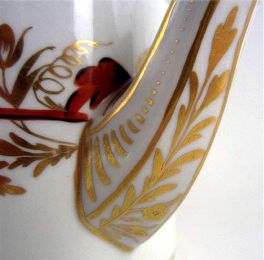 The underside of the spout is even decorated with gilt leaf decoration.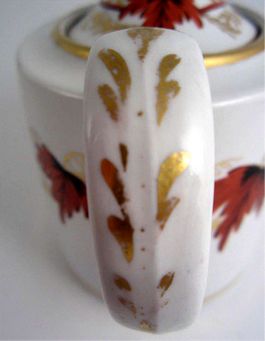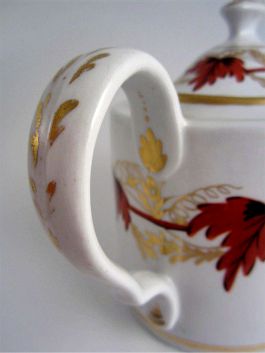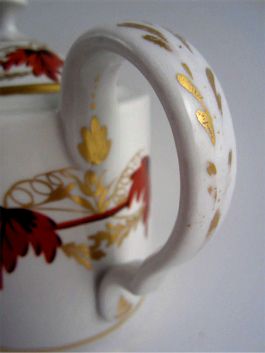 The ear shaped loop handle of the teapot perfectly balances the spout and is also decorated with gilt stylised foliage down the back edge.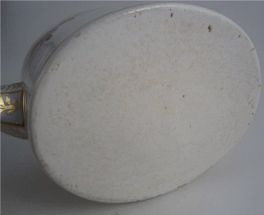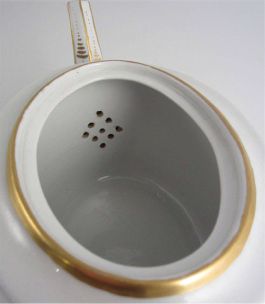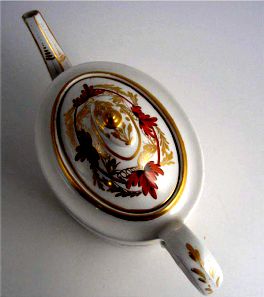 The oval domed lid is decorated with the same vine leaf decoration around it as with the teapot.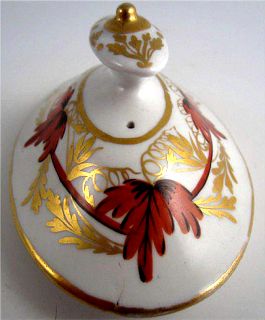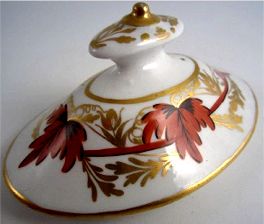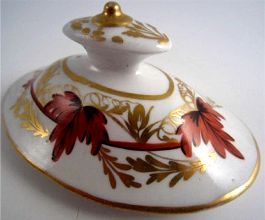 The edge of the lid is gilded and a gilt oval around the base of the finial.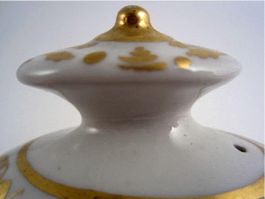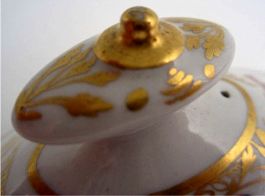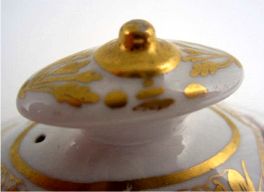 The finial of the lid also has applied gilding.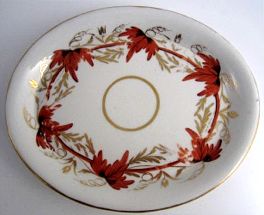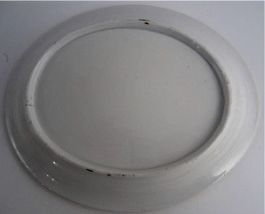 The oval teapot stand is also decorated in the same fashion as the teapot and lid, with the beautiful red and gilt vine leaf and foliage.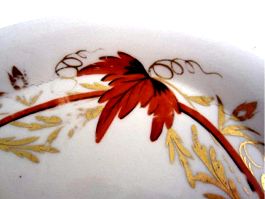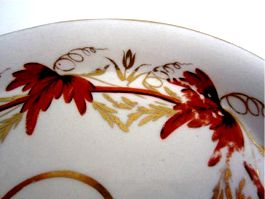 This is a very beautiful Coalport Oval Teapot and Stand, Red & Gilt Vine Leaf Decoration, c1800-1805 .
Size and Weight: (values are approximate)
10¼" (260mm) length of the teapot from tip of spout to back of handle.
4¾" (120mm) max body width.
6" (153mm) high to the tip of the cover finial.
7¼" x 6" (185mm x 152mm) length x width of the stand.
2lb 9oz (1157gms) total weight of teapot cover and stand.
Marks:
There are no manufacturer's marks on this teapot and stand, but it is from the Coalport factory and dates from c1800-1805.
This beautiful teapot and stands are in very good condition with no chips, cracks repairs or restoration. The only minor imperfection is some wear to the gilding and to the red enamelled leaf decoration - this mainly on the stand where the teapot has stood on it. This can be seen in the pictures below.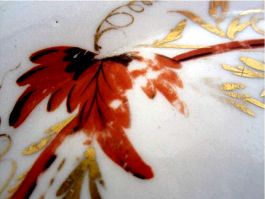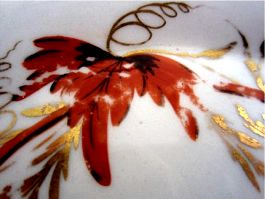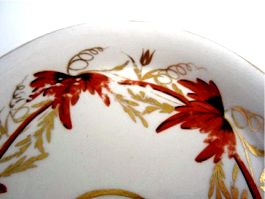 Not damage, but I would like to point out two very small firing cracks on the lid, one on the inner rim of the cover and the other on the lip of the cover. I have shown these in the pictures below.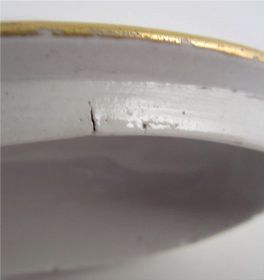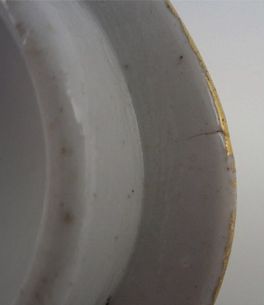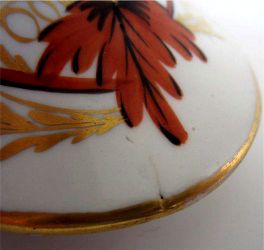 This is certainly a very fine Coalport teapot and stand for any collector of early nineteenth century English porcelain tea wares.
---
All information contained within any article on this website was considered to be accurate (as far as can be ascertained) at the time of writing. TeaAntiques.com Limited makes no warranty and accepts no liability regarding the accuracy of the content.
Copyright © 2000 - 2022 All rights reserved
TeaAntiques.com Limited. Company Incorporated in England No.: 5086843