Caughley fluted form Teapot, printed with blue and white 'Pagoda' pattern, un-gilded, Salopian 'S' mark, c1785
(p1236)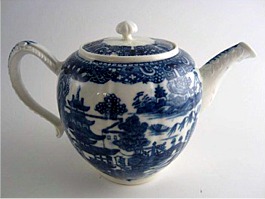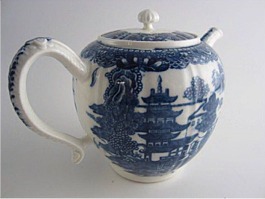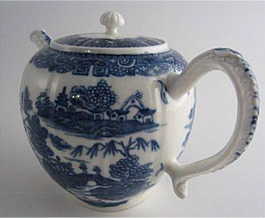 A very pretty teapot, printed with a delightful blue oriental scene of a pagoda in a charming landscape with houses, trees, boat and a bridge with two figures crossing it. This beautiful teapot, unlike most Caughley wares, remains in an un-gilded form which makes it more unusual.
Click here to check price and availability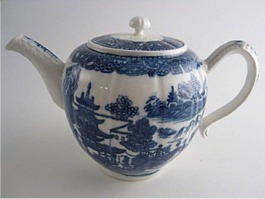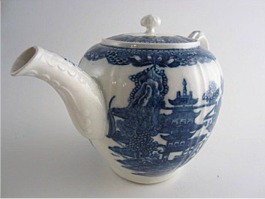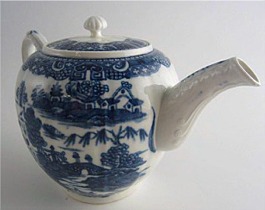 The teapot is of a moulded barrel shape, having a feather moulded handle and beautifully moulded and decorated spout. The drop-in cover of the teapot has a button shaped finial.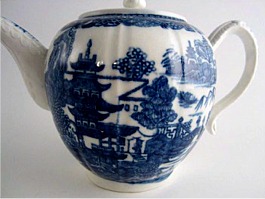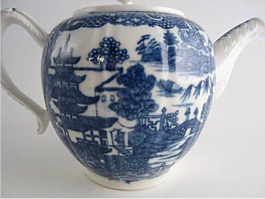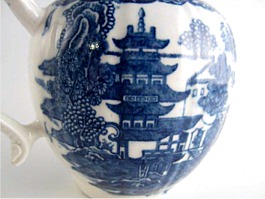 This charming teapot is beautifully decorated with a blue and white print of an oriental landscape which includes a large pagoda. There are islands with houses, rocks and trees. There is a delightful oriental bridge over the water on which are two figures are to be seen crossing. The blue of this decoration is very vivid and rich in appearance. This landscape pattern appears on both sides of the teapot.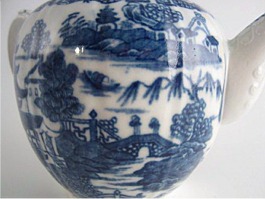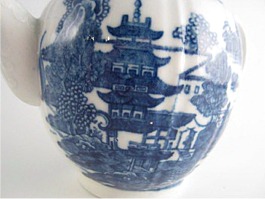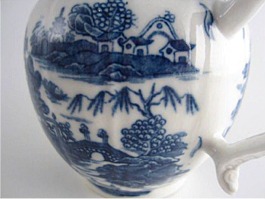 Around the shoulder of the teapot's body is a decorative band of oriental style blue decoration.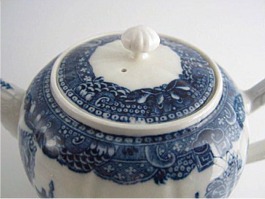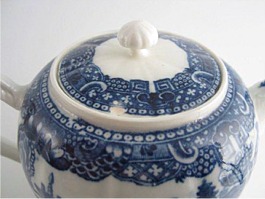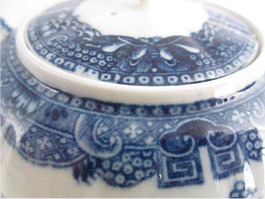 The spout of the teapot is also beautifully moulded and embellished with underglaze blue floral decoration.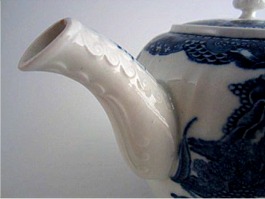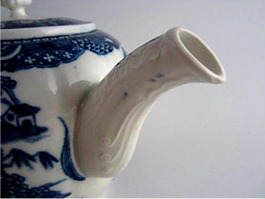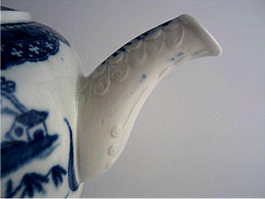 There is an open loop handle to the teapot. This is beautifully moulded with a feather like moulding. It is then embellished with blue floral decoration.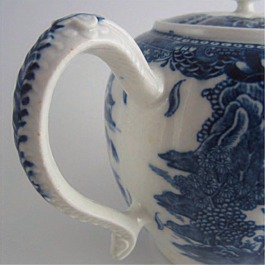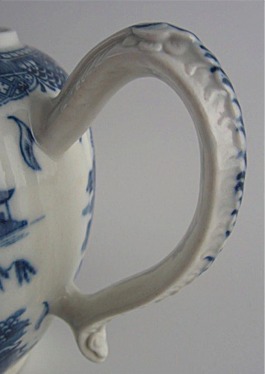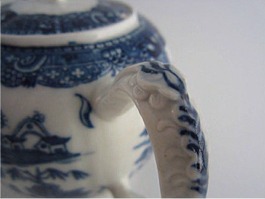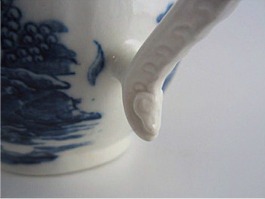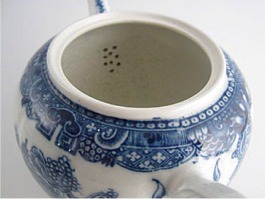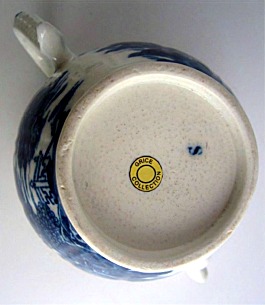 The circular cover of the teapot is exquisitely decorated in the same design as the teapot's body. The quality of the blue and white decoration is wonderful, so very detailed and clear. The lid has a moulded button finial.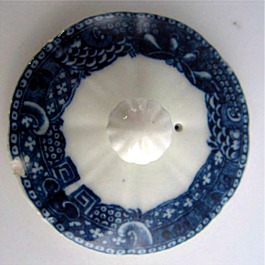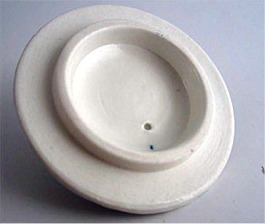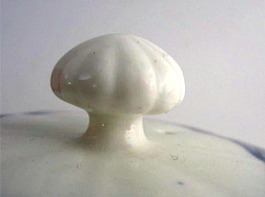 This is beautiful Caughley fluted form Teapot, printed with blue and white 'Pagoda' pattern, un-gilded and having a Salopian 'S' mark, c1785.
Size and Weight: (values are approximate)
5½" (140mm) height of the teapot to the top of the button finial.
9" (228mm) length from the tip of the spout to the back edge of the handle.
1lb 8oz (677gms) weight of the teapot.
Marks:
There is the Salopian underglaze blue Caughley mark of 'S' on the underside of the teapot. This mark was used at the Caughley factory c1775-90.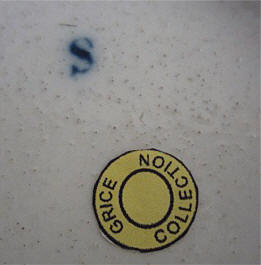 This beautiful Caughley teapot is in good condition with no cracks, repairs or restoration. It is in its original un-gilded form.
The only minor imperfection is a small flake chip to the rim of the lid, as shown in the two pictures below. This chip is approx 7mm x 4mm in size. Apart from this, it is a fantastic Caughley teapot for the collector of Eighteenth century or Caughley tea wares.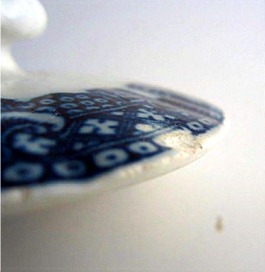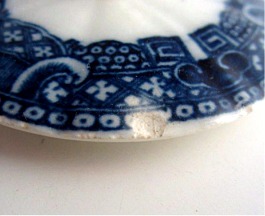 ---
All information contained within any article on this website was considered to be accurate (as far as can be ascertained) at the time of writing. TeaAntiques.com Limited makes no warranty and accepts no liability regarding the accuracy of the content.
Copyright © 2000 - 2020 All rights reserved
TeaAntiques.com Limited. Company Incorporated in England No.: 5086843