Caughley 'Barrel' Shaped Moulded Tea Canister (Lacking its Lid), Decorated with Blue & White 'Temple' Pattern, c1785
(p1239)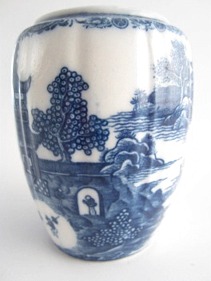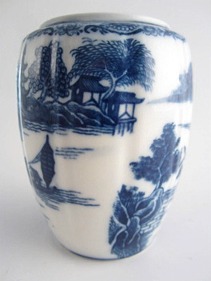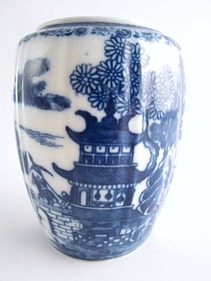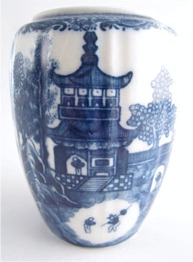 A rare and very attractive Caughley tea canister beautifully decorated with a large blue and white print of the oriental 'Temple' pattern, c1785. It is unfortunately missing its cover, but the tea canister itself is superb.
Click here to check price and availability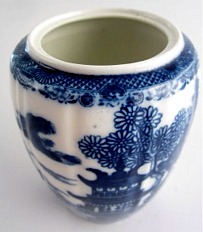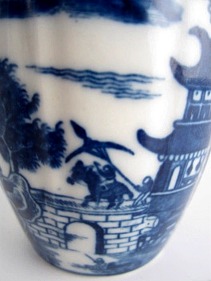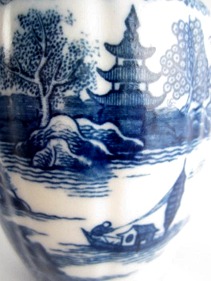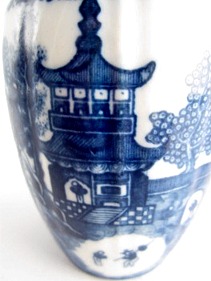 This very elegant tea canister is of a 'barrel' shape with vertical moulded lines and of excellent proportions. It is made of soft-paste porcelain and is typical of the shape popular at the end of the eighteenth century. This delightful tea canister has been charmingly decorated and is beautifully marked with the Caughley underglaze 'S' mark dating it to c1785.
The decoration is underglaze blue with an extremely clear print of the 'Temple' pattern. The pattern is of an oriental scene, with a temple and a person crossing a stone bridge on horseback shaded by a man with a parasol. Other characters are to be seen within this pleasant scene, including a man in a sailing boat.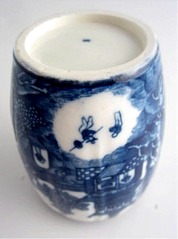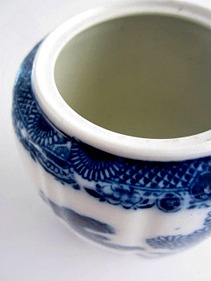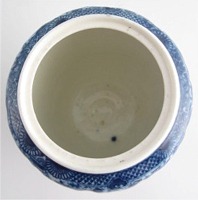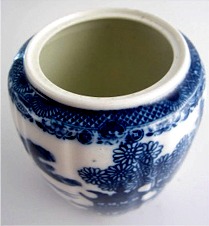 Around the outer rim is a 'Nan king' style blue decorative border.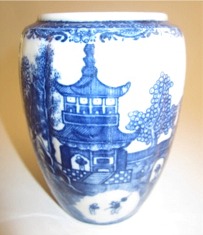 This is a very attractive Caughley 'Barrel' Shaped Moulded Tea Canister (Lacking its Lid), Decorated with Blue & White 'Temple' Pattern, c1785.
Size and Weight: (values are approximate)
4¼" (105mm) in height.
3½" (90mm) maximum canister body diameter.
8½oz (242gms) weight.
Marks:
This delightful tea canister is beautifully marked with the Caughley underglaze 'S' mark dating it to c1785.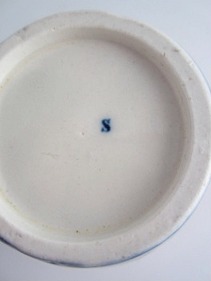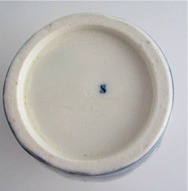 The condition of this magnificent tea canister is excellent. The decoration is very crisp and fine and there are no cracks, repairs or restoration. Sadly, it is lacking a lid; but still is a very beautiful item of Caughley porcelain for the collector of Caughley or Eighteenth century English porcelain.
---
All information contained within any article on this website was considered to be accurate (as far as can be ascertained) at the time of writing. TeaAntiques.com Limited makes no warranty and accepts no liability regarding the accuracy of the content.
Copyright © 2000 - 2022 All rights reserved
TeaAntiques.com Limited. Company Incorporated in England No.: 5086843