Liverpool or Lowestoft? Moulded Sauce Boat, Blue and White Floral Pattern, c1770
(p1249)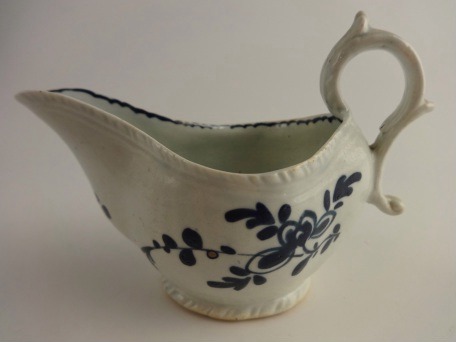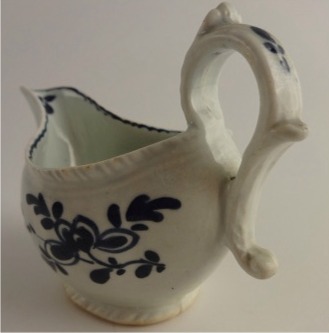 A charming little sauce boat from the Eighteenth century c1770. I am not sure as to the origins of this lovely sauce boat, it could be either Liverpool or Lowestoft?
Click here to check price and availability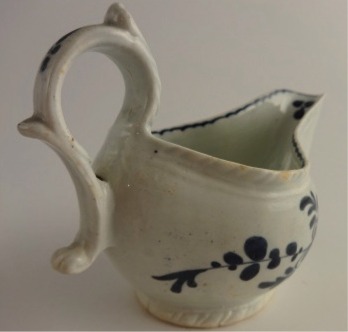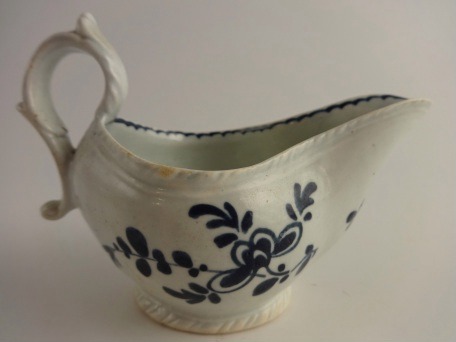 The body of the sauce boat is smooth, with a feather moulded rim and raised foot. The bowl has a wide main body and an elegantly formed pouring lip.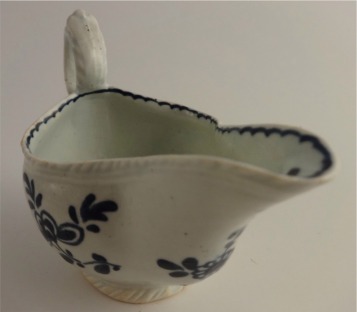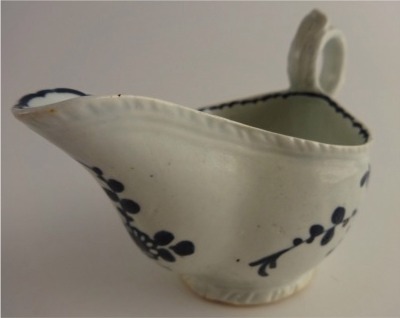 The sauce boat is hand painted in a dark blue/grey hue and has a simple floral sprig on each side, a round flower with petals and foliage up the front of the sauce boat the jug.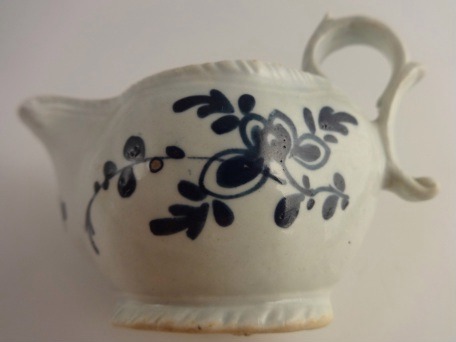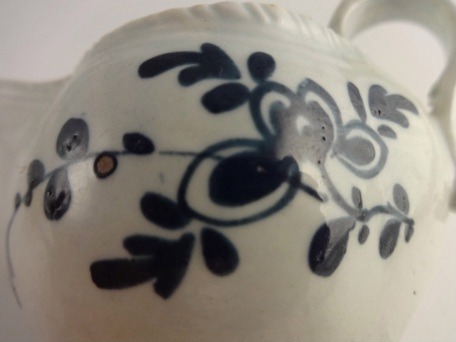 The free hand-painted decoration is of a charming simple form.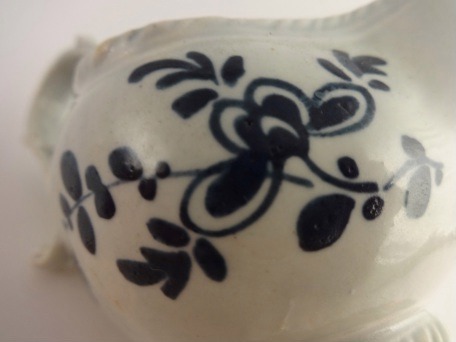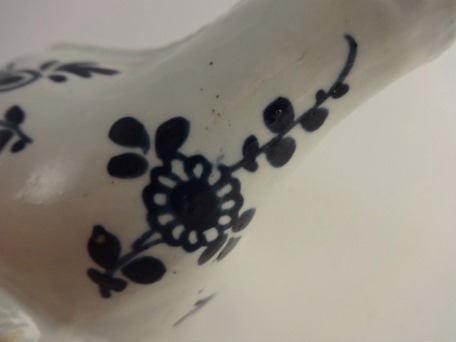 There is a complex handle form to the sauce boat, having a scroll round to a reverse lower scroll. There is a raised moulded leaf form thumb piece to the top of the handle.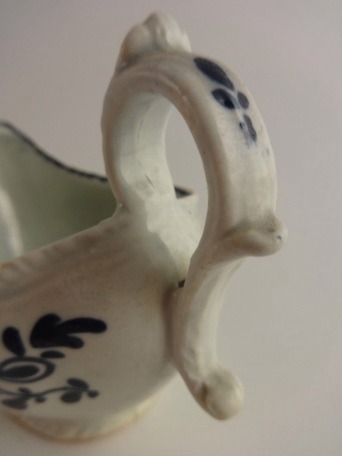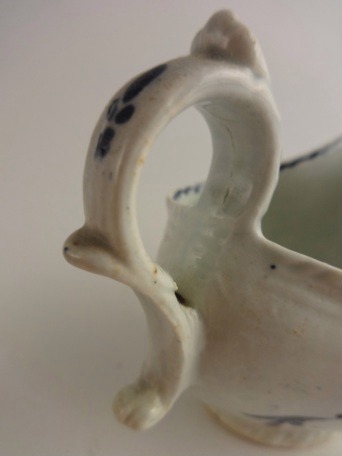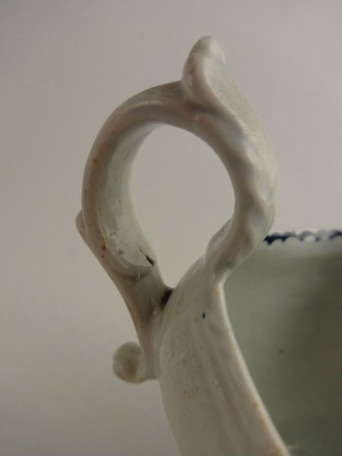 The back edge of the handle is decorated with a blue foliate sprig, as is the pouring lip.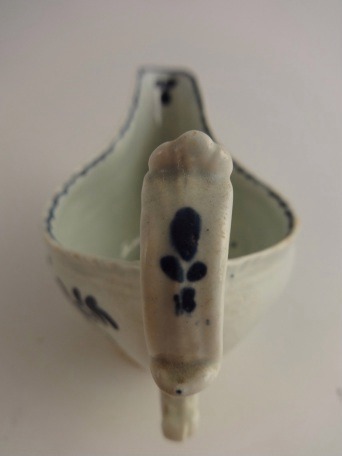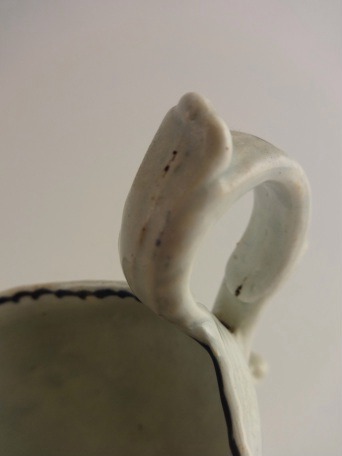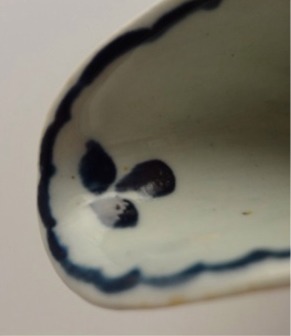 The inner rim of the sauce boat is embellished with a wavy blue line and a simple blue foliate sprig is painted on the inner base of the boat.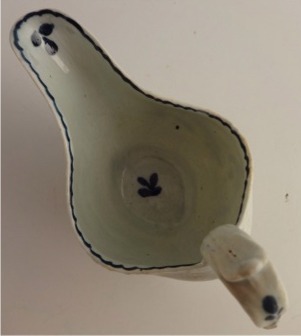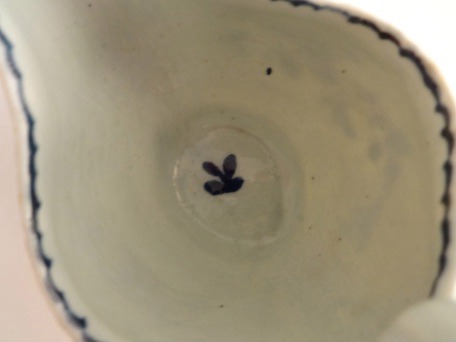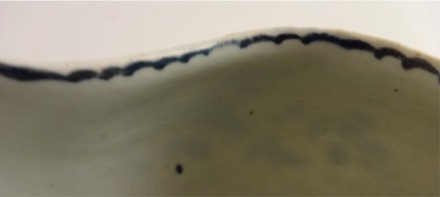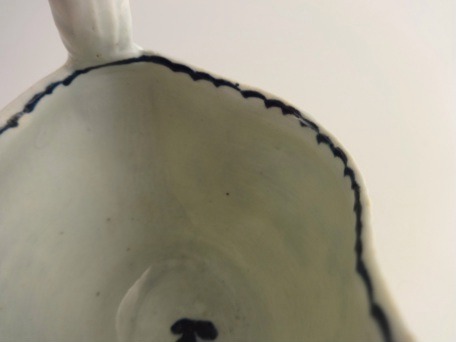 The flat base of the sauce boat is unglazed, remaining in the biscuit form.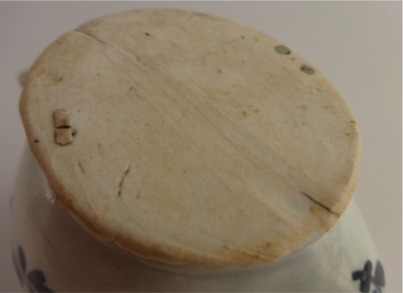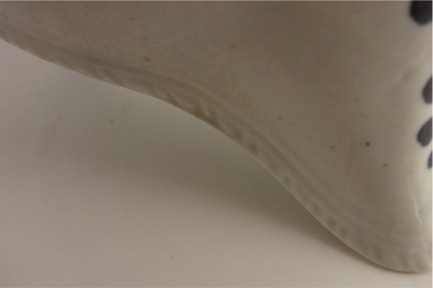 This is a charming Liverpool or Lowestoft? Moulded Sauce Boat, Blue and White Floral Pattern, c1770.
Size and Weight: (values are approximate)
5" (124mm) length from the tip of the pouring lip to the back of the handle.
3" (75mm) max. width of the body.
3¼" (80mm) height to the top of the handle. 3½oz (89gms) weight of the sauce boat.
Marks:
There are no manufacturer's marks on this sauce boat.
This beautiful little sauce boat is in very good condition with no chips, crack, repairs or restoration. There are just a few extremely tiny manufacturing imperfections, these tiny stress firing cracks on the base/ raised foot rim, see the two pictures below.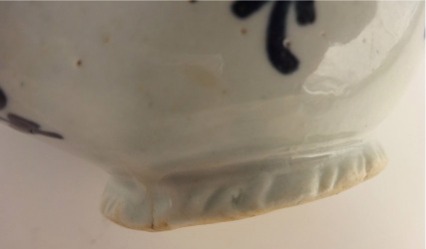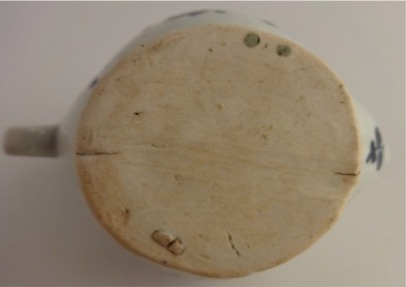 A very fine eighteenth century sauce boat for the collector of early English porcelain.
---
All information contained within any article on this website was considered to be accurate (as far as can be ascertained) at the time of writing. TeaAntiques.com Limited makes no warranty and accepts no liability regarding the accuracy of the content.
Copyright © 2000 - 2022 All rights reserved
TeaAntiques.com Limited. Company Incorporated in England No.: 5086843