Chamberlain? Worcester Coffee Cup and Saucer, Yellow Ground and Gilt decoration, c1800-10
(p1255)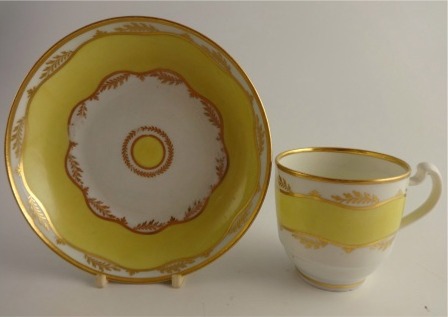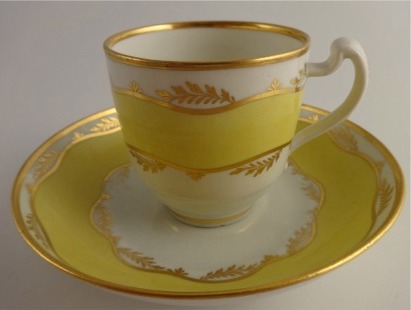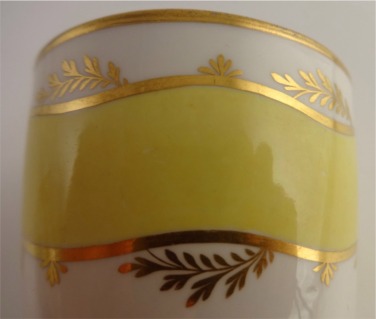 A rare yellow ground coffee cup and saucer with simple but elegant gilt decoration in rich honey coloured gilding, c1800-10. I believe this to be from the Chamberlain Worcester factory, as it has the characteristic shape of handle to the cup of the Chamberlain's designs at this period.
Click here to check price and availability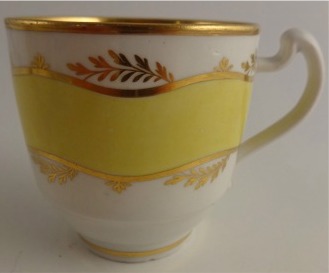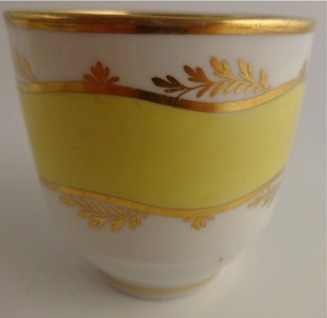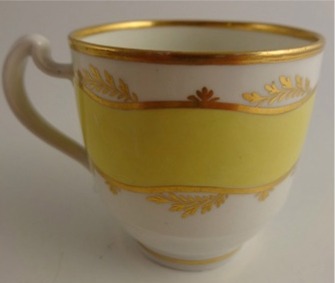 The body of the cup is of smooth moulded shape. It has charming and rare yellow ground decoration in the form of a wide wavy band, this bounded by gilt lines with emanating foliate leaves in rich honey coloured gilding.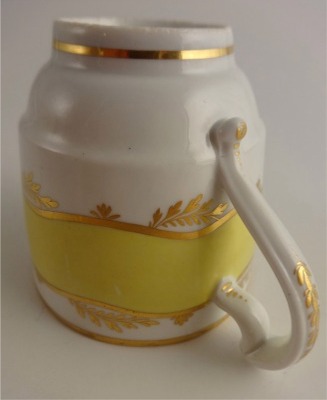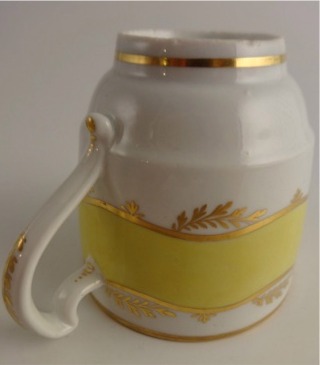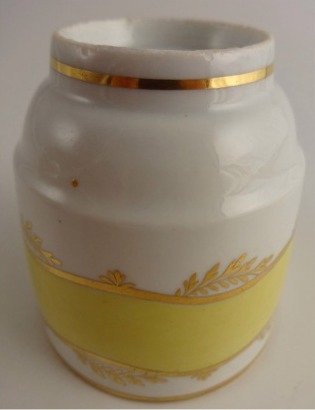 The base of the cup has a raised foot rim which has a gilt line around it.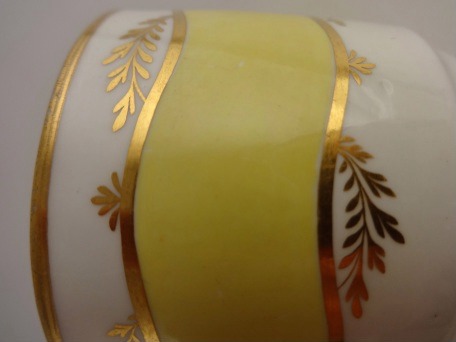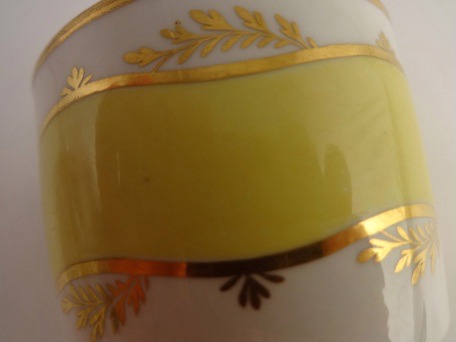 The rim of the coffee cup is also gilded. The cup has an elegantly shaped handle, used by the Chamberlain factory at this early nineteenth century period, with a raised kick to the top portion of the handle. The back edge of this elegant handle is gilded with foliate styled gilding.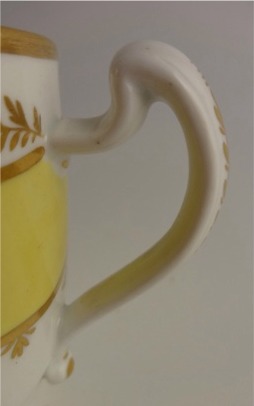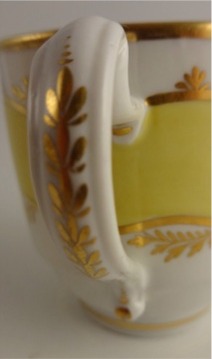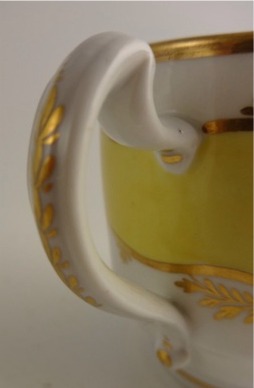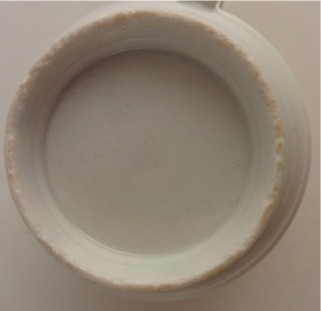 The deep saucer is also of a smooth body form and has the same beautiful yellow ground and gilt decoration as on the coffee cup.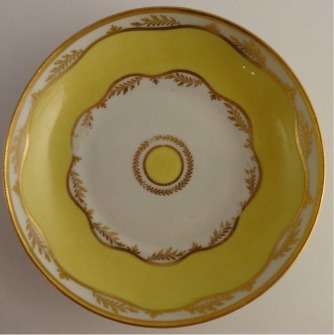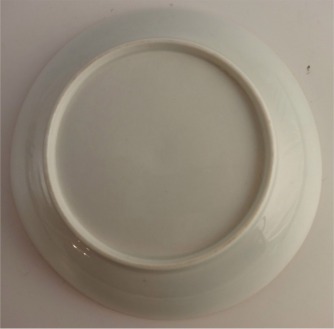 The yellow ground band of decoration around the saucer has the same fine gilt foliate leaf decoration and the rim of the saucer is also gilded.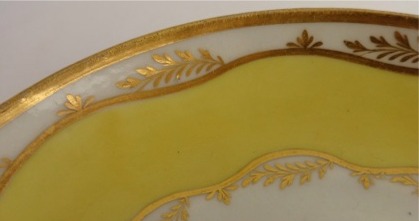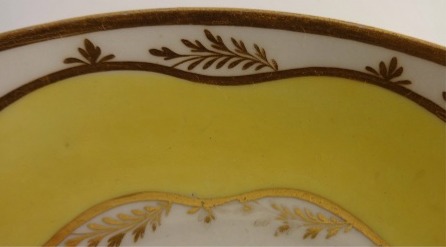 In the centre of the saucer is a yellow ground circle which has a gilt line round it and then a gilt foliate wreath around it.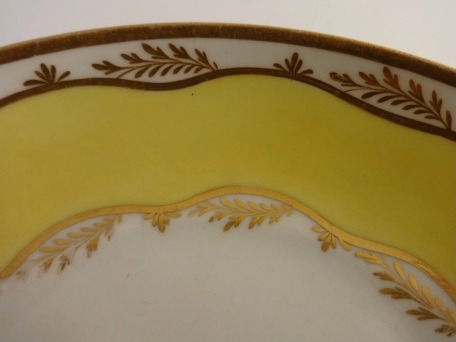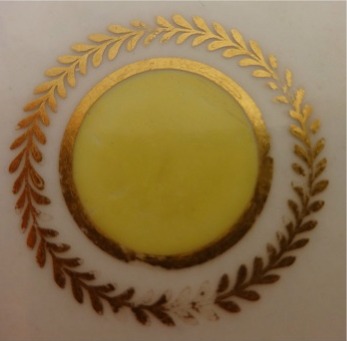 This is a rare Yellow Ground and Gilt decoration, Chamberlain? Worcester Coffee Cup and Saucer, c1800-10
Size and Weight: (values are approximate)
2˝" (64mm) height of the coffee cup.
2˝" (64mm) diameter of the coffee cup at its rim.
5˝" (140mm) max. diameter of the saucer. 6˝oz (181gms) weight of the coffee cup and saucer.
Marks:
There are no manufacturer's marks on this coffee cup and saucer, but I believe it to be from the Chamberlain Worcester factory and certainly dates from c1800-10.
The coffee cup and saucer are in excellent condition with no chips, cracks, repairs or restoration. The only minor imperfection is some slight rubbing to the gilt decoration, this mainly to the centre wreath gilding and inner ring of foliage of the saucer's decoration, as shown in the pictures below.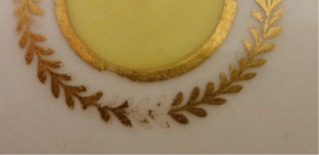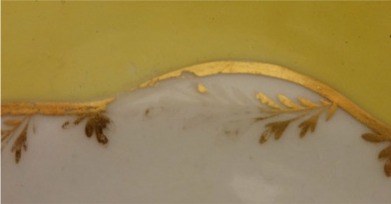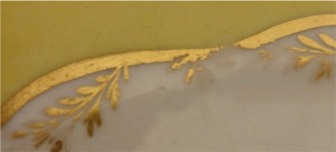 It is certainly a rare and fine yellow ground and gilt decoration coffee cup and saucer, c1800-10.
---
All information contained within any article on this website was considered to be accurate (as far as can be ascertained) at the time of writing. TeaAntiques.com Limited makes no warranty and accepts no liability regarding the accuracy of the content.
Copyright © 2000 - 2022 All rights reserved
TeaAntiques.com Limited. Company Incorporated in England No.: 5086843