Caughley Milk Jug, Half Fluted Waisted Form, Blue and White 'Pagoda' Decoration, Salopian Sx Mark, c1785-90
(p1308)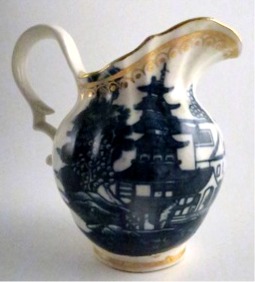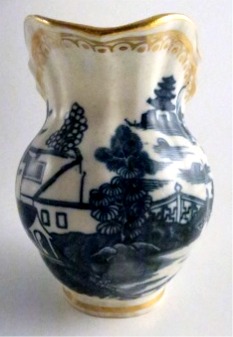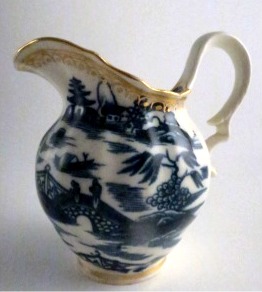 A charming Caughley Milk Jug of half fluted and waisted form, with wide pouring lip and having a raised double indented handle with pronounced kick, inner spur and scroll terminal. It is decorated in underglaze blue 'Pagoda' pattern with a Fitzhugh type border to the inside edge. There is gilt line and edge decoration applied to the jug. The jug is unmarked but is a Caughley jug, dating from c1785-90.
Click here to check price and availability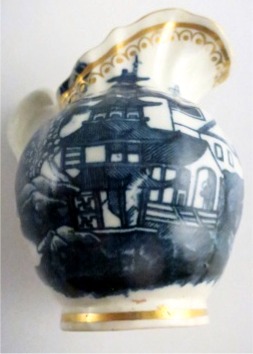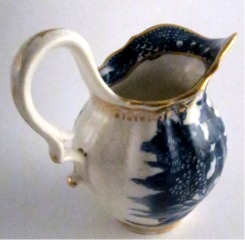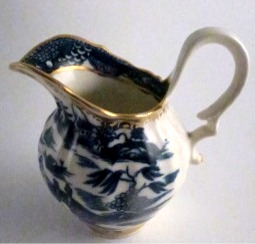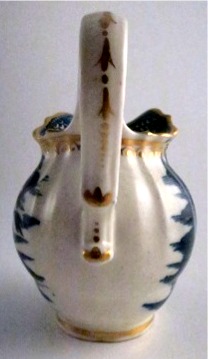 The 'Pagoda' decoration is of an oriental scene that has a main large pagoda, houses, people on a bridge, houses, boat, etc.
Around the outside rim of the jug is a gilded decoration of half circle and dot chain, below a solid gilt line.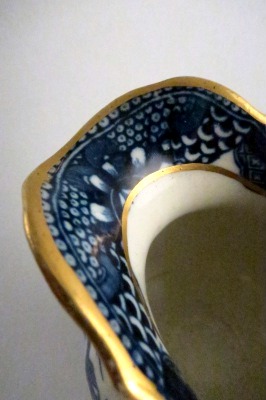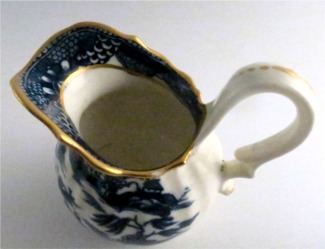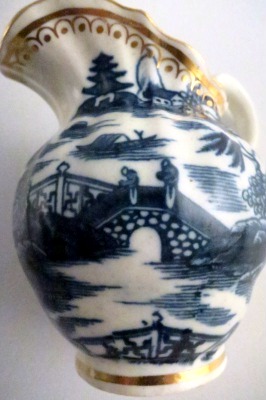 There is a blue oriental 'Fitzhugh' type border to the inside edge.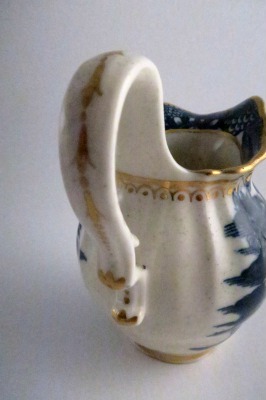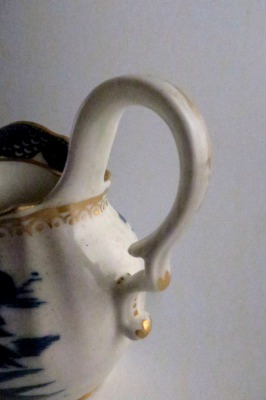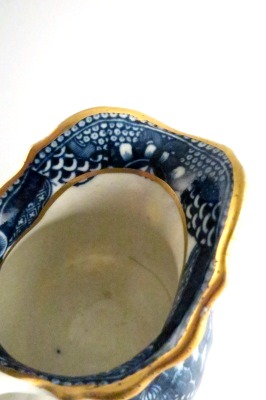 The jug has a raised double indented handle with pronounced kick, inner spur and scroll terminal. A gilt decoration like arrow heads and dots runs down the back of the handle.
This is a very beautiful Caughley Milk Jug, Half Fluted Waisted Form, Blue and White 'Pagoda' Decoration, c1785-90
Size and Weight: (values are approximate)
4" (97mm) max. height of the jug.
4" (97mm) from the tip of the spout to the back edge of the handle.
5˝oz (157gms) weight of the jug.
Marks:
This jug is unmarked but is Caughley, c1785-90.
This beautiful jug is in good condition. There are a few minor imperfections, it has a horizontal manufacturing firing crack approx. 30mm long inside the jug at the lower front, this is not very visible outside of the jug. Apart from this, the only other very minor imperfection are a few firing cracks on the underside of the foot rim and a little wear to the gilt decoration on the rim of the jug. This is all shown in the pictures below.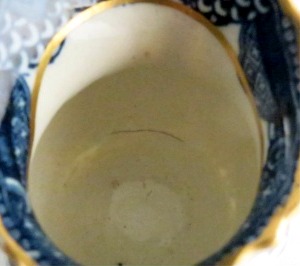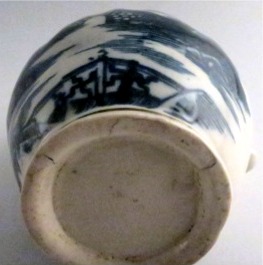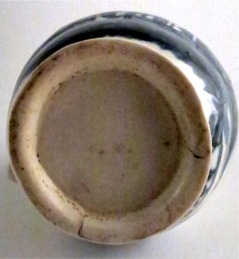 It is a really delightful cream jug from the Caughley factory c1785-90.
---
All information contained within any article on this website was considered to be accurate (as far as can be ascertained) at the time of writing. TeaAntiques.com Limited makes no warranty and accepts no liability regarding the accuracy of the content.
Copyright © 2000 - 2022 All rights reserved
TeaAntiques.com Limited. Company Incorporated in England No.: 5086843