Chamberlain Worcester Oval Shaped Milk Jug, Underglaze Blue and Gilt 'Blue Border with Gold Ovals and Gilded Dropping Foliage' Decoration, Pattern Number 61, c1800-1805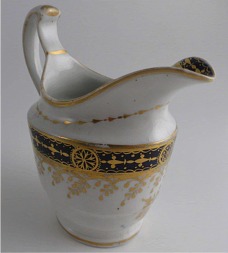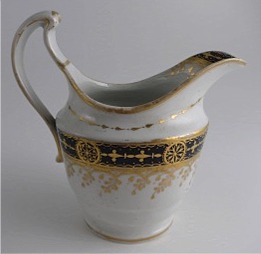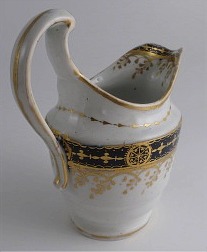 A beautiful Chamberlain Worcester milk jug, typical shape of Chamberlain Worcester for the period c1800-5. This charming milk jug, with its smooth body, is decorated with underglaze cobalt blue and embellished with the 'blue border with gilded ovals and drooping gilded foliage' pattern and gilded floral bouquet spray to the front. This pattern number is 61, this is not marked on the underside but can be referenced in Geoffrey A Godden 'Chamberlain Worcester porcelain 1788-1852, plate 411.
Click here to check price and availability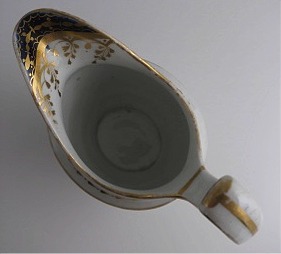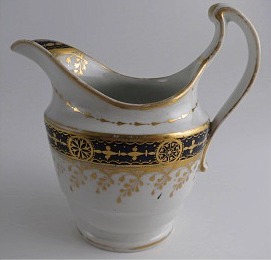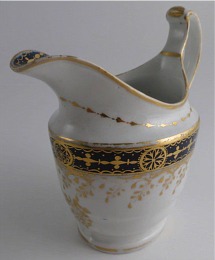 This delightfully shaped milk jug has a beautiful smooth body with well shaped high handle and elegant pouring lip.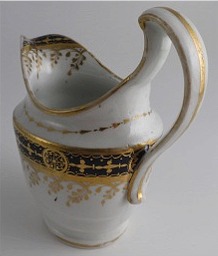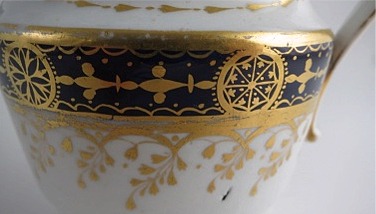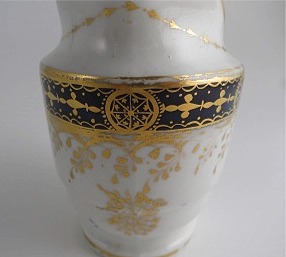 The main body of the jug is decorated with a wide band of underglaze rich cobalt blue, this also applied to the inner rim of the pouring lip. Applied on top of this rich blue band is the heavenly honey coloured gilt decoration. The blue band is bounded top and bottom by a thick gilded line. The lower line has the dropping fine gilded foliage hanging from it.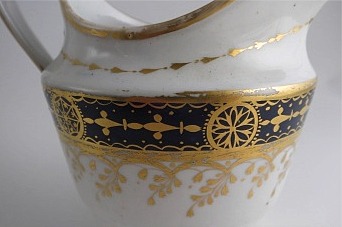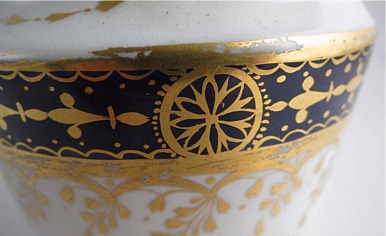 On the front face of the jug is a gilded bouquet of foliage and flowers. The top of the jug's lip has the same gilt decoration as round the body.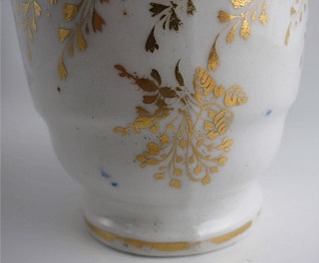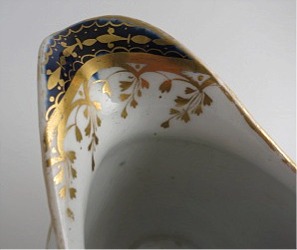 There is a gilded line around the foot of the jug and the rim of the jug also is gilded.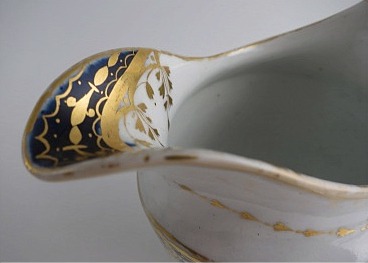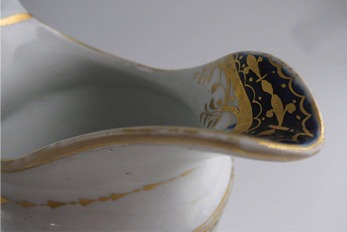 The handle is gilded on both sides and a line down the back of it. A line of gilded arrows go round the shoulder of the jug.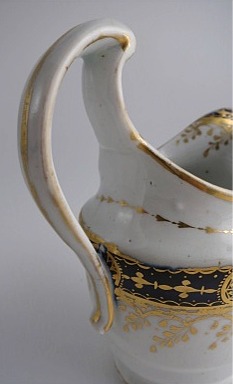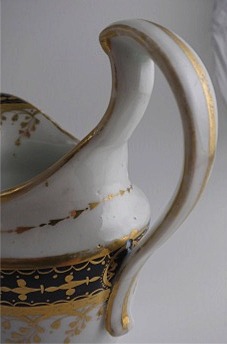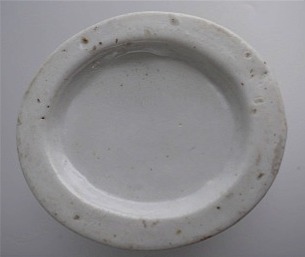 This is a charming and very elegant Chamberlain Worcester Oval Shaped Milk Jug with underglaze Blue and Gilt 'Blue border with gold ovals and gilded dropping foliage' decoration, Pattern Number 61, c1800-1805
Ask for more information about this item
Size and Weight:
5½" (138mm) in length from the tip of the pouring lip to the back edge of the handle
5½" (138mm) height of the jug to the top of the handle
9¼ oz (262gms) weight of the jug
(values are approximate)
Marks:
There are no manufacturer's marks, but it is a Chamberlain Worcester jug c1800-5. Pattern Number 61.
Condition:
This beautiful Chamberlain Worcester jug is in very good condition with no cracks, chips or restoration. The only minor imperfection is some wear / loss of the gilding in places, as shown in the pictures below. This really is a nice large sized and beautiful Worcester jug.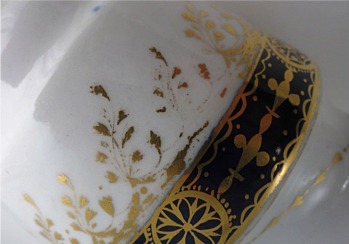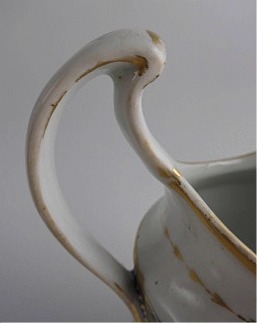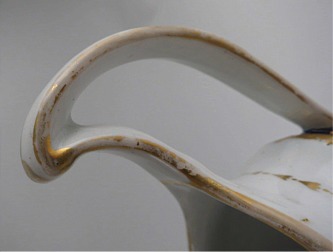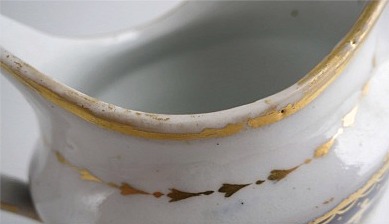 ---
All information contained within any article on this website was considered to be accurate (as far as can be ascertained) at the time of writing. TeaAntiques.com Limited makes no warranty and accepts no liability regarding the accuracy of the content.
Copyright © 2000 - 2022 All rights reserved
TeaAntiques.com Limited. Company Incorporated in England No.: 5086843