Caughley Melon Shape Printed Underglaze Blue 'Full Nankin' Dish, c1785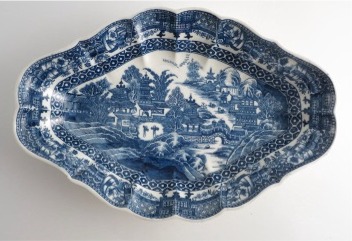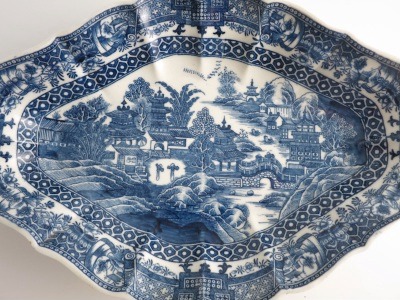 A beautiful and decorative Caughley melon shaped dish, decorated in underglaze blue with the intricate oriental scene known as the 'Full Nankin' pattern.
Click here to check price and availability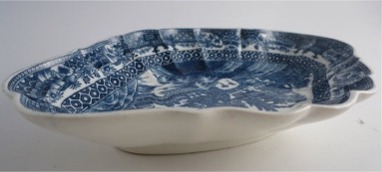 This charming Eighteenth century Caughley dish is beautifully moulded with fluted sides.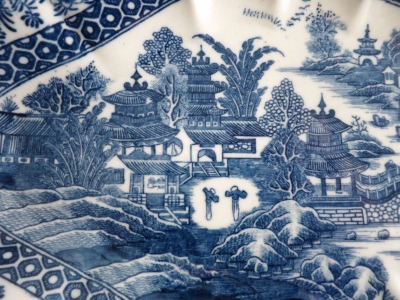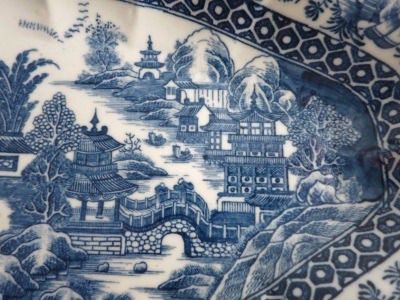 The Full nankin pattern is a complex and very busy oriental scene which includes decorative pagodas, temples, houses and building within Islands, hills and rocks with some lush vegetation. There are also figures crossing an arched stone bridge as well as small sailing boats on the water.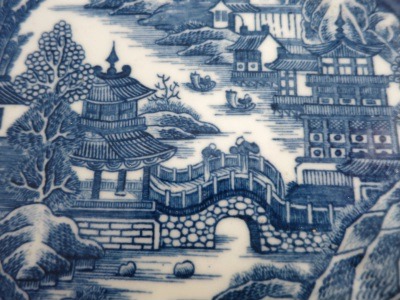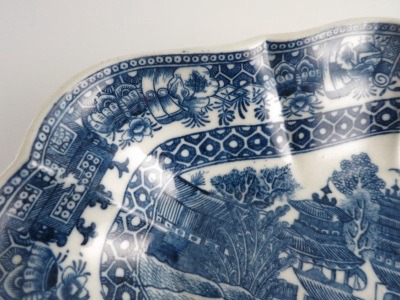 This stunning blue and white oriental scene is bounded by a band of geometric 'birds eye' type of decoration, and then the final rim decoration is of a complex oriental type with many decorative elements.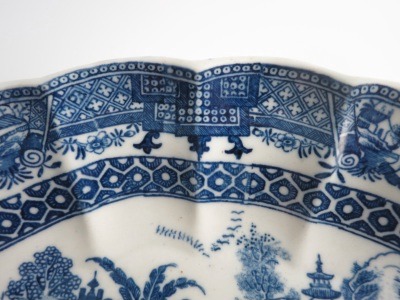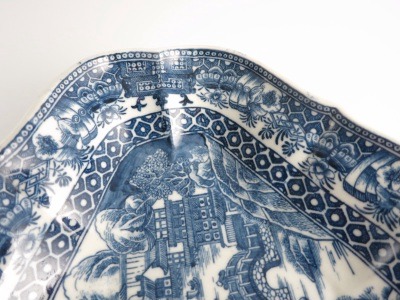 There is a raised foot rim on the underside of the dish.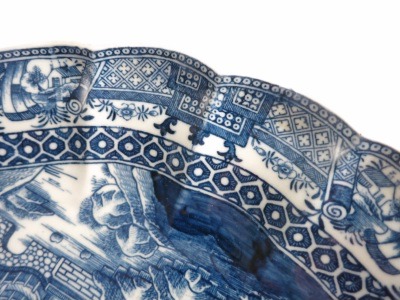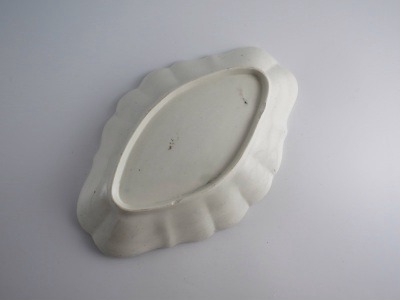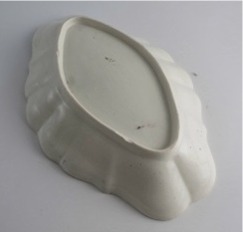 Ask for more information about this item
Size and Weight:
10˝" (270mm) length of the dish
7" (175mm) width of the dish
1˝" (40mm) height of the dish
15ľoz (453gms) weight of the dish
(values are approximate)
Marks:
There is no manufacturer's mark on this dish, but it is a Caughley dish c1785, decorated with the 'Full Nankin' pattern in underglaze blue.
Condition:
This delightful eighteenth century Caughley dish is in very good condition with a very clear and sharp printed scene. There are no cracks, repairs or restoration. The only minor imperfection are what appears to be two chips on the rim of the raised foot. However, the larger of the two is actually glazed over, so is not damage but there at the time of manufacture. The smaller one is a later chip. These do no detract from the beauty of this dish and it is very much an excellent Caughley dish.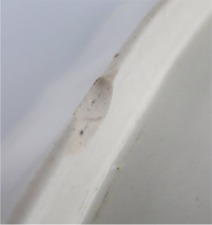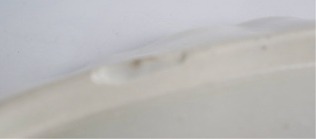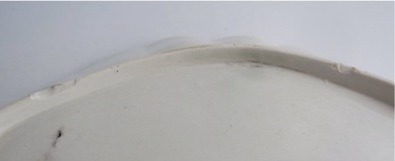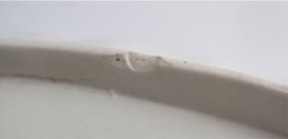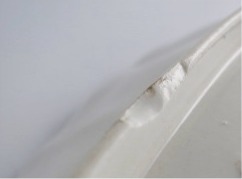 ---
All information contained within any article on this website was considered to be accurate (as far as can be ascertained) at the time of writing. TeaAntiques.com Limited makes no warranty and accepts no liability regarding the accuracy of the content.
Copyright © 2000 - 2022 All rights reserved
TeaAntiques.com Limited. Company Incorporated in England No.: 5086843