Worcester Circular Sucrier and Cover, Blue and White Decoration 'Argument' pattern, c1785
(p1361)
A circular Worcester Sucrier and Cover dating from c1785. It is decorated with the under glaze blue and white print of the 'Argument' pattern.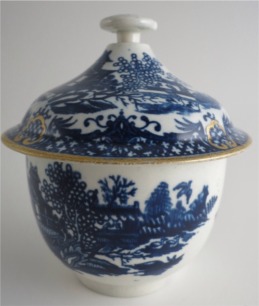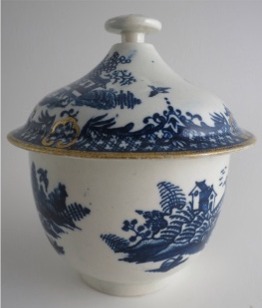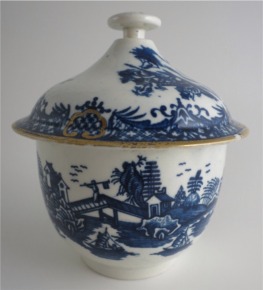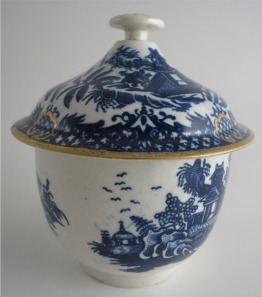 The 'Argument' pattern of the Willow pattern style with a centre apple (?) tree and an open-ended Chinese building on its left; on its right, in an open low-fronted building, inside there are two figures raising their fists at each other. A secondary design shows a bridge joining two islands, with a figure crossing from right to left. Various ornate, wide, Chinese-style borders enclose this design, and it can often be seen in the centre of chrysanthemum moulded ware. A similar blue printed design is found on Lowestoft porcelain but not on Caughley.
Click here to check price and availability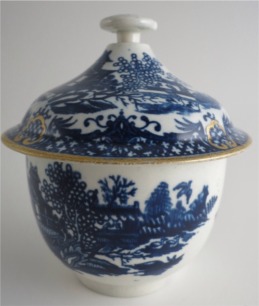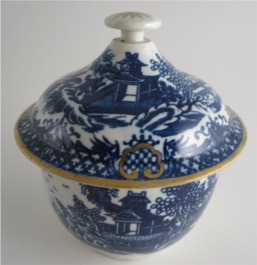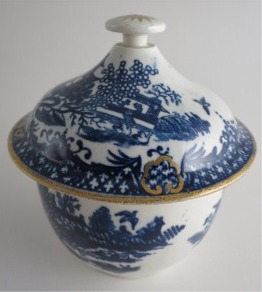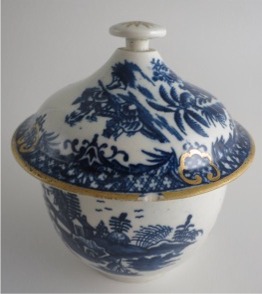 The Sucrier has the main 'Argument' print on one side and the secondary print on the other side. The ornate thick oriental band of decoration is on the inner rim of the sucrier.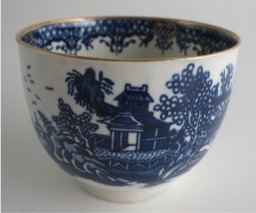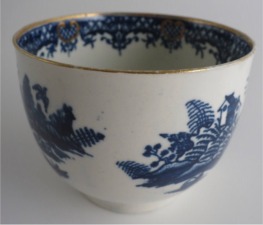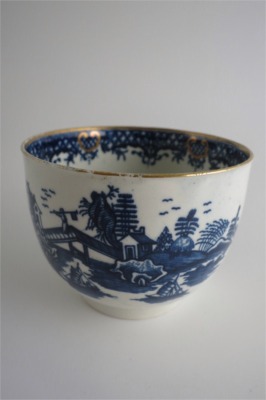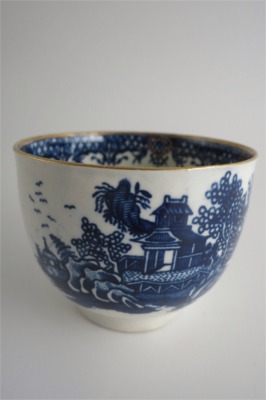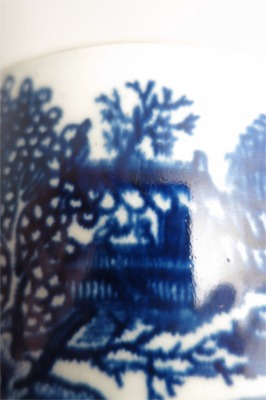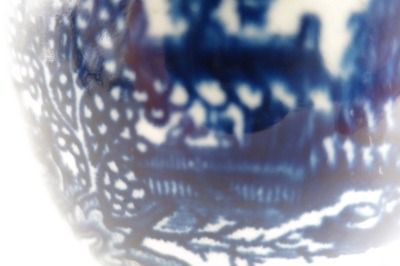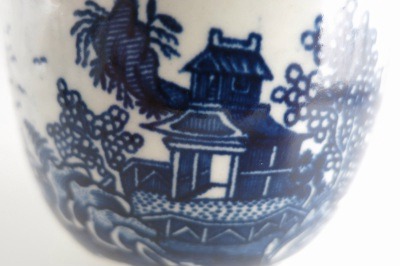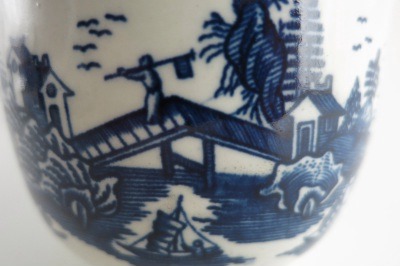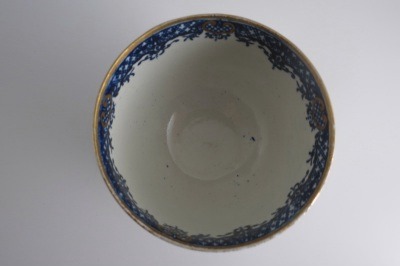 The rim and raised foot have a gilded line and further small gilt embellishments are applied to the wide oriental border.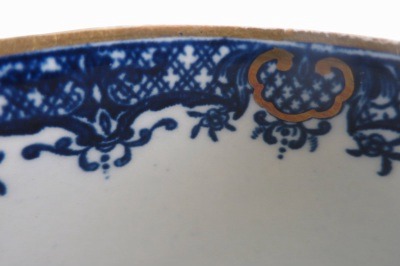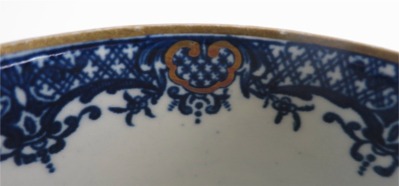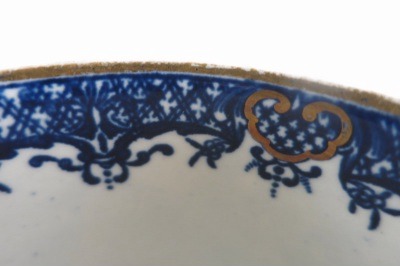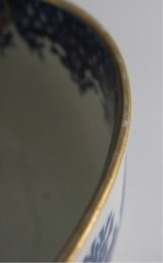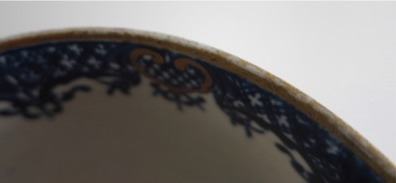 The underside of the sucrier carries the Worcester manufacturer's mark of a disguised numeral mark, in this case a disguised '4'.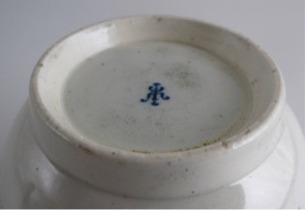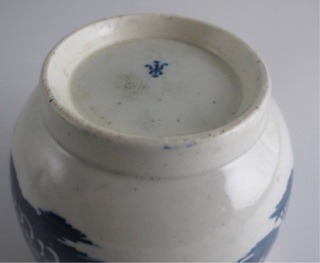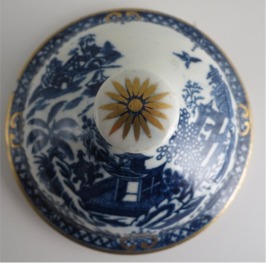 The cover of the sucrier is of a domed shape, with a large 'button' shaped circular finial. This finial ids decorated with an underglaze blue circle embellished with a gilded flower pattern.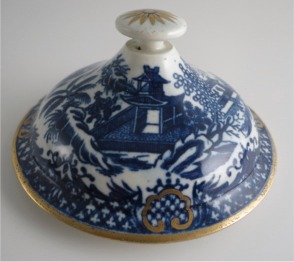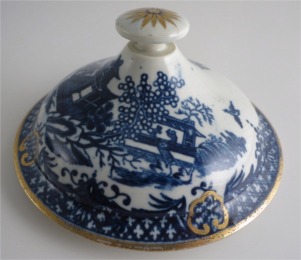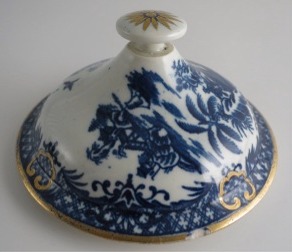 The cover decoration has the two prints of the 'argument' pattern and the wide oriental border, which like the sucrier has a gilded rim and embellished gilding on the wide border.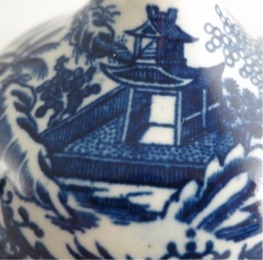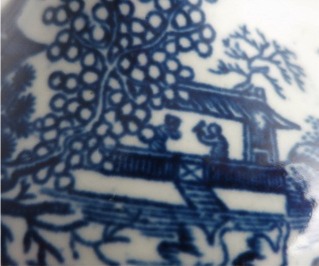 The picture above right shows the part of the print from which it has taken its name the 'Argument' as the two men within the building have their fists raised at each other as if in an argument.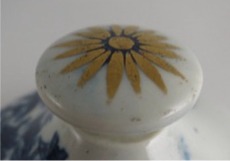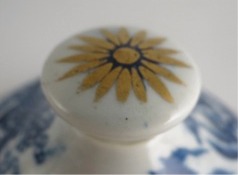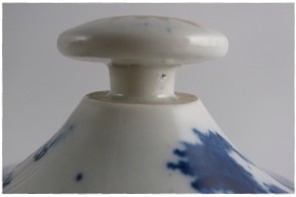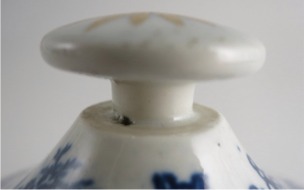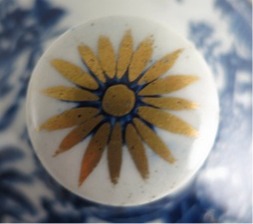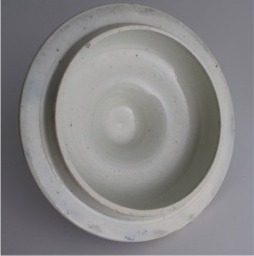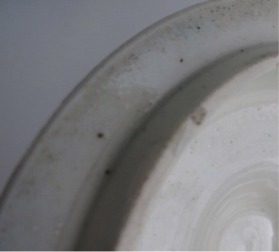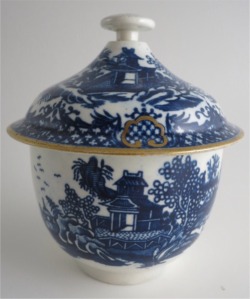 An excellent example of a Worcester sucrier and cover dating from 1785 and beautifully decorated with the 'Argument' Pattern.
Ask for more information about this item
Size and Weight:
4" (100mm) diameter of bowl
3" (77mm) height of bowl (no lid)
4ľ" (120mm) diameter of lid
5" (130mm) height (inc. lid)
12Ľoz (348gms) total weight
(values are approximate)
Marks:
The underside of the sucrier carries the Worcester manufacturer's mark of a disguised numeral mark, in this case a disguised '4'.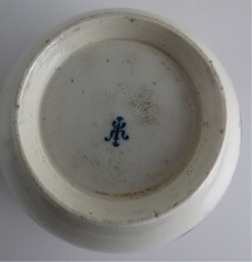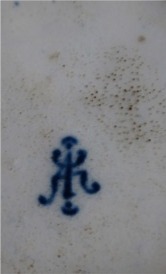 Condition:
This delightful early Worcester sucrier and cover are generally very good condition with no cracks, repairs or restoration. The only minor imperfection is a small flake chip on the rim of the cover approx. 10mm x 3mm. There is also some wear to the gilding of the sucrier and cover.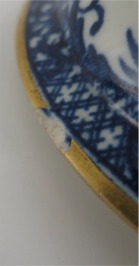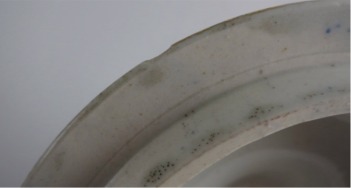 ---
All information contained within any article on this website was considered to be accurate (as far as can be ascertained) at the time of writing. TeaAntiques.com Limited makes no warranty and accepts no liability regarding the accuracy of the content.
Copyright © 2000 - 2020 All rights reserved
TeaAntiques.com Limited. Company Incorporated in England No.: 5086843