New Hall silver shaped teapot, 'boy chasing butterfly' design, pattern N421, c1795
(p1364)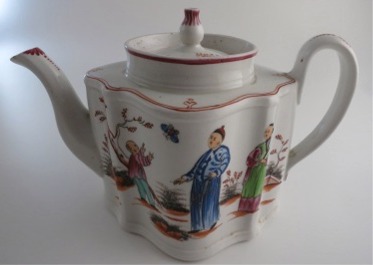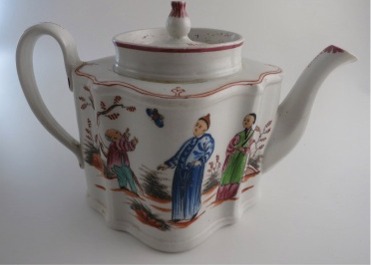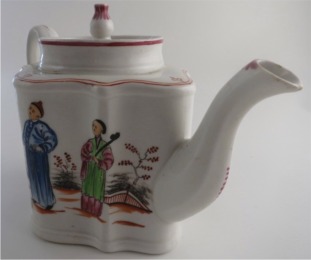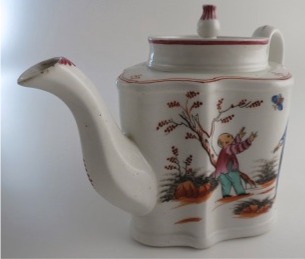 A most beautiful and charming 'silver shaped' Teapot from the New Hall factory, Sheldon, Stoke-on-Trent, England. This lovely Teapot dates from around c1795 and is a superb example of a New Hall Teapot decorated in Chinese style of a 'boy chasing butterfly' in striking enamel colours.
Click here to check price and availability
This particular example of a New Hall teapot, is called a 'silver shaped' teapot as it was copying the then fashionable shape of teapots made in solid silver, which gives this teapot a complex and very pleasing shape.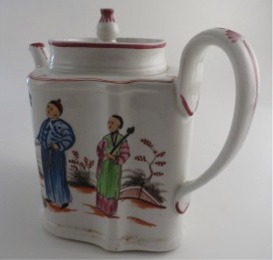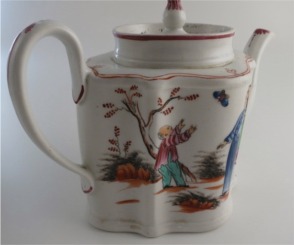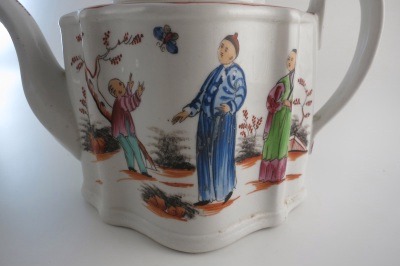 The New Hall factory had become famous for their production of elegant tea wares for the middle class English market by the end of the eighteenth century, taking the market share away from the other prominent manufacturers such as Worcester and Caughley. New Hall, had produced a new 'hybrid' porcelain, not a hard paste like those of German and Chinese manufacturers, but a paste that was more suited to tea wares than the body materials used by other English producers. Many of the New Hall designs were in the Chinese taste, emulating the Chinese export ware which had become so popular in England during this period.
This teapot is certainly in the Chinese taste. It is decorated in the striking enamel paints, with the so called 'boy chasing butterfly' design, a charming and elegant pattern. This painted scene of a young boy in front of two noble gentlemen, with his arms out stretched in an attempt to capture a blue butterfly, is repeated on each side of the teapot body.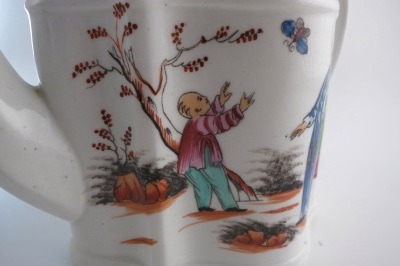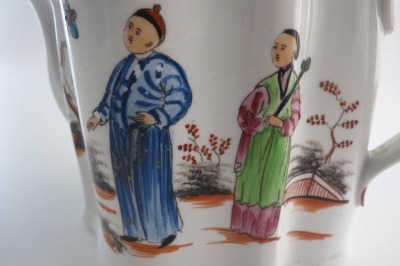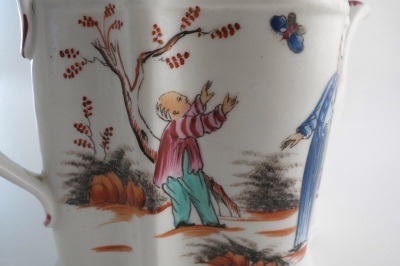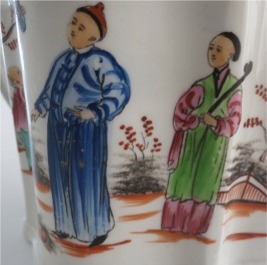 The teapot spout is of an elegant shape, not round in section but moulded with facets. The tip is decorated with pink applied to the top edge and then having pink dots running part the way down its front face.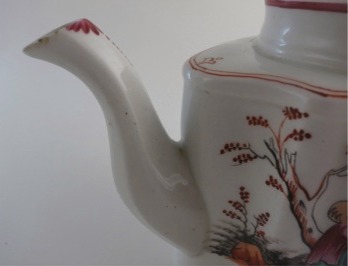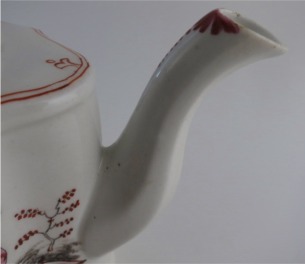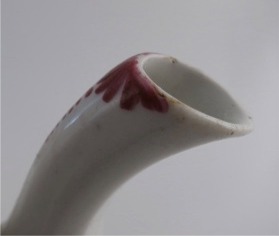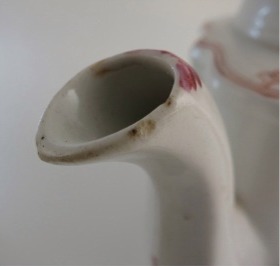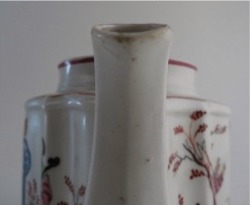 The handle is of a looped form and as with the spout it is embellished with pink decoration.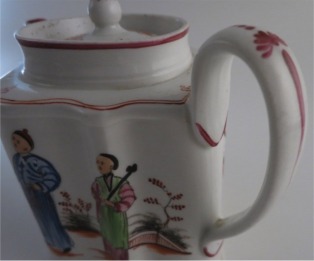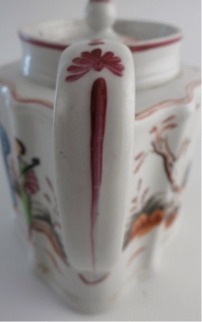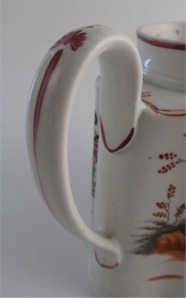 The lid of the teapot fits into a raised collar section. There is a pierced set of straining holes on the inside of the pot at the entrance to the spout for holding back the large tea leaves.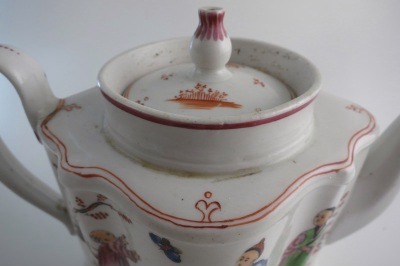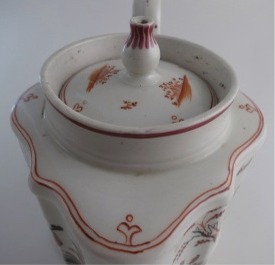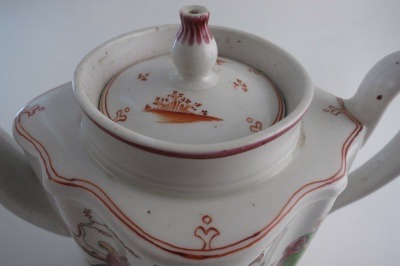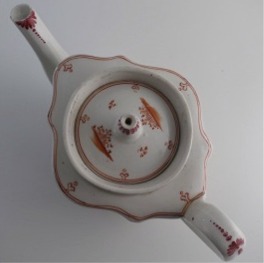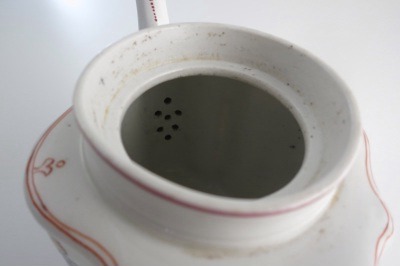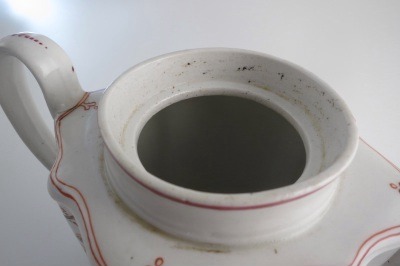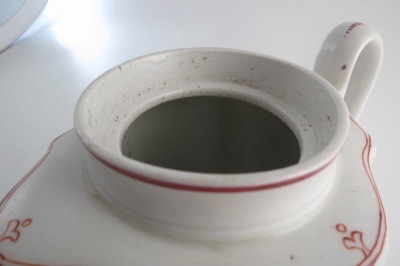 The finial to the lid is of a drawn up flower bud shape capped with pink vertical lines. New Hall made this finial hollow allowing the steam from the tea to escape. Most other manufacturers were using a separate hole off to one side of the finial, so this is a most an interesting feature.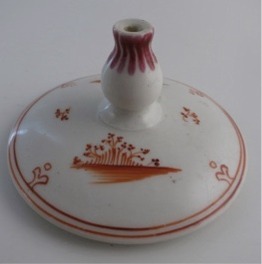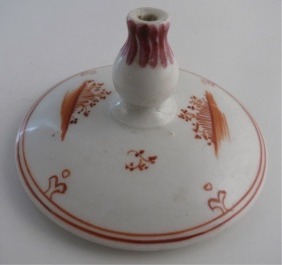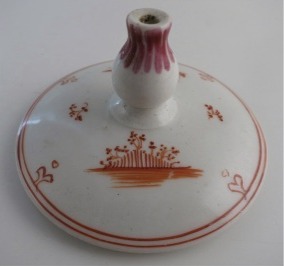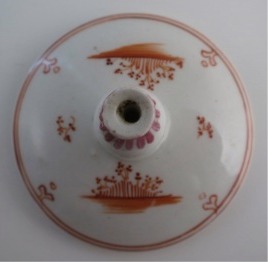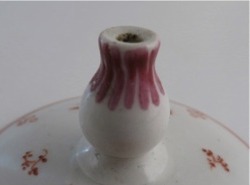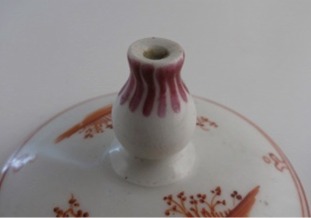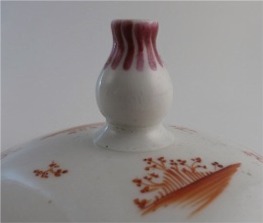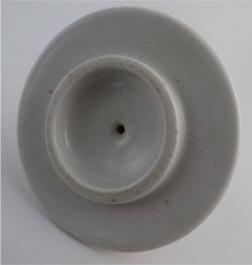 The teapot is marked on the underside with the pattern number N421 in orange enamel.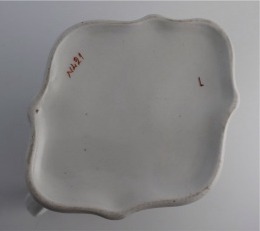 This certainly is a really fine New Hall teapot in excellent condition, decorated in a most beautiful fashion. It is rare now to find such teapots that are undamaged or that have not been restored and this one shows no signs of wear. A truly magnificent item of New Hall from c1795.
This is a rare teapot of great charm and character. It is a very fine example from the New Hall factory c1795 and would make a splendid addition to a collector of New Hall or eighteenth century china or tea wares.
Ask for more information about this item
Size and Weight:
Teapot and lid:

Height 6" (150mm)
Length tip of spout to edge of handle: 9" (230mm)
Max. diameter: 5" (120mm)
Weight: 1lb 6Ľoz. (628mm)

(values are approximate)
Marks:
The teapot is marked on the underside with the pattern number N421 in orange enamel and decorator's mark L.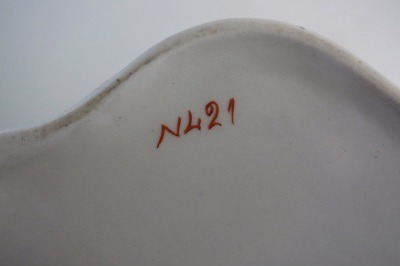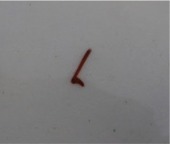 Condition:
This New Hall teapot and lid is in remarkable condition. There are no cracks, chips, repairs or restoration. The only very minor manufacturing imperfections are some rough brown area on tip of spout, some minor loss of enamel decoration, mainly on the blue man's clothes, and a little kiln dust speckling in the glaze of the inner edge of the raised teapot lid collar.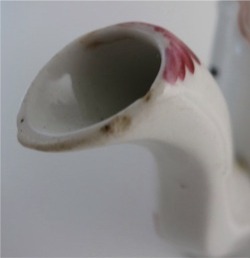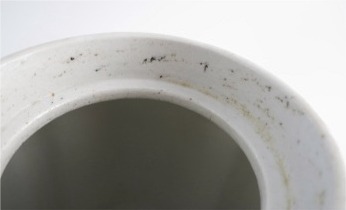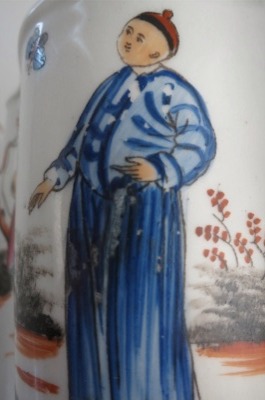 ---
All information contained within any article on this website was considered to be accurate (as far as can be ascertained) at the time of writing. TeaAntiques.com Limited makes no warranty and accepts no liability regarding the accuracy of the content.
Copyright © 2000 - 2022 All rights reserved
TeaAntiques.com Limited. Company Incorporated in England No.: 5086843