Staffordshire Pearlware Cylindrical Tea Canister, Printed with Blue 'Oriental scenes', c1795
(p848)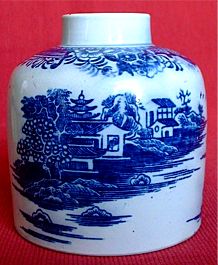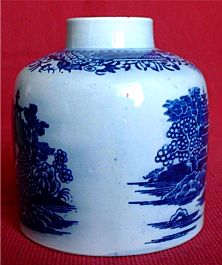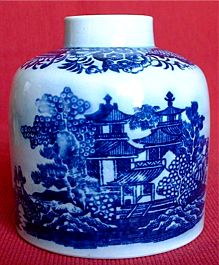 A charming 'Pearlware' tea canister, printed with blue oriental scenes including two men on a bridge, made in Staffordshire, c1795.
Click here to check price and availability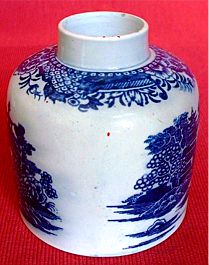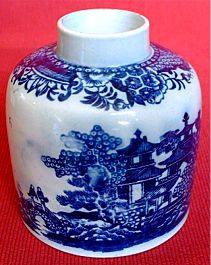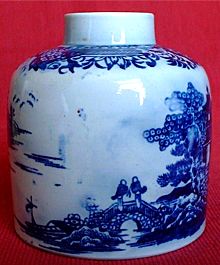 This delightful tea canister is of a cylindrical shape, with rounded shoulders and having a cylindrical neck. It is beautifully decorated with blue prints of oriental scenes. These scenes include temples, trees, islands as well as the two men crossing the oriental bridge in the foreground. These scenes are beautifully executed and of a rich deep blue colour.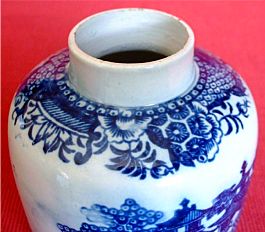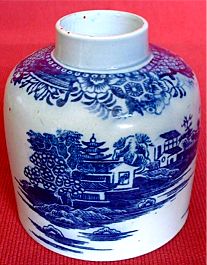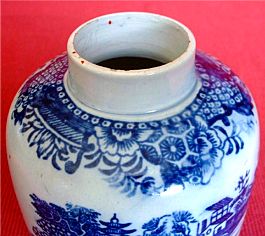 Around the shoulder of the tea canister there is further applied blue printed decoration in the form of an elaborate oriental band of decoration. This decoration has a cell border running round the shoulder against the raised neck of the canister. Away from the cell border hang foliage and flowers and scaled areas.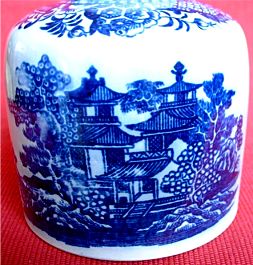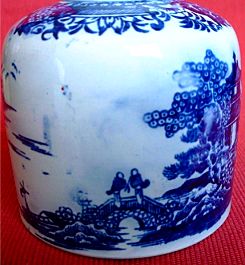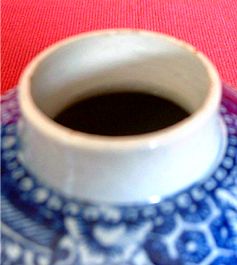 These blue decorative scenes cover the outer body of this wonderful tea canister. There are no manufacturer's marks to this tea canister, but is of Pearlware and would have been made in the Staffordshire area of England, c1795.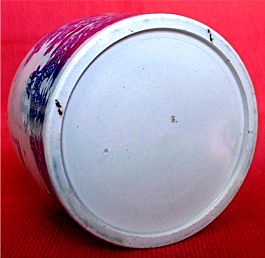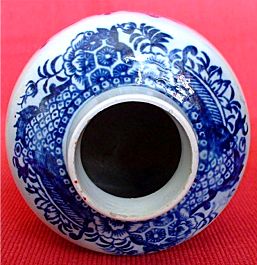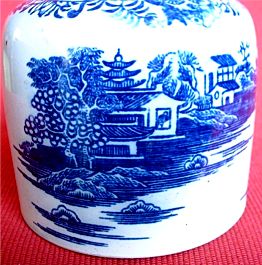 A charming eighteenth century Staffordshire Pearlware tea canister, printed in blue with delightful oriental scenes, c1795.
Size and Weight: (values are approximate)
3½" (88mm) in height.
3¼" (82mm) maximum body diameter.
5½oz (155gms) in weight.
Marks:
There are no manufacturer's marks on this tea canister. It is made of Pearlware and dates from c1795. It would have originated form the Staffordshire potteries region of England.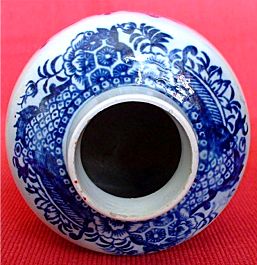 This lovely tea canister is in excellent condition. There are no cracks, repairs or restoration. There are only the tiniest if frit type chips to the glaze on the inner edge of the neck, but these really are tiny and insignificant. It is a very fine tea canister, beautifully decorated with oriental scenes of two men on a bridge and a quality item for the collector of eighteenth century tea canisters or Pearlware.
---
All information contained within any article on this website was considered to be accurate (as far as can be ascertained) at the time of writing. TeaAntiques.com Limited makes no warranty and accepts no liability regarding the accuracy of the content.
Copyright © 2000 - 2022 All rights reserved
TeaAntiques.com Limited. Company Incorporated in England No.: 5086843