Coalport Teapot Stand, Neo-Classical Design, Brown & Gilt Floral Decoration, Oval Fluted Shape, Pattern Number 303, c1810
(p910)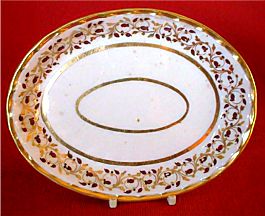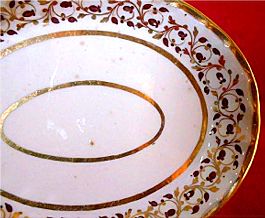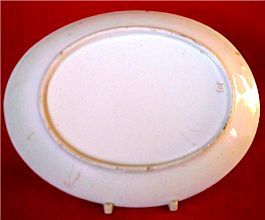 An elegant and very attractive Coalport oval teapot stand of pattern 303, made c1810. This beautiful teapot stand is of an elegant oval shape with vertical moulded fluting. It is charmingly decorated with a brown and gilt scrolling border.
Click here to check price and availability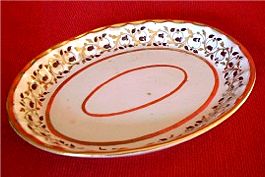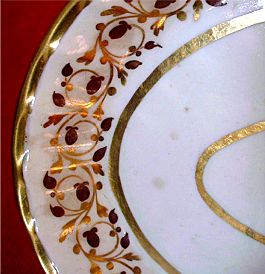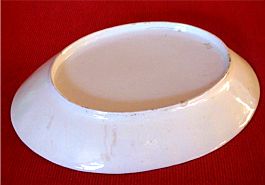 The body of the teapot stand is an elegant oval shape with vertical moulded fluting to the upturned rim. It has a wide band of applied brown and gilt decoration in neo-classical style comprising gilt scrolling foliage with brown leaves and flowers running between two thick gilt lines. This gives a very light feel to this very fine decoration.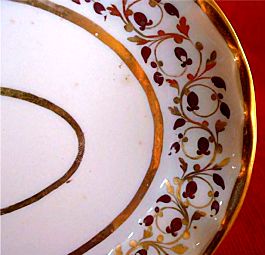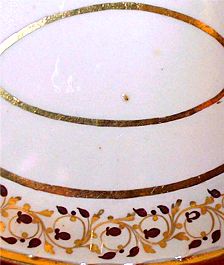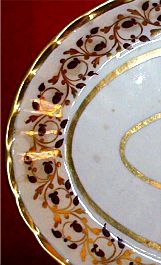 On the flat oval base of the teapot stand, there is an oval gilt line in the centre.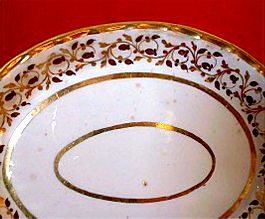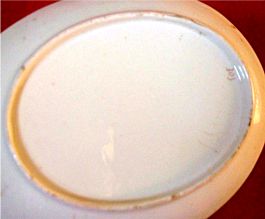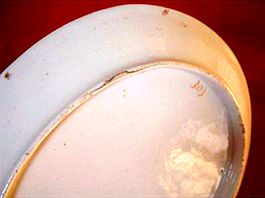 The teapot stand sits on a raised oval foot rim and there is the pattern number '303' written on the base with gold letters.
An elegant Coalport teapot stand, decorated in neo-classical style a band of scrolling flowers and foliage in brown and gold. Made at the famous Coalport factory c1810
Size and Weight: (values are approximate)
6¾" X 5¼" (172mm X 134mm) length X with of the teapot stand.
1" (25mm) height of the raised rim of the stand.
7½oz (215gms) in weight.
Marks: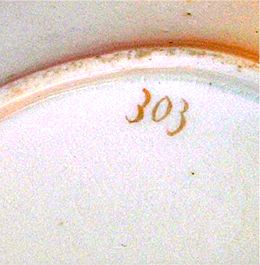 There is the Coalport pattern number '303' written on the base with gold letters.

This delightful Coalport teapot stand is in good condition with no chips, repairs or restoration. The decoration and gilding are in very good order showing almost no sign of ware. The only very minor imperfections are a tiny firing line flaw on the underside foot rim, which looks worse than it shows in my picture! Also, there is some glaze crazing and a little browning on small areas of the base-again this is minor and insignificant.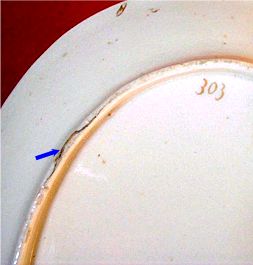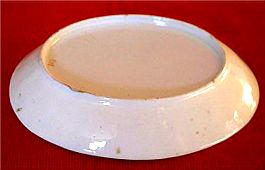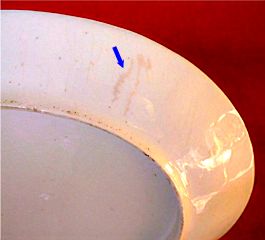 A very attractive teapot stand from the Coalport factory for the collector of Coalport or early English porcelain.
---
All information contained within any article on this website was considered to be accurate (as far as can be ascertained) at the time of writing. TeaAntiques.com Limited makes no warranty and accepts no liability regarding the accuracy of the content.
Copyright © 2000 - 2022 All rights reserved
TeaAntiques.com Limited. Company Incorporated in England No.: 5086843