Rare Caughley Asparagus Server, Printed in Blue & White with 'The Fisherman & Cormorant' Pattern, c1785
(p920)

A delightful and quite rare Caughley asparagus server, printed in blue and white with the 'fisherman and cormorant' pattern, c1785. These servers were used to serve individual portions of succulent asparagus at the dining table, it holding a small bunch of asparagus nicely together for ease of handling.
Click here to check price and availability

The asparagus server is of a fan shape base with raised and scalloped sides.
The base of the asparagus server is printed with the fisherman and cormorant print showing a fisherman who has caught a fish with his line and which is eagerly watched over by the hungry cormorant bird perched upon a rock, its wings outstretched. The fisherman is standing on his boat which has a mast and sail.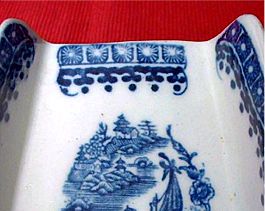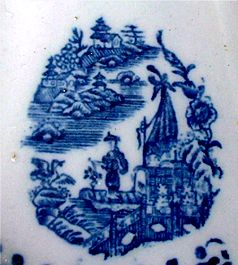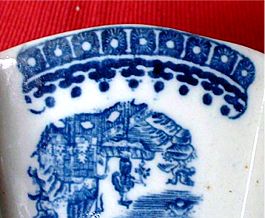 Beyond the water in the distance is an Island with hills and mountains together with buildings and temple.
The main fisherman and cormorant print has a blue decorative border at the top and bottom. This comprising a cell border with additional blue decoration on one side.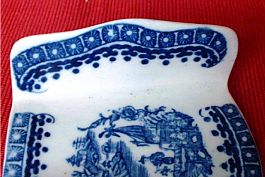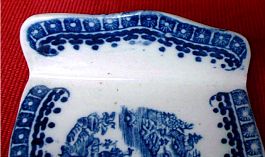 This same border decoration is applied to the raised sides on the inner and outer rims. Also on the outer faces of the sides are blue printed Islands within the sea.

A rare and excellent condition Caughley asparagus server, printed in blue & white with 'the fisherman & cormorant' pattern, c1785
Size and Weight: (values are approximate)
3" X 2¾" (76mm X 70mm) maximum length X maximum width.
1" (26mm) maximum height of the raised sides.
1¼ oz (38gms) in weight.
Marks:
There are no manufacturer's marks on this asparagus server, but from the body and the print of the fisherman and cormorant it is from the Caughley factory c1785.
This very pretty and rare asparagus server is in excellent condition, with no chips, cracks, repairs or restoration. A very good quality Caughley piece for the connoisseur collector of Caughley porcelain.
---
All information contained within any article on this website was considered to be accurate (as far as can be ascertained) at the time of writing. TeaAntiques.com Limited makes no warranty and accepts no liability regarding the accuracy of the content.
Copyright © 2000 - 2022 All rights reserved
TeaAntiques.com Limited. Company Incorporated in England No.: 5086843