(p1371)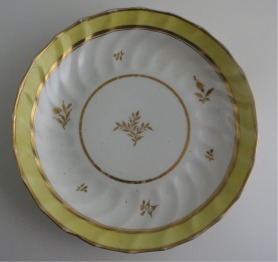 An extremely rare yellow border Chamberlain Worcester cake or bread and butter plate dating from c1800. Yellow is the rarest colour to find used on early English porcelain due to the complex nature of the firing; it was unstable and so almost impossible to produce. As such, yellow ground porcelains were very expensive and sought after at the time and a rare item for collectors to find today.
Click here to check price and availability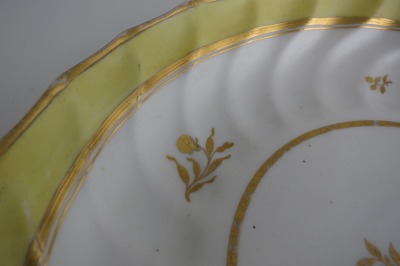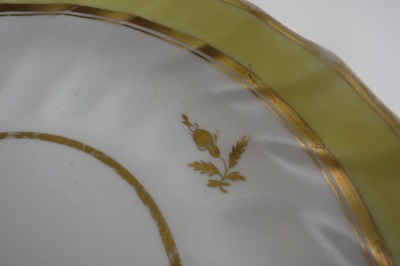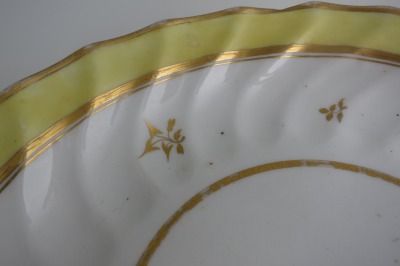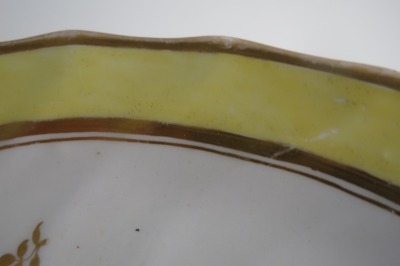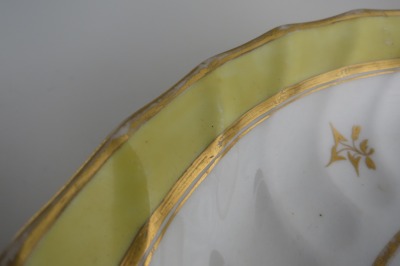 This very fine example is a delightful cake or bread and butter plate with moulded spiral shanked decoration. The pattern is Chamberlain Worcester pattern number 'No124'. This pattern number is listed in 'Chamberlain-Worcester Porcelain' by Geoffrey A. Godden as 'Shanked yellow, gold border' taken from the original list of Chamberlain patterns.
This charming plate is an excellent example of this rare colour ground. The border round the top edge of the plate has this rich canary yellow which has applied gilt line decoration . This giving a very elegant and rich decoration. The yellow borders are bounded on both sides by a gilt lines.
Around the inside of the shanked body of the plate are scattered red and gilt flower sprigs, in between which are small single gilt leaves. This pattern is quite delightful and rare to find. A central foliage sprig is inside a gilt circle.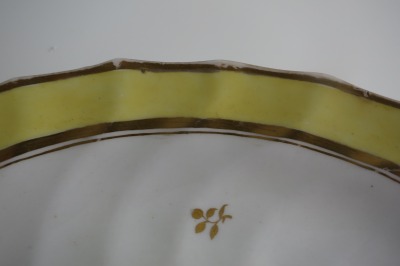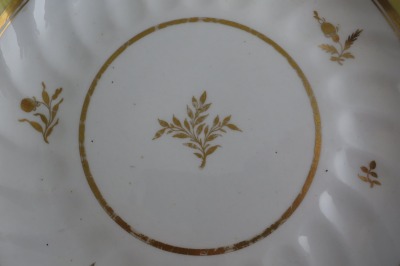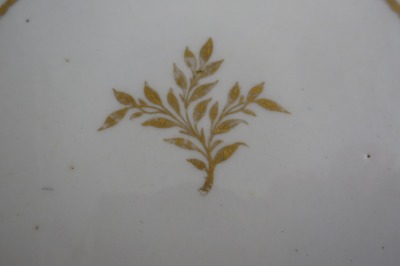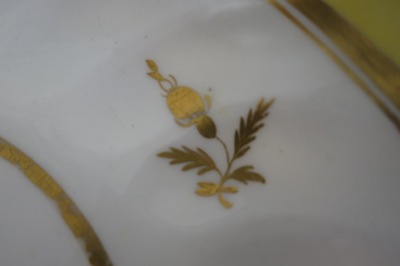 A most charming Chamberlain Worcester shanked Plate, having a very rare yellow & gold border, Pattern Number 124, c1800.
Size and Weight: (values are approximate)
1¼" (32mm) in height.
7½" (190mm) in diameter.
9¾oz (274gms) in weight.
Marks:
There are no manufacturer's marks, but this is a Chamberlain Worcester piece of Pattern Number 124, c1800. A sucrier of the same set is marked with 'Chamberlains Worcester warranted pattern 124.
This charming and very rare yellow ground Chamberlain's Worcester plate is in good condition. There are no cracks, repairs or restoration and the decoration is in good order, with some minor wear to the gilding on high moulded spots.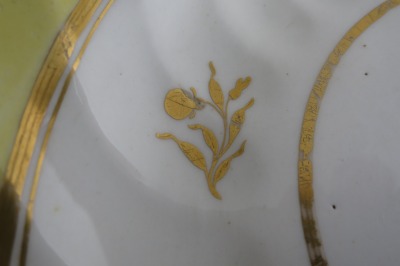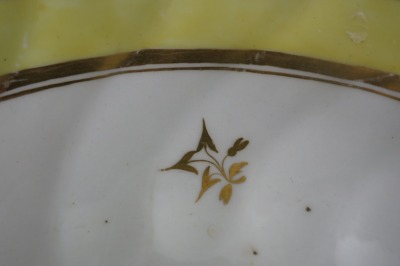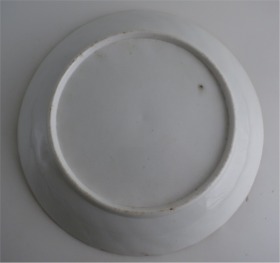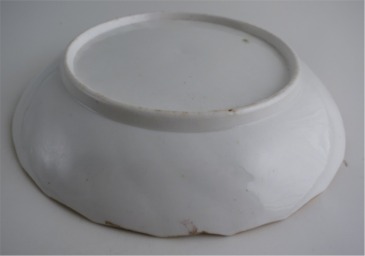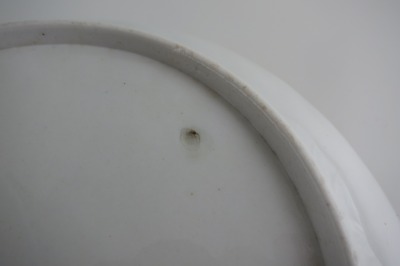 Description
Description
An extremely rare yellow border Chamberlain Worcester cake or bread and butter plate dating from c1800. Yellow is the rarest colour to find used on early English porcelain due to the complex nature of the firing; it was unstable and so almost impossible to produce. As such, yellow ground porcelains were very expensive and sought after at the time and a rare item for collectors to find today.
Year of Manufacture
c1800
Pattern
Yellow and Gilt Decoration, Pattern 124
Condition (See main description for full details and pictures)
This charming and very rare yellow ground Chamberlain's Worcester plate is in good condition. There are no cracks, repairs or restoration and the decoration is in good order, with some minor wear to the gilding on high moulded spots. (see pictures in full description)
Rare Chamberlain's Worcester Yellow Ground Oval Shanked Cake or Bread and Butter Plate, Yellow and Gilt Decoration, Pattern 124, c1800
Tags: Chamberlain's Worcester, Yellow Ground, Oval Shanked Cake or Bread and Butter Plate, Yellow and Gilt Decoration, Pattern 124