Tea Clipper

from TeaAntiques.com

Edition

One
This month brings us to the famous Georgian city of Bath, renowned for its fine eighteenth century architecture, particularly the fine Squares, Crescents and Terraces associated with the Architects John Wood and John Wood the younger.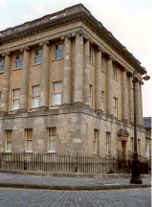 No visit to Bath would be complete for the tea lover without a look into the No1 Royal Crescent museum, which is a delightful Georgian town 'lodging' house built around 1769, designed by John Wood the younger. This wonderful town house, the end house of this famous crescent, is perched on high ground with splendid views of the city of Bath below. Now a museum, it has been very carefully restored to reflect the life of 'society' in Bath at that period. Furnished with some exquisite antiques of the eighteenth Century and decorated to recreate the taste of this classical time.
For the antique 'tea' collector the Drawing Room on the first floor, as the principle entertaining room contains a beautiful oval inlaid Pembroke Table in front of a delightful Camel Backed Settee and is set with items for afternoon tea. Included on the table is a fine late eighteenth century Worcester fluted tea set, with tea bowls and saucers, barrel shaped teapot on its original china teapot stand. There is also a delightful pierced swing handle sugar basket with a blue glass liner in which is the 'clipped' sugar taken from a 'sugar cone'. In my opinion, one of the most unusual items is a Mahogany Chippendale style 'kettle stand', a rare item indeed. A fantastic 'rococo' chased and embossed Georgian tea kettle with its spirit burner, stands proudly on the table, or sometimes placed in the kettle stand. This setting truly epitomises the elegance and importance of taking tea in eighteenth century society.
Having seen the tea equipage in No1 Royal Crescent, then maybe it's time to take tea yourself, I would recommend that tea be taken in the Georgian Pump Room in the centre of Bath, built at the site of one of the Cities Hot Springs which were thought to be medicinal. Society of the day would come to take and bath in the waters in the hope of a cure to their ailments (quite often gout through excess of pleasures!) Here in the Pump Room you can enjoy a formal afternoon tea sat on eighteenth century style chairs at circular tea tables covered by crisp white linen. You will be served by waiters and waitresses dressed in black and white, while you listen to a delightful trio playing an assortment of music appropriate to afternoon tea. There is a good choice of teas served in quality white china. The tea menu varies from an assortment of cakes, biscuits and bath buns to a full afternoon tea that includes, finger sandwiches, scones cream and jam and a selection of elegant tiny pastries.
A short walk from the Pump Room is a teashop called 'Sally Lunns', this is in a medieval building where Sally Lunn devised a special yeast bun named after her as the 'Sally Lunn'. This is a small teashop but a must for trying a Sally Lunn, which is very adaptable for sweet or savoury toppings, so should suit most tastes!
Don't leave Bath without taking some of your favourite loose-leaf teas with you. For this I recommend a visit to a tea and coffee seller within the old covered market next to the classical town hall. Here you can buy many varieties of tea including the well know Darjeeling, Assam, Ceylon and Earl Grey. However, watch out for some more unusual types such as Russian Caravan and Gunpowder! Teas are sold from large tea canisters, weighed out and wrapped and packaged by hand, such a lovely personal touch. If you prefer Coffee, there is the same wide selection available as beans, which they will grind for you if you so desire.
This is only a few of the tea related items that Bath has to offer, I am sure you will derive much pleasure from searching out some more. Do not forget that there are also a wide variety of antique shops and markets in the town, so you might even go home with your own tea antique as a loving reminder of the City and to enhance your own collection-good luck.
My teashop recommendation of the month must be a small teashop in Bradford-on-Avon, a short car or train trip from Bath and an absolute MUST for anybody who truly loves a full afternoon tea. The teashop is the 'Bridge Tea Rooms' set close to the stone bridge over the river Avon, which flows through the centre of the town.
You will find that this is a pretty quaint teashop, very cosy and decorated in true Victorian style. The thing that will hit you, as you step inside the door is an antique sideboard and a cool cabinet filled with the most tempting and largest cakes and Gateaux you will ever see! Their cakes are at least 6 or 7 inches high and stand proudly on old glass cake stands. As for their Scones, one scone here must equate to about three in any other shop, so you will certainly not leave feeling hungry! I strongly recommend their full afternoon tea (big enough for two to share, which they happily allow), presented on a three-tier cake stand. For this you will be served with a sandwich of your choice (and they certainly are not finger sandwiches!) with a mass of salad garnish, a square buttered crumpet, a scone split in half, each then spread with lashings of strawberry jam and cream, finally a large slice of cake from the 'board'. It is worth noting that any food that you cannot manage to eat they will pack into a box for you to take away-enjoy!!
Factual 'Tea Clipping'
In my tea trail this month I mentioned the silver glass lined sugar basket on the Pembroke Table of the No1 Royal Crescent Museum, which contained 'clipped Sugar'. In the eighteenth century they did not have refined granulated sugar provided in bags as we do today, instead sugar came in a large hard moulded cone called a 'sugar cone', a good two feet high. (Not the sort of item you would have on your tea table!)
In order to serve sugar, it was 'clipped' down in the kitchens using a large pair of 'sugar clippers', which look rather like a large pair of pliers. The sugar cone was very hard and took some effort to 'clip' it into pieces suitable to fill an elegant sugar basket, which would then grace the tea table.
The polite way to then serve the sugar from the sugar basket would be by 'sugar tongs' or the very pretty 'sugar nips', which are rather like a pair of scissors in appearance but with usually shell shaped grips. If you care to browse our tea web site we usually stock such items that you can buy to grace your collection or afternoon tea table-treat your self!
---
To review past newsletters, just follow this link: Past newsletters.
To subscribe to this free newsletter - Click here
---
All information contained within any article on this website was considered to be accurate (as far as can be ascertained) at the time of writing. TeaAntiques.com Limited makes no warranty and accepts no liability regarding the accuracy of the content.
Copyright © 2000 - 2023 All rights reserved
TeaAntiques.com Limited. Company Incorporated in England No.: 5086843