Tea Clipper

from TeaAntiques.com

Edition

Two
Featured Antique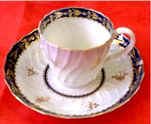 This month's 'Featured Antique' is a very pretty Worcester Coffee Can and Saucer c1795. It is a beautifully fluted ('shanked') Coffee can and saucer richly decorated with delightful gilt insects and foliage on a regal cobalt blue boarder. A superb piece of eighteenth century Worcester for a collector to own.
For more details of this and other tea related antique please view our web site www.TeaAntiques.com
This month brings us to the pretty little village of Corsham in Wiltshire, approximately 4 miles West of Chippenham, signed from the A4. Here adjacent to the village is the delightful stately home of Corsham Court.
The house is Elizabethan with later C19th century enlargement, built to house a large collection of paintings and furniture bought in Florence. Capability Brown and John Nash were involved with the landscape gardens and alterations to the house, an interesting feature in the garden is a Gothick style 'bath house', worthy of a visit.
For the collector of antique tea things, there are a few items of note in the house. Firstly, there is a good collection of oriental tea wares displayed in wall cabinets off the entrance hall, including tea bowls, saucers and teapots. Secondly, but to me one of the most delightful items of interest, is a comprehensive collection of a First Period Worcester Tea Set, housed in the music room. It has 'scale blue' ground and all the pieces are painted with delightful exotic birds. This set includes a global teapot, with a rare 'pierced through' rococo shaped handle, a truly magnificent item and again decorated with a regal scale blue ground and hand painted exotic birds, an absolute gem.
Also in the music room sits a huge blue and white teapot, too large for tea, but could have been used as a punch pot for the serving of punch by ladle rather than lifting to pour, which would be impossible!
Unfortunately, there is no tea shop within the house or gardens, but there is a teashop situated in the village main street only a few minutes walk from the house. I believe the shop is run in support of a church charity. Having had tea here myself, I can recommend their food especially their large chocolate éclairs!
For the gardeners amongst us, did you realise that the tea plant is actually a 'Camellia'? Camellia Sinensis, which is in fact a relation of the delightful Camellias that we grow in our gardens here with the colourful flowers in late Spring / early summer. However, I would not recommend you try to make tea from your garden Camellias!
The tea plant 'Camellia Sinensis', was probably first cultivated along the boarder of India and Burma with China. In cultivation, these tea plants are kept pruned to a height of about 5 feet, this not only makes a convenient picking height, but promotes the growth of the tender shoots which produce the finest teas for our delight and delectation.
---
To review past newsletters, just follow this link: Past newsletters.
To subscribe to this free newsletter - Click here
---
All information contained within any article on this website was considered to be accurate (as far as can be ascertained) at the time of writing. TeaAntiques.com Limited makes no warranty and accepts no liability regarding the accuracy of the content.
Copyright © 2000 - 2021 All rights reserved
TeaAntiques.com Limited. Company Incorporated in England No.: 5086843