Tea Clipper

from TeaAntiques.com

Edition

Four
Featured Antique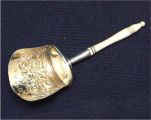 This month's Featured Antique is an extremely pretty little Georgian Caddy Spoon in Silver Gilt, by the famous silver smith Samuel Pemberton. It has a beautifully decorated shovel shaped bowl with floral repousse´ work. The handle of the caddy spoon is formed from turned Ivory. The hallmarks are very clearly stuck on the lip of the spoon bowl and include the Birmingham date letter for 1812 (what an overture!)

For more details of this item and other Caddy Spoons and tea equipage please visit our web site www.TeaAntiques.com

The splendid old city of York is a good place for tea lovers to indulge in a fantastic afternoon tea and to find out more about the subject. First thing that I would recommend is a visit to the delightfully grand eighteenth century town house 'Fairfax House'. This beautiful house was designed by John Carr of York and contains some stunning mid-eighteenth century furniture and fine rococo decoration.

The house, now refurbished by the York Civic Trust, contains the world famous Noel Terry collection of furniture. I was lucky enough to visit in December, when I was delighted to see the house had been decorated for Christmas in period style, well worth seeing.

In visiting the house I would draw your attention to the red drawing room on the first floor, a grand room for entertaining. In this room I was delighted to see an Georgian Irish 'Chippendale' mahogany rectangular 'silver' table, standing on the most slender cabriole legs, set with eighteenth century tea equipage. Included were fine Chinese blue and white china tea bowls and saucers, teapot, etc. Also a very fine two compartment tea caddy. Even more joyous to behold was a silver tea urn sat proudly on an urn table. Such tea urns were often used in this century at the tea table for the hostess to be able to refresh the teapot with hot water as necessary, (see the factual 'tea clipping').

The house is open to the public from late February to early January, so soon time to plan a visit. For details on opening and special events please ring: 01904 655543, or visit their web site on: www.fairfaxhouse.co.uk

When you have had your fill of the delights of Fairfax house and you require an afternoon tea, then where else would I recommend in York other than the world famous 'Betty's' tearooms. Here in the centre of York you can take tea in style, in a setting that reminds me of tea in the hay-days of the early part of the 1900's. It is usually very busy, but worth the wait to be pampered by waitresses in black dresses and white aprons to a range of very traditional cakes and pastries.

It might be worth sampling a local cake the 'Curd Tart', for which Betty's is well known. This is a delicious sweet pastry tart with a curd cheese based filling with allspice and sultanas.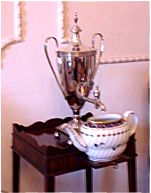 As can be seen in Fairfax House in York, during the eighteenth century a very useful item of tea silver was the Tea Urn. These came in a variety of sizes, the one in Fairfax House being of the small sized urn. The use of the Tea Urn was to provide hot water for the tea hostess to make the tea and to replenish the tea pot with hot water in front of her guests, how very grand!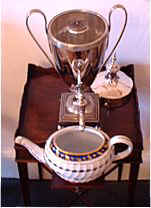 You may be wondering how the tea urn worked. Well, I have been using one at home for many years and find it works well. Inside the Urn, you will find a metal tube from the bottom of the water compartment to level with the top and has its own cover. When the urn is to be used, a short length of iron rod was heated in the kitchen fire until very hot. Tongs would be used to place this hot iron rod into the tube in the centre of the urn, and its cover would be placed over it. Then boiling hot water would be poured into the urn and the cover sat on top. Now the Urn would be whisked off to the drawing room ready for the tea ceremony to begin. A spout with a tap allowed the hot water to be drawn off as required, kept very hot by the hot iron deep in its heart.
There were designs by Chippendale and other eighteenth century furniture designers for Urn Tables, slender small square tables, usually having a galleried top, to prevent the Urn from being knocked off, and with a little pull out slide on which to rest a cup or teapot. Now that is what I call real designer furniture!
---
To review past newsletters, just follow this link: Past newsletters.
To subscribe to this free newsletter - Click here
---
All information contained within any article on this website was considered to be accurate (as far as can be ascertained) at the time of writing. TeaAntiques.com Limited makes no warranty and accepts no liability regarding the accuracy of the content.
Copyright © 2000 - 2023 All rights reserved
TeaAntiques.com Limited. Company Incorporated in England No.: 5086843