Tea Clipper

from TeaAntiques.com

Edition

Seven
Featured Antique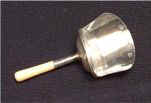 My Featured Antique, is a delightful silver shovel caddy spoon, by Samuel Pemberton, 1811. A lovely little item from the 'Regency' period, it has a pretty bone handle and is a simple and elegant caddy spoon. For more details on this and other fine antiques, please visit our web site www.TeaAntiques.com.

In England, at the beginning of the nineteenth century, the long reigning King George III was slowly going mad! His son, Prince George was made Prince Regent, and we refer to this period from 1800-1820 as the 'Regency' Period. On the death of George III in 1820, the Prince Regent became King George IV, and reigned for 10 years until his death in 1830. The period of King George IV's actual reign is also often considered, in antique terms, as being 'Regency' too.

As promised in the previous edition of the 'Tea Clipper', I have returned to the Geffrye museum, Kingsland Road, London, England. This time I am reviewing the 'Regency' room setting within the museum.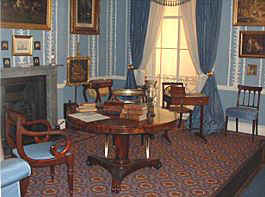 The room is set in the period 1800-1830 and is a representation of how a drawing room, in a London town house, might well have been decorated and furnished.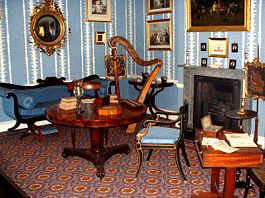 Unlike the rigid formality of the eighteenth century, the Regency room shows a change in taste towards a less formal domestic way of life. In such a room as this, the whole family might have been occupied in such activities as reading, writing letters, sketching, painting and the playing of music. The room would also have been used as a place of entertaining guests, who might call at the house, maybe for a musical gathering or just tea and gossip! Such activities are demonstrated here by the inclusion of a comfortable upholstered sofa, light and easily moveable tables and chairs, bookcases, writing table, card table and a very fine Harp.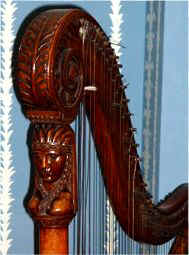 Furniture of the Regency period derived decorative features from baroque, rococo, French Empire and Egyptian patterns. Indeed, the harp has a most beautifully carved Egyptian figure head forming part of a very elaborate beech and satinwood frame. This delightful harp was made by Gregor Deis of Munic c1810.
The use of wallpapers was now becoming more affordable and widespread in middle class homes. This room, shows a pretty blue and white foliate striped paper, (wallpaper of this period is well know for the Regency stripe, so often copied today).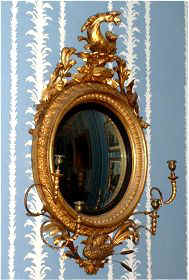 The rather gay flamboyancy of the period, is expressed in its opulent furniture and decoration. Take for example this exquisite gilt framed wall mirror, the whole thing alive and dancing! The use of carved moving animals and birds, foliage and twisting candle brackets. Can you imagine this lit with candles on a dark evening, fire burning in the hearth and guests laughing and joking playing at cards?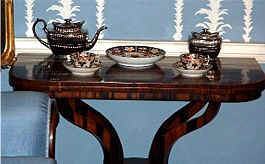 The room would of course also been used for the taking of tea, in the afternoon or after dinner. Standing against the wall of this room is a card table veneered in Calamander or 'Zebra' wood, with brass mounts and inlays, on which stand some tea related items. These include a silver Lustre teapot and sugar box, teacups and saucer and a cake plate with oriental type decoration.
Another very useful item of furniture within the room, is a central table, mahogany veneered on a pedestal base, c1830. This type of table was very fashionable in this period. Unlike the arrangement of furniture in the eighteenth century around the edge of the room, furniture was now starting to occupy the whole room, making them feel much more comfortable.
In a later edition of the Tea Clipper, I will return again to the Geffrye museum to look at another period of social history.
For details of the Geffrye museums opening times, please refer to my my previous newsletter, or view their web site: www.geffrye-museum.org.uk.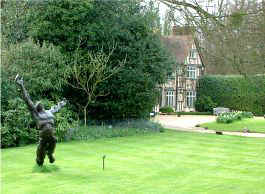 My tea shop recommendation for May is not so much a tea shop, but a restaurant which serves customers on the terrace of this country house in East Sussex.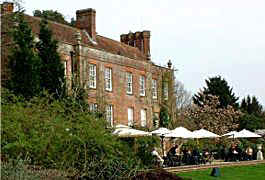 Pashley Manor is to be found in Ticehurst, Nr Wadhurst, East Sussex, England. The house (not open to the public) is steeped in history, Anne Boleyn, second wife of Henry VIII, spent some of her childhood here. The Tudor house was built in 1543 by Sir Thomas May. This Tudor house, had a Georgian Facade added in 1720 and it is on the terrace in front of this part of the house, that people can sit and enjoy refreshments, surrounded by the beauty and tranquillity of the gardens.
The restaurant prides itself on its food. Items on offer include home-made soups, ploughman's lunches as well as afternoon teas, with home made scones and cakes. After, or before tea, a gentle stroll round the beautifully kept gardens can be enjoyed. As well as the fine gardens, there are exhibitions of sculptures by leading British sculptors, set both around the gardens and in the Great Hall of the house.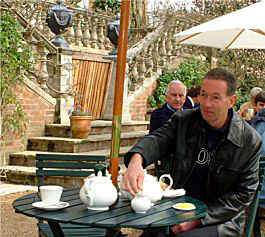 A very relaxing way to spend an afternoon.
Please note that there is an admission charge for the gardens, including the restaurant. The gardens and restaurant are open from April to the end of September.
For further details:
Telephone: 01580 200888
Fax: 01580 200102
Web Site: www.pashleymanorgardens.com
---
To review past newsletters, just follow this link: Past newsletters.
To subscribe to this free newsletter - Click here
---
All information contained within any article on this website was considered to be accurate (as far as can be ascertained) at the time of writing. TeaAntiques.com Limited makes no warranty and accepts no liability regarding the accuracy of the content.
Copyright © 2000 - 2021 All rights reserved
TeaAntiques.com Limited. Company Incorporated in England No.: 5086843