Tea Clipper

from TeaAntiques.com

Edition

Eight
Featured Antique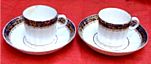 The Featured Antique is a lovely pair of Grainger's Worcester coffee cans and saucers, c1810. They are of the new fluted design; the cups with shaped handles. They are decorated with gilt vines on a deep cobalt blue border. A most elegant pair of coffee cans and saucers. For more details on these and other fine antiques, please visit our web site at www.TeaAntiques.com.

In May, I was fortunate to be able to enjoy a visit to Cornwall, in the far South West of England. Here, there is not only fantastic scenery, blue skies, beautiful golden sandy beaches, rocky coves and places of interest to visit, there are also those heavenly cream teas to be enjoyed!

One of the many places of historic interest is Trerice House, Kestle Mill, Nr Newquay. This is a delightful Elizabethan manor house which snuggles peacefully in a beautiful green and sheltered valley. The house is reached by driving down some narrow, winding Cornish country lanes, with rock walls (hedges), smothered with the most pretty wild flowers including Bluebells, wild Campion and wild Garlic.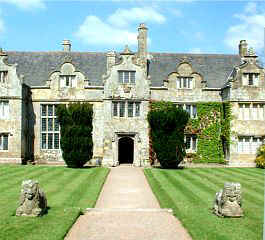 High walls enclose the entrance to the courtyard garden and the grey walled house. The house with its decorative shaped gables and mullioned windows is softened by the emerald green lawns.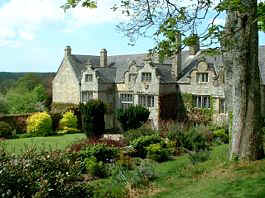 The Elizabethan part of the house has the usual 'E' shaped plan, synonymous with Elizabethan architectural house design. This part of the house was built by Sir John Arundell in c.1570. The great Hall bay window, to the South (left) of the front porch, retains much of the original sixteenth century glass. However, some of the 576 panes were cracked by the sonic 'boom' from Concord flying overhead between England and America!
One of the first rooms the visitor sees is the great Hall, which rises two stories, and is lit by this great East window. Much of the room's furniture dates from the second half of the seventeenth century.
Of particular interest to the lover of tea antiques, is a small Pewter teapot, global in shape and reminiscent of a teapot design from the mid to late eighteenth century. It stood on a circular base, had a curved spout and a shaped handle. The domed lid was capped with a small finial, possibly shaped to look like a rose bud. This is a most unusual item, small in size standing about 4 to 5 inches in height.
The next room is the Library, much lighter in design and appearance than the great Hall, it has a homely feel, with some comfortable eighteenth century furniture. This part of the house was a later addition to the Elizabethan house, the sash windows dating from the early nineteenth century. Housed in this room, in a fine eighteenth century style bookcase, is a good collection of domestic glassware, including eighteenth century wine and jelly glasses. Some of the wine glasses have air and opaque twisted stems, some decorated with fine engraving of birds and flowers.
Perched on a hob grate are two copper kettles, these one can imagine 'singing' away, ready for the all important tea to be made. There is a rectangular Georgian wooden tea caddy, with canted corners and inlaid with Box and Ebony stringing, this sits on an eighteenth century card/tea table.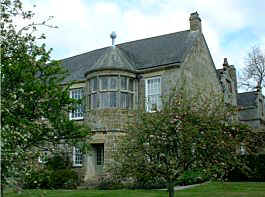 Above the Library is the Drawing room, a light room, south facing and lit by the mullioned bay window. Overlooking the old orchard, this would be an ideal place to sit and enjoy afternoon tea!
The room contains a very fine set of mid eighteenth century 'Gainsbourgh' arm chairs, with delicately embroidered contemporary covers.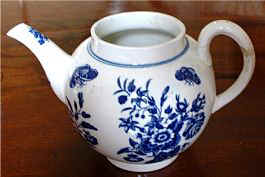 Further in the tour of the house can be seen examples of eighteenth century Caughley and Worcester tea wares etc. Amongst these, is a Caughley teaset c1772-95, similar to the teapot shown here, decorated with underglaze blue flowers and butterflies.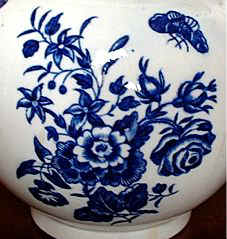 This teaset includes the teapot, sparrow beak milk and cream jugs, slops and sugar basin, tea bowls and saucers. A magnificent set indeed. It does illustrate the difference in size between the large slops basin and the smaller sugar basin, which are sometimes confused by people.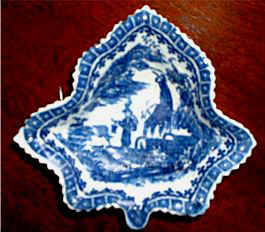 Other Caughley designs in the collection, include the 'Fisherman' pattern, here shown in a small pickle dish (private collection). At Trerice there are examples of the 'Fisherman' design on dessert dishes and a global teapot, all dating between 1772 and 1800.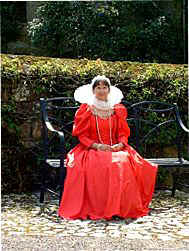 The house certainly does have a wealth of history about it, and a sense of the past still lingers on. In fact, I was fortunate enough to capture this charming Elizabethan lady, sat quietly in the gardens!
Trerice, is run by the National Trust. For information on opening times etc view the National Trust web site at: www.nationaltrust.org.uk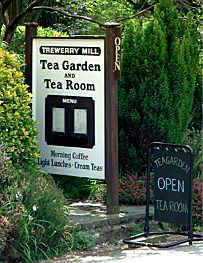 My tea shop recommendation this month also in Cornwall, England, and has to be Trewerry Mill. Which as it happens, is but half a mile down the lane from Trerice house.
Trewerry Mill, like Trerice house is set deep in a green and pretty valley, approached down delightful narrow Cornish lanes.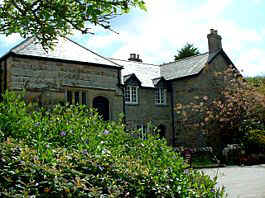 Trewerry Mill is indeed an old water mill, dating from the seventeenth century. It was used to grind corn for the tenants of Trerice Manor. This mill and cottage has now been converted into a licensed guest house and tea garden, run by Dave and Terri Clark.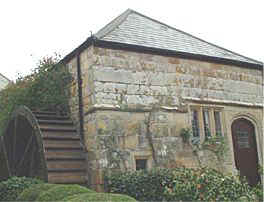 This is a tea garden that I have used many times during visits to Cornwall, and I can find no better place to enjoy a fantastic lunch, a home made cake or a delicious Cornish Cream tea, in such beautiful surroundings.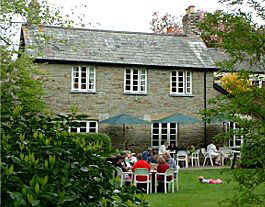 Tea is served outside, in the well tended and extremely pretty gardens to the side of the cottage. There are some umbrellas for those who do not like to sit in full sun, (or if there is the chance of a shower!)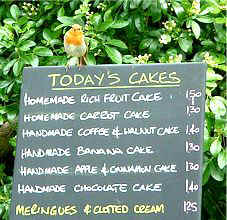 The cakes of the day are displayed on a black board, brought round to your table for you to choose (which is difficult, as they all look good).
The gardens are a haven for rather tame birds, the Robins are particularly friendly. As can been seen here, they sit on the cake black board to see what you are ordering, and what they might get in the form of any crumbs that you might leave!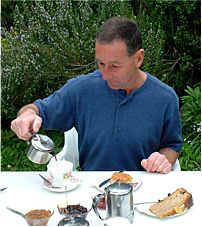 On this visit I opted to have a scone, jam and a slice of Apple an Cinnamon cake. Both of these were most delightful. It is nice to be served with delicate china cups and saucers, appropriately for a garden tea, decorated with flowers.
If something savoury is more to your taste, then I strongly recommend the Ploughman's Lunch, described by Dave as a 'proper' Ploughman's. It really is a small feast, with a good wedge of cheese, salad, pickles, relish, stunning wholemeal bread (and plenty of it) and lashings of butter.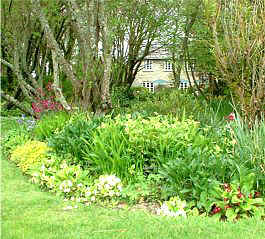 After the tea, you are invited to wander round the gardens, and worth the little wander they are too. There is a babbling stream running through the end of the garden and some marshy areas, where there are growing some very healthy and vivid Candelabra Primulas.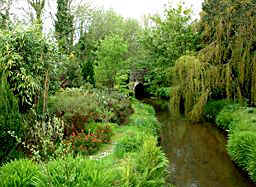 I can certainly say that this is indeed the 'cream' of Cornish tea gardens, and most definitely one to be visited.
If you require any further information about Trewerry Mill please visit their web site at www.connexions.co.uk/trewerry.mill
Trewerry Mill, St. Newlyn East, Nr. Newquay
Cornwall, TR8 5HS, England.
Telephone 01872 510345
In the eighteenth century, makers of porcelain were in competition trying to produce the finest china. Wedgwood's company bought china clay from Cornwall and used it to make fine tableware that was fit for royalty. Indeed, Wedgwood did supply china to royalty, both at home and abroad.
Today the China clay industry remains one of Cornwall's largest single industry.
Next edition
In the next edition of the 'Tea Clipper', I will remain in Cornwall reviewing Pencarrow, a lovely eighteenth century house, near Bodmin. The house is owned by the Molesworth-St. Aubyn family, and remains a loved and lived in home of theirs.
Also, join me in a 'Victorian' setting, taking tea in the Coinage Hall, Truro.
---
To review past newsletters, just follow this link: Past newsletters.
To subscribe to this free newsletter - Click here
---
All information contained within any article on this website was considered to be accurate (as far as can be ascertained) at the time of writing. TeaAntiques.com Limited makes no warranty and accepts no liability regarding the accuracy of the content.
Copyright © 2000 - 2023 All rights reserved
TeaAntiques.com Limited. Company Incorporated in England No.: 5086843