Tea Clipper

from TeaAntiques.com

Edition

Nine
Featured Antique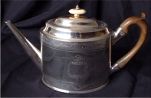 My Featured Antique is a magnificent Silver Teapot, by Peter and Anne Bateman, 1794. This oval, straight sided Teapot, has delightful bright cut decoration, fruit wood handle and Ivory lid button. It is in remarkably excellent condition and a top notch Teapot for a collector of Georgian silver or Teapots. More details of this item and other tea related antiques can be found by visiting my web site at www.TeaAntiques.com.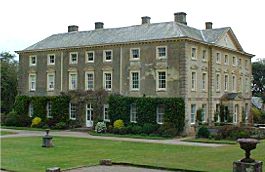 In this month's 'Tea Clipper', I return to Cornwall, South West England and visit the beautiful house of Pencarrow.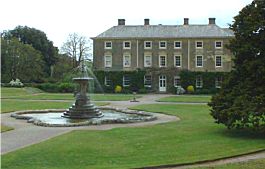 Pencarrow is situated between Bodmin and Wadebridge, the house is approached down a long drive, almost 1 mile long. Even before reaching the house, the drive provides the visitor with magnificent vistas of large Rhododendrons, Camellias and other specimen trees and shrubs. The drive also passes through the remains of an ancient settlement, visible now by the earth banks and an old 'cock pit' used in the eighteenth century, for gambling on 'fighting Cockerels'.
The house was started in the 1760's, built extending an older house on the site, by the fourth Sir John Molesworth, and then completed after his death in 1766, by his son. The architect was from York, young Robert Allanson, and this house may well have been his finest achievement.
The South side of this rather Palladian style house, over looks the remains of an Italian style garden. The formal flower beds, having been swept away to reduce maintenance, have been replaced with lawns, providing a softer feel to the garden.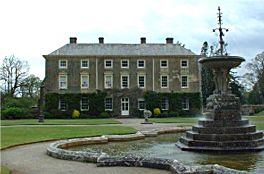 The entrance to the house is through a porch on the East front, taking the visitor into the Entrance Hall. This is very much a lived in family home, this is felt very strongly as soon as you enter the house. The house has been owned by the Molesworth family and their descendants the Molesworth-St. Aubyns, since the reign of Queen Elizabeth I.
There are guided tours of the house, given by very friendly, helpful and extremely enthusiastic guides, who certainly know the history of the house.
The tour begins in the Music Room to the right of the Hall. This room, with a rococo ceiling depicting the four seasons, wood panelled walls and a fine suite of Adam French style furniture. Sadly, this suite has been painted black, over what would have been gilt frames, so done because this furniture stood in a room where members of the family would lie in state before being buried.
Dotted around the house are old toys which have been used and loved by family members through the many years. Returning to the Hall, the guide explains about an old wax doll called Mary, sitting proudly on a small Charles I chair. Mary has quite an interesting history of her own! Most recently, sadly one of her legs was almost chewed off by the family's dogs, 'Sambo'. She has been repaired now, but parts of the leg that could not be repaired are in an envelope in the nursery and marked with the story.
There are a few items of interest in this room to the tea antique lover, including a glass cabinet which houses some fine eighteenth century porcelain from China, Japan and the Bow factory England. In this cabinet, there is an eighteenth Chinese square porcelain tea canister, on which is painted two fighting cocks, an interesting link to the 'Cockpit' in the grounds! There are also examples of teapots, tea bowls and saucers.
There is a 'clobber ware' tea bowl, which is a Chinese tea bowl, exported to Holland, where it was encased in a pierced china covering, allowing the hot cup to be picked up when it contained hot tea. (The Chinese did not drink their tea so hot as us in Europe!)
There is a very fine and rare sized Chippendale style 'envelope' tripod table, dating from the mid eighteenth century. It has a small square top, with four triangular flaps which fold out to double the size of the table top when required. It is a most useful item of furniture, and would make an ideal tea table when open.
The next room, the Drawing Room, is a beautifully proportioned and very light room. There are curtains and coverings to the French styled gilt framed salon furniture in red damask, taken from a Spanish Galleon in the eighteenth century. This is in remarkable condition, although the family have recently discovered some of the material hidden away upstairs, which shows the very vivid original colours. Some of this material has been used for the covering of a gilt framed foot stool which looks stunning.
There is a grand piano sat in the room on which Arthur Sullivan has played and composed his music.
Either side of the fireplace are two very fine Adam style demi-lune side tables, in satin wood, with very prettily inlaid scrolling foliage and paterae. Sitting on one of these tables, two fine covered sugar basins from the eighteenth century Worcester factory c1770. Both having blue ground, with white panels containing enamel painted flowers and birds. The lids surmounted with most delightful rose finials. (Below are two pieces of Worcester porcelain of this period from my private collection, which show the same sort of blue ground and floral decoration and rose finial as described above on the two sugar basins.)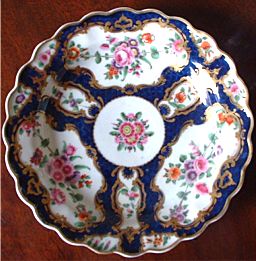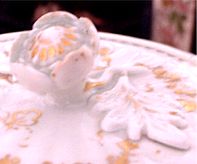 The tour continues through the stone Inner Hall, with an ingenious log burning stove to heat the stairway, upstairs to the bedrooms and Boudoir.
The Boudoir is a pretty room, over looking the Italian garden. Of note to the tea antique lover, is a very fine Regency Mahogany Tea Poy. The rectangular top, with brass lion mask and ring handles is supported on a turned column, and stands on four splayed feet capped, with brass casters. The inside is fitted with four wooden tea canisters and two mixing bowls. This is certainly a very fine room for the ladies to take afternoon tea, to sit and listen to the tinkling of the fountain outside, how very relaxing it must have been.
Returning down stairs to the dining room, this room bedecked with family silver and porcelain, a grand room with a masculine feel, used for formal entertaining at grand dinner parties.
Finally, to the Anti Room, a small cubed room, decorated with original eighteenth century Chinese painted wallpaper. Sadly, this charming wall paper has much faded through the past two hundred years. In this room, proudly sits the very large Chinese Ch'ien Lung 'famille rose' porcelain bowl, specially commissioned when the house was built. The bowl decorated by Chinese artists who had not seen Pencarrow, or knew much about English hunting, show a fox hunting scene, in which the hunters are wearing hunting pink, which of course should actually be red, although called pink! Also, the Fox is deemed an evil animal in China and so they depicted the Fox as a sort of bushy tailed Stoat! A fascinating end to a most enjoyable tour of the house.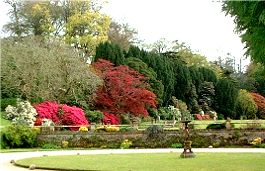 The grounds to the house have a naturalistic feel, and are very pretty when the Rhododendrons and Azaleas are in full bloom, in May and June.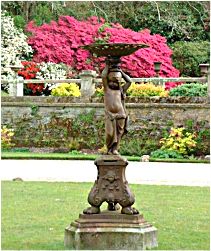 There are longer walks, or a stroll round the Italian garden are most relaxing indeed. Other things of interest in the gardens are a Victorian Rockery, American garden and Ice House. When the tour of the gardens is complete, there is a teashop, situated in the buildings to one side of the house. Here one can take tea and cakes, inside or outside on the lawn.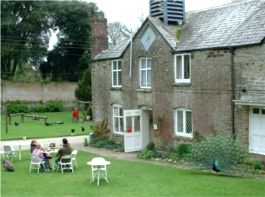 However, if you do choose to sit outside, beware of the rather tame and hungry birds, including the Peacocks. They will hang around to see what morsels they might be given by the friendly visitors. I have even in the past lost a complete scone to a hungry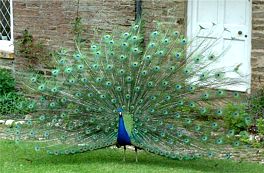 Peacock, who snatched it off my plate whist my attention was elsewhere!
There is also a play area for children provided, which keeps them occupied during your tea.
For full details of Pencarrow's opening times etc, view their web site on: www.pencarrow.co.uk or telephone : (01208) 841369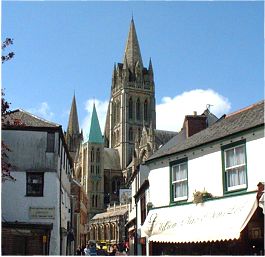 This month, a trip to Truro in Cornwall, with its Cathedral that was built between 1880 and 1910, for a 'Victorian' style afternoon tea.
The tea shop recommendation for Truro, is the 'Charlotte's Tea House', in the Coinage Hall. The Coinage Hall stands proudly at the end of a cobbled square and dates back to 1302, the present building dates from 1848. The Hall contains a few small antique shops and on the first floor is the most delightful Charlotte's Tea House.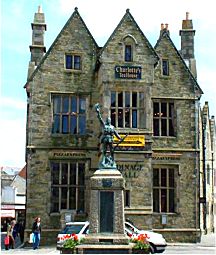 The tea house is decorated in a Victorian style and has good views of the Cathedral and cobbled square from some of the tables, especially if you are able to get the large table set in the central bay window.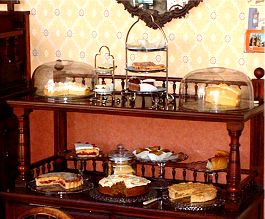 Just inside the door as you enter, there is a sideboard on which is displayed many of the homemade cakes and pastries. Take your time to view and see what delights are on offer.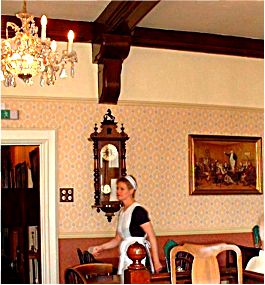 The staff of the Tea House are beautifully dressed in traditional tea shop outfits, black dresses, white caps and aprons. This adds a lovely period feel to the shop, enhanced by some most suitable music, such as the delights of Noel Coward songs.
My, choice was to opt for the 'Charlotte's High Tea', this is a tea of your choice served with sandwiches and the cook's selection of homemade cakes. There is a choice of the sandwich filling and whether on white or brown bread.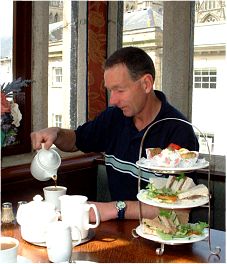 My choice was for a Salmon and Cucumber filled brown sandwich, which were very good. The cake selection of tiny cakes, in paper cups that I remember used in days gone by, included dainty lemon sponge, clotted cream meringues topped with a fresh slice of Strawberry, flap-jack, etc.
Tea here is very relaxing and takes you back to when there was a certain 'style' in taking tea. There is an old fashioned till in use in the shop, the ringing of which can be heard and again brings back memories of the past.
All in all, Charlotte's tearoom is a must when in the Truro area. As well as tea, they also serve a variety of lovely lunches.
Charlotte's Tea House, Coinage Hall, 1, Boscawen Street, Truro, Cornwall, TR1 2QU. Telephone: 01872 263706
The Eden Project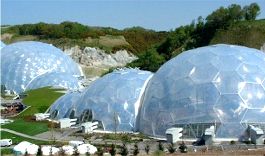 Whilst in Cornwall, I took the opportunity to visit the recently opened 'Eden Project', near St. Austell. This contains the world's largest greenhouses, which look like something out of space!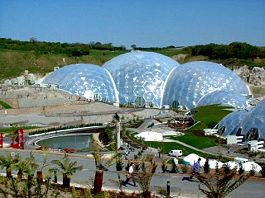 What attracted me to the Eden Project, was that I believed that there they were growing Tea! Indeed on the guide map it showed an area out side of the greenhouses dedicated to the growing of Tea plants. However, I was disappointed to find that they had not even planted them yet!! Still, there is the promise that Tea will soon be grown in Cornwall, so watch this space (as it were!)
Generally the place is of great interest, as shown by the large number of visitors turning up since this opened in March 2001. The outside landscape, set in a deep valley has yet to be completed and will take a few years to mature fully.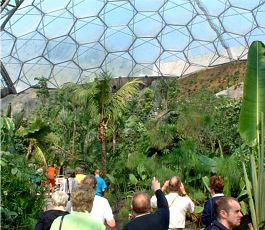 The greenhouses are truly magnificent, and contain plants from all round the world. If there was no tea to be seen growing outside, there was certainly Coffee to be seen growing inside!
I will have to go back in a few years' time to witness the Tea plantation and to see how the project is going.
The Eden Project is not just a place for visitors, it is a place of research and conservation, together with being an environmental showcase.
Details of the Eden Project can be found on their web site at www.edenproject.com or telephone: 01726 811911
The Eden Project, Bodelva, St. Austell, Cornwall, PL24 2SG. England.
---
To review past newsletters, just follow this link: Past newsletters.
To subscribe to this free newsletter - Click here
---
All information contained within any article on this website was considered to be accurate (as far as can be ascertained) at the time of writing. TeaAntiques.com Limited makes no warranty and accepts no liability regarding the accuracy of the content.
Copyright © 2000 - 2021 All rights reserved
TeaAntiques.com Limited. Company Incorporated in England No.: 5086843