Tea Clipper

from TeaAntiques.com

Edition

Twelve
Featured Antique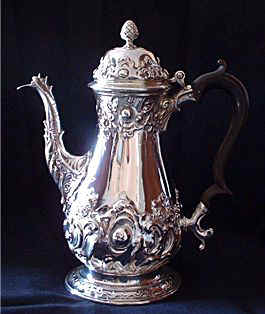 The Featured Antique is a really exquisite Baluster shaped Coffee Pot, the second fine quality Coffee Pot that I have had to offer in a 'Tea Clipper' newsletter.
This stunning Coffee Pot was made in London in 1764, it has the most beautifully chased and embossed decoration, with flowers and scrolls around its body. The pot stands on a round spreading foot and has a pineapple finial to its domed lid.
This is a very fine example of a George III silver Coffee Pot and can be viewed on the TeaAntiques web site.
More details of this item and other tea related antiques can be found by visiting my web site at www.TeaAntiques.com.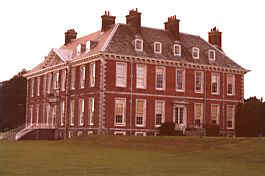 This month I have the pleasure of visiting Uppark House, always my favourite amongst houses and one that I have visited regularly since my childhood. Not a palace, but a grand country house with a delightful story to tell. As there is so much I would like to say about Uppark, I will feature the concluding part of its history in November's Tea Clipper.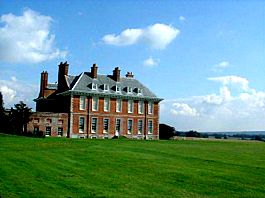 Uppark was built some time around 1690 by Lord Grey, who died leaving it to his only child, a daughter, married to Lord Ossulston. Lord Ossulston was created Earl of Tankerville who after his death left the estate to his grandson, who in 1747 sold the estate to Matthew Fetherstonhaugh. It is with the Fetherstonhaughs that the lovely history of Uppark truly begins to unfold.
Mathew was a kinsman to Sir Henry Fetherstonhaugh and living then in Northumberland. Sir Henry had amassed a great fortune from the coal industry by the time he died in 1746. Unfortunately, he had no direct heir to whom he could leave this fortune and so left it to Mathew on two conditions. The first condition was that he buy himself a baronetcy and the second that he buys himself an estate in the South of England. (It was then considered that to be anybody of consequence you should live in the South of England). Mathew fulfilled both conditions within a year, becoming Sir Mathew Fetherstonhaugh, Baronet and bought the Uppark estate near South Harting in West Sussex, for £19,000 in 1747.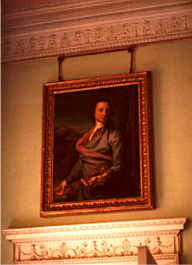 Sir Mathew, (seen in this portrait) also became married to Sarah Letieullier of Belmont, Middlesex. When they moved into Uppark, the outside appearance of the house itself was much as we see it today, but inside it was a panelled gentleman's house, nothing very grand. They wanted something grander and more in fashion, in which to entertain their friends. To this end they set about making some changes to the house. They created a more commodious grand reception room-the white and gold 'saloon' on the South side of the house. Many of the State Rooms were refashioned with new and elaborate plaster work and wallpapers. A large collection of fine furniture and works of art were assembled and they also moved some of the outbuildings to the other side of the house to open up the view.
Unlike most houses of this period, Uppark stands proudly on the top of a hill, part of the South Downs, with open views across to the Solent and Portsmouth tens of miles away. This is an unusual position for a house as they were normally set in valleys close to supplies of fresh water. It was only due to the fact that Ford Grey had invented a pumping system, which enabled water to be pumped from the River Thames in London to the higher areas of London's housing, that allowed him to apply this system to provide water to Uppark. He built a pumping station in the village of South Harting to pump water up to the house, this pumping station still exists in the village today - it is located beside the main road leading Southwards out of the village, you can hear the rush of water in it today.
Mathew conducted the 'Grand Tour' of the continent between 1749 and 1751, from which he brought back many fine items including paintings by Pompeo Batoni, Vernet, and other fine works of art, filling the rooms at Uppark with these great treasures.
Mathew and Sarah had only one child, a son 'Sir Harry', who inherited Uppark at the age of 20 when Sir Mathew died in 1774. Sir Harry was a rather frivolous young character, enjoying life and a great spendthrift. This was made evident when his mother was cataloguing the paintings in the Red drawing room. Here she recorded two large paintings of the 'Prodigal son' by Luca Giordano and then could not resist recording a painting of her own son, Sir Harry by Batoni, which hangs over the fireplace, as the 'Prodigal son' as well!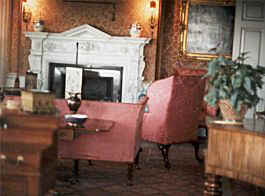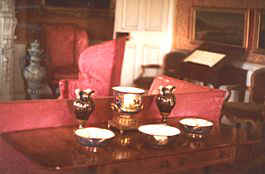 The Red Drawing room, hung with faded flock wallpaper, is a room with a warm and masculine feel about it. There is a fine suite of mahogany framed furniture, including a handsome pair of Chippendale winged armchairs, c1755, the wings of the chairs protecting its occupant from cold draughts. It is easy to imagine Mathew and Sarah in this room taking Coffee from a George III Coffee Pot, such as the one I have on offer as my Featured Antique above.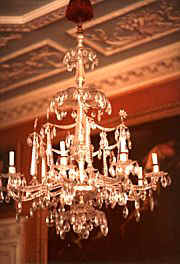 Above the fireplace hangs Sir Harry's swagger cane. Other fine items in this room are a pair of large rococo gilt framed mirrors, c1755. The room is lit by an exquisite cut glass chandelier made in London in the mid-eighteenth century, adding a real sparkle to the room.
Leading off the Red Drawing Room, is the grand 'Saloon', the room created by Sir Mathew to provide a grand space for entertaining. In order to achieve the proportions necessary for such a large room, the ceiling had to be raised, condensing the bedrooms above. The result is spectacular, being along the middle section of the South side of the house the room is light and airy. The room has some beautiful rococo plasterwork applied to the ceiling and walls and there are elaborately carved door cases and window frames.
This room houses a majestic set of English gilt, wood framed open arm chairs, each covered in fine needlework with central panels on their backs depicting 'Ęsop's' fables, c1761. There is also a desirable mahogany tripod table with beautifully carved stem and legs.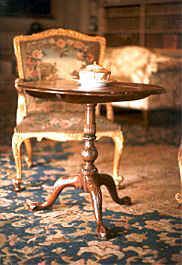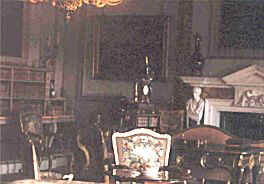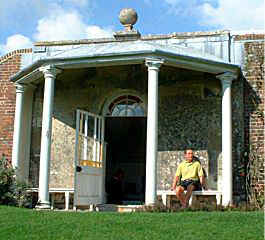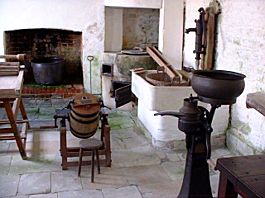 It was in the Saloon in 1825, that Sir Harry married his bride. Until the age of 70 he had remained single, but he then fell in love with his 21-year old dairy maid, Mary Anne Bullock. She had been working in the quaint dairy,

set off to one side of the house, and I do not suppose she ever realised that one day she would own the house. As a dairy maid she was unable to read or write. Whether Sir Harry dreamed that he might be able to father a son and heir from the marriage we shall never know. The ceremony took place in the Saloon at Uppark as it was thought that the residents of the local village of South Harting might have poked fun if the marriage had been conducted in the parish church. Because Mary Anne could not write, she was unable to sign her name on the marriage certificate, in those days uneducated people would simply make their mark, such as a cross. This would not do for Mary Anne! Fortunately, one of the witnesses had the name 'Anne', so she was able to write Anne herself by copying the name from this witnesses signature, the rest of her name being completed for her.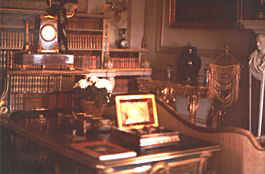 The marriage took place at the Louis XV 'bureau plat' in the Saloon. This dates from 1745 and is veneered in ebony with brass and tortoiseshell.
The marriage lasted for 21 years before Sir Harry died aged 92! During this time they were devoted to each other, but there was no heir resulting from this marriage. Mary Anne was sent away to Europe to be educated at a private school, in order to 'posh her up a bit'!
Find the remainder of the story of Sir Harry and Mary, the links with the famous author H. G. Wells and the tragic fire at Uppark in next month's Tea Clipper.
For details of opening times visit the National Trust web site.
Click here for a detailed map showing the location of Uppark and here for a wider view of the area.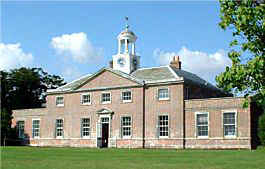 During a visit to Uppark House, it is possible to take lunch or tea in a building set apart from the house, which was the original kitchen to the house. Here you can still see the original cooking range, with its large spits for the cooking of huge carcasses of meat.
The National Trust has introduced a menu that includes some recipes taken from the eighteenth century, and that may well have been served in the house at that time.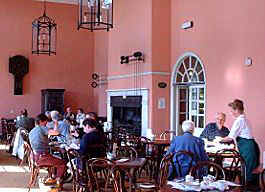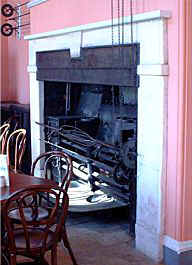 There is a lovely view out towards the house and over the South Downs.
However, having taken tea here, I'm afraid that I found it a very noisy place as it's always rather full. Therefore, I would recommend a journey to go to St Martin's Tea Rooms, a charming tea room in the centre of Chichester ...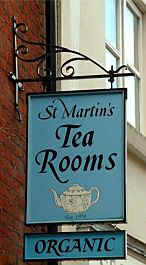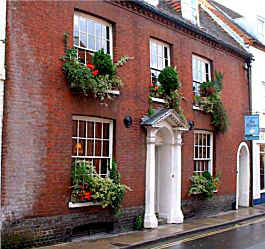 St Martin's Tea Rooms, No 3 St Martin's Street, Chichester, West Sussex, provides a perfect place in which to take tea, in a tea room full of old world charm. The tea room has medieval origins, but was been re fronted in the eighteenth century with a classical Georgian red brick facade.
Inside the tea room, one might be forgiven for thinking that it is rather dark and dingy! However, it has a welcoming log fire always burning in its open grates, is furnished in a range of old antique furniture, including Victorian balloon backed chairs, Windsor chairs and mahogany and oak tripod tea tables. There are fresh flowers on the tables and the days newspapers hanging in a rack for the guests to browse whilst enjoying tea.
"A timeless oasis of peace, atmosphere and agelessness"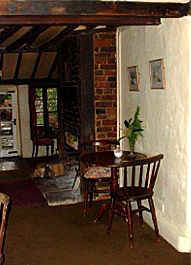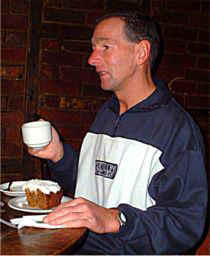 St Martin's is no ordinary tea room, it is an organic one, serving only home cooked food using organic, unrefined wholefoods. The aim is to provide a menu containing food with no added preservatives or colourings and minimal use of saturated fats. The resulting food is both wholesome and delicious. There are no microwaves used to cook or reheat food either.
I visit this tea room on a regular basis for an informal, relaxed and very cosy tea. They serve wonderful wholemeal scones that are packed with sultanas and are almost a meal in themselves. On this visit I had a slice of their Carrot Cake. Unlike a lot of factory produced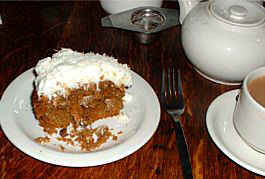 carrot cakes with their sweet and rather sickly confectionary icing, here they serve it topped with fresh plain yoghurt and dusted with desiccated coconut. The cake itself is very moist and full of shredded carrot, a wonderfully moist cake which I heartily recommend.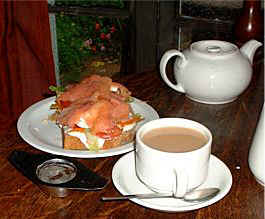 There is also a choice of light savoury dishes for those without a sweet tooth. Their open smoked salmon sandwiches are fantastic, using their own baked wholemeal bread as the base.
"Organic, unrefined wholefoods without unnecessary saturated fats and sugars"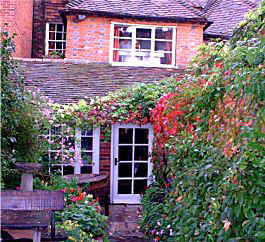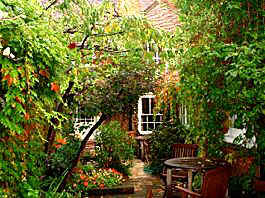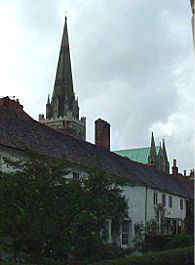 On a cold winter's day to enter St Martin's is to set foot into the past, the smell of burning logs on the fires giving a very warm welcome. But, in the summer there is a small courtyard garden in which you can enjoy their refreshments. The garden's shaded by trees, creepers and flowers and with wild birds flitting round in the hope of some scraps off plates. It is difficult to imagine that such a tea room is situated in the heart of the bustling market Cathedral town of Chichester! I hope that you get a chance to sample and enjoy it.
St Martin's Tea Rooms have a website at www.organictearooms.co.uk from which location maps, history and sample fayre can be obtained.
---
To review past newsletters, just follow this link: Past newsletters.
To subscribe to this free newsletter - Click here
---
All information contained within any article on this website was considered to be accurate (as far as can be ascertained) at the time of writing. TeaAntiques.com Limited makes no warranty and accepts no liability regarding the accuracy of the content.
Copyright © 2000 - 2023 All rights reserved
TeaAntiques.com Limited. Company Incorporated in England No.: 5086843