Tea Clipper

from TeaAntiques.com

Edition

Thirteen
Featured Antique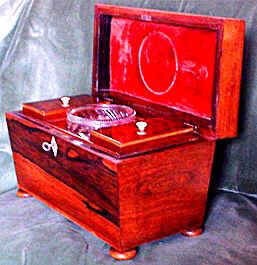 This month's Featured Antique is a very fine Regency Rosewood, two canister tea caddy, with its original cut glass mixing bowl, c1810. It is of sarcophagus rectangular shape and has the most delightful bun feet. A lovely tea caddy, dated from about the same period that the Prince of Wales, the 'Prince Regent' was a visitor at Uppark.
More details of this item and other tea related antiques can be found by visiting my web site at www.TeaAntiques.com.
Return to Uppark House, West Sussex, Southern England, for the conclusion of its interesting history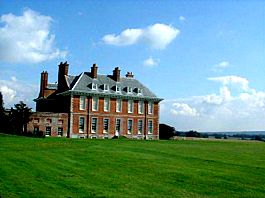 This month I conclude the story of Uppark - last month I explained the early part of its history, how it was bought by Sir Mathew and Sarah Fetherstonhaugh. I continue the story and start with their only son, Sir Harry Fetherstonhaugh.
During his earlier years as a bachelor at Uppark, Sir Harry had entertained 'Prinny', the Prince Regent to George III. Often the Prince Regent (later George IV) would stay at Uppark, both he and Sir Harry were great gamblers and loved horse racing. They would race their horses along the Downs competing for racing cups that had been made specially for these races.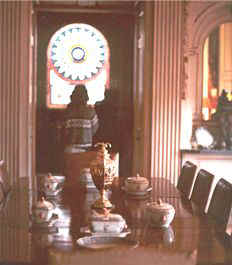 Two of these silver gilt racing cups now sit in the Dinning Room, standing on the dining room table. One of these has the Prince of Wales feather plume for its finial.
The late eighteenth century dining table is surrounded by large leather covered dining chairs. Here Sir Harry entertained the Prince Regent and his other gambling friends to grand dinners. It is also rumoured that Emma Hart, later to become Emma Hamilton and close friend and lover of Lord Nelson, danced on the table in a state of nature at one such party!
The Prince Regent had what he referred to as 'his favourite bed at Uppark', a lovely four poster bed, hung in red damask, the finials in the form of gold cherubs.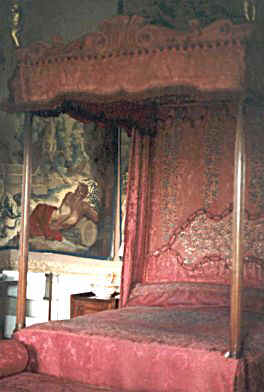 The bed which dates from the 1740s, is situated in a ground floor bedroom, hung round with fine tapestries. The room is actually the Small Drawing Room, the bed was put in the room at the request of the Prince for his frequent visits between 1785 and 1810.
This room also boasts another very fine carved gilt framed Chippendale style mirror and a beautiful serpentine fronted chest of drawers. The chest of drawers having carved mouldings and drop loop handles and in very well figured mahogany.
It is not known why, but for some reason, may be to do with gambling, the Prince of Wales and Sir Harry fell out of friendship and the Prince never visited Uppark again after 1810, and Sir Harry never again went out into society!
Sir Harry did make some further changes to the house, bringing in Humphry Repton to add a new entrance portico and do some redesigning of the dinning room, etc.
After the death of Sir Harry in 1846, his widow Mary Anne continued to live at Uppark and successfully managed the estate and farms. She lived at Uppark with her sister Frances. Mary did not want to change Uppark, believing that she did not have the education or knowledge to change the work of Sir Mathew and Sir Harry. Consequently, the house went into a 'sleeping beauty' period. The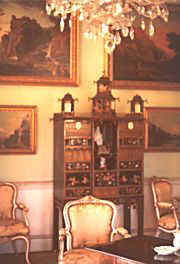 two sisters would spend most of their days quietly together in the Little Parlour, a most elegant green room next to the Saloon. Here the decoration and furnishings are feminine in feel. The decoration of this room would have been completed around 1774 by Sir Mathew. The furniture includes a set of white and gilt French-style armchairs positioned around a rare little Chippendale 'breakfast table', with its fretwork doors, into which food was placed.
On the breakfast table sits part of a charming Meissen china teaset, its delicate teapot, covered milk jug and teacups and saucers, decorated with dainty colourful flower sprigs.
This is certainly a delightful little room in which I would love to sit and take tea.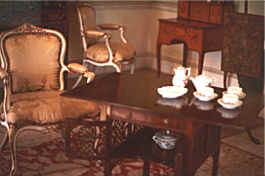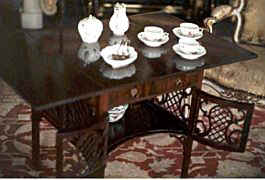 During some of the time in which the two sisters lived at Uppark, the Housekeeper was Mrs Wells, mother of H. G. Wells the famous author. H. G. Wells spent some time at Uppark and is said to have gained inspiration for his book 'The Time Machine' from the house which had become a time capsule under the two elderly sisters. He also wrote,
"The place had a great effect on me; it retained a vitality that altogether overshadowed the insignificant ebbing trickle of upstairs life, the two elderly ladies in the parlour following their shrunken routines ..."
Below stairs, the Housekeeper's Room, occupied for a time by Mrs Wells, and Butler's Pantry are amongst the many rooms open for view.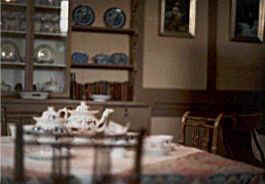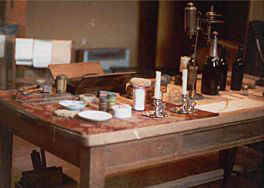 H. G. Wells wrote of the Housekeeper's room, where the 'upper servants' took tea:
"I hated tea time ... They sat about in black and shiny and flouncey clothing ... eating great quantities of cake ...I remember these women as immense. Tea lasted for nearly three quarters of an hour...and day after day the talk was exactly the same."
In the Housekeeper's room, on the table is a tea tray carrying a Victorian china teaset, it is not hard to imagine H. G. Wells taking tea here with his mother and the 'upper servants'. While directly above them in the Little Parlour, the two elderly sisters were taking their refined afternoon tea from the fine Meissen teaset.
Uppark went on quietly throughout much of the Victorian period unaltered, apart from the odd cosy settee and potted Aspidistra being brought in. Certainly all the decoration remained as it was in Sir Harry's day. Mary Anne lived on at Uppark until her death in 1874, her sister Frances then took the name Fetherstonhaugh and continued to live there until her death in 1895. After the two sisters, the house went though a few more owners before being given to the National Trust. How I use to enjoy my visits there and dream!
In 1989, tragically the house was on the last day of a roof restoration programme, when a workman accidentally set fire to the roof. This set the house ablaze and within a few hours the house was completely gutted by fire. Luckily, much of the furniture and furnishings were recovered from the house before the fire took hold. Paintings were cut from the walls that were in integral frames, curtains ripped down and patches of wallpaper torn from the walls!
After much debate, the house underwent a massive restoration, funded from an insurance policy. This brought together many thought lost skills and I am happy to say that after nearly six years of painstaking work the house was fully restored to exactly how it looked the day of the fire. Even the wallpapers have been carefully recreated with the faded colours in areas where the sun light had softened the colour. The house now looks just as it did before the fire, housing the original contents once more. Many of the pictures I have used for this article were taken in 1985 before the fire, so if you get a chance, go along and see for yourself what a magnificent restoration programme has taken place.
For details of opening times visit the National Trust web site.
Click here for a detailed map showing the location of Uppark and here for a wider view of the area.
Take tea at Cocking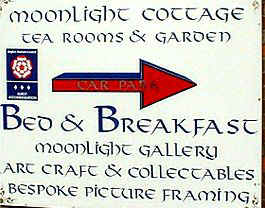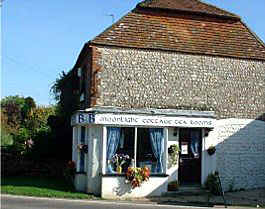 This month I recommend another very fine tea room and tea garden within driving distance from Uppark. This tea room is the Moonlight Cottage Tea Room, situated between Midhurst and Chichester in Southern England. It's in a small country village nestling at the foot of the Downs and is managed by charming and friendly owners who take great pride in the food and service that they offer.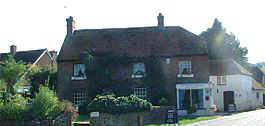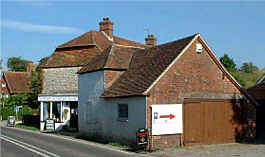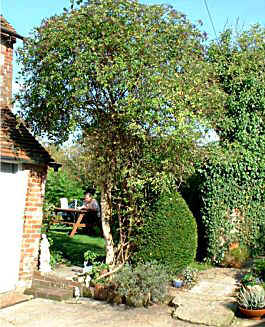 As well as the little tea room, there is a very pretty little country cottage garden at the front and side of the quaint brick cottage. This provides an excellent outdoor venue when the weather is favourable.
The choice and quality of the food is excellent. As well as their afternoon tea choices with sandwiches, homemade scones and cakes there are light lunches, Sunday roasts and even seasonal barbeques!
On this visit I went for a 'Moonlight High tea', for which I was served a plate of delicate Cucumber sandwiches, beautifully presented with garnish of salad and more unusually, fresh Raspberries, Apple and Strawberries. It is this additional effort in presentation that sets this tearoom apart from many others, pride of presentation is obvious. Also included was a slice of their homemade cake, which could be selected from a list of their specialities. I plumped for a slice of 'light' fruit cake, again presented with garnish of sliced apple. This made for a very pleasant afternoon tea in a relaxed 'cottage' garden.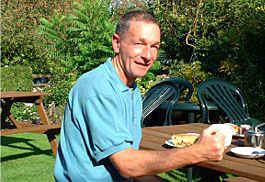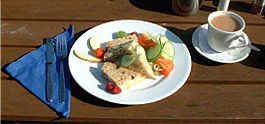 I was joined on this occasion by a friend who enjoyed the traditional scone, cream and jam. Again, the presentation was very good. The scone is described as 'large', which indeed it was. It was great to see that the cream served with the scone was good and thick clotted cream, as I believe it should be. So many cream teas can be so disappointing when served with whipped cream.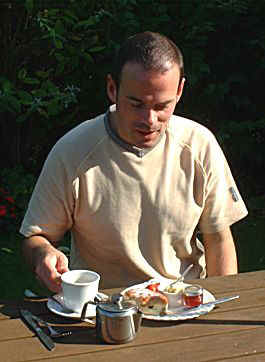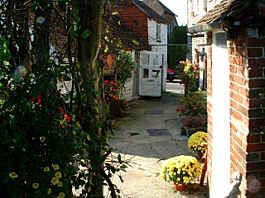 In every way visitors are made to feel most welcome and nothing is too much trouble. Highly recommended and a tea room to which I often take my friends and relations, so I hope that if you get an opportunity to visit, that you enjoy it as much as I do.
If you want to go there, then give them a call for opening times. Click here for a detailed map and here for a wider view of the area.
The following description is taken from www.ask.co.uk search engine entry:
Moonlight Cottage Tea Room
Chichester Road
Cocking
Midhurst
West Sussex
GU29 0HN
Telephone: 01730 813336/810145
Fax: 01730 813362
Elegant Tea Rooms, attractive gardens, period cottage in rural village on South Downs Way. Home cooked finest quality food - Rombouts coffee - hot lunches varied daily - Sunday roast - speciality teas, strawberry cream teas. Bed and breakfast all year.
---
To review past newsletters, just follow this link: Past newsletters.
To subscribe to this free newsletter - Click here
---
All information contained within any article on this website was considered to be accurate (as far as can be ascertained) at the time of writing. TeaAntiques.com Limited makes no warranty and accepts no liability regarding the accuracy of the content.
Copyright © 2000 - 2021 All rights reserved
TeaAntiques.com Limited. Company Incorporated in England No.: 5086843