Tea Clipper

from TeaAntiques.com

Edition

Fourteen
Featured Antique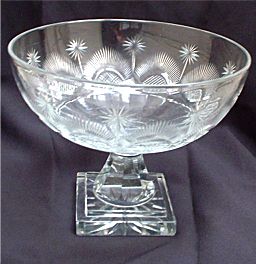 Being the Christmas edition, I have chosen as the Featured Antique a gorgeous Georgian cut glass fruit bowl, c1800. It is a simply most beautiful and elegant lead crystal bowl, cut with very fashionable late eighteenth century stars and blaze patterns which catch the light and sparkle. How wonderful such a bowl would look on a Christmas sideboard or in the centre of a festively decorated dinner table. Also, at this time of the year, I can quite see it being used as a punch bowl of distinction. Imagine serving warm spicy punch from such an exquisite bowl to your friends.
'Cheers and best of health' to all Tea Clipper readers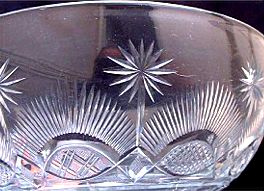 This is a very fine example of a Georgian glass fruit bowl and can be viewed on the TeaAntiques web site.
More details of this item and other tea related antiques can be found by visiting my web site at www.TeaAntiques.com.
Click here to find out about our Christmas Special Offer.
Charles Dickens and TeaAntiques home town of Portsmouth, Hampshire, England.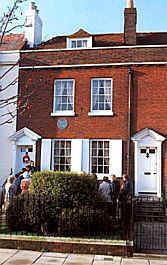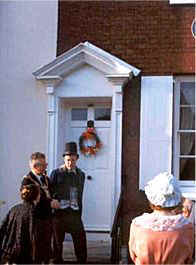 In this, the Christmas edition of the Tea Clipper, I thought it appropriate to feature the home town of TeaAntiques which is Portsmouth in Hampshire. Why Portsmouth at Christmas? Well, among the claims to fame about which Portsmouth can boast, is the birthplace of the internationally recognised Victorian author Charles Dickens.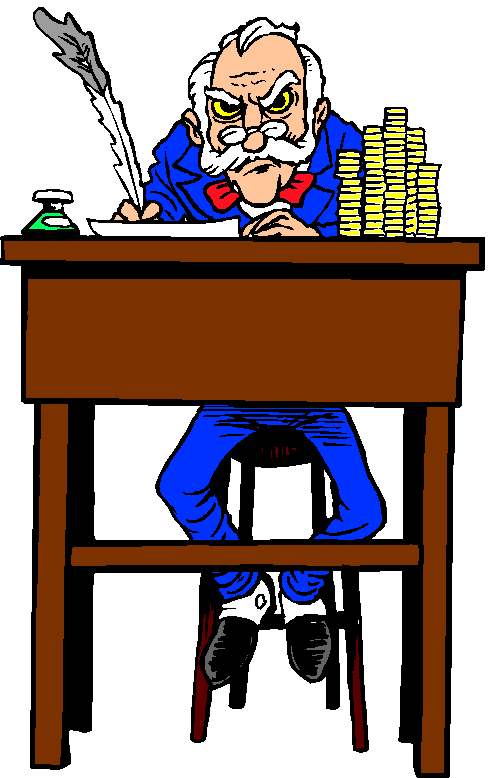 Most people I'm sure, will be familiar with his famous book 'A Christmas Carol', the story of Ebenezer Scrooge, the old skinflint who hated Christmas and the spirit of generosity expected at that time of year. That is until he was shown his wrong doings by visitations from three ghostly spirits, the spirit of Christmas past, Christmas present and Christmas yet to come! This story has given immense pleasure to generations of children and adults alike. A Christmas Carol gives a vivid account of the Victorian Christmas ideals, family values, roast turkey dinner, Christmas 'plum' pudding, coal fires blazing in the grate and most of all 'good will towards men'.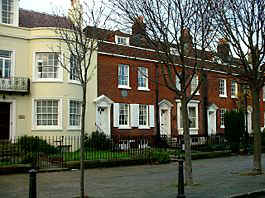 Charles Dickens's birthplace at 393, Old Commercial Road (only a few doors away from TeaAntiques!) is a 'middle class' four storey house, built of red brick c1800. The house forms one of a terrace of four houses called 'Mile End Terrace', so called as the terrace stood one mile from the main gate of the old walled town of Portsmouth. Charles Dickens was born there on the 7th February 1812. Charles's parents, John and Elizabeth Dickens, lived in the house from 1809 when they moved from London to Portsmouth.
Portsmouth was then and remains an important Naval town, dating from medieval times. During the seventeenth and eighteenth centuries it grew and expanded as wars were fought and the need for an expanding navy had to be met. John Dickens was employed in the dockyard as a pay clerk.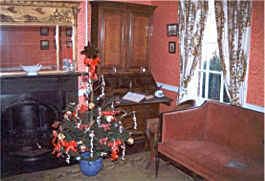 Their house in Mile End Terrace, was then in the fashionably expanding area of 'Landport', they rented the house which was then number 1, Mile End Terrace, for £18 15s per quarter. This was a lot of money then as John Dickens was on an annual wage of £120. Shortly after Charles was born, they were getting themselves into dept with their high standard of living; consequently they found themselves behind with their rent payments. Eventually, later in 1812, they were forced to move to a more humble and cheaper abode in the older part of Portsmouth at 16 Hawke Street. This house has since been destroyed by the bombings in 1941.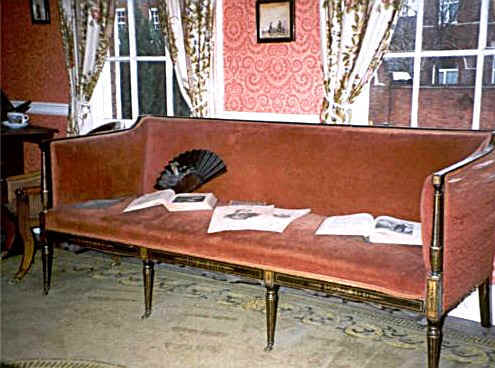 The Dickens house at Mile End Terrace, now a museum, has been restored and furnished in the way it might have been when the Dickens family were in residence. There are effectively two principle floors for the family. On the first floor is a parlour at the front. This room would have been used for the family to gather, receive and entertain their guests. It is furnished with a velvet covered ebonised settee dating from the late eighteenth century;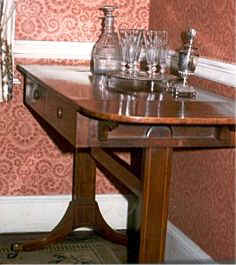 a mahogany sofa table c1790; an oak bureau bookcase with solid wood doors and candle slides, dating from the mid eighteenth century; sliding fire screen and a chiffonier c1810 in rosewood with brass mounts. On the Chiffonier stands part of a Caughley teaset, including an oval bodied teapot decorated with gilt flower sprigs, c1805. The room is decorated with red ground hand printed wallpaper and a green carpet of eighteenth century design. Simple floral chintz curtains hang at the two sash windows. It's a very cosy looking room, which at Christmas is decorated with a Christmas tree hung with simple card and paper decorations and clip on candles; wrapped presents sit around the tree - just as they might have done in the Victorian period.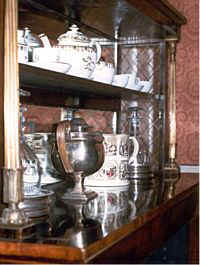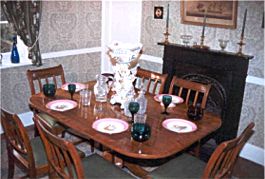 Behind the parlour and across the hall on the first floor, is the dining room. Here again the room is decorated with a hand blocked wallpaper, this time in a silvery blue pattern. There is a rectangular dining table supported by a single column with splayed legs and dining chairs in mahogany, also there is a mahogany sideboard all of which date from around 1800 and in the style of Thomas Sheraton.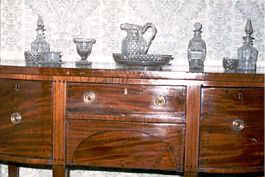 On the sideboard is a selection of early nineteenth century cut glass ware, including a water jug, spirit decanters and fruit dishes. Here the family would dine with friends and it's easy to imagine people sat here at Christmas lunch, with the goose on the sideboard and the hot steaming Christmas pudding having been boiled in a copper of water for hour after hour! The coal fire blazing away, the laughter and excitement of the children, waiting for the great moment when the feast can begin and the massive Goose can be carved by the head of the house.
Climbing the wooden staircase from the hall, is the second floor containing two principle family bedrooms.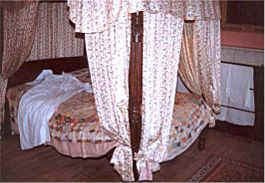 The front bedroom being the one in which Charles Dickens was born in 1812. In this room now stands a four poster bed, hung round with simple floral cloth hangings, by which sits a wooden babies rocking crib. The story 'A Christmas Carol' springs to mind, the thought of Scrooge with the curtains closed round him in the bed, with him peering out in fright and disbelief at the apparition of his deceased partner, Jacob Marley, there in front of him, wrapped round with the shackles and chains, the links of which he had forged during his life by his ungenerous and mean existence. 'Bah humbug' I hear echoing around the sparsely furnished room!
The bedroom behind the main bedroom at the back of the house, is now an exhibition room devoted the Charles Dickens's life and works. In this room stands the couch on which he died on 9th June 1870. The couch was then in his house 'Gads Hill Place' in Rochester, Kent. Other items displayed here are the rent book for the house, showing the Dickens rent still owed in red ink, buttons from a coat of Dickens with initials 'CD' inscribed, his ink well, paper knife, snuff box and other interesting relics.
The top floor of the house contains two further garret bedroom, these would have been used by their children or servants.
At the bottom of the house in the semi-basement would have been the kitchen and scullery. The kitchen being at the front, has its own separate servant stairs and front entrance, it still contains a black leaded cooking range which would have been fed with coal and a wooden dresser with shelves for the pots and pans, etc. This room is now the entrance to the museum and museum shop.
To read Dickens books is an education into the social history of Victorian society in England, with its distinctive social classes and morals. Dickens having been brought up as a child through hardship, having to work from an early age in a 'blacking factory' to supplement the family income, he was well aware of the plight of the poor and the difference in living standards between them and the middle classes. His full description of his characters, their attire and behaviour is astounding. There are many instances in his books which refer to the making and taking of tea, the boiling of kettles on the fire hearth, singing and whistling as they did so.
In his book 'Martin Chuzzlewit', the plump and comical wet nurse, Mrs Gamp, entertains her friend and companion, Betsey Prig, to tea. However, in this case the two ladies, (using the term loosely!) are not partaking of tea, but in gin, the teapot containing gin rather than tea!
Mrs. Gamp stored all her household matters in a little cupboard by the fire-place; beginning below the surface (as in nature) with the coals and mounting gradually upwards to the spirits, which, from motives of delicacy, she kept in a tea-pot.
"Betsey." said Mrs. Gamp, filling her own glass, and passing the tea-pot. "I will now propoge a toast. My frequent pardner. Betsey Prig!"
"Which, altering the name to Sairah Gamp; I drink," said Mrs. Prig. "with love and tenderness."
From this moment, symptoms of inflammation began to lurk in the nose of each lady; and perhaps, notwithstanding all appearances to the contrary, in temper also.
Here Mrs. Prig, without any abatement of her offensive manner, again counterfeited abstraction of mind, and stretched out her hand to the tea-pot. It was more than Mrs. Gamp could bear. She stopped the hand of Mrs. Prig with her own, and said, with great feeling:
"No Betsey! Drink fair, wotever you do!"
[Above extracts taken from Charles Dickens Martin Chuzzlewit, chapter XLIX.]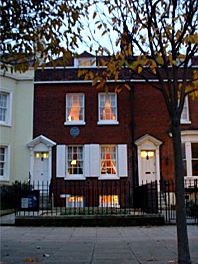 I believe that in the early days of English porcelain in the eighteenth century, when much of the china was not robust enough to withstand boiling water, teapots were indeed used as 'punch pots' for the pouring of strong liquors. What a splendid idea! "Merry Christmas one and all."
For information on the museum opening times and events such as readings of Dickens works by the Dickens fellowship, view the Portsmouth Museums' web site: www.charlesdickensbirthplace.co.uk
I shall return to Portsmouth again sometime next year, to review other places of interest in Portsmouth.
Tea Clipper 'FREE CHRISTMAS OFFER'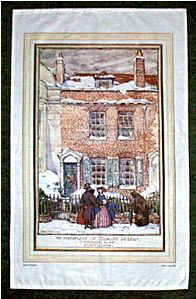 This month, orders placed between December 1st - 23rd, for antiques from the TeaAntiques web site, will receive free with their order, a cotton tea towel from the Dickens Museum. The cloth is beautifully printed with an attractive picture of the Dickens house in the midst of a Victorian snowy winter, characters outside the front railings dressed in Victorian style chatting as the house owners leave. This is a charming and good quality 100% cotton tea towel with the picture taken from an original painting by Isabel Saul.
Size: 750mm (29½") X 470mm (18½")
Offer open whilst stocks last.
'Merry Christmas to all our customers.'
Tea Room of the month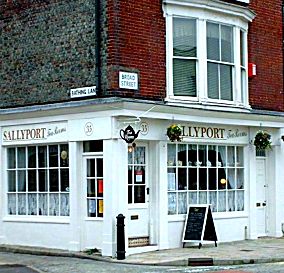 Staying here in Portsmouth, there is a charming and very worthwhile tea room situated in Old Portsmouth called 'Sallyport Tea Rooms'. It is located in a lovely seventeenth century building in a cobbled street, which leads down towards the sea and entrance to Portsmouth Harbour.
The tea rooms have been well decorated and furnished, providing a relaxed atmosphere in which to enjoy the delighted of the tea and quality food that they have on offer. There is always nostalgic music playing in the background which conjures up memories of tea rooms from the 1930s.
Amongst the fare on offer, there is a variety of leaf teas and freshly roasted coffee. There is a lunch menu as well teas.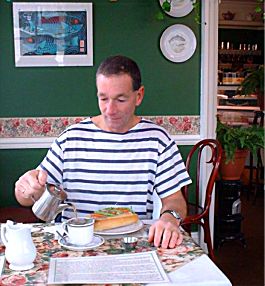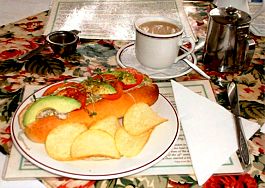 I can particularly recommend the smoked mackerel and horseradish baguettes, they have such a magnificent flavour and are accompanied by crisps and garnished with avocado and tomato. There are also hand made cakes and large scones with cream and jam to be savoured.
I'm sure that you will enjoy a visit to the Sallyport Tea Rooms, the friendly service all adds to the pleasant atmosphere. This is the place for me after visiting the Dickens Museum.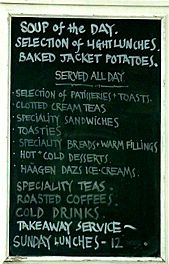 Sallyport Tea Room 'Traditional English Tea Rooms'
35, Broad Street
Old Portsmouth
Open:
Tues 12 noon-5pm
Wed-Sun 10am-5pm & every Bank Holiday
Telephone: +44 (0) 23 9281 6265
Christmas Tea Tip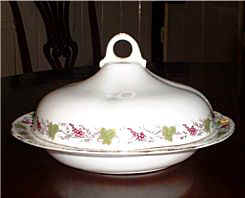 For a 'Victorian' Christmas tea time treat and simple to prepare, toast some traditional muffins and spread them lavishly with butter. Then for that festive taste, sprinkle them with a little grated cinnamon before serving. A lovely and hot idea to serve for afternoon tea. (If you have a Victorian 'muffin dish and cover' in which to serve them, even better- but not essential!)
---
To review past newsletters, just follow this link: Past newsletters.
To subscribe to this free newsletter - Click here
---
All information contained within any article on this website was considered to be accurate (as far as can be ascertained) at the time of writing. TeaAntiques.com Limited makes no warranty and accepts no liability regarding the accuracy of the content.
Copyright © 2000 - 2023 All rights reserved
TeaAntiques.com Limited. Company Incorporated in England No.: 5086843