Tea Clipper

from TeaAntiques.com

Edition

Fifteen
Featured Antique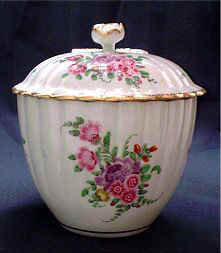 My Tea Featured Antique is a charming Worcester Sugar Box and Cover with straight fluted sides and Flower lid finial, c1770.
This item beautifully reflects the elegance of the period of the Eighteenth Century England, as reviewed below in the article on the Late Georgian period at the Geffrye Museum, London.
More details of this item can be found by visiting the Porcelain section of my web site at www.TeaAntiques.com
Now that Christmas has past, the mayhem of the January sales is upon us! For those fortunate enough to be in London for the sales, I strongly recommend that you take a break and give yourself some peace by visiting the Geffrye museum, Kingsland Road, London. I have previously reviewed this museum in Editions 5 and 7 of Tea Clipper, when I reviewed the Regency and Victorian periods respectively. In this edition I return to look at my favourite period - 'Late Georgian' 1770-1800 - as portrayed by the museum.
To think of the last quarter of the eighteenth century, the styles and strong influences of Robert Adam come to mind, a masterly architect of neo-classical designs. This was then a brand new style in England, introduced around 1760. With inspiration taken from tours of Italy, interiors of English houses became light and delicate, decorated with patterns derived from classical art. These designs produced motifs such as garlands of foliage, architectural urns, scrolls and arabesques. Motifs that are still used and remain popular in architecture today.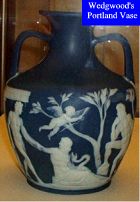 In the mid to late eighteenth century, these neo-classical designs were taken up by other designers and cabinet makers such as Thomas Chippendale, George Hepplewhite and Thomas Sheraton. Not only cabinet makers follow the fashion, so did potters and silversmiths - Josiah Wedgwood introduced the classical 'jasper wares'. The most popular being the blue jasper ware with the applied white reliefs of classical figures and motifs - none more famous than his "Portland Vase". This was a replica made c1789 of the famous Roman glass Portland Vase from early 1st century BC. Both the original and Wedgwood's "copy" are now housed in the British Museum in London.
In this period of English history there was a vast increase in trade and industry resulting in a wider range of affordable upholstery, fabrics, wall papers, carpets, furniture and ornaments. There was new wealth and the creation of the 'middle classes' of traders, merchants, bankers etc, all eager to express their wealth and social standing.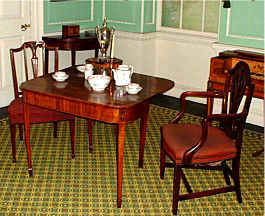 The late Georgian setting in the Geffrye museum, shows how the taste for the simplicity, symmetry and elegance of neo-classical design was adopted not only by the aristocracy, but by the expanding middle classes. This particular room shows a middle class drawing room of a London house. This room would have been used for quite formal entertaining; such as afternoon tea parties for the ladies and maybe for musical recitals or card playing in the evening. Such events were then expected of 'society', which was very important for proclaiming your social standing. Georgian houses were designed to provide entrance halls and reception rooms that would impress guests and proclaim your wealthy position.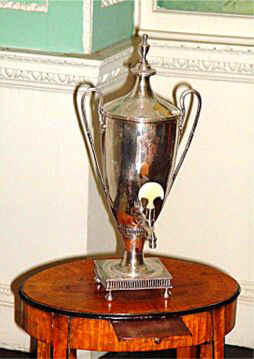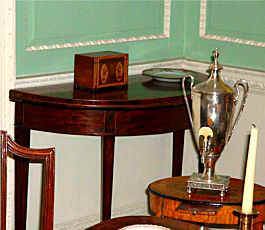 Classical references can be seen in many of the items on display, such as the silver plated tea urn, c1790, used to provide hot water at the tea table.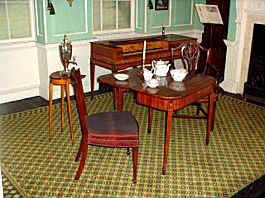 Items of furniture in this room includes a folding mahogany tea table, c1785, which is embellished with box wood stringing and marquetry inlays. Such a table could double for use as a card table and when not required, would be folded away and placed against the wall.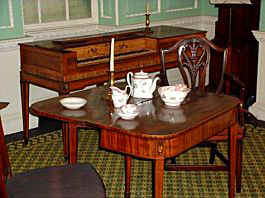 For musical entertainment, there is a square piano which was made by Christopher Garner in London, c1785. The case of the piano is in mahogany and satinwood, with box wood and ebony stringing. Such an instrument would be played by members of the household and provide much entertainment for the family and guests.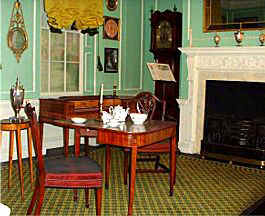 The shield backed arm chair, so beautifully light and delicate in its design, is in the style of George Hepplewhite and dates from around 1785.
The silver plated tea urn sits very elegantly on an urn stand, veneered in exquisite satin wood on a pine carcase c1795. There is some ebony stringing to give it that extra lift to its appearance.
For the lover of tea wares, there is part of a beautiful New Hall tea service c1800. The teapot is in the 'silver shape', so called as it was following the fashionable shaped silver design of the period, with shaped vertical sides (see below for a further discussion on this). Porcelain styles copied those of the silver styles and shapes, usually lagging by a period of ten to twenty years. The pieces to this set including the tea bowls and saucers are decorated with lovely neo-classical flowers in coloured enamels. A tea caddy is also on display, made from satin wood and having box wood inlay, it stands on ebony feet and was made c1790.
This certainly is a most beautiful little room, most delicately furnished and quite epitomises the elegance of this period in English Georgian history.
Remember that there is a good tea room within the museum, should you wish to partake of tea and refreshments, (as reviewed previously in Edition 5 of Tea Clipper).
For opening details and directions please see the March 2001 issue of Tea Clipper, or visit the museums web site: www.geffrye-museum.org.uk
Did you know that George III from an early age, was obsessed with not becoming obese like his fat uncles? He was determined not to follow in their foot steps and so between breakfast and evening dinner, he ate only a slice of bread and butter accompanied by black tea. He was successful in maintaining his figure well into middle age. Maybe after the excesses of Christmas this is a wise diet to adopt today?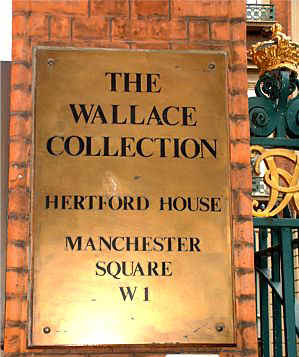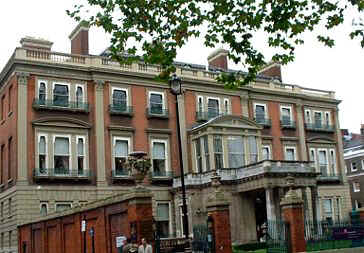 If you are in London for the sales, then there is a retreat which is full of treasures to behold and an idyllic place to which you can escape for a wonderful afternoon tea. I am referring to The Wallace Collection, housed in Hertford House, just a few minutes walk from the main shopping area of Oxford Street, in Manchester Square, London, W1U 3BN. The Wallace Collection is one of the grandest collections of arts and treasures assembled by one family. The treasures include the very finest of eighteenth century French furniture, clocks, paintings, porcelain, bronzes and silver. In particular for the lover of tea related antiques, there are many examples of the most elaborate Sevré tea wares with sumptuous blue, turquoise and green grounds.
There is free admission to the museums collection, housed in a very handsome large detached house on the far side of the Square. To make this more exciting to visit, located in a glass covered central court there is an excellent and friendly Café called 'Café Bagatelle'.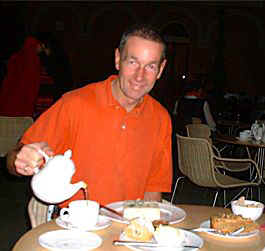 I had the pleasure of taking afternoon tea there recently as part of a visit to the Wallace Collection. I must say I found it a complete treat. They offer lunches as well as various savouries and cakes for afternoon tea. I thought I would try their full afternoon tea and I was not to be disappointed.
I was served with a selection of white and brown finger sandwiches, including smoked salmon, a pleasant fruit scone with a small pot of jam and some of the best and smoothest thick clotted cream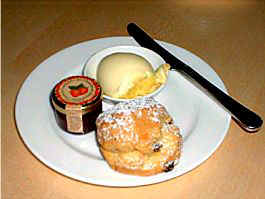 I have tasted! Also as part of the tea there was a choice of cake, I went for Coffee and Walnut which was very moist and rounded the tea off beautifully. It made a very relaxing break from the crush of Oxford Street shopping and fully intend to return to this Café often when in London.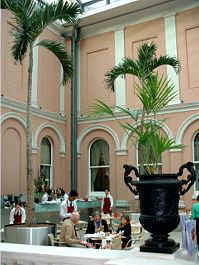 If you wish to visit the Wallace Collection and the Café Bagatelle the details are:
The Wallace Collection,
Hertford House,
Manchester Square,
London,
W1U 3BN
Tel: 020 7563 9500
web site: www.wallace-collection.org.uk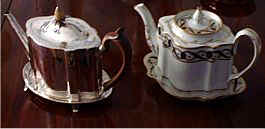 Porcelain teapot styles generally copied the shapes of silver teapots, maybe lagging in design by about ten years. The picture shows an example of two such silver shaped teapots.
The silver bright cut teapot, with its vertical and shaped sides, slightly domed lid capped with an ivory pineapple finial, was made by George Burrows in London in 1789.
As can be seen, the porcelain teapot bears the same basic shape as that of the silver teapot, also having shaped vertical sides and a lid finial shaped rather like a pineapple too. This elegant porcelain teapot, complete with its shaped stand was manufactured at the New Hall factory c17985-1805.
---
To review past newsletters, just follow this link: Past newsletters.
To subscribe to this free newsletter - Click here
---
All information contained within any article on this website was considered to be accurate (as far as can be ascertained) at the time of writing. TeaAntiques.com Limited makes no warranty and accepts no liability regarding the accuracy of the content.
Copyright © 2000 - 2023 All rights reserved
TeaAntiques.com Limited. Company Incorporated in England No.: 5086843