Tea Clipper

from TeaAntiques.com

Edition

Seventeen
Featured Antique - Regency/George IV Silver Teapot, 1820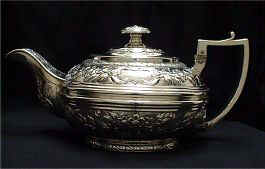 The antique of the month is a handsome and very decorative Regency/George IV teapot. Made by William Bateman (grandson of the famous silversmith, Hester Bateman) it embodies much character and decoration associated with the opulent Regency period. A pleasing shape and a wonderful quality English Silver Teapot and one that would provide great pleasure and style for that elegant afternoon tea - enjoy!
More details of this item and other tea related antiques can be found by visiting my web site at www.teaantiques.com.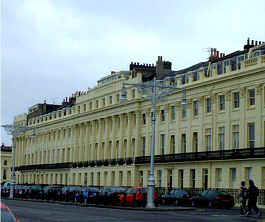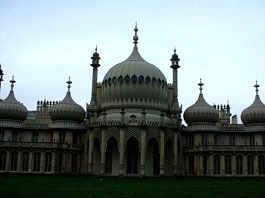 Brighton, West Sussex, Southern England. The busy seaside resort made popular from the patronage of King George IV from his years as Prince of Wales and then Prince regent. George Augustus Frederick was born on August 12th 1762. He was the Prince of Wales until 1811, Prince regent from 1811 until 1820 and finally King George IV from 1820 until his death in 1830. He first went to Brighton at the age of 21 as a handsome, rather amorous young prince who had a passion for fashionable society, gambling, sport and the arts.
When George first visited Brighton, it was just a small fishing town known as Brightelmstone, which was seen by him as a place of rustic charm. The idea of living a rustic and simple life was then seen as romantic and fashionable. Across the channel in France, in different circumstances, even Marie Antoinette was amusing herself with the pastoral "natural" life. The backdrop of the old fishing town, its fishing huts hung with nets was seen as the perfect setting for a rural retreat for the Prince of Wales. On his early visits, Brighton Pavilion did not exist; it was then a superior farmhouse, which was taken on rent by the Prince.
Seawater bathing was becoming popular and considered to be a great benefit to one's health. The seaside resort of Brighton soon grew with the patronage of the Prince of Wales and fashionable society, adding to Brighton ballrooms, gambling houses and many comfortable lodging houses, which were up for rent.
George soon became overwhelmed with the delights and pleasures to be found in Brighton, affording him an escape from the pressures and formality of court life established by his father, George III, back in London. George was well educated in the arts, witty, a good conversationalist and accomplished musician, but may be remembered more for his wayward, extravagant lifestyle and as rather a spendthrift.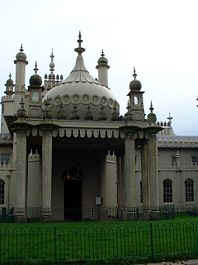 Over a 35-year period, George transformed the farmhouse "Brighton House" into the wondrous, exotic, frivolous, extravagant and oriental palace of "Brighton Pavilion". A marvel of architectural styles from across the seas, both inside and outside – sumptuously furnished with furniture designed to fit the settings and establishing the style we lovingly know as "Regency".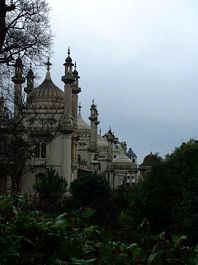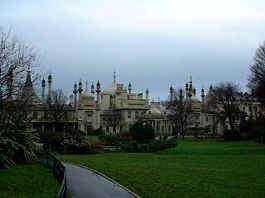 Here at the Pavilion, George entertained on a grand and lavish scale. In the Regency period, it was the fashion to display one's social standing and wealth by displaying one's finest silver, china, glass and furnishings. This is most evident in the Pavilion's Banqueting Room, which must rate as one of the most grand "fantasy" dining rooms imaginable. The decorative architectural features and palatial grandeur are taken to the point of oriental fantasy. The scale is absolutely breath taking when first entering the room from the long corridor.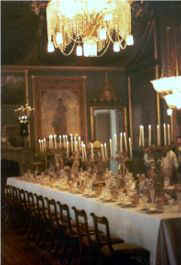 The first thing that strikes you as you enter is the room's sheer scale. A massive table set with at least 50 place settings and a truly huge ornate, rather ostentatious crystal chandelier above the table.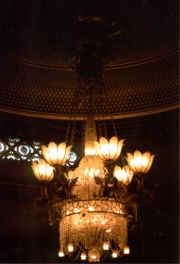 The chandelier is suspended from the ceiling by a huge carved and silvered dragon, flying over the dining table swooping below a canopy of banana leaves painted on the 45-foot high ceiling. The chandelier is now electric, converted from the original gas, as were the smaller chandeliers hanging from the mouths of Chinese mythological Fum birds in the four corners of this stunning room. The central chandelier is a staggering 30-feet high and weighs one ton.
Even though of huge dimensions, this room would seldom host more than thirty to forty people at lavish dinners thrown by George. All the food was finally dressed or "decked" in a grand "Decking" Room set between the kitchen and the Banqueting Room.
In the Banqueting Room, we are now treated to an insight to the grandeur of a dinner party, the long table, covered with a starched white tablecloth, is bedecked with all manner of the most exquisite silver gilt table decorations, dishes, silverware, porcelain and glassware. This must have looked magical, lit by such stunning chandeliers. The table is actually set for the dessert course of a dinner and is based on an aquatint view of the room painted by John Nash, c1826. John Nash was engaged in 1815 to transform the Pavilion into a style based on Indian architecture.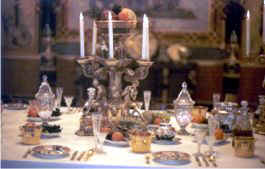 The table contains spectacular items of silver gilt, some of which are by the famous Paul Storr of the Royal Goldsmiths, Rundell, Bridge and Rundell. One such item is a gigantic table centrepiece made in London in 1810, a dessert stand whose central column is in foliate form rising from a triangular base surmounted with figures of young fawns playing music on Pan Pipes. At the top is a fruit basket surrounded by six branches for lights.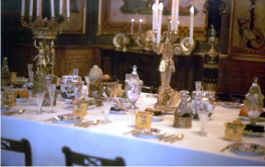 Amongst other important items on the table are a pair of six light ormolu candelabra in Egyptian style that were bought by the Prince Regent in 1811; an Imari design porcelain dessert service decorated in blue, pink and gold made by Chamberlain's Worcester in 1820, present by King George III to his physician Dr Wallis. The popularity of Chamberlain's Worcester was boosted by royal patronage by the Prince of Wales. The Prince visited the Chamberlains Worcester factory on 25th September 1807. Humphrey Chamberlain's company had received the "Royal Warrant" as Porcelain manufacturer to the Prince of Wales just previous to the Prince's visit on 3rd August 1807. Later, the Chamberlain's factory was also granted an appointment of porcelain manufacturers to Princess Charlotte of Wales. Chamberlain's Worcester certainly had royal patronage from the Prince and Princess who both delighted in Chamberlain's designs and quality of porcelain. (Much of this information was taken from "Chamberlain Worcester Porcelain" 1788-1852 by Geoffrey A Godden.)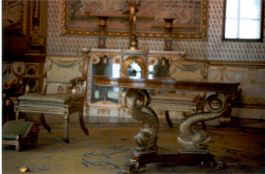 In this sumptuous Royal Pavilion, it is easy to imagine the extravagant life style of the Prince. Renowned for his love life, it was here that he secretly married Maria Fitzherbert, a young widow of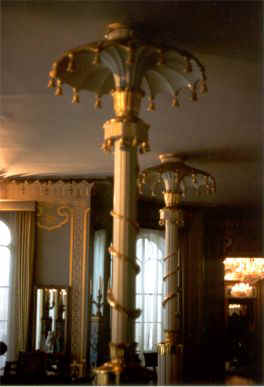 Catholic religion making an open marriage to the King out of the question, so out of desperate passion a secret marriage took place between them in 1785, but they continued to live in separate houses in Brighton. However, in 1795 forced by his enormous debts and Royal duty, he was obliged to marry Caroline of Brunswick. Not a successful marriage, although they did have a daughter, Charlotte. Shortly after that, the Prince started a string of romances with older society wives, including Lady Jersey.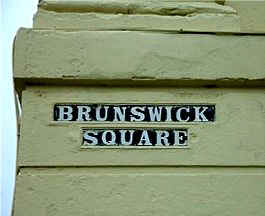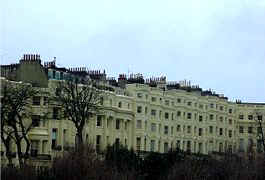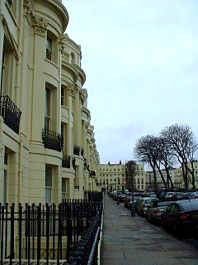 With the development of Brighton Pavilion and the Patronage of the Prince, Brighton grew into an extremely fashionable seaside resort for Society. This can be appreciated by the legacy of Regency buildings that still remain and form the soul of Brighton today. Beautiful terraces such as those of Brunswick Square and other rows of town houses with their characteristic regency features including the latest "bay" and "bow" window styles, very pretty, elegant and superb for letting in the wonderful light reflected from the open sea views.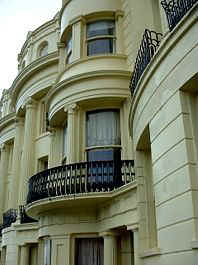 This Regency period, c1811-20 saw some beautiful light and dynamic designs in English furniture furniture, silver, porcelain and glassware, which remains in vogue today and is a period very popular with antique collectors.
Rather than stay in Brighton for tea (in which there are many tea rooms of variable quality, my favourite is the Mock Turtle adjacent to the bus station - their Queen Mother's cake is divine - I shall review the Mock Turtle another time, but I digress), I have come to nearby and very picturesque town of Arundel.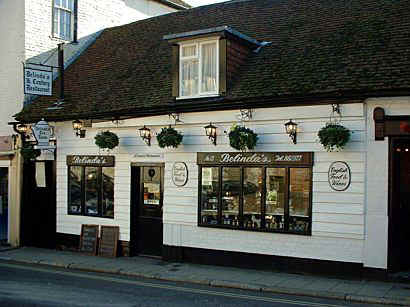 Within Arundel is a cosy and welcoming tea room called Belinda's. This delightful tea room dates back to the 16th century and is shown on a map of the town dated 1560, not as a restaurant but as a barn! It remained a stable and slaughter house up to the 1920s at which pointy it was converted into tea rooms.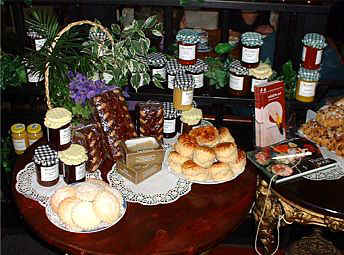 The stable door is still used as the entrance door. The stable theme remains with the tea room walls hung with dozens of horse brasses, which decorated horse tack, now decorating the dark timber beams.
The excellent selection of wholesome cakes, pastries and scones are produced in their own bake house - and very good too!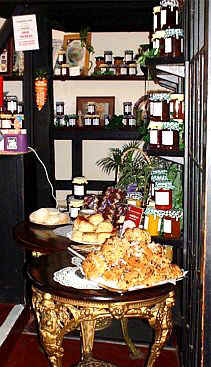 My favourite (and I noticed was the favourite of many customers) were their large and magnificent rock cakes. The taste and texture are sublime packed with dried fruits including sultanas and apricots and a wonderful spicy flavour.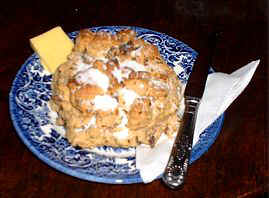 They are served warm and dusted with copious amounts of fine caster sugar and a pat of butter. Not many tea rooms serve this old style of rock cake, which is a pity.
Arundel itself is built on rising ground from the River Arun, which winds its way southwards across flat lands and towards the English Channel.
Dominating this small compact town is the Castle itself, home to the Duke of Norfolk. The view of the town and castle could not conjure up a more English landscape setting. The town has many small and varied antique shops, ideal for a few hours browsing, but the treasure has to be Belinda's.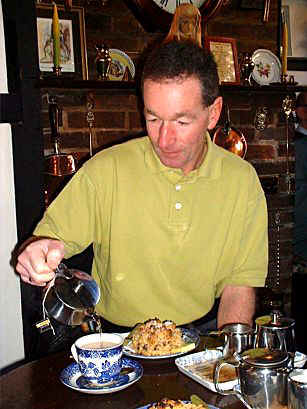 At Belinda's you can enjoy afternoon tea (or lunch), efficiently served by very attentive and speedy young staff. It is usual for tea rooms to become busy on Sundays and Arundel is no exception. It is a very popular town with visitors in the summer, especially antique browsers and those enjoying a visit to the Castle or a walk along the river.
Whatever your reason for visiting Arundel, I do not think that you will be disappointed with Belinda's.
Details:
13 Tarrant Street
Arundel
West Sussex
BN18 9DG
Southern England
Telephone: +44 (0) 1903 882977
Street map Area Map
Maps courtesy of www.streetmap.co.uk
---
To review past newsletters, just follow this link: Past newsletters.
To subscribe to this free newsletter - Click here
---
All information contained within any article on this website was considered to be accurate (as far as can be ascertained) at the time of writing. TeaAntiques.com Limited makes no warranty and accepts no liability regarding the accuracy of the content.
Copyright © 2000 - 2023 All rights reserved
TeaAntiques.com Limited. Company Incorporated in England No.: 5086843