Tea Clipper

from TeaAntiques.com

Edition

Eighteen
Featured Antique - Worcester teapot, dating from 1765-1770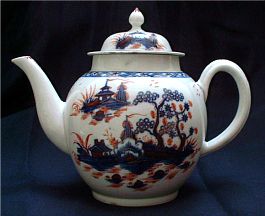 The Featured Antique is a very fine example of an eighteenth century Worcester teapot, dating from 1765-1770. It can be seen to be copying the popular oriental export ware designs from China. Its decoration is in underglaze blue with orange enamel embellishments giving a beautiful oriental scene of temples in enchanting gardens. This scene is known as the Worcester cannon ball pattern, due to the three balls at the bottom of the scene. These balls are actually a representation of three mythical islands. This delightful globular teapot can be viewed on the TeaAntiques website.
More details of this item and other tea related antiques can be found by visiting my web site at www.TeaAntiques.com.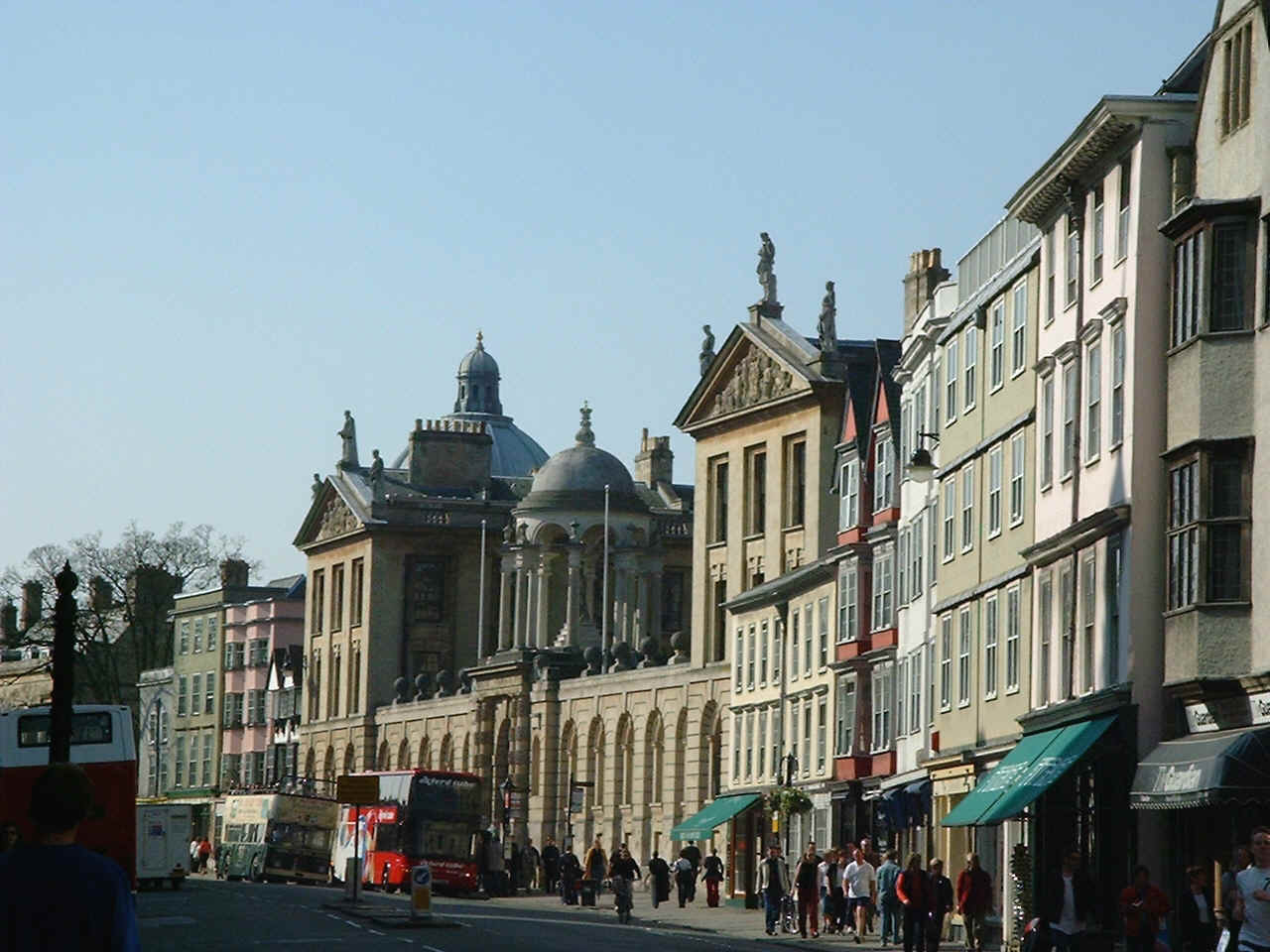 This month I decided to take a trip to Oxford, England's heart of knowledge and learning. Oxford is famous for its collection of fine old established colleges and University, where many famous scholars and political leaders from history have been educated. Today, the town still retains an air of the 'old school', a bustling, yet compact and sedate town alive with students soaking up their education in a wide and diverse set of subjects.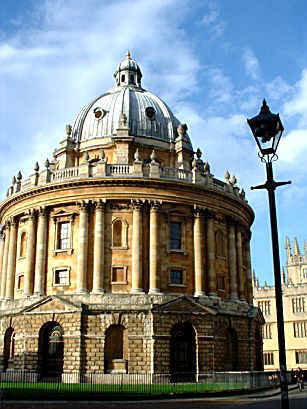 The first impression when approaching this beautiful town is the cluster of spires, towers and domes associated with the colleges and churches. These spires and towers which dominate the town's skyline is a view that must have remained much unaltered over the centuries. Indeed, many of the colleges' roots date back many centuries.
My trip today was not to visit or review the colleges - with their attractive buildings, fine architecture and quadrangles with what must be the greenest, well maintained grass lawns in England - but to visit the Ashmolean Museum.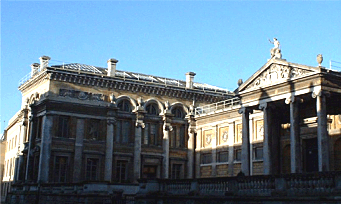 The Ashmolean Museum is situated in the centre of Oxford and was established in 1683 (it is one of the oldest public museums in the world). It is housed in a delightful neoclassical building with an impressive grand façade. Inside there is a staggering array of artefacts, exhibitions and collections, from this and other countries.
My visit was to look at their fine collection of eighteenth century porcelain and eighteenth century drinking glasses.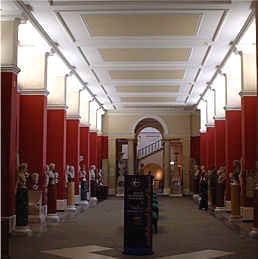 In walking to the gallery devoted to a magnificent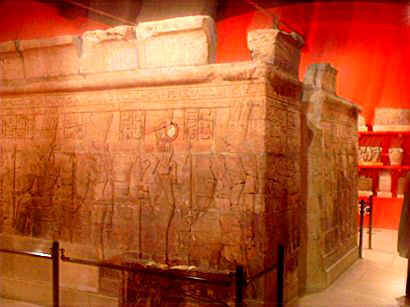 collection of eighteenth century porcelain, one walks through an impressive sculpture gallery. There are many Roman classical sculptures on view set against crimson red walls. The sculpture gallery is followed by an exhibition of Egyptian artefacts including a complete Temple - The Shrine of Taharqa from the 25th Dynasty (712-657 BC).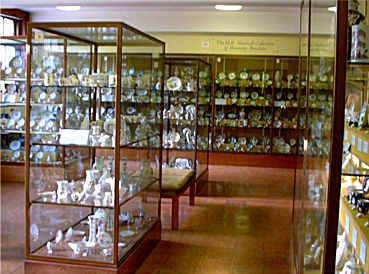 On reaching the porcelain gallery I was quite amazed by the size of the collection and the wealth of the exquisite examples on show. There were many cups and saucers, teapots, tea canisters, teapot stands, plates, vases and much more besides. An absolute haven for the collector of fine eighteenth century porcelain, especially tea related wares. Much of the exhibition is devoted to the famous English factories such as Worcester, Bow, Chelsea, Derby, etc. It demonstrates the changes in design and decoration, clearly showing how the decoration of porcelain in England copied the styles of other famous European factories. Examples that copy the styles of Sevré and Meissen and Sevré or following the examples of Chinese export wares can be seen.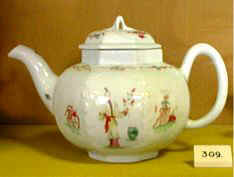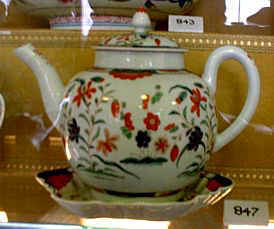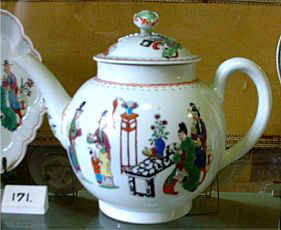 There are some truly delightful Worcester teapots and tea wares with various attractive ground colours of cobalt blue, green and turquoise. These are beautifully painted with delicate and brilliant floral sprays and sprigs, much in the taste of Meissen wares.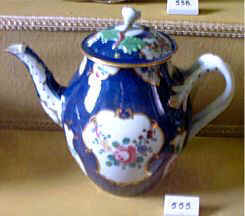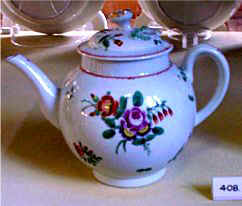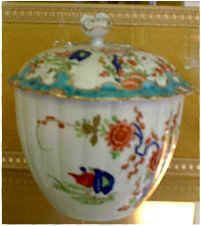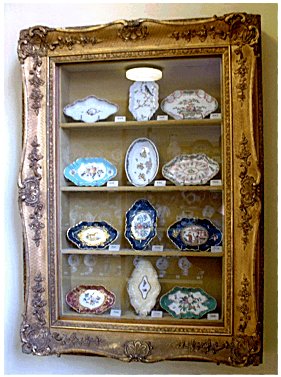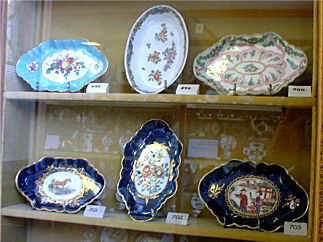 An exhibit that I found most fascinating was a collection of rare spoon trays, displayed on the wall in a large picture frame. Spoon trays were an important and integral part of an eighteenth century tea equipage. These delightfully shaped oval trays were necessary as the saucers of tea bowls at that period were, like those from China, small and would not easily accommodate a teaspoon. Therefore, spoon trays were required, one to each tea service on which tea spoons and the mote spoon (used for unblocking the spout of the teapot and skimming the 'motes' or leaves from the tea bowls), could be rested during the tea ceremony. It is quite unusual to find such a beautiful collection of delightful spoon trays and are a treat to behold. These little trays, only being one per tea set, are rare as many have long since been broken. Sometimes oval teapot stands are incorrectly identified and sold as spoon trays - so beware! Generally, spoon trays are smaller than teapot stands and are more intricate in their shape.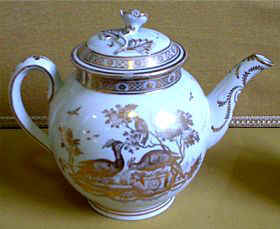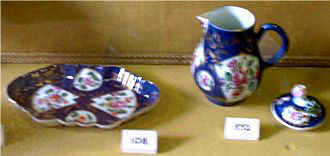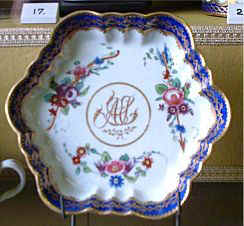 The porcelain gallery has so much to see for the connoisseur of eighteenth century fine porcelain, that it would be all too easy to spend a great deal of time here, examining items piece by piece. I certainly found that it took my interest for a great deal of time and still too much to appreciate fully in one visit.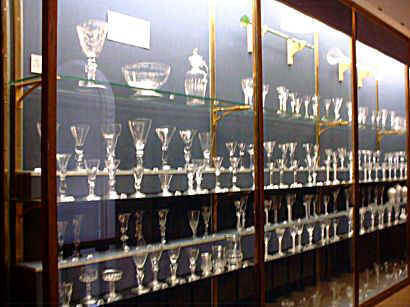 Eventually, I dragged myself away from the fine china to go off in search of the collection of eighteenth century drinking glasses. I located the collection housed in a large glass cabinet on a landing at the top of one of the staircases. The shelves of this huge cabinet were laden with a wide variety of magnificent glasses taking you through the different styles that came about throughout the eighteenth century.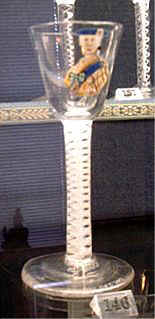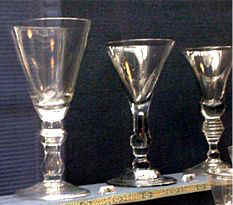 There are some extremely rare and very fine early baluster stemmed glasses as well as examples of engraved 'Jacobite' wine glasses, mixed colour, opaque and air twisted stems, etc.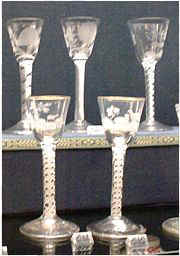 Of particular note are some examples decorated by Beilby of Newcastle. These have bowls decorated with delicate and fine white enamel scenes of various subjects. Not only are these exquisite to see but are also very rare to find now (and hence extremely expensive to buy-if you can find them!).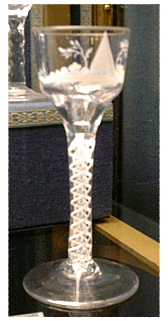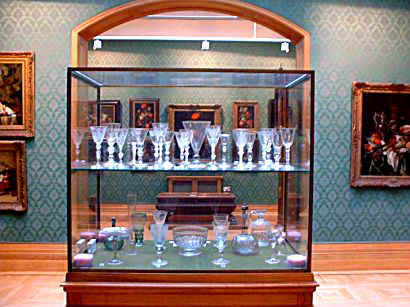 Certainly Oxford and the Ashmolean Museum are well worth a visit. Oxford has good and direct road, rail and coach links with London and other parts of the country, so a day trip can be undertaken. However, a longer stay may be in order to take in all that Oxford has to offer the tourist.

Details of the Ashmolean museum are as follows:

Ashmolean Museum
Beaumont Street (opposite the Randolph Hotel)
OXFORD OX1 2PH United Kingdom
Street Map (courtesy of www.streetmap.co.uk)
Tel: 01865 278000
Fax: 01865 278018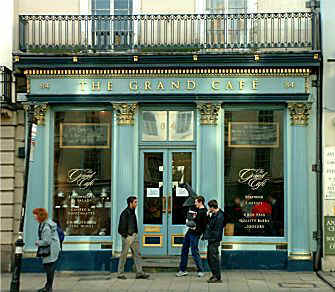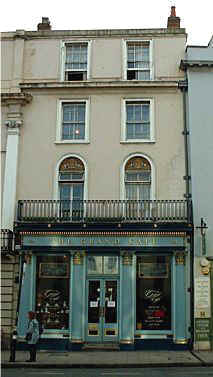 A further attraction I discovered was in the High Street, where there is a café / bar called 'The Grand Café' . It has a plaque on its wall that states is on the site of the oldest Coffee House in England, opened in 1650.
This is a most pleasant place in which to take lunch or afternoon tea. There is a very friendly and relaxed atmosphere, the café is very light, bright and a cheerful place in which to find oneself.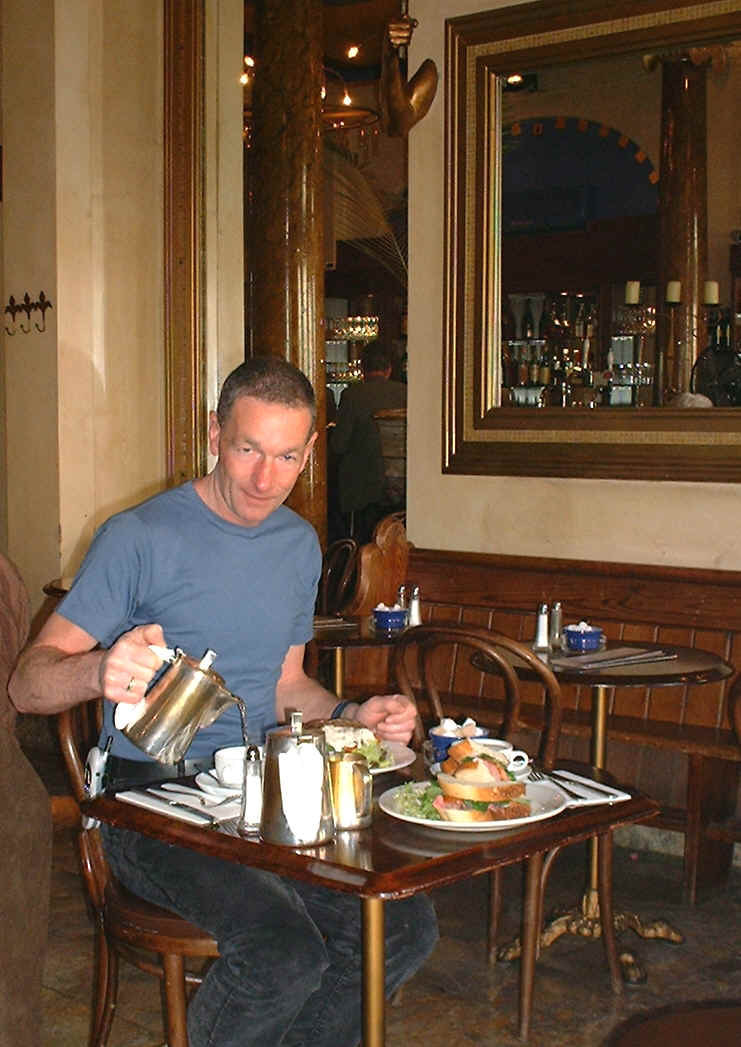 Tea is served in old style 'hotel plate' silver plated teapots with paper napkins neatly wrapped round the handles, which can be rather hot. On this visit, I was too early to participate in their selection of traditional afternoon teas, which start from 3:30. So I selected to go for one of their interesting sandwiches, my choice was for a Chicken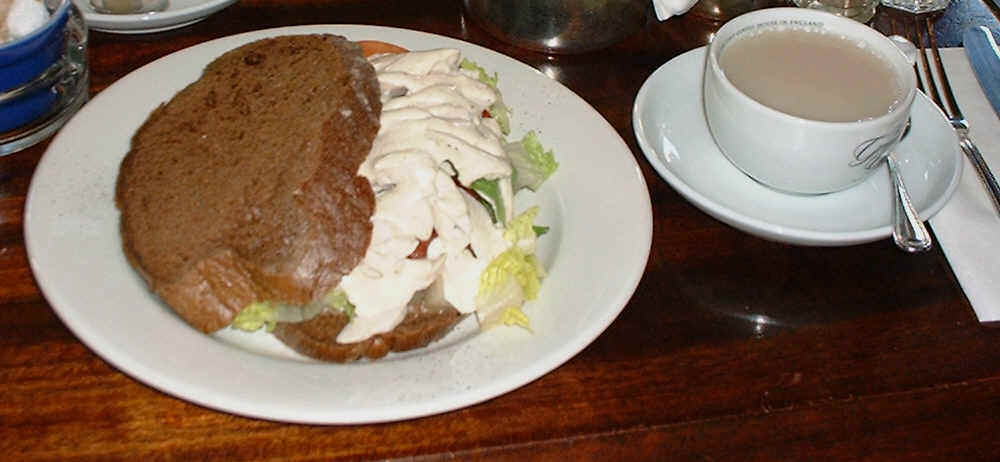 Caesar Salad Sandwich served on a very tasty rye bread.
They serve tea made from fine loose tea, rather than teabags and is of good quality.
They serve a Champagne, or high tea, which has a slightly unusual twist. Apart from the smoked salmon and cream cheese and egg sandwiches followed by traditional scones, cream and jam, they complete the tea with chocolate truffles instead of cake - the truffles go nicely with the Champagne!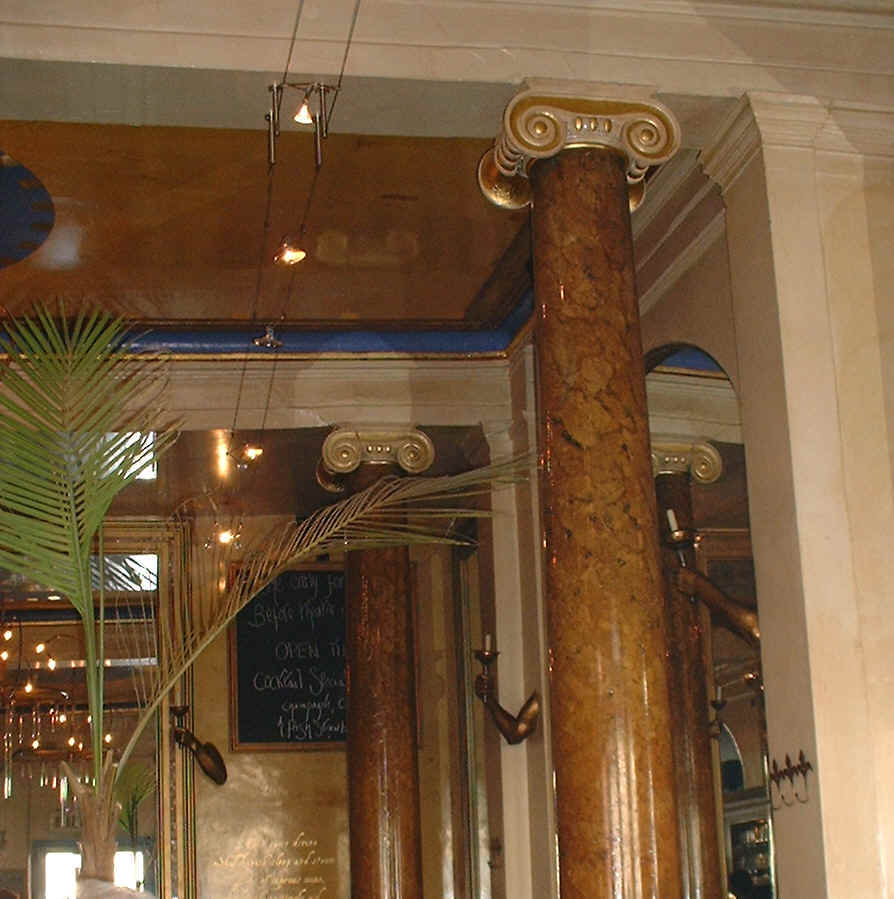 The café bar - with its high ceilings supported by marbled ionic columns, the walls hung with large gilt frame mirrors and large potted elegant palms positioned between the tables - is a fine retreat from the hustle and bustle of the High Street.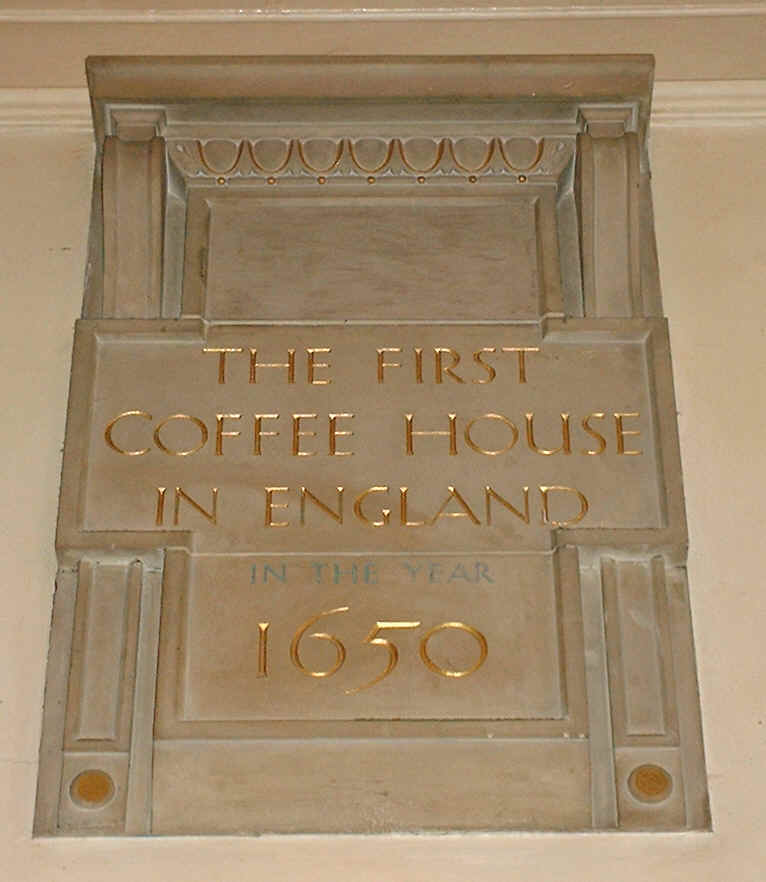 Details of The Grand Café are:
The Grand Café
84, High St
Oxford OX1 4BG United Kingdom
Street Map (courtesy of www.streetmap.co.uk)
Tel: 01865 204463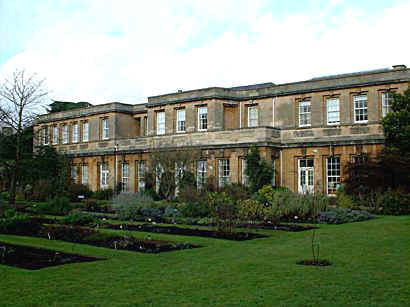 Finally, after taking tea at The Grand, only a few minutes walk down the road are the Botanical gardens. A relaxing place in which to stroll and where admission is free. The gardens are quite small, bounded by the River Cherwell on its way to join the River Thames, where in summer one can observe the punts gliding past. There are also a couple of conservatories housing more tender plants, these are ideal in which to take refuge in bad or cold weather! The gardens provide an ideal place to walk off that afternoon tea, whilst enjoying their beauty.
---
To review past newsletters, just follow this link: Past newsletters.
To subscribe to this free newsletter - Click here
---
All information contained within any article on this website was considered to be accurate (as far as can be ascertained) at the time of writing. TeaAntiques.com Limited makes no warranty and accepts no liability regarding the accuracy of the content.
Copyright © 2000 - 2021 All rights reserved
TeaAntiques.com Limited. Company Incorporated in England No.: 5086843