Tea Clipper

from TeaAntiques.com

Edition

Nineteen
Featured Antique - A three-compartment Georgian Tea Caddy, c1760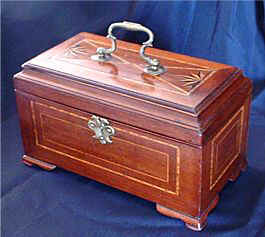 For my Featured Antique for May, I have selected a beautiful George III Tea Caddy c1760. It is a lovely coloured mahogany and is inlaid with some delightful marquetry. This marquetry decoration includes star bursts to the top of the lid. The lid, front and side faces are further inlaid with decorative chequered stringing.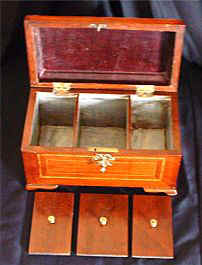 Inside the caddy are three compartments, with three lids, each with turned brass handles. There is a brass swan neck shaped handle to the lid and a pretty brass key escutcheon. This Caddy is similar in shape and style to the one described in the article below on Parham House.
This is a very fine example of a mid Georgian mahogany Tea Caddy and can be viewed on the TeaAntiques web site.
More details of this item and other tea related antiques can be found by visiting my web site at www.TeaAntiques.com.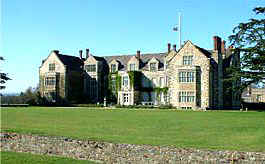 This month I have taken a journey to Parham House in West Sussex, situated at the foot of the South Downs, in the South of England. This early house is set in acres of ancient deer forest, which would have provided good deer hunting for the household and its guests. Driving to the house, there are rolling hills with very old Chestnut trees dotted about, the drive sweeps down to the house which stands bold and defiant in a grassy landscape backed by the high South down hills.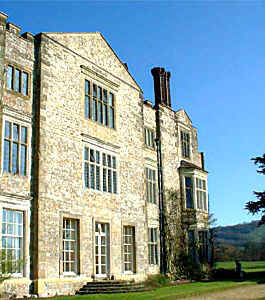 The house is built of a grey stone and it is clearly visible that this is a house dating from the sixteenth century, with its Elizabethan features such as the stone mullion windows, stone clad roof and tall chimneys. Indeed, the house dates back to about 1540 and was granted to Robert Palmer on the disillusionment of the monasteries by Henry VIII. The initial house from that period was a small house, it was then enlarged, incorporating the early house, from 1577.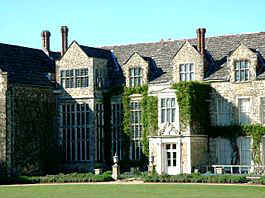 Queen Elizabeth I was said to have dined at the house in the Great Hall en route to the Cowdray estate nearby. From the front view of the house, the Great Court windows can be seen to the left of the central front door, very large mullion windows which stretch up to the roof level. Typical of Elizabethan houses, it can be seen that the house is in the plan shape of an 'E', formed by the large protruding wings at each end of the main block and a protruding central entrance block. The visitor does not enter though this side of the house, but through an entrance from a courtyard on the other side of the house.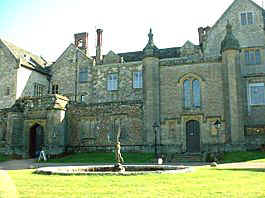 The entrance to the house is from a walled courtyard incorporating the stables and bothey on the side opposite to the house. In the centre of the courtyard is a circular pond with a stone cherub from which plays a cool fountain, the atmosphere is very quiet and serene befitting such a house.
Upon entering the house through a rather austere doorway a flight of stairs and a stairway landing leads the visitor into the Great Hall itself. This is an impressive room, surprisingly light, the sun streaming in through the huge south facing windows. A large oak table with Cromwellian and Jacobean chairs stands in the centre of this impressive room. The walls are hung with some wonderful early portraits, including portraits of Elizabeth I, Edward VI and Court members from that period.
From the Great Hall one passes into the Great Parlour. This room is again surprisingly light and has a rather comfortable feeling, the wood panelled walls are hung with more early portraits. The furniture includes seventeenth century chairs, with heavy carved frames and upholstered with remarkably fine tapestry and needlework coverings. The brilliant colours of the chair coverings, Kouba and Shirvan carpets make this a very cheerful room.
The visitor then passes through a series of small rooms to a most delightful, lightly decorated and furnished Saloon. The Saloon is part of a much later remodelling to parts of the house. No heavy panelling on the walls and heavy framed furniture. Instead, here we find a room from the 1790's, with cream coloured painted walls with gold decorations and the symmetry of an elegant Georgian room. It is in this beautiful room that there is a part of a breakfast service made by the Worcester 'Flight Barr and Barr' company a wedding gift to a member of the family. This service is decorated with fine gilt decoration and each piece carries the family armorial.
For the tea antique lover the items to see in this house are on view in the Green Room. Like the Saloon, the Green Room is an elegant room which was part of the house remodelling and much of its decoration and furnishings date from the 1770s. The room is furnished as a breakfast or small dining room, with Georgian mahogany furniture that includes a large circular tripod table set with two Chippendale style armed dining chairs. Over the table hangs a delightful crystal glass chandelier, through which light is sent sparkling around the room.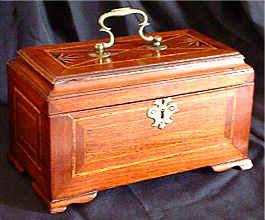 On a sideboard set against one of the walls stands a very handsome rectangular Tea caddy. It dates from 1770, is of Mahogany with exuberant and very pretty marquetry on all of its surfaces. There is a swan neck brass handle to the lid - typical of this period. This certainly is a very fine Tea Caddy which exudes quality and craftsmanship. Here I have shown a similar caddy, which is my Featured Antique.
Upon the tripod table, there is a representative part from a French 'Paris' porcelain service, painted by Feuillet in about 1830. The parts on display here include plates, cups and saucers. Each piece has a striking 'apple green' ground and is hand painted with beautiful sprays of colourful flowers, each different. Paris porcelain has a 'hard paste' body and the gilding used is of brilliant colour which really stands out.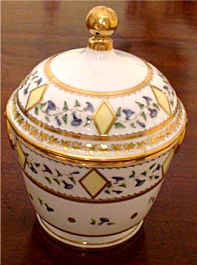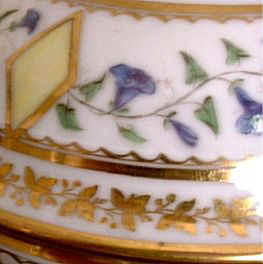 The item of Paris porcelain shown here is from my own collection and I hope that it demonstrates this. The painting on this piece includes yellow diamond shapes and delicately hand painted brilliant blue 'Morning Glory' (Convolvulus) flowers and leaves.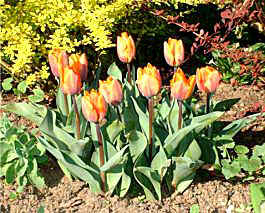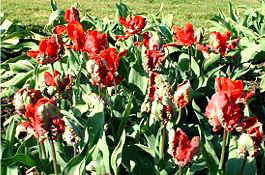 In walking around the house, I particularly noticed displays of Tulips gathered from the walled garden. Tulips became very popular in the seventeenth century when delightful varieties of colourful Tulips were bred and prized. They were immensely expensive to buy and blooms were often displayed in 'Delft' Tulip Vases. These Tulip vases were often very tall and shaped like a pyramid with openings down the corner sides in which individual prized blooms could be displayed. Therefore, it is fitting to see displays of tulips in a house of this early period.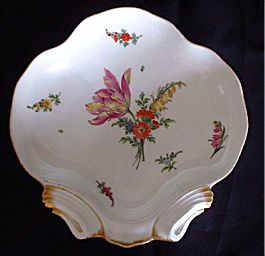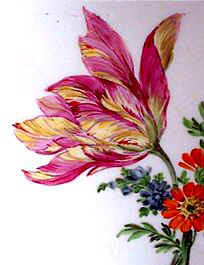 The mania for flowers such as fine Tulips, was not only apparent from gardens and garden or flower paintings of the period, but was also taken into the house by the paintings on fine porcelain. Tulips can indeed be identified on many items of porcelain, including pieces from the eighteenth century. In my personal collection, I have several pieces displaying beautiful hand painted Tulips. This dessert dish, made by 'Marcolini' Meissen, c1790, has a bouquet, which includes a striking and rather jazzy yellow and red Tulip.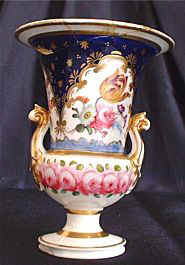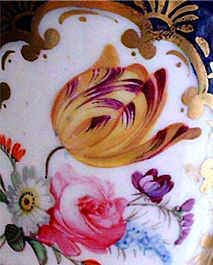 A further example of fashionable tulips are displayed on Coalport Vase (taken from my personal collection). Obviously, the popularity of flowers were represented on porcelain of the period and can give a good insight into the types of flowers that were in fashion at the time. This also gives another interesting aspect to the collecting of eighteenth century porcelain and tea wares.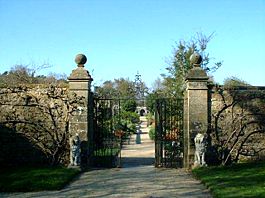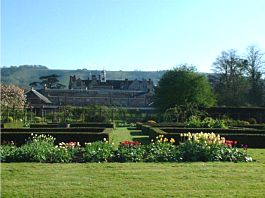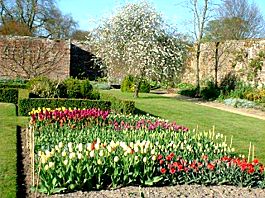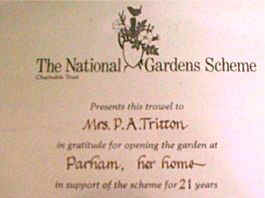 The gardens of Parham house include the delightful walled garden. Here can be seen in April/May the Tulips that are used around the house. The gardens are beautifully maintained, in fact have received many awards and accolades. I would certainly recommend a walk around them as part of the visit to the house.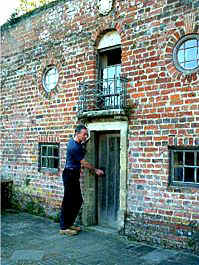 An interesting feature to the garden, is a child's 'Wendy house', built into the garden wall, a wonderful place this must have been for children of the family.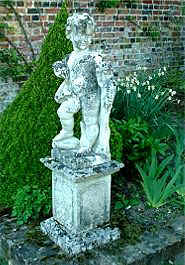 This is a tranquil house and garden which I urge you to visit. There is a good restaurant and tearoom housed in the old kitchens to the house, serving a good afternoon tea and cakes, etc.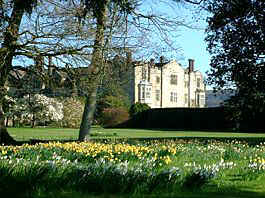 Parham House and Gardens
nr Pulborough, West Sussex
Telephone: +44 (0) 1903 744888
Opening times: Open April to October on Wednesdays, Thursdays, Sundays and Bank Holidays
Gardens 12noon-6pm, House 2-6pm.
Street Map Wider Map (Maps courtesy of www.streetmap.co.uk)

Moving from Parham House in West Sussex to East Sussex beyond Brighton is a Tea Garden with its own story to tell. Like Parham House, Litlington Tea Garden is nestled in the shelter of rolling hills, this time in the Cuckmere Valley near the picturesque village of Alfriston.
This quaint Tea Garden was established in the Victorian period, over 150 years ago! It became very popular with the advent of the motor car, when people would 'drive out' at the weekends from towns like London and Brighton. What better place to head for than tea gardens to take a pleasurable afternoon tea.
Litlington is not your usual Tea Room, it is indeed a garden and as such is only open during the summer months between April and the end of October. It is not an easy place to find, tucked away down narrow country lanes and not visible from the road. There is a sign on the road side directing the visitor into a car park - don't miss it!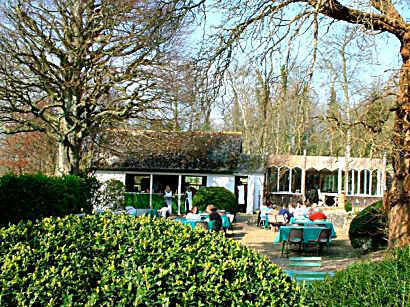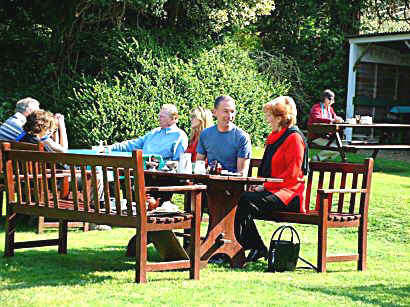 The Tea Garden is laid out in two terraces, one of grass the other of gravel on which sit many varied tables, chairs and benches. Surrounding these outside tables open to the elements are interesting sheds and summer houses which could easily date from the Victorian or Edwardian period - looking rather like beach huts! In bad weather, tea can at least be taken in the shelter of one of these charming little wooden buildings.
Food is cooked in a flint built kitchen at the top end of the garden. Tea, cakes and food are prepared and served by waitresses from another wooden building.
All the cakes and scones are home made and there are various other light meals on offer. There are a selection of 'set teas', one of which is one might well imagine as a popular 'Vicarage' tea of the Victorian/Edwardian era, this includes cucumber sandwiches, a scone cream and jam followed by a choice of one of the home made cakes. It is quite possible to imagine oneself transformed back to this period and taking tea on the lawn of a country vicarage.
Whilst there are no fancy frills in the presentation of the food, it is basic, good quality home made fare. I can certainly highly recommend their scones which are deliciously light and if jam is ordered, are supplied with more than an ample amount of the finest Raspberry jam.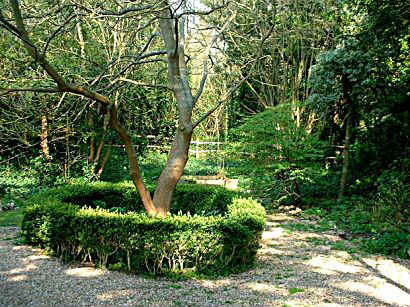 In its heyday, the gardens were much larger than they appear today - stretching way up the hillside. Waitresses would have struggled backwards and forwards up and down the hill carrying heavy tea trays to the hungry visitors - they must have been very fit! Even today, the girls are back and forth with large trays.
Afternoon tea here is a simple but most enjoyable experience and one that I strongly recommend. I certainly drop in when ever I find myself in the area and take delight in showing it to my friends. On this occasion I was with a dear friend Veronica who also thought it a charming place in which to relax in the sunshine for that perfect English tea.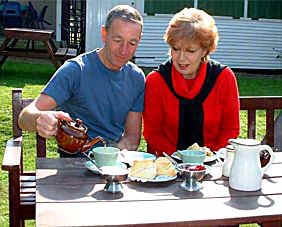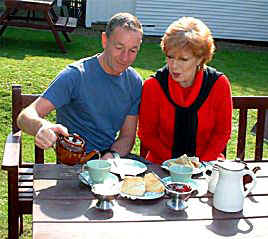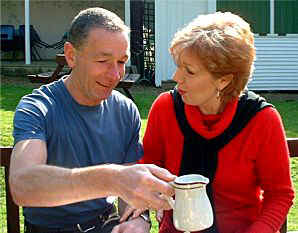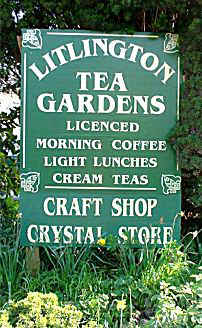 Litlington Tea Gardens,
Nr Alfriston, East Sussex, BN26 5RB
Telephone: +44 (0) 1323 870222
Street Map Wider Map (Maps courtesy of www.streetmap.co.uk)
---
To review past newsletters, just follow this link: Past newsletters.
To subscribe to this free newsletter - Click here
---
All information contained within any article on this website was considered to be accurate (as far as can be ascertained) at the time of writing. TeaAntiques.com Limited makes no warranty and accepts no liability regarding the accuracy of the content.
Copyright © 2000 - 2023 All rights reserved
TeaAntiques.com Limited. Company Incorporated in England No.: 5086843