Tea Clipper

from TeaAntiques.com

Edition

Twenty
The Queen's Golden Jubilee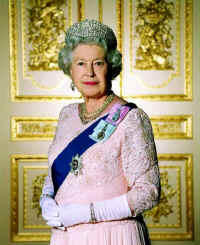 The year 2002 marks the 50th anniversary of Her Majesty The Queen's Accession to the Throne. This will be an occasion both to look back at the role that The Queen has played in the affairs of the United Kingdom and the Commonwealth over the last 50 years and to look forwards.
May I wish Her Majesty all the best for Her Golden Jubilee
Official Golden Jubilee photograph by John Swannell © Camera Press Ltd, 2002
Golden Jubilee Logos and first paragraph text © Crown Copyright 2002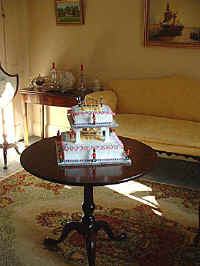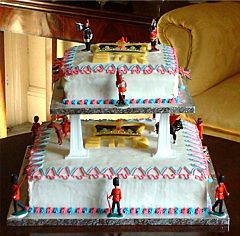 I will be celebrating with a special tea party with friends and neighbours on 3rd June. To mark this achievement, and as a lover of afternoon tea and cakes, I have made a special "Jubilee" cake for the occasion. A traditional English Fruit Cake, coated in marzipan and iced with Royal Icing - it took 23 eggs in the making. It is fortunate for me to be able to mix my love of antiques, afternoon tea and cakes.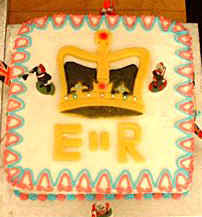 Featured Antique - First Period Worcester Hexagonal teapot Stand, c1775.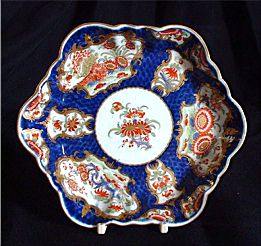 The antique of the month is a rare and exquisite First Period Worcester teapot Stand, c1775. It has a rich dark blue 'scale' ground with decorative panels of Japanese style flowers which are most skilfully painted. This Teapot Stand would have been part of an impressive and expensive eighteenth century Tea Service. It is certainly a rare and magnificent item of Worcester porcelain for the collector of early Worcester wares of very fine quality.
By co-incidence, a teaset of the identical pattern can be seen at Newby Hall in Yorkshire. However, Newby Hall's teapot does not possess this exquisite teapot stand! Read more about this below.
More details of this item and other tea related antiques can be found by visiting my web site at www.TeaAntiques.com.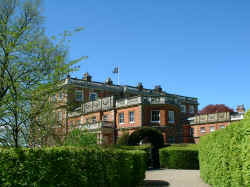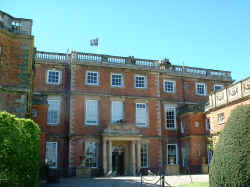 Newby Hall is an extremely attractive seventeenth century House with exceedingly beautiful gardens. It remains a family home, where the present Compton family and their ancestors have lived since 1748.
The house has a main block which forms the original seventeenth century part of the house, this was altered and had two projecting wings added to the front elevation by the architect John Carr, carried out c1766. It is a magnificent house, built in handsome red brick with white stone dressing.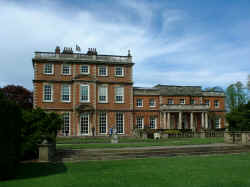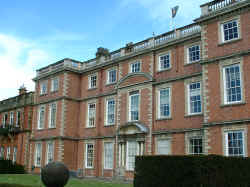 The Entrance Hall is the work of Robert Adam. Here Adam, inspired by the designs of Roman Architecture, produced some very fine plaster mouldings around the walls and on the ceiling. These mouldings are ornate, beautifully fashioned and coloured white and set against a light blue and creamy yellow background. This impressive Hall is the start of the tour of the house, it provides a promise of the further delights in store to the visitor.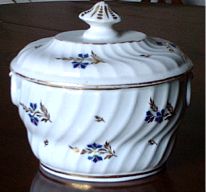 Moving from the Hall into a corridor known as the 'Red Passage', the visitor is invited to view the Boudoir. This room is of comfortable and delicate appearance, not overly grand but charming. It is here that I saw an unusual use for Georgian porcelain Sugar Boxes and Covers (or Sucriers). They were being used in pairs as book ends! Contained in this room are at least six Sucriers of different styles and age. One that I particularly liked was at on the mantelpiece and although I was unable to find out the manufacturer, I would guess that it was probably Flight and Barr Worcester, c1790. It was of oval and shanked form, decorated in pink with fine gilding. Outside this room in the corridor stood a small lit cabinet displaying a few items of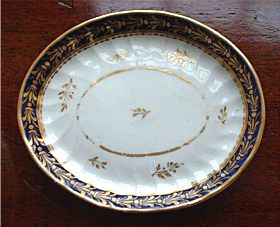 porcelain, including cups and saucers, one of which I recognised as New Hall, pattern

243 (a pattern also used by Chamberlain Worcester). This is a shanked cup and saucer, with cobalt blue bands to the edges, decorated with gilt foliage, almost in the form of a Flue-de-lies. I have many pieces of this pattern in my own personal collection of tea wares. (These two images are taken from my private collection).
The next room along the Red Passage is the Drawing Room. A fine room, redecorated in 1980, it has a Robert Adam ceiling based on original drawings of such Adam Plasterwork in the Sir John Soane's museum, London. There are some lovely items of furniture including an ornate French bureau-plat, beautifully veneered in kingwood and tulipwood and embellished with ormolu mounts and mouldings. But for me the highlight in this room was the content of a glass fronted wall alcove cabinet, containing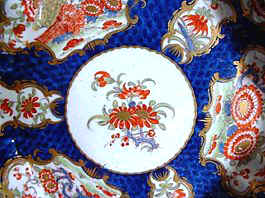 porcelain from the 'First' or 'Dr Wall' period Worcester. In this collection is a comprehensive tea service having scale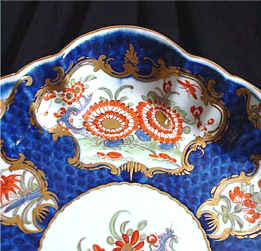 blue ground decoration with panels painted with red flowers in 'Imari' style c1770. This is a magnificent early Worcester Tea service and included the Teapot, circular sugar bowl and its cover with a flower finial knob, covered milk jug, slops bowl, sets of cups, saucers and tea bowls. (These two images are taken from the Featured Antique).
The teapot of this service is worthy of particular note. It is of an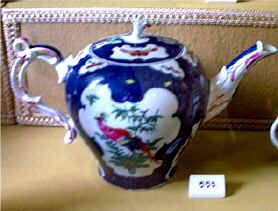 inverted Baluster shape with a delightful handle moulded with scrolls and pierced through giving a very delicate appearance. The spout, also beautifully moulded has some very fine gilding and in addition to the scale blue ground also has panels of turquoise - an amazing combination of colours. My Featured Antique is a tea pot stand of this exact First Period Worcester tea service design, c1770. The teapot at Newby is lacking its stand and would have sat on one such as this.
Also displayed in this cabinet are pieces from a Bloor Derby dessert service c1811-48. These pieces are decorated with colourful floral panels set against a dark blue ground. Other items displayed include French Sèvre plates, cups and saucers delicately painted with exotic flying birds. An unusual item on display was a large porcelain nineteenth century Meissen 'Chocolate pot' with a turned straight wooden handle.
An unusual collection housed in a room off a stairway is of early porcelain 'chamber pots'. There are pots from the eighteenth and nineteenth century in various styles, decoration and form. Many of the eighteenth century ones from China, decorated in Imari style and complete with their lids (quite a necessity I would imagine!). Some of the pots are from Staffordshire, there are some 'Sunderland lustreware' dating from the early nineteenth century and some with comical elements, such as moulded china frogs in the bottom of the bowl, witty poems, etc. This must rate as one of the most unusual collection of porcelain that I have come across!
One of the most impressive rooms in the house has to be the amazing Tapestry Room. This exquisite room remains just as it was designed and furnished between about 1769-76. It is certainly one of the best surviving tapestry rooms in England, the tapestries were ordered specifically for this room from the Gobelin factory in France. They took from between 1765-76 to complete and were woven and actually signed by Neilson. What is also unusual is that these tapestries have a dove grey colour background instead of the more usual rose pink. They are huge and have large medallions depicting 'Lovers of the Gods' – truly stunning. The tapestries are complemented with the original Chippendale furniture designed and commissioned for this very room. The gilt framed armchairs also have their original tapestry covers, all in remarkable condition- the colours still vibrant as though they had been made yesterday. Indeed, these are the only surviving Chippendale chairs with their original tapestry covers. The overall effect of the tapestries, furniture and Adam decoration especially the ceiling give this room a remarkable quality and a joy to behold.
The large dining room has a grand rectangular dining table laid with items of silver, glass and porcelain. The most notable items being a dessert service made by Meissen. This set has pierced borders to the plates and each plate is painted in the centre with pairs of beautiful birds. This set also comprises some multi layered dessert stands, including a pair with three layers of plates on a central column, the top of which are surmounted with porcelain figures or yellow canary type birds. This is a very pretty set that magnificently graces the table magnificently.
There are many other beautiful rooms to be seen in this charming family home including the Library, Statue Gallery and several bedrooms. In one of the bedrooms called the 'Homer Room' I noticed three 'Codugan' Teapots with dark brown glaze. These are unusual teapots, in that they are filled from the base!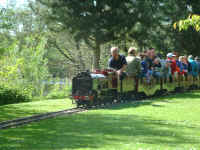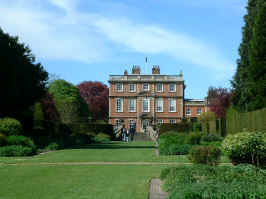 The house is surrounded by exquisite gardens that have deservedly won many awards. The gardens alone take a time to explore fully. There are some of the longest herbaceous borders in Europe stretching away from the house. For those less energetic there is even a small gauge railway running round part of the grounds, fun for adults as well as children!
Newby Hall is an ideal English country house to visit, attractive with magnificent interiors and contents with one of the prettiest gardens I have had the pleasure of walking round. I am sure that a visit here would provide great interest and immense pleasure.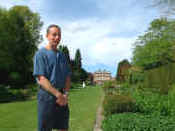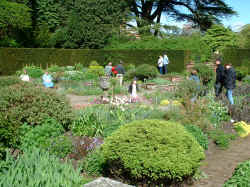 Newby Hall & Gardens,
Ripon,
North Yorkshire, HG4 5AE
Telephone: 01423 322583
Web site: www.newbyhall.com
Small scale map
Large scale map
Maps courtesy of www.streetmap.co.uk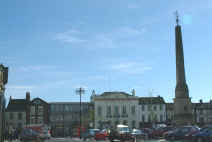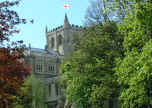 As part of my visit to Newby Hall, I was hoping to take tea in their own restaurant as I had seen a notice stating that "freshly made scones were served straight out of the oven at 3.15". Unfortunately, I was there during a Bank Holiday and so the restaurant was very busy indeed - which should be a good sign but which meant that I was unable to try it out! Therefore, I travelled a few miles into the near by town of Ripon.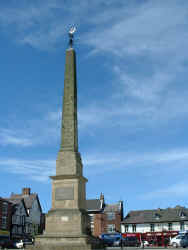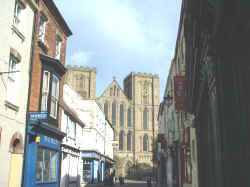 Ripon, I discovered, was a rather pleasing small town with an attractive Cathedral. There is a very large town square, on which stands the oldest free standing obelisk in England. This wonderful erection was the brainchild of John Aislabie and was designed by Hawksmoor c1702. A rather quaint tradition still survives where at 9pm every evening a Hornblower blows the horn to set the night watch- a tradition dating from when Ripon administered its own police and justice system.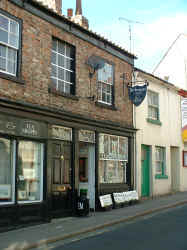 There is a quaint teashop to be found here called the 'Yesteryear tea shoppe'. Inside there are some odd and novelty teapots decorating the shop and a 'gnu' (Victorian style slatted hanging rack suspended from the ceiling for drying clothes, etc.), was hung with old and varied embroidered tea table cloths - an unusual display.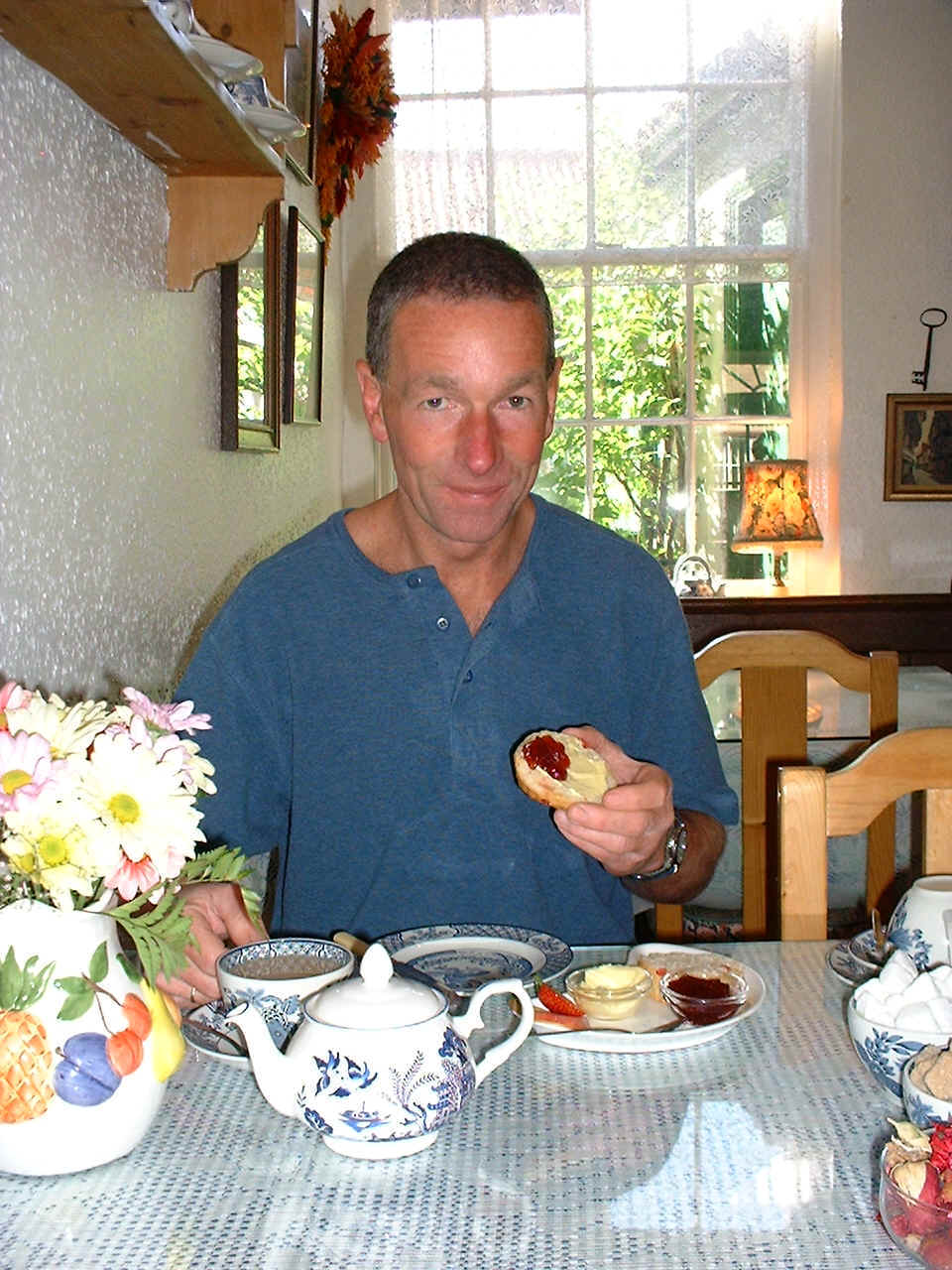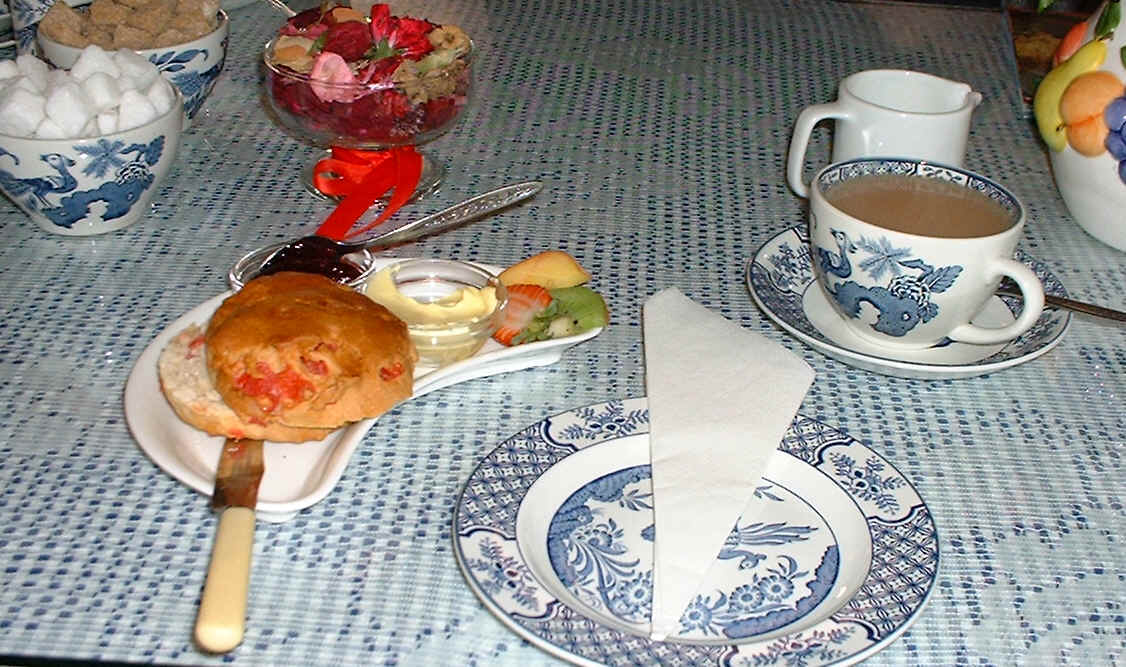 I had a tea of a Cherry scone and Lapsang tea. The scone was well presented with a small dish of butter and another of jam, the plate decorated with a few slices of fresh fruit-a nice touch. This is a pleasant place in which to have afternoon tea – but whose poor personal service unfortunately let it down a little.
---
To review past newsletters, just follow this link: Past newsletters.
To subscribe to this free newsletter - Click here
---
All information contained within any article on this website was considered to be accurate (as far as can be ascertained) at the time of writing. TeaAntiques.com Limited makes no warranty and accepts no liability regarding the accuracy of the content.
Copyright © 2000 - 2021 All rights reserved
TeaAntiques.com Limited. Company Incorporated in England No.: 5086843