Tea Clipper

from TeaAntiques.com

Edition

Twenty One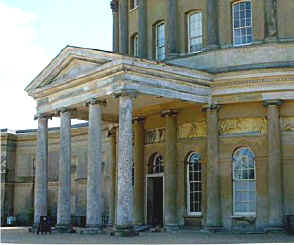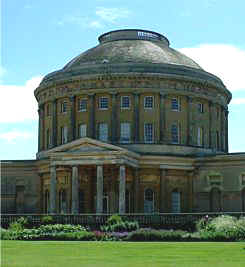 This month I have the pleasure of reviewing a beautiful, if somewhat unusual, country house, Ickworth in Suffolk, North East England. The reason for it being rather unusual, becomes apparent with the first glimpse of the house from the entrance drive. Built in the last five years of the eighteenth century, it is not of the more usual square or rectangular form, but has an impressive elliptical central rotunda, flanked by two curved corridors linking it to two outer rectangular wings. The first impression is that the house is very grand indeed and the interior was found to be no less stunning.
This staggering house was the brainchild of the 4th Earl of Bristol and Bishop of Derry. Inspired from the great architecture of Rome, this house 'Rotunda' was initially designed by an Italian Mario Asprucci. However, this young Italian's architectural plans for the Rotunda had to be modified by Francis Sandys to suit the English climate. Francis Sandys had been working for the Earl-Bishop on previous projects in Ireland.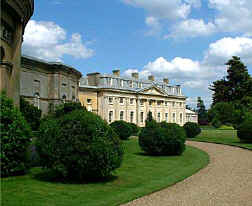 During his life the Earl-Bishop spent more of his time travelling and collecting treasures from the continent, than living in his estates in Ireland or Suffolk. Ickworth was indeed planned and built to house these treasures that he had accumulated, it was not really intended to be a comfortable house in which to live. In fact, the family lived mainly in the East wing of the house, the Rotunda used only when entertaining or throwing parties.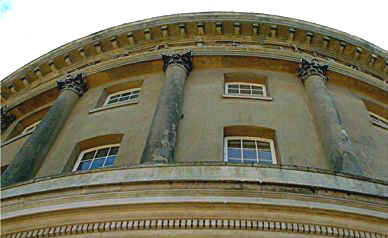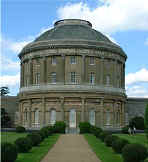 The front elevation of the house, including the two wings, spans an incredible 180 metres. The Rotunda rises high above the visitor as they approach the main front entrance. The exterior of the Rotunda shows two distinctive levels in the architectural scheme. The lower level has large arched sash windows, punctuated by Ionic columns, whilst the higher level has two rows of windows, both smaller than the ground floor windows and, although arched at their top, not so pronounced as the lower ones. These upper windows are like the lower ones, punctuated by columns, this time Corinthian in style.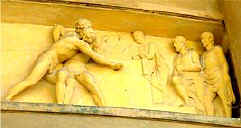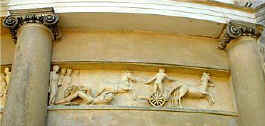 Running around the Rotunda are two bands containing fantastic classical friezes in bold relief. Most of these panels are based on Flaxman's illustrations of Homer's Iliad and Odyssey. However, there are some panels in the section within the entrance portico which were designed by Earl-Bishop's granddaughter, Lady Caroline, her panels depict scenes from the Roman Olympic games.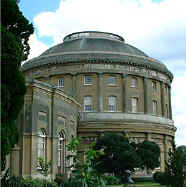 The roof of the Rotunda is a graceful and magnificent dome, crowned with an elliptical stone balustrade. The overall effect of this building is no less than magnificent.
The entrance hall was completed in 1827 to designs by John Field. This has undergone changes since then and was remodelled by the 4th Marquis between 1909-1911. The hall takes up the centre portion of the Rotunda and rises up to the ceiling dome with the stairs going up round the sides of the hall walls. This hall is then surrounded by three principle or 'state' rooms. The first of these rooms is the dinning room off to the right of the hall.
The Dining room is a large and grand room, as you might expect. It is of good proportion, with high ceilings and classical mouldings. Decorated in a restful green with dark green curtains edged in gold, the pelmets hung with gold tassels, it must have been an atmospheric room when in use. There is some fine regency furniture within the house, the dining room having a beautiful set of regency dining chairs which stand around a huge rectangular regency dining table. These were supplied to the 1st Marquis in 1821.
Sitting on the dining table are a remarkable set of four candelabra in exuberant rococo style. These rare examples were made in 1758 by Simon Le Sage and are from a set of twelve! These stunning candelabra were commissioned by the 2nd Earl for his Embassy in Madrid and so carry the arms of King George II. This house is well known for its superb collection of George II silver, much of it housed in a museum room upstairs.
Leading on from the Dining room and situated at the back of the Rotunda is a beautiful Library. This delightful and extremely spacious room has a dazzling crystal glass chandelier suspended from the centre of the ceiling. Although within the curve of the Rotunda, the rooms do not appear oddly shaped, this illusion is cleverly assisted by pairs of giant columns strategically positioned towards each end of these rectangular rooms thus giving an 'implied' rectangular proportion to the central area.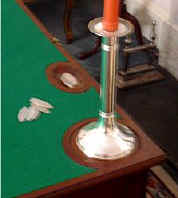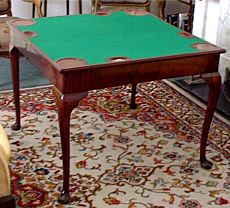 Furniture in the Library includes some more wonderful items from the regency period, including a large suite of Rosewood furniture with brass inlay, the settees and armchairs covered in fine green damask were supplied c1821. Two items of furniture that I found particularly striking were two rectangular fold over games tables with green baize and containing round candle stands and guinea wells. These delightful tables were made of Laburnum - a wood not often seen in furniture, but really beautiful in its colour and grain. These would have been beautiful tables at which to have sat and gambled during the eighteenth century when gaming was fashionable. They were made in England c1715, so would indeed be much older than the house itself. The table illustrated here is from my own collection, it shows the same style, but is made from Mahogany.
The final room on the ground floor of the Rotunda is the Drawing room, this room was completely remodelled by the 4th Marquis and Marchioness in the early years of the 1900's. A comfortable room, with a large, but delicate in appearance, crystal chandelier hung from the ceiling. Decorated in rose pink, with red damask coverings to the furniture and curtains, it has a cheerful warmth about it. There are two particularly beautiful pieces of fine eighteenth century French furniture- a Louis XVI marquetry woman's writing desk, c1760 and a parquetry table, c1766. In this room there is a lovely Meissen Coffee cup and saucer. It was believed that this, decorated with the 'Hervey' arms, was a model piece for a service that was in fact never commission - shame!
Of particular interest to me and for anybody who delights in Early English silver, is a museum room situated on the second floor of the Rotunda. This room displays some stunning domestic silverware from the reign of George II. The 'Bristol' silver, as it is known is certainly a very fine collection and one of the best for quality and quantity.
For the lover of tea silver, there is a rare George I Tea kettle and stand, dating from 1726 and was made by Paul Crespin. The kettle has a squat globular body engraved with the family arms. The swing loop handle has a wicker covering to assist in it being picked up. The kettle sits on three cabriole legs with a spirit burner suspended between them. The legs terminate in ball and claw feet. The kettle then sits upon a rectangular kettle tray. This is a most elegant and rare piece of Georgian silver.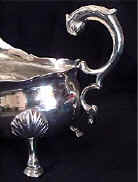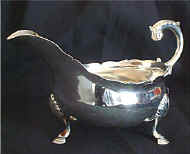 There are a large pair of George II sauce boats with flying scroll handles and each sitting on three legs which terminate in charming shell shaped feet. These were made by Simon Le Sage in 1758 and taken from my own collection. These illustrated here are of the same period, but not as grand, and come from my own collection. Other pieces in this remarkable collection include chocolate pots, wine coolers, serving tureens, etc.
One further item that I must mention are a pair of lovely George II silver Tea Caddies. These delightful Caddies, a pair, are in silver gilt by Christian Hilland, 1738. They are beautifully embossed with swags of flowers which hang between 'grotesque' faces. Certainly a wonderful pair of Caddies that I would love in my collection.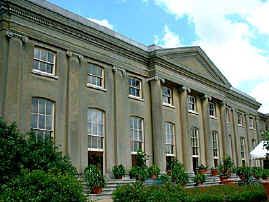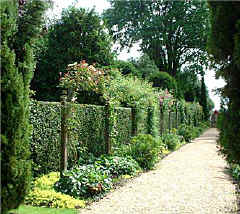 The grounds in which Ickworth house stands, are like the house, very beautiful and from which fine views of this most unusual country house can be seen. A treasure house sitting in the fine county of Suffolk.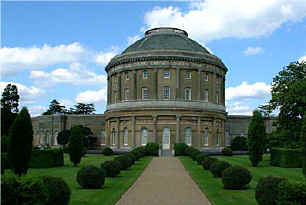 Ickworth House, Ickworth, Suffolk Website
Small scale map
Large scale map
Maps courtesy of www.streetmap.co.uk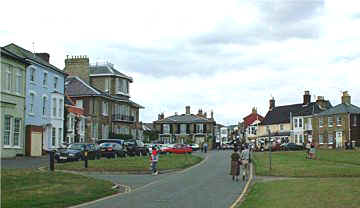 Southwold on the Suffolk coast of Eastern England, is a sedate and charming old fashioned seaside resort. This quintessentially English seaside resort still has an unaltered feeling of the Victorian / Edwardian past, whilst also being a thriving little town popular amongst locals and tourists alike.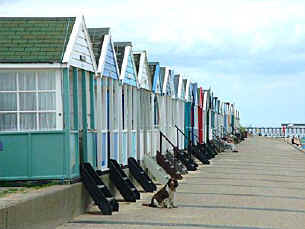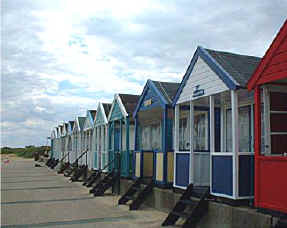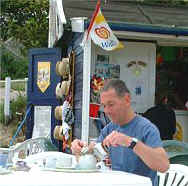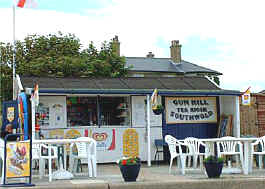 The town particularly towards the seafront, has some lovely Victorian, Regency and Georgian houses which provide a quaint setting for the large open green between the town and the beach promenade. One of Southwold's claims to fame, are the very pretty rows of brightly coloured beach huts, that stretch out along the promenade. The beach hut owners take a great pride in their upkeep and are often used for relaxation, reading books or just to sit and enjoy the sea air. At the far South end of the beach huts is a beach style café called 'Gun Hill'. Unlike many seaside beach cafes where tea is served is paper or plastic cups, here it is served as it should be; with china teapots and in china cups and saucers. I even found that I was able to order Earl Grey tea and a toasted tea cake! This café provides a simple but enjoyable way in which to enjoy tea right on the beach. Use this Map to find the café.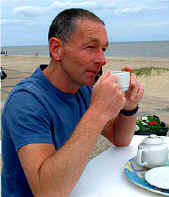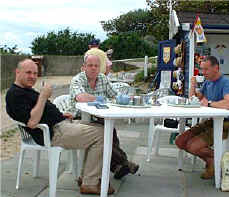 At the North end of the promenade is a wooden pier - the last pier to have been constructed in the country since 1954, and only just having been opened.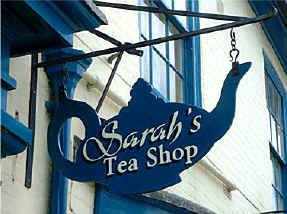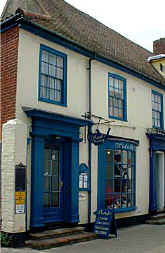 It was in Southwold that I discovered a lovely Tearoom in which to enjoy a marvellous traditional afternoon tea. The Tearoom in question is Sarah's, situated at 51A, High Street. This charming and very friendly Tearoom is housed in an historic town shop and has a bow window at the front affording a view of the pretty High Street. However, there is also a small courtyard garden at the rear, which being a glorious sunny day I opted to take tea in the wonderful fresh air.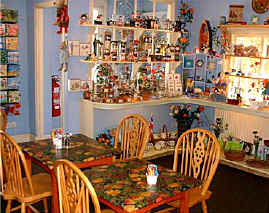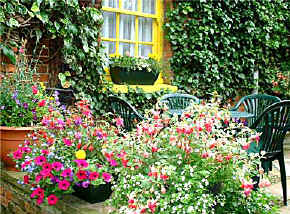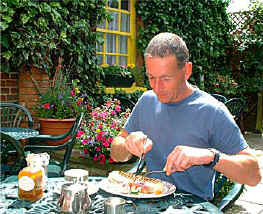 The courtyard has green metal tables with green chairs and has a variety of very cheerful potted tubs of brightly coloured summer flowers. It was sat here that I glanced over the menu - cleverly styled in the form of one of the seafront beach huts!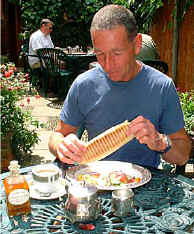 In this instance I chose to try one of the interesting 'hot' baguettes, served with a small salad garnish. I can fully recommend the Chicken and Cranberry one which was packed with very succulent and tender hot Chicken and well complemented with the slightly bitter Cranberry sauce.
Having read that the cakes and scones on offer were all hand made on the premises, and having seen what other people were enjoying, I could not resist but to continue with a scone, cream and Jam and a slice of cake!
The scone was presented split in two halves which were buttered, a good dollop of strawberry jam spread over and topped with a piped rosette of lightly whipped cream (if indeed there is such a thing!). I must say that the scone was absolutely delicious, just melted in the mouth and were obviously freshly made and so not dry (like all to often they can be in some tea shops!)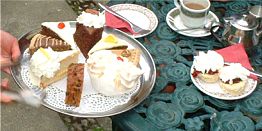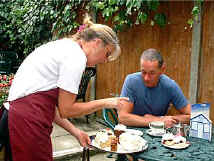 A lovely touch in the service of the tea was that in asking for a slice of cake, the waitress (either Sarah or Sarah's mother- who introduced herself as being the second waitress!), brings a tray containing the cakes available from which you can choose. Each cake was described and I found it very difficult to make my choice from such cakes as Carrot; Mocha; Ginger; Lemon, Fruit; Shortbread or huge cream filled Meringues. The Lemon cake it was to be, and again like the scones was first class- light and fluffy sponge cake, filled with divinely tangy lemon curd, covered in a lemon cream icing and piped with cream.
Sadly after that, I was too full to be able to try yet another cake-much as I would love to have done. I can certainly say that I was more than satisfied and would have no hesitation in recommending a visit to this wonderful tearoom, where the art of serving a 'quality' afternoon tea is certainly far from forgotten.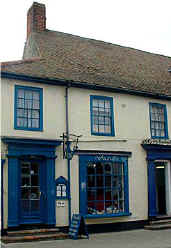 Sarah's of Southwold 51A, High Street Southwold IP18 6DJ.
Telephone: 01502 724077
Street map
Area map
Maps courtesy of www.streetmap.co.uk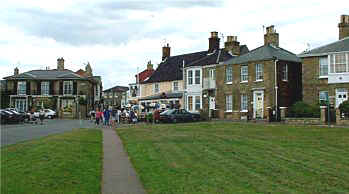 Lowestoft Porcelain
It is topical that whilst in Suffolk that I should mention Lowestoft porcelain, Lowestoft being on the remote East Coast of Suffolk. Lowestoft porcelain was manufactured between about 1757-1799, in what was then a small fishing village. The main market was in selling their products locally. Lowestoft was physically far removed from the other porcelain manufacturing areas, such as Worcester and Staffordshire, so they concentrated on mainly domestic table ware, including tea wares.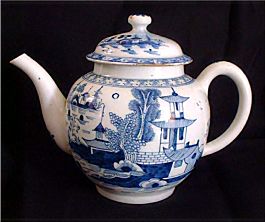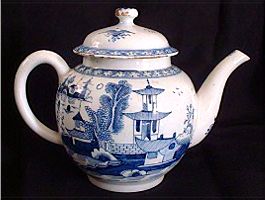 The main form of decoration at Lowestoft was of under-glaze blue, often of oriental scenes in imitation of the designs on Chinese export wares, which were fashionable in the middle of the eighteenth century. These scenes painted at Lowestoft were rather naïve in their nature compared to other factories of the period. Possible because of their remote location away from other porcelain manufacturers, their designs often lagged behind the others by about 10 years.
This example shows a typical Lowestoft blue and white teapot which dates from c1780 and shows the typical form of oriental decoration. The blue used is very distinctive in it's colour. The Lowestoft blue is very dark in colour and can sometimes even appear almost black. Similar teapot designs and decorations were made at Worcester some 10 years earlier and would now be out of fashion.
Lowestoft porcelain is now very collectable and becoming increasingly difficult to find good examples such as this teapot.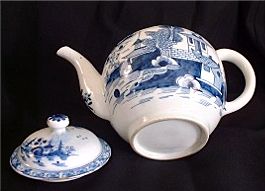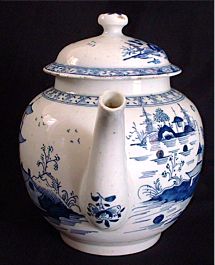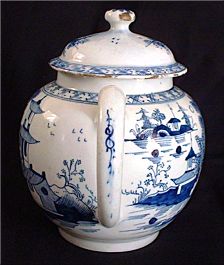 ---
To review past newsletters, just follow this link: Past newsletters.
To subscribe to this free newsletter - Click here
---
All information contained within any article on this website was considered to be accurate (as far as can be ascertained) at the time of writing. TeaAntiques.com Limited makes no warranty and accepts no liability regarding the accuracy of the content.
Copyright © 2000 - 2023 All rights reserved
TeaAntiques.com Limited. Company Incorporated in England No.: 5086843