Tea Clipper

from TeaAntiques.com

Edition

Twenty Three
Featured Antique-a beautiful Regency 'Sarcophagus' shaped Tea Caddy dating from c1820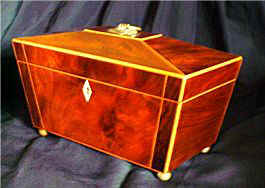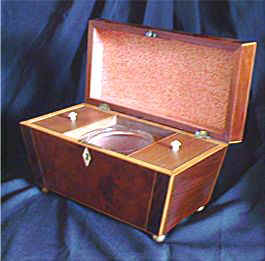 This month's Featured Antique is a beautiful Regency 'Sarcophagus' shaped Tea Caddy dating from c1820. This delightful Caddy is veneered in stunning Mahogany and Rosewood panels, the Caddy is then enriched with light honey colour Boxwood Stringing to almost all of its edges and front panels.
The interior of this lovely Caddy is fitted with two covered tea compartments and a central glass mixing bowl.
More details of this item and other tea related antiques can be found by visiting my web site at www.TeaAntiques.com.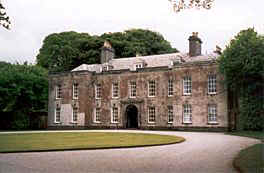 Set on hills above Truro in Cornwall, is the delightful house and gardens of Trewithen. Unlike many country houses or Stately homes that are very large and grand, Trewithen is of a more modest size, but with some very grand aspects to it and its interior.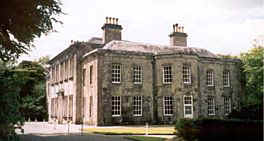 The house itself is of formal Georgian appearance, comprising a central house flanked on either side by symmetrical blocks which were the stables and estate offices, etc. For those who appreciate fine porcelain and tea related antiques there is plenty here of interest.
Upon entering the house, the first thing that I observed in the hall was a silver plated Tea Urn dating from the late eighteenth century which sadly had no lid, rather worn plating and no spout or tap! Obviously now used as a flower vase.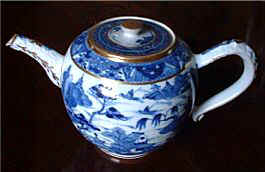 The first room to be viewed is the Library which houses quite an impressive collection of Chinese and Japanese blue and white porcelain, much of which dates from the Eighteenth century - (The Chinese teapot displayed here is similar from my own collection). There is also a small group of Georgian Bristol Blue Glassware, including items such as a small spirit decanter.
At one end of this comfortable family room stands a George III Secretaire Bookcase, constructed in Mahogany with a fine fretted 'Swan Neck' shaped pediment. Inside this delightful piece of Georgian furniture can be seen more items of porcelain, some of which I recognised as First Period Worcester.
The second room to be taken to was the Oak Panelled Room, here there are many more treasures to be seen and enjoyed. One piece of furniture that immediately caught my eye was a stunning Regency Tea Poy. This particular essential part of Regency Tea Equipage was constructed from Amboyna - a rich honey coloured timber and Ebony. The large rectangular top portion with its hinged lid of Amboyna, was fitted inside with four removable wooden tea caddies and two glass mixing bowls. The top portion of the Tea Poy was supported on a spiral turned column, which then stood on four reeded Sabre shaped legs. Each of the legs terminated in a brass toe cap and castor. This really was a magnificent piece of Regency furniture that had been in this family home since it had been made.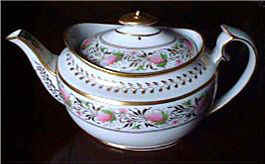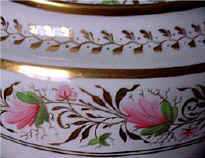 On shelves within this room are items such as a Spode teaset, dating from the early part of the nineteenth century. Each piece decorated in charming English pink roses, beautifully painted by hand and embellished with rich gilding, (like this teapot made by Spode of the same period and from my collection). More eighteenth century Chinese Tea wares abound in this room's collection, as well as a wonderful small collection of Georgian domestic glassware. This glass collection included some fine eighteenth century opaque twisted and red twisted stemmed wine glasses, heavily cut preserve jars and butter dishes. Glass such as this can look so impressive in a lit cabinet but also beautifully graces dining tables of today. Items I have in my own collection include very similar items to those displayed at Trewithen, including this Georgian cut glass butter dish and cover c1820 (shown below). As well as the English glass ware, there are some pieces of Irish origin, where heavy and very finely cut glass wares were produced at this period. One such piece of Irish glass ware that I had not seen many of before, was a reversible dessert stand. This stand was shaped like two different sized cut glass circular bowls joined back to back, allowing it to sit either way up, thus giving a large or small bowl at the top as desired.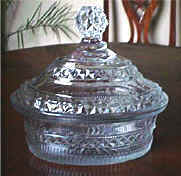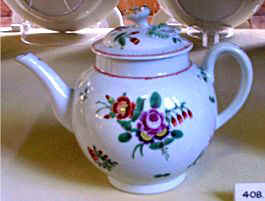 By far the prettiest room in the house for me was the delightful Yellow Drawing Room, which had much the feel of a lady's eighteenth century retreat. The walls were painted in a pale creamy yellow, which seemed to draw in the light from outside. As with the previous rooms, there was plenty of interest in the field of tea antiques. One pretty cabinet houses some eighteenth century teapots, boldly painted with large and colourful bouquets of flowers, much in the style of German Meissen of the period. The example shown hear is from the Ashmolean Museum in Oxford and is a Worcester teapot from the Eighteenth century.
The little Yellow Drawing room had some wonderful furniture too, such as a set of Chippendale chairs with their original hand embroidered covers. These covers had been worked by one of the ladies of the house specifically for the set of chairs, delightful they looked too, must have taken a lot of patience!
My personal liking of fine French furniture took me across the room to inspect a little 'bona-de-jour' which had a detachable top that allowed the lady of the house to carry her books or work with her, maybe out into the garden.
There are many rare and unusual early English clocks in the house. In the Yellow Drawing Room is a splendid case in point. A large Georgian Bracket Clock, which on every hour plays a very pretty tune on bells, this is accompanied by tiny dancing characters which make their way across a stage on the front face. It is a gem of a clock, which if you are fortunate enough to be in this room when it strikes is captivating. (The trick is to attend the tour that starts at 20 minutes to the hour - you should just have reached the Drawing Room in time!)
Like many eighteenth century English houses, the grandest of all the rooms is the Dining Room and this house is no exception. It appears large for the size of the house and is decorated in a soft green, with some stunning Rococo wall plasterwork. The fire surround, also in Rococo style, blends into the 'dancing' designs of the scrolls and foliage of the wall plasterwork. A light room which houses a large Mahogany dining table commissioned for the room in the 1780's at a cost of £300 - quite a hefty sum in those days! This table extends comfortably seating twenty dinner guests. A fine set of Hepplewhite dining chairs, are en suite to the table.
Sat on the dining table is a very colourful set of dessert plates, each with a dark green ground colour on which is painted individual varieties of Hybrid Rhododendrons, which abound in the gardens beyond the dining room windows. There is an interesting story attached to these plates which were made by Copeland. They were in fact a gift from Mrs Copeland (of the Copeland factory), who was a guest at the house and friend of the family - what a delightful gift to receive.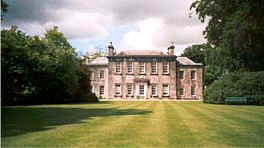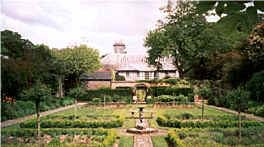 The gardens that stretch away from the back of the house are indeed, in late Spring time, full of the most stunning Rhododendrons and Azaleas , and are well worth seeing. Even in late summer when I was there, the garden still holds lots of interest to the visitor. There are a number of recommended walks, which are given on a map issued to the visitor. This map also lists the names of plant that you will see on your sojourn about the garden. During the walk there are some fine views looking back at the house from a distance.
With such a worthwhile and beautiful house to visit, it is a shame that I have to report that the tea shop at the house, does not come up to the same high standard. Despite the food being of quite good quality, on this occasion of my visit to have tea and cake there, with the intention of giving my review, I could not believe the ineffective service of the staff and the blatant rudeness of the manager to the customers! This all happened on a day when there were very few customers taking tea there - (hardly surprising!) There were three sets of very disgruntled customers there when I was having tea. The manager was very loud in shouting at these customers in front of others such as myself, including telling one lady who rightly informed him that her cup was very dirty declared 'we can do without people with your sort of attitude!' - no customer care here I thought! This must I'm afraid rate as one of the worst I have been to with regard to customer relations, the manager appears not know how to treat his customers and in my opinion should not be in charge of such a venture.
However, do not let the report of the tea shop put you off visiting the house - you will not be disappointed there! I merely recommend that you take tea elsewhere and nowhere could be more worth a visit than Godolphin house, where there certainly is customer care and the most wonderful food and cakes.
Contact Details:
Telephone: 01726 883647
Fax: 01726 882301
email: office@trewithen-estate.demon.co.uk
Local map
Area map
Maps courtesy of www.streetmap.co.uk.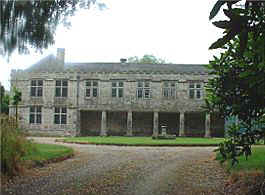 Godolphin house, sited between Hayle and Helston in Cornwall, is an historic house that is built in a very romantic and quiet setting. The present house dates from the early part of the 1600s and was, in its day, one of the most impressive and largest houses built in Cornwall. However, this house was not the earliest house on this site. Prior to this house there was indeed a Castle around which was an impressive medieval garden. This very early garden was laid out sometime around 1300 and was of formal style. The garden was created in the form of a number of separate 'compartments'. In fact there were nine such compartments and within each compartment were different features such as a bowling green, orchards etc. There was a raised walk surrounding the compartments so that views down on these gardens could be enjoyed.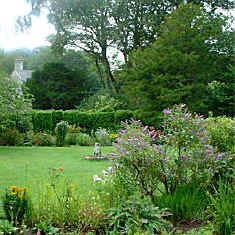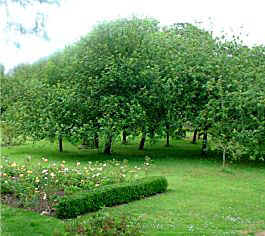 The original Castle was demolished in 1478 and along with it six of the nine compartments were swept away, that were on its west side. A new house was then built by John Godolghan, made possible by increasing family wealth. As part of the changes made an impressive garden was created by adding six compartments to the existing three remaining from the days of the Castle. This new garden was created to the East of the new house and thus returned it to nine compartments.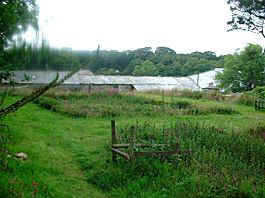 There were two large rectangular fish ponds created, used for the breeding of Carp, fed from springs at the top end of the garden. Water from these springs also fed an elaborate maze of ditches used to create a waterway and formal water features in the gardens. Sadly, many of these garden compartments and features have been lost, when in the 1700's the then owners of Godolphin took no interest in the gardens. Also, later in the nineteenth century almost six of the compartments were changed to become farm land. The exciting thing is that under the current owners, the very enthusiastic Schofield family, the sleeping medieval gardens are being awakened. Their plan is to re-instate the gardens with very ambitious plans to bring back the compartments, raised walk and to reline the now dry and overgrown Carp ponds. If there is sufficient water from the old springs then this may be used to re-instate the water ways in the gardens. I personally will be watching this project with great interest. When it has been completed, this will be one the oldest gardens in Cornwall.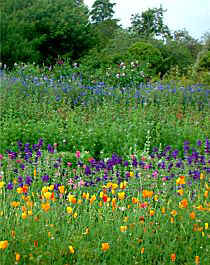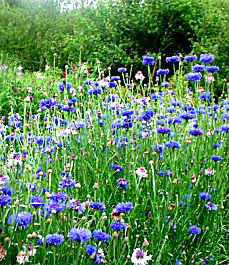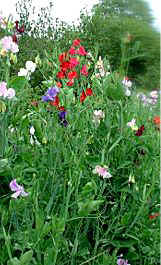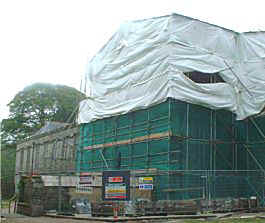 Not only are there plans to restore the gardens, currently restoration work is being carried out on one wing of this very old house, which includes the Kings Room, Withdrawing Room and Godolphin Room.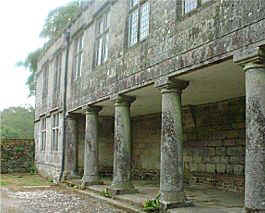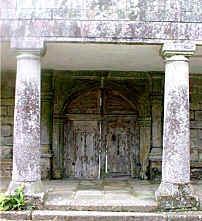 The house has an imposing colonnade to the north front which was constructed around the 1630's. In the centre of the colonnade, is a very old pair of Oak wooden doors through which you enter into an inner open courtyard. Due to the restoration of the house, only a part is currently open to visitors.
To the left as you pass through the wooden doors is the entrance into the house itself, which leads you into the entrance hall. This now houses a small exhibition relating to the history of the house and its owners, together with a few interesting early artefacts from the house and gardens.
From the entrance hall preceding down a corridor there is a pretty 'Breakfast Room'. This little room is painted in a pale Lilac colour, which is most pleasant. There have been many changes to this room over the years and still contains some eighteenth century wall panelling.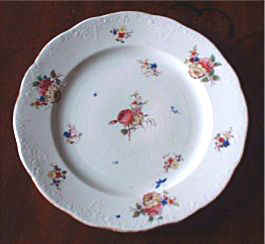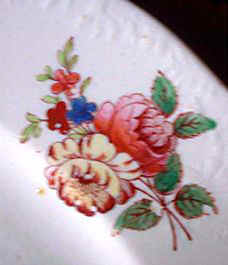 The next room is the Dining Room, remodelled in the 1530s to introduce larger windows and wood beams carved with grape vines and delightful linen fold wall panelling. An eighteenth century dresser against one wall contains part of a 'Mason's' dinner service dating from c1830. Miles Mason was indeed responsible for introducing the durable porcelain known as 'Ironstone China', this became increasingly popular during the nineteenth century and was made then at various factories. This example of a Miles Mason plate c1813-25 is from my own collection, the mark of 'Masons Patent Ironstone China' can be seen impressed on its base.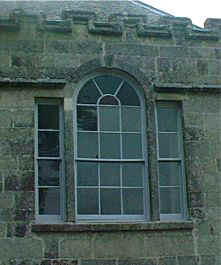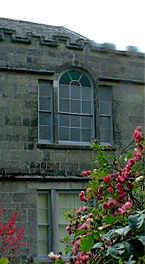 Upstairs is the 'East Bedchamber', a very light room with double aspect windows - one of which is of Venetian' style added in the 1790's. The floor in this room has sagged over the years, so all the furniture is precariously propped up using wooden blocks! There is an imposing four poster bed from the 1840's and the most exquisite and stunning Venetian glass chandelier made in the eighteenth century. This masterpiece in glass uses fantastic coloured glass to create arms decorated with glass fruits and flowers springing forth from a central column. These beautiful glass flowers are so delicate and display striped coloured petals, with frilly edges - so realistic. I was informed that this stunning chandelier had just been fully cleaned and restored - and was once one of a pair!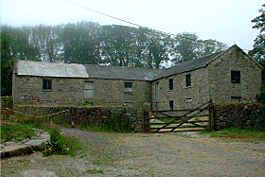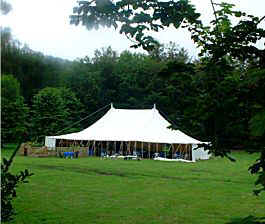 At one time there was a tearoom operating out of the wing of the house currently under restoration, but an ingenious move to erect a large marquee on the lawn from which to continue to serve tea was made. Eventually, a new tearoom will be created in an outbuilding (once an old Piggery), hopefully by 2004.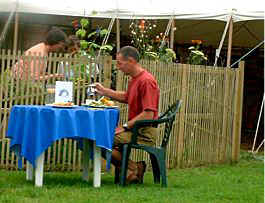 This current marquee has a fully equipped kitchen, where some extremely delicious food and cakes are created for the pleasure of visitors to the house and gardens. Indeed Godolphin House provides the perfect setting for a wonderful afternoon tea.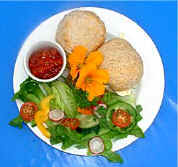 Here the quality and service are second to none and there are some unusual treats on offer. On one of several visits, I decided to try a locally produced Brie cheese in rolls which were beautifully presented with an accompanying side salad, included in which was purple Fennel and colourful Nasturtium flowers from their gardens. There was also a small bowl of Tomato and Pepper chutney included. For those with a sweet tooth there is a fine selection of cakes, etc. I had a wedge of Lemon and Poppy Seed Sponge Cake. This very light sponge was peppered with Poppy Seeds, sandwiched with rich butter cream and tangy Lemon Curd, the top lavishly dusted with Icing Sugar. This was sublime and to be recommended.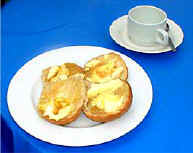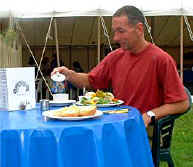 On another visit, I tried the 'Thunder and Lightning' as it is referred to on the menu! This is in fact like a traditional Devon Split cream tea, but served with local runny honey ( or jam if preferred). There were two Devon Splits, served split in halves, warm and spread with clotted cream and running in delicious local honey. Like the cakes, the Devon Splits are home made and divine. Tea refills are given free of charge (as stated on the menu), which is a nice touch. The staff are very friendly and guests are made more than welcome.
It is also their aim to support local food producers and list the farms, etc. from where the produce are purchased.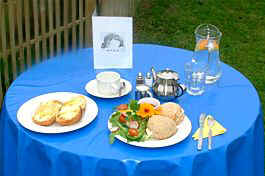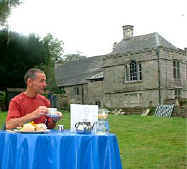 If the weather permits, then tea can be taken on the lawn outside of the marquee, with a view across to this romantic historic house. I highly recommend taking tea here, sit and soak up the atmosphere of the surroundings and enjoy some of the finest food and tea that I am sure is to be found in Cornwall.
Contact Details: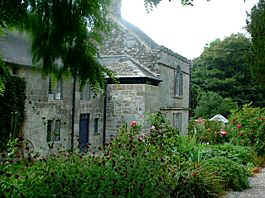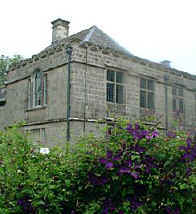 Godolphin House, Godolphin Cross, Helston, Cornwall TR13 9RE
Telephone: 01736 763194
email: godo@euphony.net
Local road map
Area map
Maps courtesy of www.streetmap.co.uk.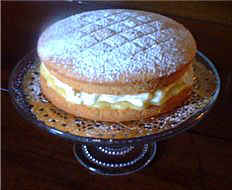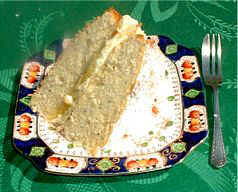 Having tasted the delightful Lemon and Poppy Seed Cake at Godolphin house, I could not resist having a go at recreating one at home. I used a basic Victoria Sandwich recipe to which I added about 2 teaspoons of Poppy Seeds to the mixture before splitting it between two sandwich tins to bake in the oven. I then sandwiched the two sponge cakes with a rich butter cream and home-made Lemon Curd. As at Godolphin, the results were worth the efforts in making it.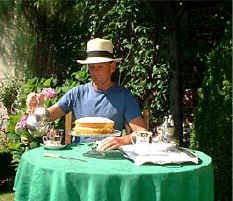 Just like at Godolphin,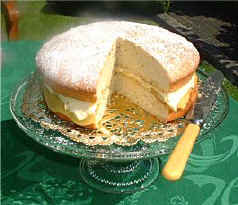 I thought I would take a break from work and have tea and my own cake in the garden. I can recommend it any day!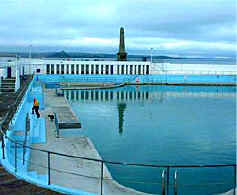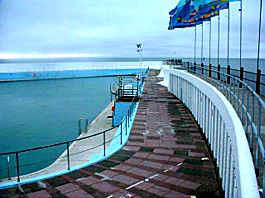 I do not usually review places in which to dine in the evening. However, I was very impressed with the Jubilee Pool, a sea-filled 1935 Swimming Pool in Penzance. The pool stretches out into the sea and has typical curves and architectural features associated with the 1930s. It was built to commemorate the Silver Jubilee of King George V and epitomises the Art-Deco style of the period. Having recently been fully renovated, it now has a friendly run restaurant that offers some wonderful barbequed locally caught fish. I could not resist spending an evening or two here in the open air, enjoying such delights as barbequed Sardines, Anchovies or pan fried Monkfish with a coconut, lime and coriander sauce.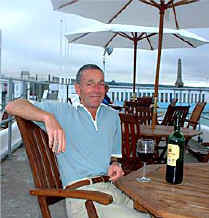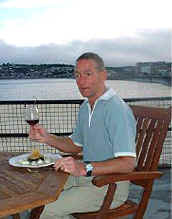 The restaurant does not have an alcohol licence, but they are more than pleased for guests to take their own supply of wine and will open them for you and provide glasses at no extra charge.
Apart from the striking architecture of the pool itself, there are tables that afford stunning views East across the bay to the famous St Michaels Mount, and Westward across the bay to the fishing town of Newlyn.
A very pleasing and relaxing place at which to end a hard day of sight seeing around beautiful Cornwall, together with a round of afternoon teas!
Contact details: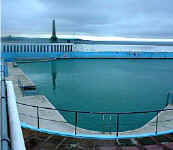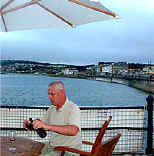 The Poolside Project, Wharf Road, Penzance, TR18 4HH
Telephone: 01736 366955
email: thepoolsideproject@hotmail.com
Local road map
Map courtesy of www.streetmap.co.uk.
---
To review past newsletters, just follow this link: Past newsletters.
To subscribe to this free newsletter - Click here
---
All information contained within any article on this website was considered to be accurate (as far as can be ascertained) at the time of writing. TeaAntiques.com Limited makes no warranty and accepts no liability regarding the accuracy of the content.
Copyright © 2000 - 2021 All rights reserved
TeaAntiques.com Limited. Company Incorporated in England No.: 5086843