Tea Clipper

from TeaAntiques.com

Edition

Twenty Six
Featured Antique - A Rare Creamware Teapot Painted with Portraits of Prince and Princess William V of Orange, c1770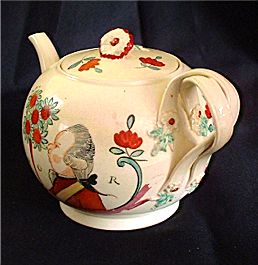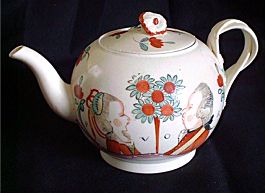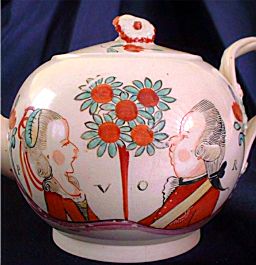 My antique for the month of December is an extremely rare Creamware teapot, charmingly painted with Prince and Princess William V of Orange, dating from c1770. This magnificent teapot is of globular form, with a pair of moulded and entwined handles, the lid finial in the shape of a moulded flower. A very striking and decorative eighteenth century English Creamware teapot.
More details of this item and other tea related antiques can be found by visiting my web site at www.TeaAntiques.com.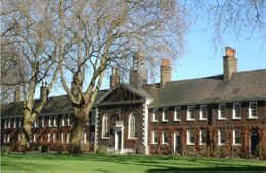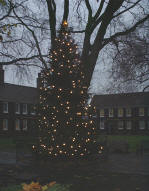 Let me take you on a journey through time, from Christmas long ago to Christmas present. For this, I have the assistance of the Geffrye Museum in London, about which I have written in previous Tea Clippers. However, the period room settings within the museum are now set to uncover the secrets of Christmas through the ages. I hope that you enjoy your journey through time as much as I did. This long journey will be covered partly in this newsletter and completed in January's edition.
At Christmas, the museum sets itself up to explain some of the customs and appropriate decorations that would have been used at the various times in English history, displayed in wonderful period rooms. I start my journey through the museum from time long past, a time in Tudor England. The Tudor room depicts that of a country house, where the parlour has been decorated for Christmas.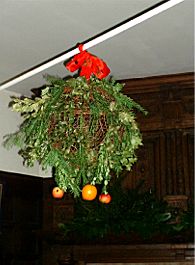 The decoration in this period was of evergreen foliage gathered from the surrounding woods, including holly, ivy, yew, laurel and box. This greenery, as tradition dictated, would have been brought into the house on Christmas Eve. It is in fact a pagan tradition to use evergreens and had been adopted by early Christians as a symbol of everlasting life. Note the 'Kissing Bough', a ball of evergreen foliage decorated with fruit of apples and oranges that was hung from the ceiling. This is the precursor of the modern use of mistletoe, under which many Christmas kisses are exchanged.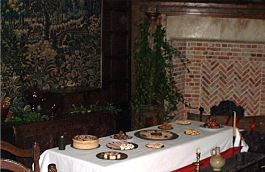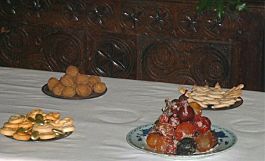 A Christmas feast has been set upon the table ready to be enjoyed by the family and their guests. Here we can see the food included fanciful sweetmeats, many of a rather whimsical nature. Sugar-plate 'bacon and eggs' and 'walnuts' as sweet treats are laid with other types of sweets like 'Leach', similar to Turkish Delight, made from a boiled milk jelly. The Leach here is presented in squares of gilt and white Leach arranged as a chequered board. All this sweet food was consumed after the savoury courses.
One of the family's tenants has brought along a present of some of his own grown apples for his landlord. Present giving as we know it today was not practised then, however, gifts between tenants and landlords were exchanged. Apples like those given here may have been used to make 'Lambs Wool' a drink made from roasted apples mixed with spices and cream that was traditionally drank as a 'Wassailing' toast.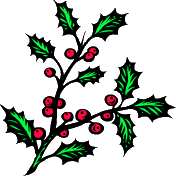 Moving on from Tudor England to a time around the 1660's we see the study in the London house of a gentleman. Here we can see the recreation of a festive dinner enjoyed by the famous seventeenth century diarist Samuel Pepys in 1662. It was recorded by Pepys that his dinner consisted of 'a mess of brave plum porridge and a roasted pullet... and I sent for a mince pie abroad, my wife not being well enough'.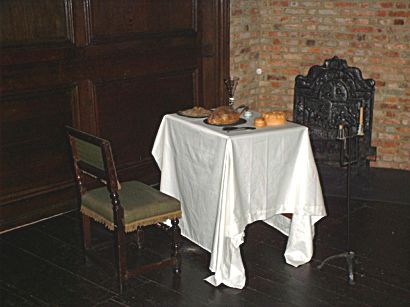 In this period it should be noted that the decorations in the room were now fewer. This may be due to this being a smaller and more private home or that until recent years there had been a ban on Christmas! During the Civil War and following Commonwealth, the Parliament (then dominated by Puritans), had decreed that Christmas celebrations were prohibited. This led to many disturbances, especially in towns, and was generally very unpopular amongst the people. Finally, when the monarchy had been restored in 1660, Christmas was once again there to be celebrated.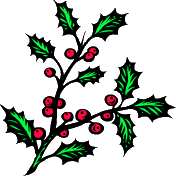 From the time of Samuel Pepys to the time of the famous Dr Johnson, inventor of the English dictionary. The time now is the time of William and Mary c1690. The room here is what you would expect to see in the upstairs parlour of a wealthy family in London at this time. The room is prepared for a gathering to play cards, the table set with a bowl of punch, pewter tankards and clay pipes. Smoking was a very fashionable thing for gentlemen and the use of clay pipes widespread. Note that on the table is a plate of oysters. These were widely eaten, as they were extremely cheap to buy; Dr Johnson had even remarked that 'he had fed them to his sick cat'.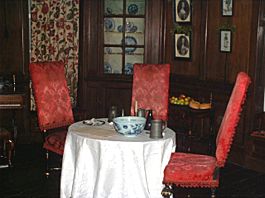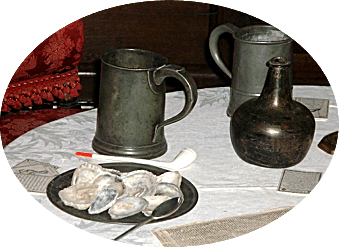 Behind the central table against the wall is a side table bedecked with food for their light supper. This supper may have included exotic fruits like grapes and peaches bought from the market in Covent Garden and native fruits like apples and pears brought to them by relatives living in the country.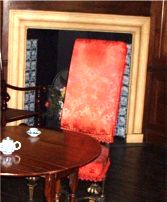 The room includes some furniture and furnishings from or influenced by Dutch taste and fashion, including Delft blue and white tiles in the fireplace. Maybe this house was owned by a family who had spent some time in Holland, as their festive customs include some still to be found in Holland to this day. The 6th of December in Holland is St Nicholas's Day, when it is traditional for children to leave out clogs or shoes filled with straw for St Nicholas - the bringer of gifts. In the morning the straw had been eaten by St Nicholas's horse and found to have been replaced by gifts.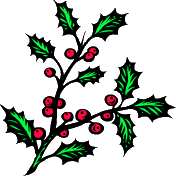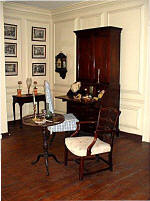 Ever onward in history, we progress into the eighteenth century, rooms now begin to look rather more elegant and homely. Here we step into the fashionable house of a London gentleman and glance into the white wood panelled parlour. This room is set to show it as left when the master of the house has taken leave to the country with relatives. Thus the London home now sits empty apart from a manservant. The seat furniture has been covered with 'dust covers' to protect them from sunlight and dust whist the family are away. Christmas at the beginning of the eighteenth century was in decline in its popularity, certainly amongst the wealthy and fashionable classes of the city, only the poor and country folk celebrated Christmas! Therefore an ideal opportunity for wealthy Londoners to go off to country relations for the Christmas season, where they and their tenants still celebrated Christmas.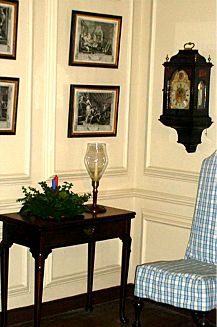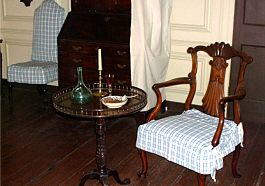 Back at this London house, the man servant left to look after the house has been taking some liberties. He has uncovered some of the furniture and is enjoying his Christmas by smoking the masters pipe and enjoying his fine wines. He still upholds the Christmas celebrations, more so than his fashionable employer. Note the two Yule candles in amongst the greenery upon the side table. This arrangement was an old tradition and were given by grocers to their customers - one red candle and one blue candle. these were lit on Christmas Eve and left to burn on until the sun rise the next morning. Only the master of the house was supposed to light and snuff them, but this presumption servant has seen fit to take it upon himself!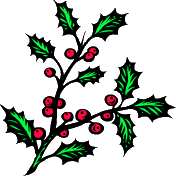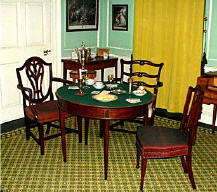 Now forward once more we step into the late Georgian period, my personal favourite period, a time of great elegance. Christmas had now become rather a dull shadow of its earlier self. The rich middle classes, who were up and coming in urban society, considered the old rural traditions of Christmas to be totally unfashionable and fit only for the poor and ignorant! Only in the country were Christmas traditions being kept, hardly changing from those of Tudor times.
In this period we are taken into the fashionable room of a London town house. Here, although old Christmas traditions are not being upheld, Christmas time is an excuse to hold fashionable and elegant parties. The setting shows that of an evening party held during the Christmas season, where guests may enjoy music, dancing and playing cards. The guests play at 'Whist', a popular card game, and sip cordials made from brandy flavoured with fruit. There are delightful marzipan fruits for them to eat, these are beautifully displayed on the stunning pyramid of glass 'Tazzas' looking both decorative and appetising to the guests. During the evening one of the ladies might sing or play at the Harpsichord to entertain her fellow guests.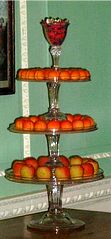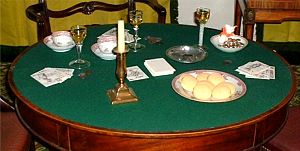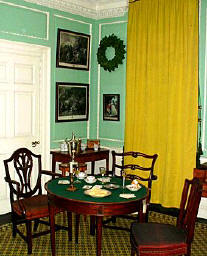 The Christmas decorations in this room are very restrained, confined to a wreath of laurel leaves hung upon the wall. The use of greenery was seen as only fit for the rural or uneducated, however, the master in this house has allowed this wreath, it being very classical in nature and thus reflecting his good taste and classical education.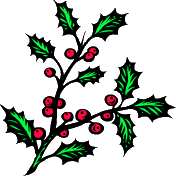 Most of the information about each period was taken form the display boards in the Museum itself - such a wealth of interesting information. Next month I shall cover the Museum's displays covering the Victorian to the present day.
Admission to the museum is free and it is open on most days of the year, except Mondays (unless a Bank Holiday), Good Friday, Christmas Eve, Christmas Day, Boxing Day and New Year's Day. For full details you can contact the museum on 020 7739 9893, or visit their Web address: www.geffrye-museum.org.uk.
Click here for Local Map
Click here for Area Map
Maps courtesy of www.streetmap.co.uk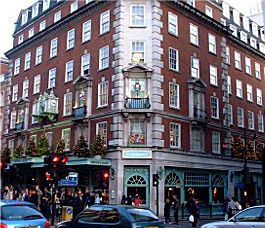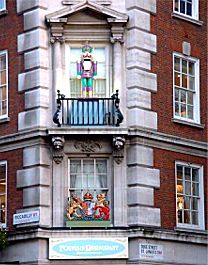 This December, I am taking you to 'Fortnum and Masons' store, the famous store, which became established in 1707, is situated just along from the Ritz hotel in Piccadilly, London. With its Royal Warrant it's a stylish place in which to shop. This is particularly so as Christmas approaches when it is stocked with a variety of classic Christmas gifts and fine foods. Their window displays are very well organised and there is even a tea displayed in the theme of foods and sweets.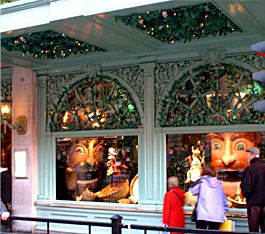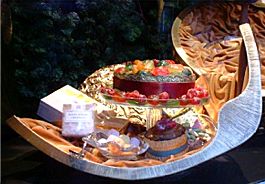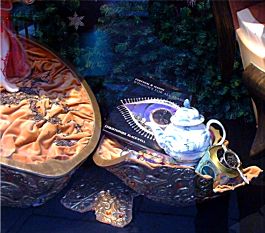 The ground floor houses the food hall, where staff in tailed coats serve and keep the shelves well stocked. Renowned for the high quality of its produce, there is always a busy throng of shoppers and tourists eager to buy from their range of home produced pastries, chocolates and food from meats, wines, preserves to fine teas and coffees. In the section selling loose and tinned teas, there are large tin tea canisters filled with high quality teas, including such blends as Queen Anne and Fortnum's own special blend.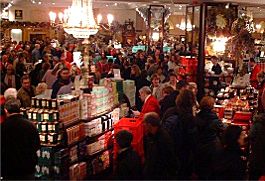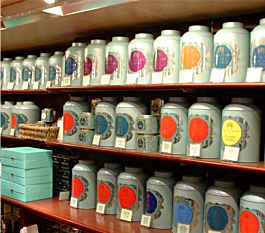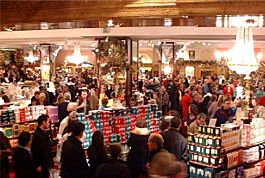 On the fourth floor is the section that usually sells a small range of antiques, but for Christmas it is selling a range of antique and reproduction toys. There is a train layout with trains, some of which date from the 1930s running round to the joy of the children (and many adults!).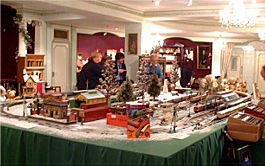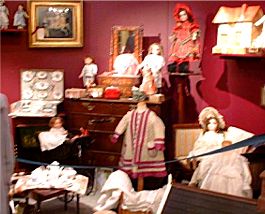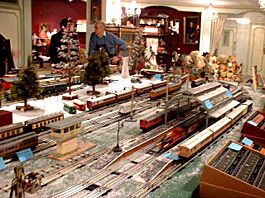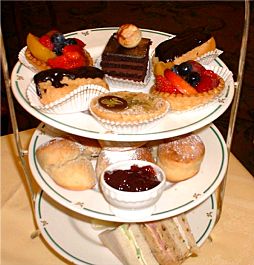 St James's restaurant is also situated on this floor, where from 3.00PM, you can really enjoy a relaxed but fairly formal full afternoon tea. When in London this is usually a must for me. I recommend their Champagne tea, which starts you off with a glass of house Champagne, which you can sip whilst listening to a pianist playing on a grand piano. Tea is served by waitresses or waiters in traditional black and white dress, they march up and down with large trays of tea and tiered cake stands loaded with delicate finger sandwiches, scones, cream and jam and selection of tiny pastries from their own Patisserie. Here it so easy to unwind from the hectic London life, a real must!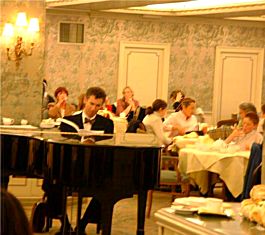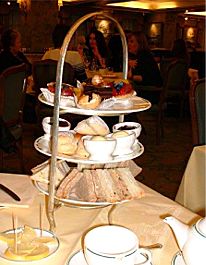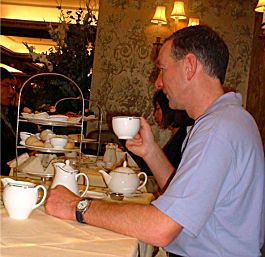 I must stress, that tea here is not very cheap, the set teas start at around 22GBP per person, but it is for the atmosphere, delicate afternoon tea treats and style that one is paying for. One comment that I would like to make, is that some of the waiting staff appear rather unfriendly and could do with a little more in the way of pleasantries to customers, making them feel just a little more welcome. However, it does remain one of my favourite places in which to take tea when in central London and I hope that you fine time to enjoy it too.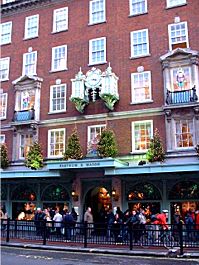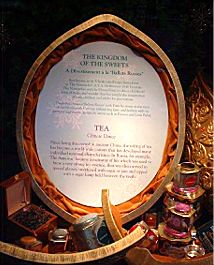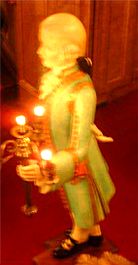 Fortnum & Masons:
181 Piccadilly, London, W1A 1ER
Click here for Local Map
Map courtesy of www.streetmap.co.uk
Tel: +44 (0) 20 7734 8040
Fax: +44 (0) 20 7437 3278
Opening Hours:
Mon – Sat from 10.00am to 6.30pm
Sun from 11.00am to 5.00pm – Food Hall and Patio Restaurant only.
Until Christmas entire shop open on Sundays.
Merry Christmas to all my 'Tea Clipper' readers,
I hope that you will join me again in the New Year.
---
To review past newsletters, just follow this link: Past newsletters.
To subscribe to this free newsletter - Click here
---
All information contained within any article on this website was considered to be accurate (as far as can be ascertained) at the time of writing. TeaAntiques.com Limited makes no warranty and accepts no liability regarding the accuracy of the content.
Copyright © 2000 - 2023 All rights reserved
TeaAntiques.com Limited. Company Incorporated in England No.: 5086843