Tea Clipper

from TeaAntiques.com

Edition

Twenty Eight
Featured Antique - George III Sterling Silver Teapot, 'silver shaped', bright cut decoration, Sheffield (small ware mark), 1797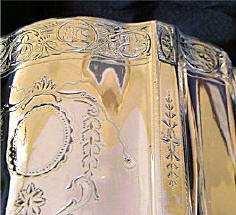 My Featured Antique for February is a magnificent George III Teapot, made in Sheffield in 1797. An unusual feature of this wonderful Teapot, is that, as part of its hallmark, it has a 'small ware' mark of the Sheffield Crown and the date letter 'X' in a single stamp. This is very unusual, as the marks normally appear separately.
The Teapot is of a straight sided 'shaped' design, referred to as 'silver shaped'. It has the maker's initials 'TL' and could possibly have been made by Thomas Law of Sheffield.
This truly stunning Teapot has some charming Bright Cut decoration to the body. In the centre of both sides of the Teapot are blank oval 'Bright Cut' cartouches. These are elegantly surrounded by swags of foliage and floral decoration.
More details of this item and other tea related antiques can be found by visiting my web site at www.TeaAntiques.com.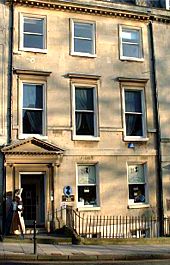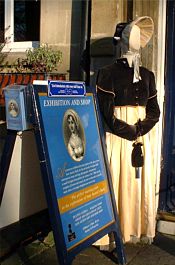 Jane Austen, the famous young lady novelist is remembered in a permanent exhibition in Bath, England. Jane Austen, born in 1775 had strong connections with Bath, some of her life there was not happy for her, but gave her much inspiration for a few of her novels.
Born in the Hampshire village of Steventon, Jane grew up and loved her rural life in the Hampshire countryside. She was the second daughter and the seventh child born to George and Cassandra Austen. George was a clergyman and a great collector of books, collecting not just classical works but contemporary works that had just been published. This must have inspired the young Jane Austen in her literary writings. Despite her mother Cassandra having aristocratic relations, the Austen family were not wealthy. Their third son, Edward, was allowed to be adopted by a wealthy couple, Mr and Mrs Knight, and he was to later inherited their fortune.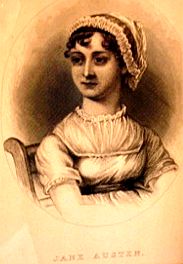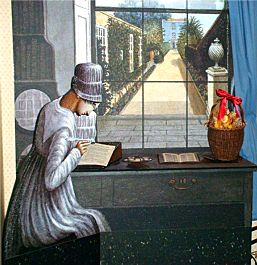 Jane had carried out her writings in almost secrecy. She had no desire to have people know that she was writing fictional novels and so kept her work hidden. Her first works were initially rejected by the publishers, which must have been a great disappointment to her, but did not deter her from writing. Indeed, during most of her life time she did not receive the acclaim as a famous writer in the way she is now regarded.
During her early years, Jane with her family visited relations in Bath and would have enjoyed partaking in the social scene and activities there. Activities such as grand balls in the Assembly Rooms, tea and games in the Pump Room and parading along the walks or in the pleasure gardens. Here Jane could see the whimsical nature of fashion and society. Bath was, in the eighteenth century, the centre for the most fashionable in society, a place to be seen and a place to secure a marriage, maybe?
After her father retired, he and Mrs Austen decided to retire to live in Bath. Jane was horrified at this news, devoted to the peace of her Hampshire home. It was obvious that she was not happy with life in Bath as her novel writing dried up. Bath had been a place to visit for short periods, but to live there she felt confined and yearned for the country living once more. Jane was to live in several addresses in Bath, the first house to which the family retired to in 1801 was No 4 Sydney Place, opposite the Sydney pleasure gardens. This at least was a pleasant place to live, as Jane Austen recorded. However, George Austen died shortly after retiring to Bath in 1805 and was buried there in St Swithen's church. The death of Jane's father left her mother and the family in very reduced financial circumstances. This forced them to move to cheaper lodgings within the city.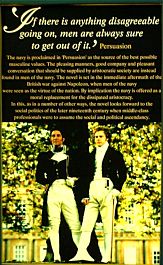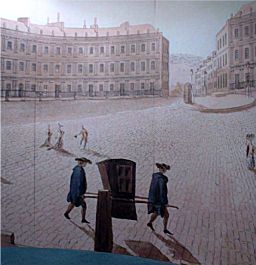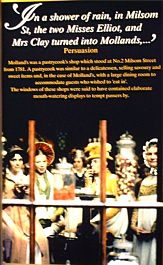 The Austen's first moved out of Sydney Place to No 25 Gay Street, a few doors away from what is now the Jane Austen centre, to which I took great pleasure in visiting. They only remained in Gay Street for six months before moving once again, this time to Trim Street, a narrow lane in the darker and cheaper part of town. At this time, the family could not afford the social entertainment that they may have enjoyed in former years. This time in Bath was not enjoyed by Jane, but although she did not write any of her novels in this period, she did gain a lot of useful ideas for later books, in which the society of Bath are laid before us. Her novel 'Persuasion' is indeed set a great deal in Bath. The heroine, Miss Anne Elliot is a reflection of Jane herself. Miss Anne is forced to retrench to Bath with her family due to reduced family fortune, leaving behind their country estate, let to an Admiral of the Navy. Like Jane, Miss Anne had a dislike of Bath and the endless round of balls and social engagements.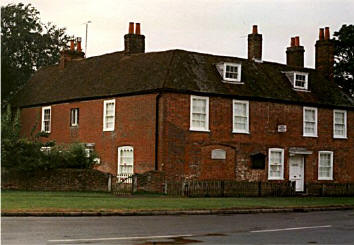 Finally, in 1806 the Austen family left Bath to take lodgings in Southampton, Hampshire. Shortly after this, Edward, the son who had been adopted by the Knights, and come into his inheritance was now a wealthy man. He provided Jane, her mother and sister Cassandra with a cottage on his estate in the village Chawton, Hampshire. This must have delighted Jane to be back in her beloved Hampshire countryside, and she wrote her final few novels there.
Jane Austen wrote a total of six novels 'Sense and Sensibility'; 'Northanger abbey'; 'Pride and Prejudice'; 'Mansfield Park'; 'Persuasion' and 'Emma'. Each of these works are extremely popular today and provide excellent romantic stories for readers and film makers. Many films and television series have been made based on Jane's novels and continue to be made thrilling their audiences.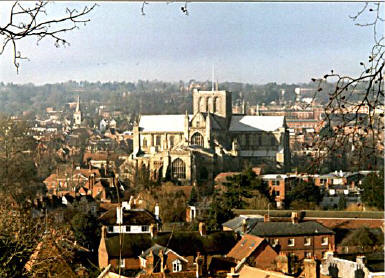 Jane died on the 18th July, 1817 in the nearby city of Winchester, where she had been moved during her illness to be close at hand to her doctor. She is buried there in the Cathedral.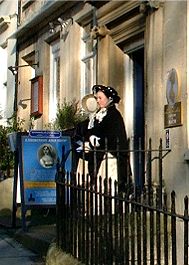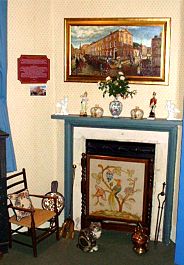 The Jane Austen centre in Bath, provides us with an insight into Jane's life in the city and the life that was going on around her at that time, as illustrated in some of her novels. The centre is housed in No 40 Gay Street, in a Georgian town house, similar to the type that Jane would have lived in during her time at No25 Gay Street. The visitor is greeted by a board outside advertising the centre, by which stands a manikin dressed in a costume form the period of Jane Austen. The exhibition covers two floors of the house and a gallery extension out the back.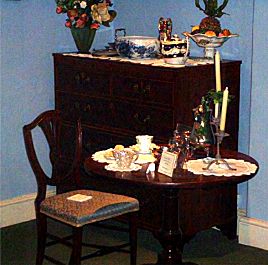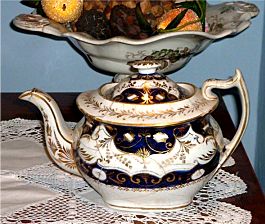 The first link with Jane Austen and tea is in a room where there is set a small Georgian tripod table on which sits a teacup and saucer (not of the correct period) and on the side, a rectangular 'London' shaped teapot, decorated in underglaze blue and with fine gilt decoration, c1830. This shows that tea drinking in the time of Jane Austen was an important social event. Further, this is apparent from a display board showing a scene from a recent BBC film production of 'Persuasion', in which Anne Elliot is seen taking tea, sheltering from the rain storm in a tea house in Milsom Street. This shows the elegant fashion of the ladies and the way in which tea provided an occasion to sit and gossip! Also, there is a scene when Miss Anne Elliot and her sister Mary visit the Musgroves in the 'big' house, here there are conversations between Anne and other members of the Musgrove family relating to her Sister Mary's intuitive illness and meddling. These conversations take place whilst all sipping tea from blue and white china cups. 'Persuasion' has many scenes set in Bath and today we can still visit and enjoy the venues to which she refers in her novels, the Georgian Pump rooms (where tea can still be enjoyed), the Assembly rooms where Jane writes about balls, shopping in the fashionable little shops in Milsom Street and of course many of the houses where her characters lived or stayed.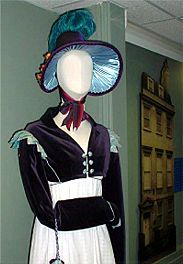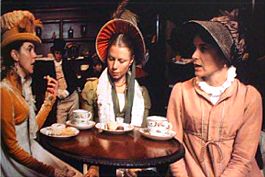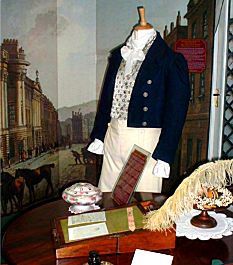 The exhibition, although not vast, does draw the visitor into the life and times of Jane Austen. There are small sets that show the elegant, but rather simple fashions of the period - the ladies with their high bodice and pretty bonnets, the gentleman with their waistcoats and knee length thigh britches. In this set, with a table laid with a writing slope, stands a manikin dressed in much the same way as one might imagine the handsome and dashing 'Mr Darcey' to be dressed in the novel 'Pride and Prejudice'. The writing slope is similar to one given to the young Jane Austen by her father as an encouragement for her in her writing.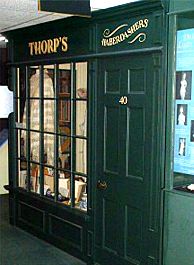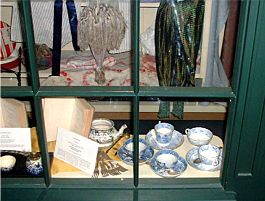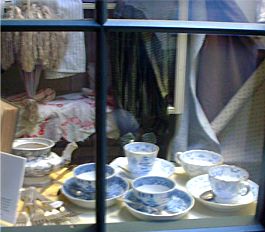 A reconstruction of a haberdashery's shop has a blue and white early nineteenth century set of cups and saucers for sale in the window, together with some silver teaspoons and a china teapot. Such tea wares may well have been found for sale in such shops of the period.
There is an informative introductory talk given by one of the members of staff, introducing the history of Jane Austen, her family and her life and time in Bath. Also, a short video takes you round some of the locations known to Jane in the city and houses in which she once lived.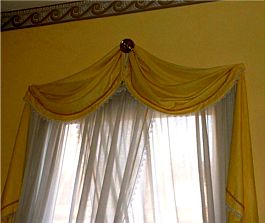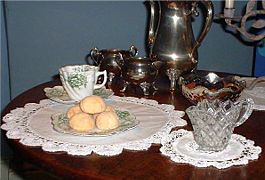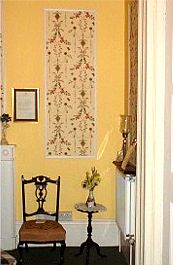 If in Bath, it a is a very good exhibition to visit and enjoy, giving an insight into the famous Jane Austen's life and works. After a visit here, the visitor is then better equipped to wander round the town in the footsteps of Jane herself.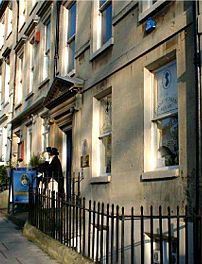 Jane Austen Centre
40, Gay Street
Bath
BA1 2NT
England

Tel: +44 (0) 1225 443000

Click here for Local Map
Map courtesy of www.streetmap.co.uk

In writing an article about Jane Austen, I thought about the type of teas and tea wares that she would have been familiar with during her life time.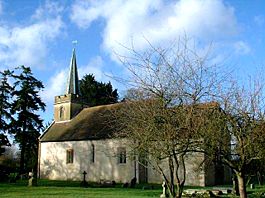 Born in 1774, the daughter of a Clergyman, she was born into a country rectory in the village of Steventon. Although the Austen's were not rich, Jane's mother Cassandra did have, and frequently boasted, of her aristocratic relations on her side of the family.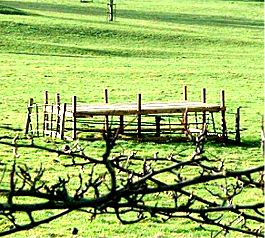 Therefore, I can see that she would have been a proud lady when it came to serving tea for guests at the rectory. On a recent visit to Steventon, I discovered the church in which Jane's father was the clergyman. A quaint little church in a very quiet Hampshire country setting. The actual rectory in which Jane was born has long since been demolished. All that remains on the site of the house is the water pump which would have been in the back garden of the house, supplying them with the much needed water, especially for their tea! The pump can just be seen below a protective wooden platform covering.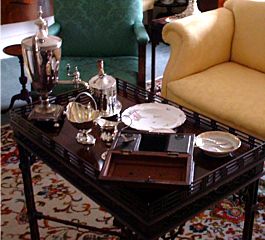 The type of tea wares that would more than likely had been available to them, are as I have gathered together here from my own personal collection. They may have had a silver teapot.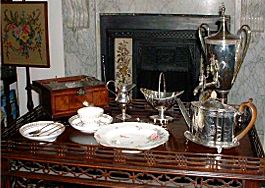 At this period this could have been of the silver shaped pot, straight sided with bright cut decoration, (similar to my Featured Antique). The teapot may have stood on a teapot stand to match the teapot. They might have had a silver plated tea urn, used to keep the teapot filled with hot water during tea. This one has a classical vase shape, standing on a square base with four silver ball feet.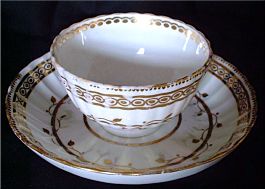 The china that they used may have been like these Derby tea bowls and saucer, with their simple but very elegant gilt decoration. A few silver bright cut teaspoons would have adorned the table, together with some sugar nips, caddy spoon and mote spoon. A wooden two compartment tea caddy stands upon the table from which Mrs Austen would blend and dispense the tea into the teapot.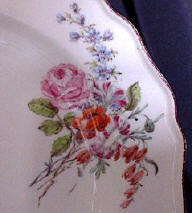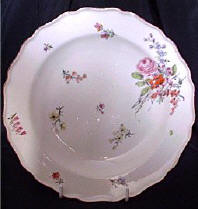 At this date around the 1770s, tea would still be a rather formal event. There would be little in the way of food served with tea. They may have had a pretty Chelsea plate, which by now would be more than 10 years old, on which they would serve thinly sliced bread spread with rich creamy butter. They may have baked some biscuits or rout cakes as they were then known. Tea had yet to grow into the fancy cakes and sandwiches that we know and love today.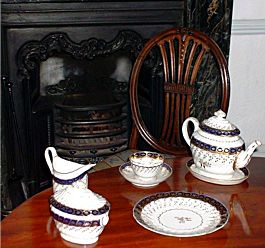 Later, Jane went to stay in Bath for six weeks in 1799. In Bath she would have enjoyed the very cream of society and therefore would have taken tea at her engagements with friends and relations, using the very latest fashion in tea wares. These tea wares that she could have used at this period may have included wares from the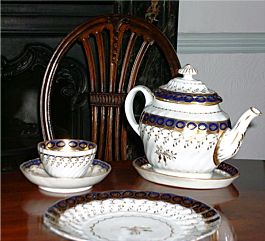 Chamberlains Worcester factory, such as this spiral fluted or 'shanked' tea service, c1795-1800. The service decorated in simple but charming under glaze blue with elegant applied gilt decoration, in this case with a 'birds eye' pattern. Like the earlier silver teapot, this china teapot comes with its teapot stand to match. The set would have included an oval milk jug, covered sugar box, cake and bread and butter plate. The tea bowls and saucers are also of the new 'shanked' or spiral fluted design. Tea in this period would have been served with little in the way of food, bread and butter would still have been served, but maybe accompanied with a plain cake as well.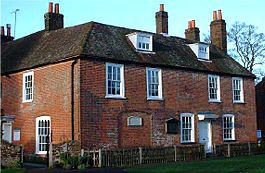 By the time Jane had moved into the house at Chawton in Hampshire, (now open as a museum, which I hope to review later this year), together with her mother and family, the tea wares she might have used could have been of the latest blue transfer printed wares, such as this comprehensive set of blue Spode china, c1810-20.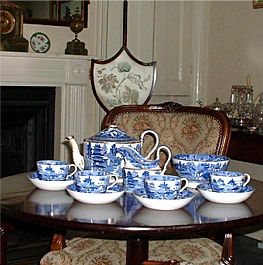 Tea was now cheaper and drunk by more and more people from all societies. This service, illustrates the popular Chinese influence in decoration of blue and white printed wares. They are decorated with Chinese landscapes, with temples and Chinese figures. The oval teapot is quite large in size and sits on its oval stand. There are now cups and saucers, the cups complete with handles. The cups are of the smooth curved shape, which have ear shaped handles. There are still no tea plates to tea services from this period. There would however still be the two large plates, one for bread and butter, the other for cakes or maybe fruit tarts. The type of cake the Austen's may have baked themselves would be a seed cake. This cake was a popular cake in the Georgian period, eaten at breakfast as well as tea by the middle and wealthy classes. Jam tarts may have been eaten too. Jams and preserves would have been made by the country folk, the local hedgerows abundant with wild fruits like Blackberries and Elderberries, ideal for preserves.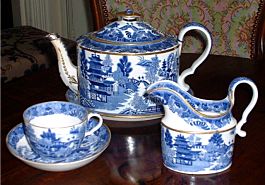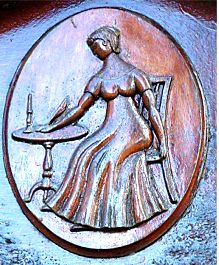 Jane did not live to see the full afternoon tea that we now take for granted, but tea to her would have been an occasion where she could enjoy using the wonderful tea wares and listen to the gossip of the guests - maybe from which she drew some inspiration for characters within her books.
Maps:
Jane's father's Church at Steventon, Hampshire - click here
Site of Jane Austen's birthplace - click here
Jane's house at Chawton - click here
Maps courtesy of www.streetmap.co.uk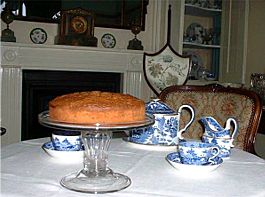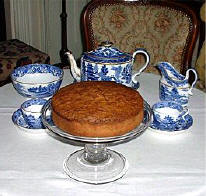 One of the cakes that Jane Austen may well have enjoyed, and even made herself, would have been be a rich seed cake. During the eighteenth and early nineteenth centuries, seed cake was a great favourite in England and would have been eaten warm for breakfast, or taken with tea in the afternoon. At breakfast, it would probably have been taken spread with butter.
As part of my writings on Jane Austen, I thought that I would try out an eighteenth century recipe for this much favoured Georgian cake that she herself may have enjoyed. I discovered an interesting book 'Food and cooking in the 18th century Britain-Histories and Recipes' by Jennifer Stead. Published by English Heritage, in which a recipe for seed cake is given.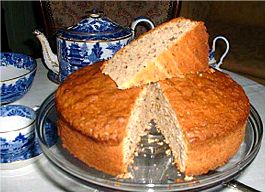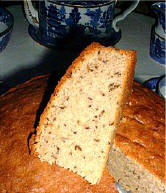 The recipe in this book originates from 'Elizabeth Raffald: The experienced English housekeeper'. She recommends beating the cake for 2 hours! Modern baking powder had not been invented, so the success of the cake lies in its very careful technique. I made this cake using the recipe as given and I am pleased to say that it turned out fine. The caraway seeds gave it a most distinctive aroma when it was removed from the oven - very inviting it was too. I certainly enjoyed a warm slice of this rich cake with my afternoon tea, all in the course of duty you understand!
Should you wish to try cooking and enjoying the delights of eating an eighteenth century cake the recipe is as follows:
Rich Seed Cake
8oz (225g) plain flour
1 tsp (5ml) grated nutmeg
1 tsp (5ml) ground cinnamon
1oz (25g) caraway seeds
8oz (225g) unsalted butter, softened
8oz (225g) caster sugar
4 eggs, separated, tepid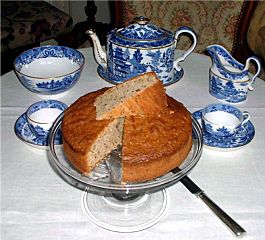 Line and grease an 8" (200mm) cake tin, that is 3" (78mm) deep. Sift the flour and spices into a bowl, and add the caraway seeds. In a large mixing bowl that is slightly warm, cream the butter and sugar together thoroughly. In a warm jug, beat the tepid yolks very well and add to the creamed mixture gradually, beating very well after each addition. With a scrupulously clean beater, beat the egg whites until stiff, but not dry. Using a metal spoon, fold the beaten egg whites into the creamed mixture, about a fifth at a time; folding in some of the flour and spices along with each addition of egg whites. Once all the egg whites and flour, etc. have been added and folded in and the mixture appears completely amalgamated, empty the cake mixture into the prepared tin. Smooth the top level and bake it in the oven, on the middle shelf at gas mark 3, 325°F (170°C) for 1½ hours. Cool in the tin for 10 minutes before turning out. The cake will be deliciously crisp on the outside, and inside will have a light crumbly texture.
I do hope that you enjoy it.
---
To review past newsletters, just follow this link: Past newsletters.
To subscribe to this free newsletter - Click here
---
All information contained within any article on this website was considered to be accurate (as far as can be ascertained) at the time of writing. TeaAntiques.com Limited makes no warranty and accepts no liability regarding the accuracy of the content.
Copyright © 2000 - 2021 All rights reserved
TeaAntiques.com Limited. Company Incorporated in England No.: 5086843