Tea Clipper

from TeaAntiques.com

Edition

Thirty Two
Featured Antique - Ridgway Spill Vase, c1820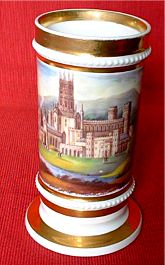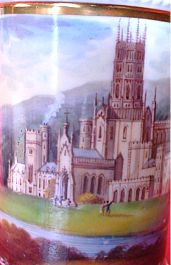 A delightful spill vase painted with the famous 'Gothic' Fonthill Abbey, c1820. This magnificently painted vase emanates from the Ridgway factory which was in production from c1802-1842. This most attractive vase is marked on the base with 'Fonthill Abbey' in black, together with the pattern number of 3/866 in orange. The colours and detail in the painted scene are truly spectacular. A very decorative vase indeed for the collector of English antique porcelain.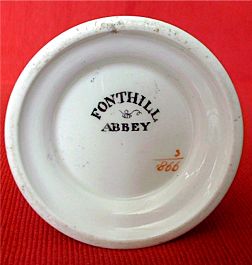 More details of this item and other tea related antiques can be found by visiting my web site at www.TeaAntiques.com.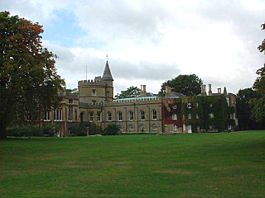 Horace Walpole took the lease of the villa at Strawberry Hill in 1747, he bought the house in 1749 and continued to live there for 50 years. This area around Twickenham was a favoured location, situated half way between the Royal residences of Richmond Lodge and Hampton Court. There were many fashionable villas and houses along the banks of the River Thames in this area.
To seek out the roots of the gothic revival in eighteenth century England, we need to start with the home of Horace Walpole in Twickenham, near London. It is here at his home Strawberry Hill, that the Gothic revival in architectural styles was unleashed, a style that was to become known as 'Strawberry Hill Gothic'.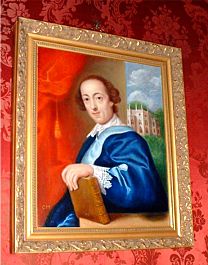 Horace Walpole was a popular figure in his time, a writer, firstly of letters and then writing of public events as well as social and artistic life in general. His intention was to leave a legacy to future generations of writings of Eighteenth century life, including entertainment and gossip of the time. The result of this writing was forty-eight volumes of the Yale Edition of Horace Walpole's Correspondence, now regarded as important documentation for scholars of the eighteenth century.
Horace Walpole had his own private printing press set up at Strawberry Hill and it was here that he wrote the famous first Gothic novel 'The Castle of Otranto'.
Walpole described his new house at Strawberry Hill in 1747 as 'the prettiest bauble you ever saw'. He was the younger son of the Prime Minister Sir Robert Walpole and who by the age of 30 had established himself as an MP, a collector and 'man of letters'. However, it is for his creation of the first Gothic revival in his house at Strawberry Hill that he maybe most remembered.
When Walpole began to Gothicise his house in 1750, he was flying in the face of fashion, which was still very much in the 'neo-classical' style. Walpole used the word 'Sharrawaggi' to describe Strawberry Hill, the meaning of which is the 'want of symmetry'. Strawberry Hill can be seen certainly to lack the symmetry that was so popular in other fashionable houses in the country.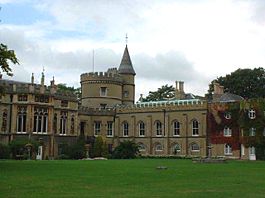 The designs for the Gothic changes at Strawberry Hill came from John Chute of The Vyne, in Hampshire. John Chute was one of the members of Walpole's 'Committee of Taste', This committee also comprised Richard Bently, an illustrator and a Mr Robinson of 'the board of works' who dealt with overseeing structural and building matters. In the next edition of the 'Tea Clipper' I will be looking at The Vyne, home of John Chute and discovering his more than close relationship with Horace Walpole. Walpole's idea was not to take a 'blueprint' copy of early gothic design, but to use some of the design elements to create a Gothic castle of his own, but which was still a house that was comfortable to live in. Walpole stated that 'In truth, I do not mean to make my house so Gothic, as to exclude convenience and modern refinements in luxury'. To this effect he and his 'committee of taste', who were enthusiastic amateur building architects who knew little of construction, set about their designs for Strawberry Hill.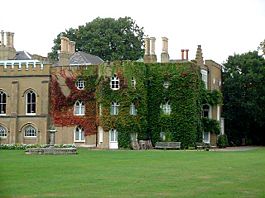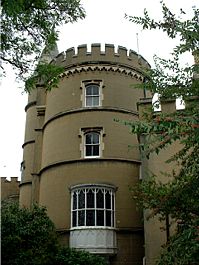 The design features they used were taken mainly from illustrations in architectural books rather from direct observations of early Gothic architecture as seen in castles and great churches. They had no purist regard for the scale or original materials used, this 'Pugin' the nineteenth century Gothic revivalist, would use to dismiss their Gothic revival. However, in the eighteenth century this Gothic revival was quite a revolution.
Whilst the rooms in the house had Gothic features, they also retained the comfort of fine Axminster carpets, cosy armchairs, settees with soft coverings. Walpole was out to create a theatrically Gothic effect rather than a pure copy of gothic from the past. His use of Gothic columns, built in plaster rather than stone, were to offer a style and were not a part of the structure requiring stone for strength.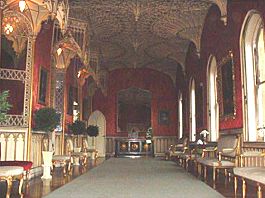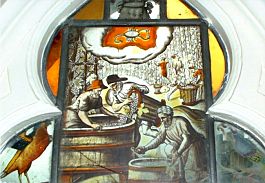 A word used by Walpole to describe the effect that he was trying to create with his Gothic house was 'gloomth'. This gloomy dark atmosphere he achieved by the planting of Lime trees close to windows and also had painted glass window panels installed in the upper panes of windows throughout the house.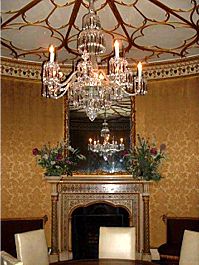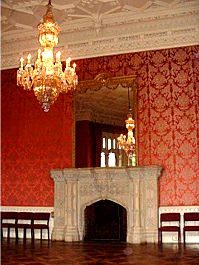 Inside the house he took designs from Gothic tombs to create his huge gothic chimney pieces, bookcases, walls, ceilings and door designs. The Gallery demonstrates this beautifully, it having an elaborate fan vaulted ceiling, something more akin to a high church or Cathedral. In this opulent Gallery, he would lavishly entertain his guests. On one such occasion on 11th May, 1769 he wrote: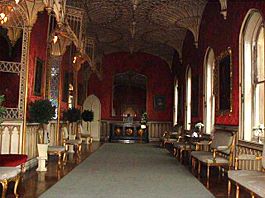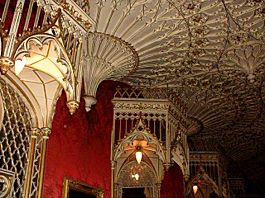 'Strawberry has been great in glory- I have given a festino there that will almost mortgage it. Last Tuesday all France dined there. Monsieur and Madame du Châtelet, the Duc de Liancour, three more French ladies whose names you will find in the enclosed paper, eight other Frenchmen, the Spanish and Portuguese ministers the Holdernesses, Fitzroys, in short we were four and twenty. They arrived at two. At the gates of the Castle, I received them dressed in a cravat of Gibbons's carving, and a pair of gloves embroidered up to the elbows that had belonged to James I. The French servants stared and firmly believed this was the dress of English country gentlemen. After taking a survey of the apartments, we went to the printing-house where I had prepared the enclosed verses, with the translations by Monsieur de Lisle, one of the company. The moment they were printed off, I gave a private signal and French horns and clarinets accompanied the compliment. We then went to Pope's grotto and garden, and returned to a magnificent dinner in the refectory. In the evening we walked, had tea, coffee and lemonade in the gallery, which was illuminated with a thousand, or thirty candles, I forget which, and played at whisk [sic] and loo till midnight. Then there was a cold supper, and at one the company returned to town saluted by fifty nightingales who as tenants of the manor came to do honour to their lords'.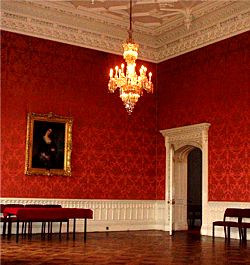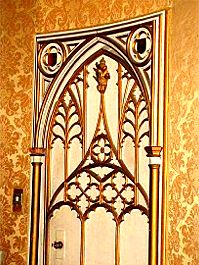 This was the sort of life that Walpole led at Strawberry Hill. But, it was not just the gentry that wanted to see the wonders of the Strawberry Hill gothic, but all classes. The house was open for tour, but increasingly Walpole found the tours a trial, saying that the visitors 'see with their fingers' referring to the damage that was inflicted by curious guests who would insist on touching things, one such visitor breaking the end of the beak off of his invaluable eagle! Never-the-less, the popularity of the Gothic revival had been unleashed. Others now followed his fashion. Not only in architecture, but in furniture design, porcelain and silver also following suit.
Walpole died In 1797 and the estate was left to his niece, Anne Seymore Damer, a sculptress, for her lifetime. However, she found it too expensive to maintain and relinquished it to the eventual heir, Lady Waldergrave (the granddaughter of Walpole's brother Edward). But in 1842, perhaps one of the most celebrated auctions of the century, the contents of Strawberry Hill were sold off. Now the building is part of a school, but remains open to the public at specific times.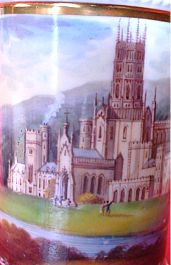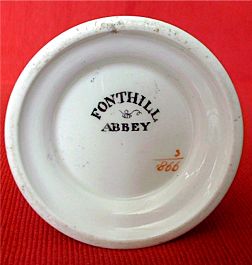 Another notable person obsessed with the Gothic revival was William Beckford. Born in 1760 in London, he was to become an English eccentric. He is remembered for his writing of the Gothic novel 'Vathek' and for the building of his Gothic home, Fonthill Abbey in Wiltshire.
Fonthill was designed by James Wyatt, but it was Beckford himself that did the supervising and planning of what was to become the most extraordinary house in England!
Beckford was the only legitimate son of William Beckford the Elder who had twice been the Lord Mayor of London. He was the heir to an immense fortune accumulated by the Beckford family over several generations. Much of his life was dogged with scandal, having supposedly 'sexual relations' with a young boy, the 11 year old heir of Viscount Courtnay. This was never proven, but together with his wife and daughter, Beckford was forced to flee to Switzerland in 1785. Following the death of his wife after childbirth of his second daughter and after many years in Switzerland, he returned to England and from 1796 devoted all his energy into the building of Fonthill.
He lived as a recluse and during his life collected many curios, expensive furnishings and work of art. Alas, in 1807 the house's great central tower collapsed and had to be rebuilt. As if that were not enough, Beckford was then forced to sell the estate in 1822, due to his extravagant life style. Following that, the tower of Fonthill collapsed again, this time destroying part of the rest of the building.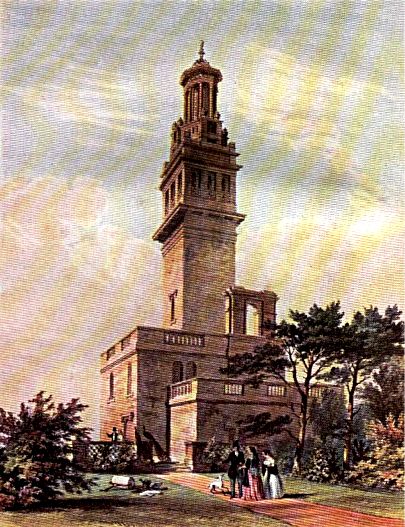 Beckford moved to Bath, where he died in 1844. In Bath he had built an eccentric tower on the hills over looking Bath. Beckford's tower, remains today and is open to the public.
(This picture of Beckford's tower, Bath is reproduced from a book 'Bath' by R.A.L Smith.)
Strawberry Hill, Waldergrave Road, Twickenham
Opening Information ring: 020-8240-4224
Click here for Local Map
Map courtesy of www.streetmap.co.uk
Tours lasting 90 minutes commence between 2.00 & 3.30 p.m. on Sundays between Easter and October.
One of the delights of England are the summer Fêtes, held all around the country, whether in aid of charity or maybe a school or church. These Fêtes are often a place of fun for the family and a good place to enjoy the country style tea and cakes, and even to do a bit of bargain hunting!
English Fêtes are a traditional thing, giving people the chance to do their bit in the raising of money from the selling of teas, cakes, bric-a-brac, books, etc as well as provide side shows and entertainment, from flower shows, skittles, coconut shies, donkey rides, brass bands to lucky dips.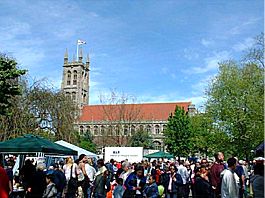 I recently attended a local church Fête at St Mary's church in Portsmouth. It was a grand event and well attended on a beautiful sunny day. St Mary's church is one of Portsmouth's largest churches, built of flint and having a very tall square tower that is visible all around the town.
At this Fête, there were many such attraction. It was full of 'white elephant stalls', selling a whole variety of bric-a-brac, junk and even the odd collectable. It is a fun thing to search out a few interesting items or bargains. It can even be source of finding a few tea antiques!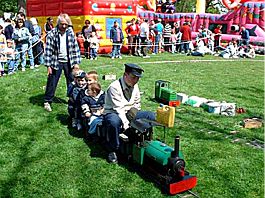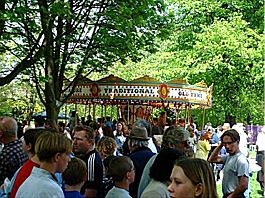 I was particularly interested in attending this particular Fête, as Maureen, the friendly post office lady at my local post-office, is also a dab hand at home-made jam making, her Loganberry jam is delightful. Knowing that she had made some of this delicious jam for this, even I just had to go and buy some from her stall. This was the first stall to be visited and I was able to buy six pots of this precious Jam! Now I can enjoy this with afternoon tea at home throughout the summer.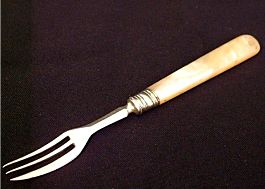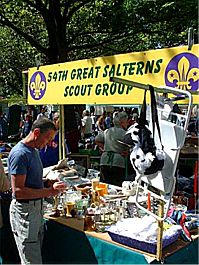 From the jam stall, I had a rummage round the 'white elephant' stalls and came up with a few very interesting tea related items. My first find, was a beautiful Victorian silver cake fork, a lovely item with a pretty mother-of-pearl handle, dated 1886. On the next stall, I found a Derby cup and saucer dating from c1795-1800, with a decorative cobalt blue border embellished with gilt flowers. This set was marked with the Derby purple crown and baton mark. This is a fine example to join my home collection of eighteenth century cups.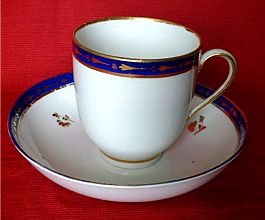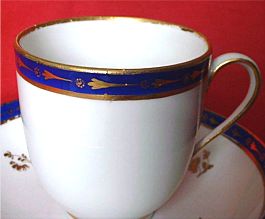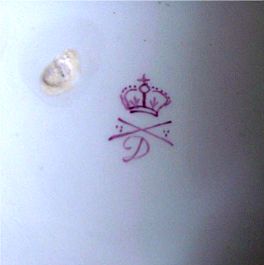 Moving on, I bought a nice white linen table cloth beautifully edged with Victorian lace work. With these three little finds I was getting a nice little collection of things for afternoon tea!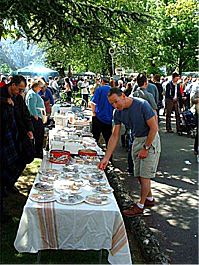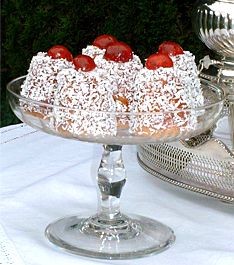 As with all such Fêtes, there are always plenty of stalls selling home made cakes. I found some delightful cakes including the usual Victoria sandwich cakes, chocolate sponges and small fancies like iced cakes, angle cakes and my all time favourite 'Madeleines'. I remember these attractive and very tasty 'Madeleines' from my early childhood, when they were available from our local home baker. These days, it is difficult to find these little home-made Coconut clad gems, so I just had to have one. I was not disappointed, it was delicious, the sponge cake Inside was light and fluffy, this with a generous coating of raspberry jam dusted in desiccated coconut and topped with a Glacé-cherry. It was whilst enjoying this cake with a cup of tea, that I thought it would be lovely to try to revive this traditional afternoon tea cake and have a go at making them myself-which I did.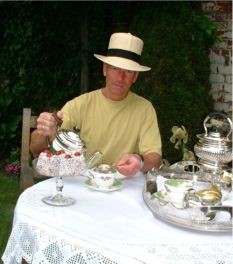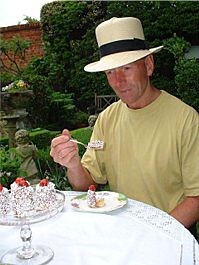 The results of my labours in making some Madeleines was well rewarded. They turned out beautifully and I sat and enjoyed them, as one should in the English summer, sat out in the garden. What could be better? For your enjoyment, I have included the recipe that I used to make these cakes, I hope that you get a chance to make them and enjoy them too.
(otherwise known as 'Castle cakes' - appropriate, following an article on Strawberry hill!)
4 oz (110g) butter or margarine
4oz (110g) caster sugar
2 eggs
4oz (110g) self raising flour
3-4 table spoons of raspberry jam
4 table spoons of desiccated coconut
6-8 glace cherries cut in half
You will also require 12-16 dariole moulds (castle pudding tins) that have been well greased with butter or margarine.
Method:
Preheat the oven to 200C/400F, gas mark 6.
In a mixing bowl, cream the butter or margarine together with the sugar until light and fluffy. Gradually beat in the eggs a little at a time. Sift the flower and add to the mixture, folding it in with a large metal spoon. Spoon the mixture into the greased dariole moulds, being careful not to fill them more than three quarters full as they will rise! Stand the filled dariole moulds on a baking tray and bake in the centre of the oven for approximately 12-15 minutes, or until the sponge is firm to the touch. Remove from the oven and allow to cool for a minute before turning the cakes out onto a wire rack to cool. Running a knife round the inside of the dariole mould helps to free the cakes when turning them out.
When the cakes have cooled. Melt the jam in a saucepan, but do not let it boil. Take each cake in turn and hold it with a fork speared into its base and paint it over with the hot jam using a pastry brush. Then dip the sponge into a plate of the desiccated coconut, turning it round to coat the top and side in coconut. Remove from the fork and stand on a plate and top with a glace cherry. Repeat for the rest of the cakes.
Make a pot of tea and then sit down and enjoy the fruits of your labour!
---
To review past newsletters, just follow this link: Past newsletters.
To subscribe to this free newsletter - Click here
---
All information contained within any article on this website was considered to be accurate (as far as can be ascertained) at the time of writing. TeaAntiques.com Limited makes no warranty and accepts no liability regarding the accuracy of the content.
Copyright © 2000 - 2023 All rights reserved
TeaAntiques.com Limited. Company Incorporated in England No.: 5086843