Tea Clipper

from TeaAntiques.com

Edition

Thirty Three
Featured Antique - Chamberlain's Worcester Oval 'Shanked' Jug, Decorated With Pattern No 2, Flowers & Insect, c1797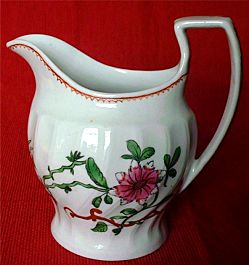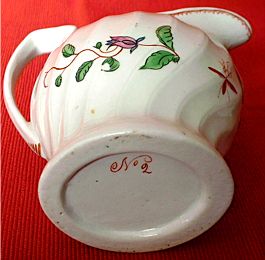 An attractive Chamberlain's Worcester oval jug, with a 'shanked' moulded body and angular loop handle. This delightful jug is beautifully decorated with pattern 'No 2' (marked on the base), described in the Chamberlains pattern book as 'Plain enamelled, Foreign sprig & crowfoot border'. This jug would have been made at the Chamberlain's Worcester factory towards the end of the eighteenth century, c1795.
This pattern No 2, has two wonderful flower sprigs, one on either side of the jug and between which is a red enamelled insect. The flowers are executed in red, rink, blue and green enamels and are most charming.
A similar jug to this is illustrated in 'Chamberlain-Worcester Porcelain 1788-1852', by Geoffrey A. Godden, (Plate 72). A very fine example from the Chamberlain's Worcester factory. Ideal for the collector of fine quality Chamberlain Worcester porcelain.
More details of this item and other tea related antiques can be found by visiting my web site at www.TeaAntiques.com.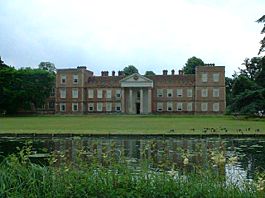 The Vyne has the appearance of a romantic red brick house set in beautiful English countryside just North of Basingstoke. This delightful house has very early origins, including frequent visits by King Henry VIII.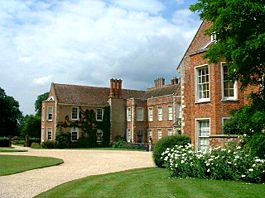 The house and grounds have been much altered over their long histories, the north front now has a lake, created during the eighteenth century from the Shir brook. From the far side of the lake there is a very attractive view of the house with its mellow red brick, regular sash windows and the tall columned portico which proclaims it a very grand country house. The view of this front today, looks like a symmetrical Georgian house, but it is in parts a façade upon a much earlier house. The North front was in fact created in the seventeenth century, the tall portico added in 1650's. The columns of this portico appear as stone, but are of red brick that have been stuccoed. Within the triangular wooden pediment is the coat of arms of the Chute family. To the left of the portico as we view it across the lake is much of the earlier Tudor building, including the chapel. Then, to the right of the portico is a later addition to the front including the tower.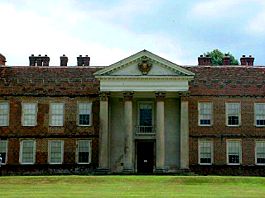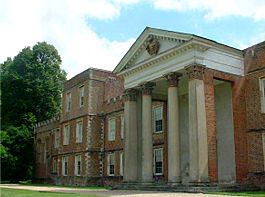 The two square brick towers now flank each end of the classical front, but on one end is the additional building of the private chapel remaining from the earlier Tudor house, with its gothic windows. The Crenulations (or battlements) between the towers are a nineteenth century addition.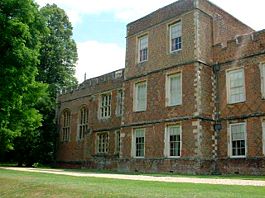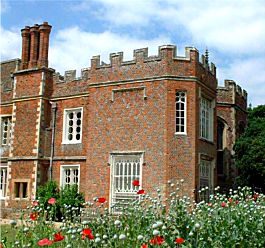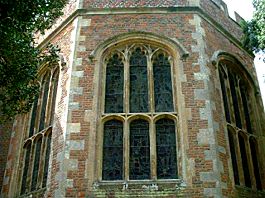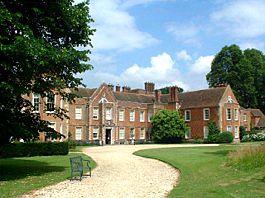 The other side of the house, the South front, became the main entrance to the house during the eighteenth century. The central doorway is flanked by two large stone Eagles, these were a gift to John chute from Horace Walpole in 1745. It is very pleasing to see that much of the original Tudor brickwork, with its black 'diaper' pattern, still exists. This adds a beautiful decorative feature to the exterior walls of the house.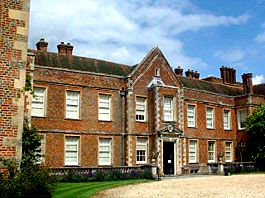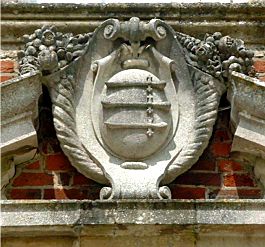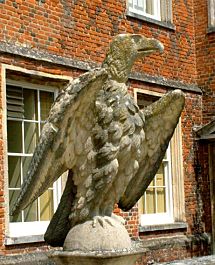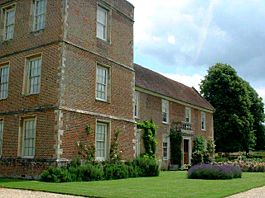 Today, visitors enter the house from the West side, which leads into the Stone Gallery, a creation from the eighteenth century alterations. Above this Stone Gallery, there is the early sixteenth century Oak Gallery.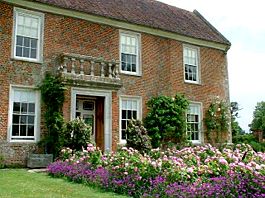 The first room after the Stone Gallery is the Further Drawing Room, located in one of the towers. This is a lovely room, which has a warm and welcoming feel. The walls are hung with rich red silk and linen hangings from Italy c1730 and the ceiling is unusually moulded in papier mâché. The mouldings on the ceiling, rococo in style with scrolling foliage, have four faces protruding from it in each corner.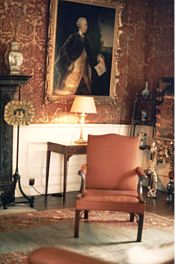 On the wall, to the right of the great black mantle piece, is a portrait of John Chute, who was the owner of this house between 1754 to 1776. It is John Chute that is of interest on our Gothic trail. He was a great friend, and rather more, to Horace Walpole of the Strawberry Hill 'gothic' fame, as covered in the previous edition of the Tea Clipper. Indeed, this portrait of John Chute was painted for Horace Walpole and hung at Strawberry Hill. It was bought and returned to the Vyne during the sale at­ Strawberry Hill in 1842.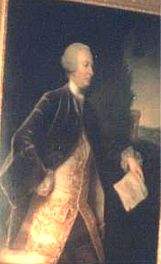 John Chute was the youngest of his parents children, including male heirs and so did not expect to inherit the house, but in fact he did inherit it. John Chute never married, preferring the company of younger men, including his very handsome young cousin Francis Whithead with whom he travelled in Italy. A portrait of Francis hangs to the right of the portrait of John Chute.
Together with Horace Walpole, John Chute went on the Grand Tour of Europe as it was felt that their relationship was better understood there. John Chute was about one generation older than Horace Walpole when they met, Horace was but 23. They travelled throughout Europe for 12 years. Chute was a member of the 'Committee of Good Taste' and supervised the project to enlarge and redecorate Strawberry Hill, the home of Horace Walpole situated in Twickenham, near London. This house at Strawberry Hill, as covered last month, became the pinnacle in the history of the Gothic revival in England.
John Chute was a brilliant amateur architect. In this room there are some architectural drawings in Gothic style of his design for Donnington Grove house in Berkshire. This house still exists and I believe is now a country club.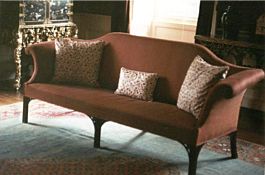 There is some of the Gothic furniture commissioned for the room by John Chute, including a remarkable pier table and pier glass above. This magnificent table in 'Gothic' style is possibly the work of Thomas Chippendale and dates from c1760. It has a delightful 'Gothic' frame, painted in black and gilt and echoes church type architecture, including cluster column legs with gothic arches along the frieze. The table top is of veined onyx overlay. The matching pier glass above the table resembles a great 'gothic' church window; its frame of carved wood painted in black and gilt encasing sectioned mirror plates. This table and mirror are not really very visible in this picture but are behind the settee on the right hand side.
Like the pier table and glass, the frieze was painted in black and gold, a favourite colour theme in Strawberry Hill 'Gothic' design.
A large pair of mahogany side tables, flank one of the room's doorways. These demi-lune tables have blind fret friezes and stand on moulded square legs with scrolling bracket ties at their top. They were made in c1765 and cost £11.
Leaving the Further Drawing Room by the doorway flanked by the side tables the visitor enters the China Room. Within this tiny room are some display cabinets with some extremely interesting china and glass plates. One of the most striking items is a set of 16 Glass plates these remaining from a set of 24. The set is of opaque white glass decorated with beautiful scenes of Venice in a soft ochre colour. This type of ware is known as 'Lattimo' or 'Murano' and came from Venice, bought by John in June-July 1741 during his Grand Tour. There were originally three of these sets, this one of John's, one set bought by Horace Walpole and anther set by the Earl of Lincoln who were travelling together. Both of these later sets have since been dispersed. There is also a similar set of 'Lattimo' items, this time of cups and saucers that are very richly decorated. All these items would have been bought as souvenirs of their Grand Tour.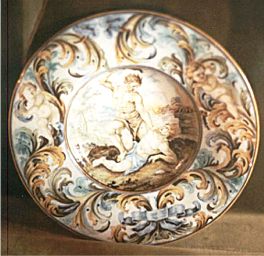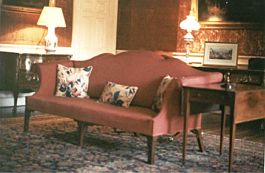 There are some beautiful early Italian 'maiolica' plates, exquisitely decorated in such vivid and brilliant bright colours. These very fine examples date from c1730.
From the China Room the visitor passes through a succession of rooms along the north front of the house. These comprise the Large Drawing Room; The Vestibule; The Saloon and the Dining Parlour. These rooms contain some wonderful oak panelling, fine furniture and clocks amongst their treasures. In the Saloon there are some very attractive Chippendale camel backed settees covered in red damask, mid-eighteenth century. Behind one of these settees is a fine regency tripod table, inlaid with brass decoration in the form of anthemion (or honeysuckle). On this table there is a rosewood tea caddy, sarcophagus in shape and, like the table, is inlaid with brass on the top. It has unusual military chest type of brass carrying handles on the side and stands upon four wood turned ball feet.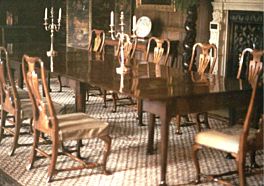 Finally, the Dining Parlour leads to the Antechapel and Chapel, which are sixteenth century. The chapel is quite splendid, the grandeur of which is equal to that of the Royal Tudor palaces in London. There are heavily carved oak wood stalls on either side, above which the walls have been painted with elaborate gothic columns and fan vaulting in an illusion of a grand church. These gothic paintings were commissioned at the suggestion of Horace Walpole in 1755, they were actually executed in 1769. These were the work of Spiridione Roma.
To the right of the Chapel is the Tomb Chamber, designed by John Chute to house a monument to his famous seventeenth century ancestor 'speaker Chute' - he was speaker of the House of Commons 1659 and who bought the Vyne in 1653.
Travelling back through narrow corridors the visitor arrives at the very classical eighteenth century grand Staircase Hall. This Staircase Hall was the creation of John Chute, it has been decorated in pale blue and white paint. There are fluted columns supporting the panelled ceiling and classical mouldings abound.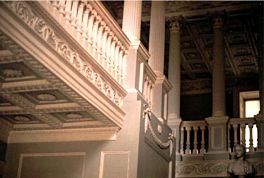 Upstairs, there is a set of rooms to the left of the top landing. These rooms include the Library; The Little Tapestry Room and The Tapestry Room, Finally, to the left of the Tapestry Room is the Tudor Long Oak Gallery.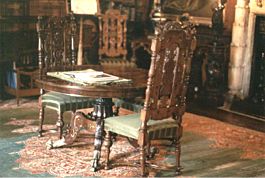 The Library is now seen as much the creation of a later ancestor Wigget Chute during the nineteenth century. The walls are lined with carved wooden bookcases, these partly constructed from the cornice of the family pews of the parish church. The large chimney piece dates from c1660 and was taken from the Old Tapestry Room. The set of very old looking chairs are in fact nineteenth century, made of pine in seventeenth century style.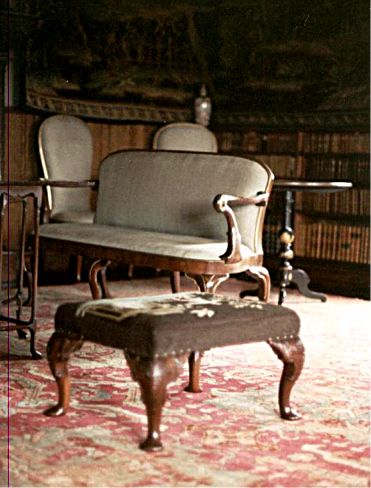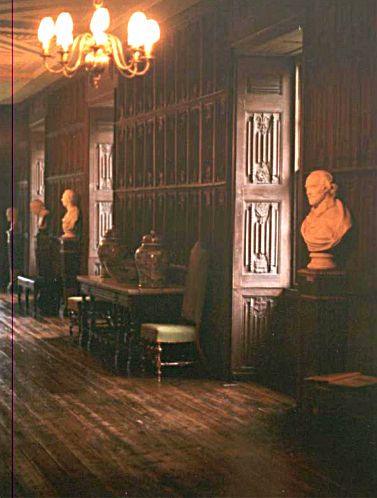 The room for the lover of tea antiques has to be the tapestry Room. In this charming room there is a delightful set of settees and stools with frames of partially gilt walnut, most unusual and very attractive. However, the amazing thing about his tapestry hung room is that every possible surface is covered with all sorts of tea porcelain. These are mainly Chinese and even include Chinese copies of Japanese Amari! There are cups, saucers, tea bowls, teapots, tea canisters; too many to appreciate in any detail. They are decorated in blue and white or coloured enamels and all dating from the eighteenth and seventeenth century, I was also informed by the guide that there were also a few items of Lowestoft and Worcester, quite a challenge to spot these!
In the Oak Gallery, with its Tudor Panelling, a room where Henry VIII would be received, is a console table that has the coat of arms of Sir Robert Walpole in the scagliola top. Sir Robert Walpole was the father of Horace Walpole and was also Prime Minister in his day.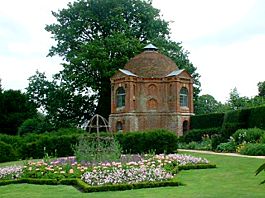 Walking round the enchanting grounds of the Vyne, there is a mid-sixteenth century summer house of unusual shape. It is constructed of red brick and circular in shape, with a domed roof and four protruding pedimented extensions. This is currently undergoing full restoration.
The Vyne is definitely a house full of interest to the visitor and one that I can strongly recommend a visit.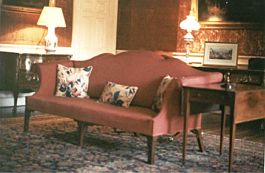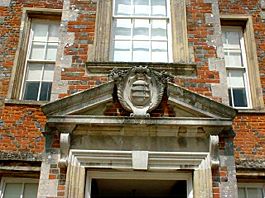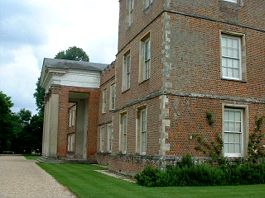 The Vyne
Sherborne St John
Basingstoke
RG24 9HL
Telephone 01256 881337

Click here for Area Map
Click here for Local Map
Maps courtesy of www.streetmap.co.uk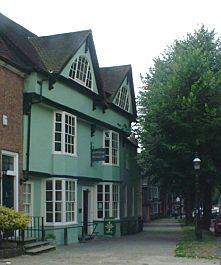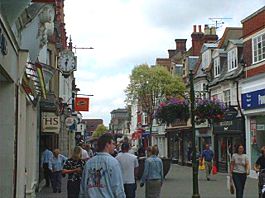 Not many miles from the busy Gatwick airport, lies the thriving town of Horsham, West Sussex. This town not only has a large modern shopping centre, but only a few minutes' walk from the hurly-burly of these shops, is the charming older part of town. There is a pretty street of Georgian and earlier houses that leads to the church. It is at the top end of this street at 9 The Causeway, where I discovered a lovely museum called simply the 'Horsham Museum'.
The museum is housed in what was once a timber framed merchant's house, a delightful house with its jutted and gabled front painted a pale green. Entry to this museum is free of charge and is worth a visit for anyone finding themselves in the area.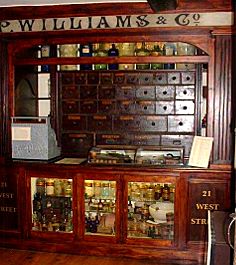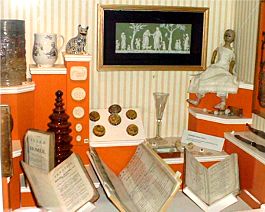 The museum has a diversity of small rooms and exhibitions, some of which are contained in further barn type buildings to the rear of the museum. there are rooms which display the local history of Horsham, one being an interior of an old pharmacy shop, with its multitude of small storage drawers of wooden construction. There are displays of costumes, flints and fossils, Sussex iron and glass and other curious things!
One room that I found particularly interesting was the 'Garman Gallery' dedicated to 'cooking and gardening'. In this display I found a cabinet full of very interesting eighteenth century porcelain items. These items were linked to this exhibition by the fact that the porcelain displayed things in the garden of the time, whether it be in the painted flowers, prints of garden and rural scenes or by the naturalistic flower or vegetable shapes of the items. It was a clever slant on displaying some very fine porcelain items. Other parts of the display were more domestic and covering items found in the eighteenth century kitchen etc.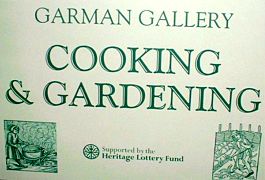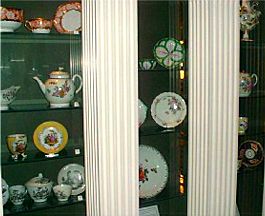 Items within the 'cooking and garden' display included some wonderful early Chelsea porcelain from c1750-60. One such Chelsea piece was naturalistic sauce boat with its asymmetrical leaf moulded body beautifully painted with flowers. There was also a red anchor Chelsea pie crust rim plate, painted with 'deutsche Blumen' flower sprays, the plate edged in red.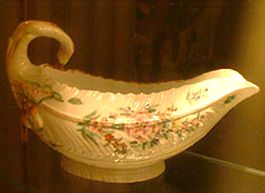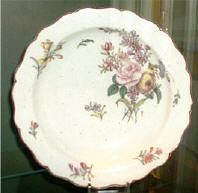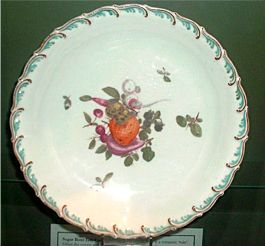 A very interesting plate was one that was earlier attributed to being a 'Hans Sloane' decorated plate, with fruits and flowers painted in the centre, but now confirmed as not being so.
Some very fine eighteenth century Worcester porcelain was also displayed including two delightful floral decorated teapots, c1770, one of which had a wonderful multi-sided moulded spout. The floral decoration of these pots included the quintessentially English garden roses and honeysuckle.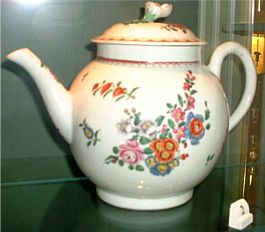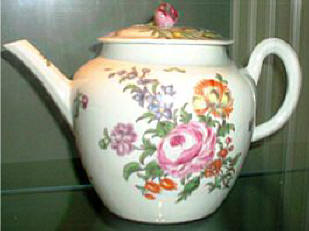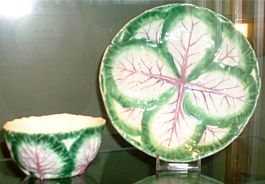 A leaf moulded tea bowl and saucer painted in green and red caught my attention, this one originating in the eighteenth century from the Longton Hall factory. This rare and beautiful tea bowl and saucer again was a clever link to the exhibition's theme.
At the rear of the main museum building is a pretty courtyard garden containing some old English plants helping to forge the link between the exhibition of 'cooking and gardening'. As well as some older variety of flowers there were some herbs that would have course been much used in cooking.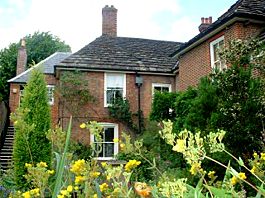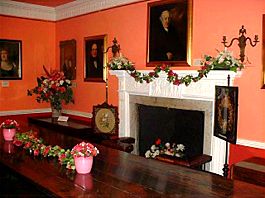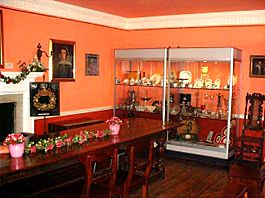 A curiously entitled room-'Georgian Marriage Room' was a little treasure trove for the lover of tea antiques. In this room where marriages can indeed be performed, are some display cabinets in which are displayed some fine tea wares. Included amongst these are some excellent blue and white eighteenth century Worcester pieces of porcelain, c1760-70. There is also a grouped display of tea wares in front of a handsome two compartment tea caddy with central glass bowl.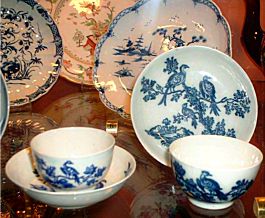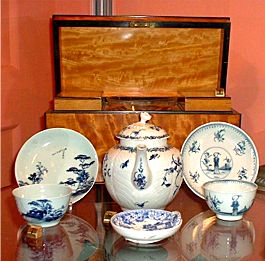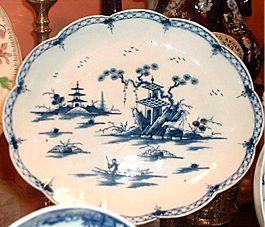 Finally, I found housed in a pyramid shaped glass display a tea set of pink lusterware, this type of ware being introduced towards the end of the eighteenth century and remaining fashionable for the first few decades of the nineteenth century. Each piece of the service is decorated in rather a naïve way depicting simple houses and trees, etc.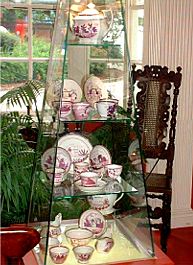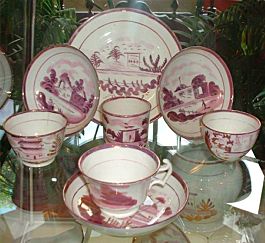 This interesting museum is open six days a week and entry is free, I hope that you may get an opportunity to visit and support it.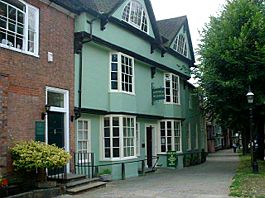 Horsham Museum
9, The Causeway
Horsham
West Sussex
Tel. 01403 254959
Click here for Area Map
Click here for Local Map
Click here for Street Map
Maps courtesy of www.streetmap.co.uk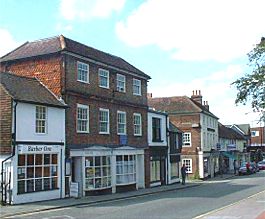 Following my day in Horsham, I went on to the town of Dorking. This is a wonderful small town for those who like to browse some varied antique shops, as here there are quite a number of such shops. But when the need for tea arises, then may I recommend a tea shop called 'Hasketts Tea & Coffee shop'? Housed in a Georgian fronted house, the tea room is rather small, but offers an excellent range of loose leaf teas, from 'premium estate grown teas' and 'speciality teas', all housed in large tea tins on shelves to the right of the counter.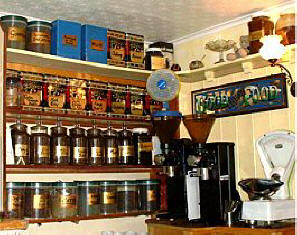 The 'premium estate teas' offered included such names as Bukhial Assam; Thurbo Darjeeling; Yunnan Flowery Orange Pekoe and 'Mountains Of The Moon'. Quite a good choice for a small tea room!

Listed in the 'speciality teas' range were such teas as Kokei Cha, Oolong, Kenya Tinderet; Rose Congou and a number of others. There is also a good range of coffees on offer too.

With such a choice of teas I was rather spoilt for choice! In the end I went for the romantically named 'Mountains of the Moon'. It was a very strong tea in colour and flavour. This was said to be a rare tea grown at very high altitude between 7-8,000 feet. All I can say is that it was a delicious strong tea that was worth the climb to pick it!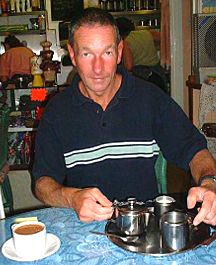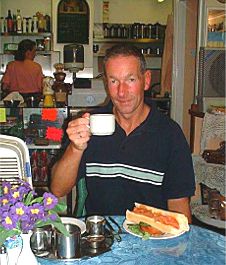 Hasketts also has a range of food and cakes on offer. Today rather than cake or scones, I choose to have a smoked salmon baguette. I can say that the baguette was filled to bursting with succulent smoked salmon and was most enjoyable.

A pleasant place to enjoy tea and a chance to try some of the more exotic and rare teas.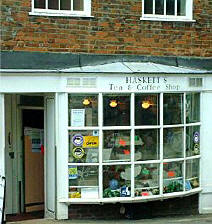 Hasketts Tea & Coffee Shop
86b South Street
Dorking
Surrey
RH4 2EW
Telephone: 01306 885833

Click here for Area Map
Click here for Local Map
Click here for Street Map
Maps courtesy of www.streetmap.co.uk
---
To review past newsletters, just follow this link: Past newsletters.
To subscribe to this free newsletter - Click here
---
All information contained within any article on this website was considered to be accurate (as far as can be ascertained) at the time of writing. TeaAntiques.com Limited makes no warranty and accepts no liability regarding the accuracy of the content.
Copyright © 2000 - 2023 All rights reserved
TeaAntiques.com Limited. Company Incorporated in England No.: 5086843