Tea Clipper

from TeaAntiques.com

Edition

Thirty Four
Featured Antique - Worcester 'Bleu Celeste' Vertical Fluted 21-Piece Part Teaset, with Rose Flower Finials, c1770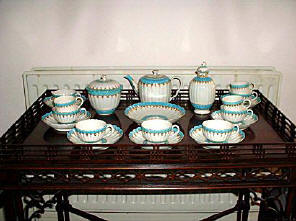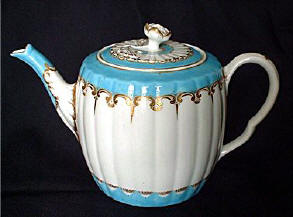 An exquisite First Period (or Dr Wall Period) Worcester 'bleu celeste' and gilt - vertical fluted part teaset, with rose flower finials, c1770. This rare and most beautiful Worcester teaset is very elegant in its shape and decoration.
This part set comprises the following items: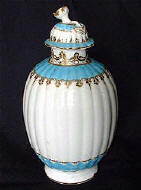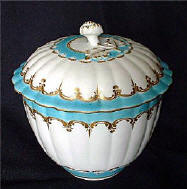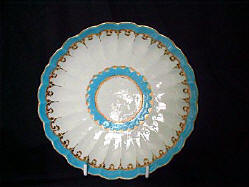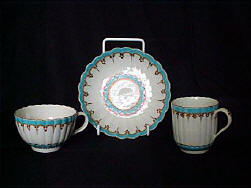 Barrel shaped teapot and lid with a flower finial
Tea canister, vase shaped with cover capped with flower finial
Sucrier and cover with flower finial
Cake plate
Three trios (comprising saucer, tea cup and coffee can)
Four tea cups and saucers
More details of this item and other tea related antiques can be found by visiting my web site at http://www.teaantiques.com/.
What better place to go for a day of pleasure, than to North of London, to Hampstead and Hampstead Heath. Here there are delights to be enjoyed from the Eighteenth century as well as the pleasures of the Heath itself.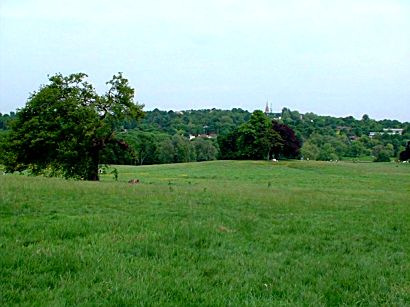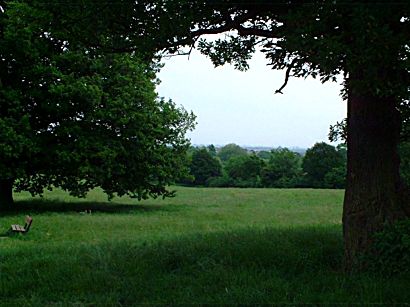 The 'village' of Hampstead is very accessible from the centre of London, either by underground tube train (subway), over ground railway or by bus - ideal for visitors based in London.
Hampstead, in the Eighteenth century would have been considered a country retreat from the hustle and bustle of the city. Now it has grown up rather, but still manages to retain that air of the rural England that once it was. Built around the vast heath lands of Hampstead, the heath still survives as a pleasurable place in which to walk and explore.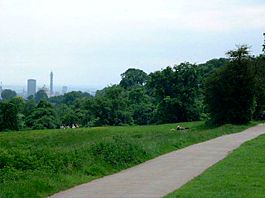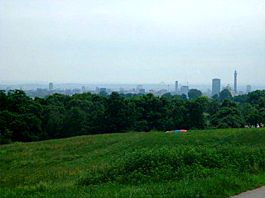 My recommendations for a day spent in Hampstead would be to take the tube, train or bus to Hampstead and from there, be prepared for a day of pleasant walking and sight seeing. The first place to visit would be the charming late seventeenth century Fenton House, owned and administered by the National Trust, from there to the much grander house of Kenwood to the North and finally to Burgh House, which again is an Eighteenth century house in which is located the museum of Hampstead village and area.
During a trip to Hampstead, there are not only the restaurants and bars in the town, but also, fine places to take refreshments at Kenwood House and Burgh House. So, join me in a tour of Hampstead Heaths delights.
Fenton House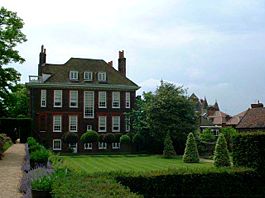 When Fenton house was built in 1693, Hampstead was an isolated village in Middlesex. The thing that gave Hampstead its reputation as a fashionable place to visit was the discovery of its healing springs.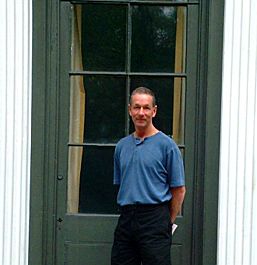 As the popularity of Hampstead Wells grew, as the Georgians called it, then the fashionable houses and villas appeared.
Fenton house is one of the earliest and most beautiful of the largest of houses in Hampstead. It is pleasing to the eye and has some architectural merit. Unlike many of its grander London town house relations, where the use of stone may be found, Fenton house is built of red brick, skilfully used to create a house of distinction.
So, who would have owned this house in the Eighteenth century? The earliest recorded inhabitant was of the name Twysden; who in 1707 sold the house to a silk merchant by the name of Joshua Gee. He had strong connections with America and in 1720 his eldest son died in New York. Joshua Gee's son was in fact a founding partner to a company who manufactured 'pig-iron' in Maryland this transported to sell in England.
The house was later bought by Philip Fenton, a merchant in 1793; it was his son James, who made the Regency alterations to the house that we see today.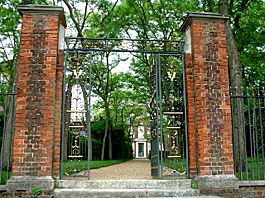 The house is situated on high ground and approached down a small lane and is approached on its South side through attractive wrought iron gates, these incorporate the initials 'J.A.G', the initials of Joshua Gee.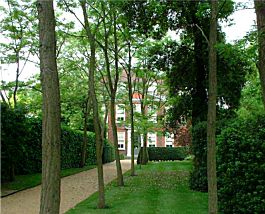 Through these gates, the visitor walks up a narrow gravel path, bounded by trees and narrow lawns on either side, to reach the South front of the house. The pedimented door in the centre of the South front was the original entrance. However, the entrance was later made round the side on the east elevation, it being more convenient for approaching from Hampstead Grove.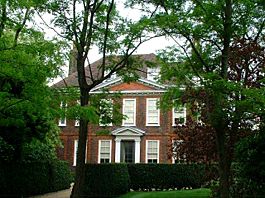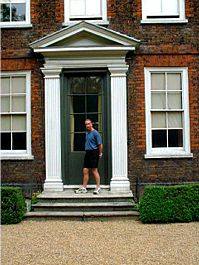 Part of James Fenton's alterations can be seen here in the addition of the Doric colonnade between the projecting brick bays.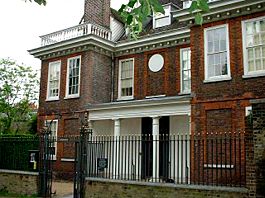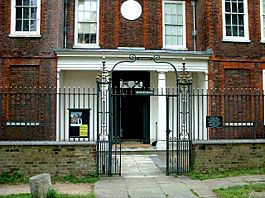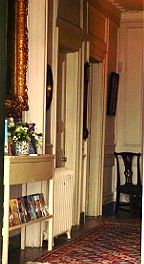 Entering through the front door leads into the hall; a narrow passage which at the end on the right houses the grand staircase. To the left is the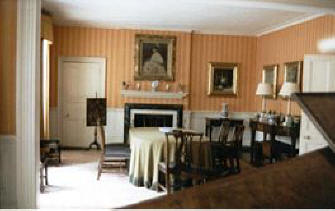 Dining Room, a large room with a pleasant aspect of 'Holly Hill' from the windows and the wrought iron gates at the end of the drive. Originally, this large room would have been three smaller rooms. Decorated today in a yellow striped wall paper, it reflects the Regency taste of James Fenton.
Fenton is known for its fine collection of porcelain and also musical instruments and includes a vast number of harpsichords from the Benton Fletcher collection. In the Dining Room there is one such harpsichord, this one made by Burkat Shundi in partnership with John Broadwood, very fine makers of keyboard instruments. There is some regency furniture in the room, including some 'lyre-backed chairs.
From the Dining Room, moving across the hall to the Porcelain Room, there is a treasure trove of Eighteenth century porcelain figures to behold in glass fronted cabinets. This very fine collection includes English and continental figures of outstanding quality. Amongst this collection are some Chelsea groups of the 'gold anchor' period, some Plymouth, Bristol, Bow, Longton Hall and early Worcester too.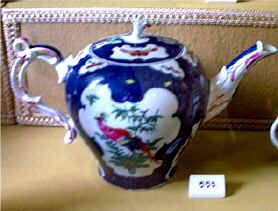 It is upstairs in the Drawing Room where I found some good collections of Worcester tea wares. This charming and beautifully decorated room has a delicate appearance, furnished with Sheraton style furniture, much of which is in exquisite satinwood. There are a delightful pair of satinwood side tables that are painted with floral garlands and upon one stands a satinwood tea caddy, likewise painted with beautiful decoration.
There are display cabinets in the Drawing Room containing a set of Eighteenth century Worcester blue scale ground tea wares. This set is painted with fantastic exotic birds and is possibly the work of James Giles, painted by him in Kentish Town, London. The example shown here is actually a similar piece from the Ashmoleon Museum in Oxford.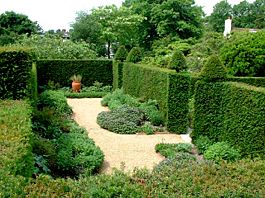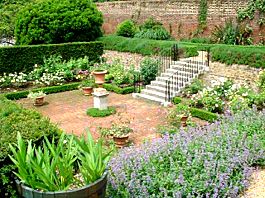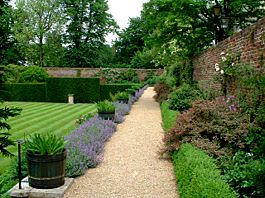 There are many other rooms and treasures to be enjoyed in this remarkable house and the walled garden is a delight to walk round. A perfect setting, for such a perfect house.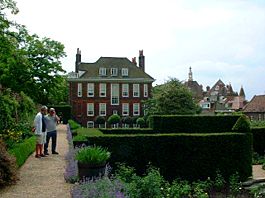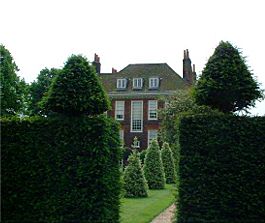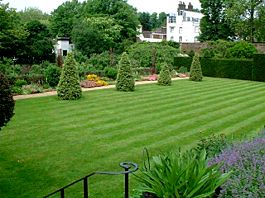 Fenton House is set approximately 300 yards North of Hampstead underground railway station, to the West side of Hampstead Grove.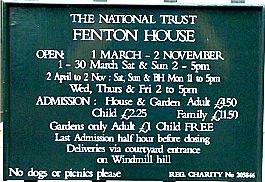 Windmill Hill,
Hampstead,
NW3 6RT
Tel: 20 7435 3471 - 01494 755563 (Infoline)
Fax: 020 7435 3471
Website
Click here for Local Map
Map courtesy of www.streetmap.co.uk
Burgh House, Hampstead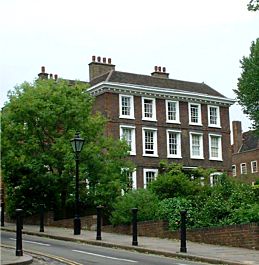 Burgh House is a fine square red brick house of the Eighteenth century, which now houses a museum dedicated to the history and development of Hampstead. The museum is very interesting and gives a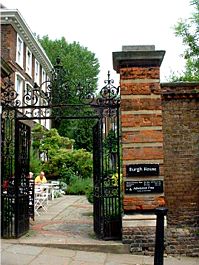 wonderful view of how and why Hampstead grew as a country retreat for the fashionable Londoners.
The rise of Hampstead's prosperity being due to the water springs, which feed the ponds dotted along one side of the Heath.
Burgh House also provides another fine place to enjoy a lunch on its terrace. the 'Buttery' restaurant, situated in the basement of the house offers some very good food which can be enjoyed inside or outside if weather permits.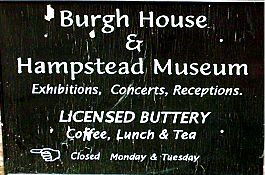 Burgh House
New End Square
Hampstead
London NW3 1LT
Tel: 020 7431 0144
Fax: 020 7435 8817
Click here for Local Map
Map courtesy of www.streetmap.co.uk
Kenwood House, Hampstead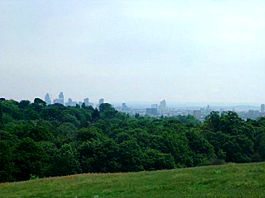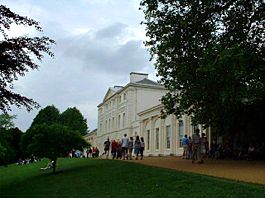 A pleasant walk across Hampstead Heath leads to the very grand looking house of Kenwood. This stunning house is of neo-classical appearance, the work of Robert Adam who in the Eighteenth century transformed it from a plain red brick house into the delightful villa as it stands today. It has a stucco façade painted a creamy white. Sited on high ground it affords pleasing views out across the Heath and from one high point near to the house there are magnificent views stretching out to the centre of the city of London.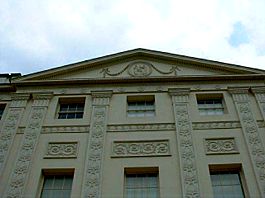 Inside this very fine house are some beautiful and elegant rooms designed by Robert Adam . In particular, one of Adam's finest rooms - a very fine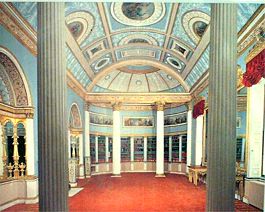 library in one of the side wings. This large room houses a collection of leather bound books and has a stunning barrel vaulted ceiling with the usual type of Robert Adam decoration. The typical colours of Robert Adam's palette, including pale blues and pinks give a delicate and light appearance.
This house is the home of the Iveagh bequest, a breathtaking collection of very fine works of art by some grand masters. There is the famous masterpiece of 'a portrait of an artist' by Rembrant; 'The Guitar player' by Verneer and many other masterpieces all hung in a rich and sumptuous setting.
As well as the fine collection of art, there are also some very fine items of furniture to be enjoyed, including an opulent set of gilt framed English furniture.
Upstairs there is an unusual exhibition of Eighteenth century shoe buckles. This is an amazing collection showing some buckles of steel, precious stones and paste. How elaborate many of them look and it is difficult to imagine that they were purely to decorate the shoes of the very rich. There is also a collection of exquisitely painted miniature portraits from the Eighteenth century.
The painting on the first floor of the house are from the 'Suffolk collection', this remarkable portrait exhibition covers a span of time from Jacobean through to the eighteenth century. A collection amassed by the Earls of Suffolk who commemorated family events through portraits.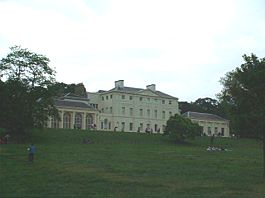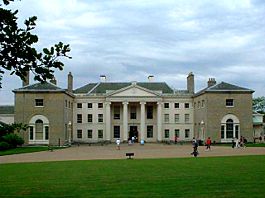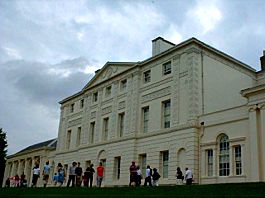 The pleasure grounds of Kenwood are a joy to explore and there is a very good restaurant attached to Kenwood in the old 'Brew House'. This can be very busy at times, but a very pleasant place in which to enjoy breakfast, lunch or an afternoon tea. There is an outside garden eating area which is delightful in the summer months.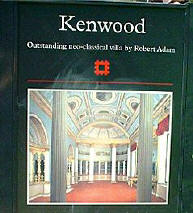 Kenwood House
Hampstead Lane
London NW3
Tel: 020 8348 1286
Click here for Local Map
Map courtesy of www.streetmap.co.uk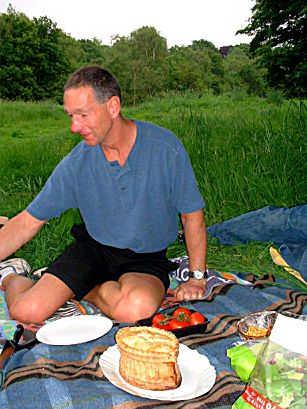 Alternatively, Hampstead Heath provides a popular place in which to enjoy a traditional picnic, which I was pleased to do on my day spent around the Heath.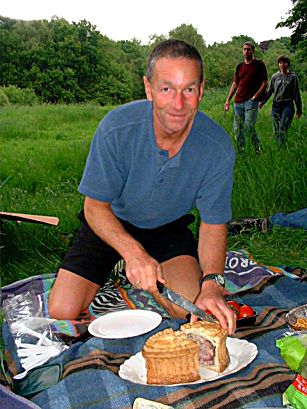 What a wonderful way to spend a summer's day on the outskirts of London and so easily accessible from central London.
---
To review past newsletters, just follow this link: Past newsletters.
To subscribe to this free newsletter - Click here
---
All information contained within any article on this website was considered to be accurate (as far as can be ascertained) at the time of writing. TeaAntiques.com Limited makes no warranty and accepts no liability regarding the accuracy of the content.
Copyright © 2000 - 2021 All rights reserved
TeaAntiques.com Limited. Company Incorporated in England No.: 5086843