Tea Clipper

from TeaAntiques.com

Edition

Thirty Five
Featured Antique-First Period Worcester Sucrier and Cover With Flower Finial, Blue and White 'Fence Pattern', c1780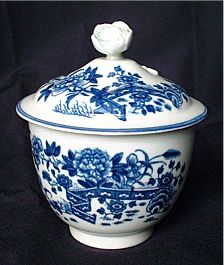 A delightful First Period Worcester sucrier and cover, decorated in blue and white with the charming 'fence' pattern. This beautiful sucrier and cover are of a pleasing shape and the lid is surmounted with a flower finial, c1780 and is a very fine example of their high quality blue and white printed decoration wares. Such wares are to be seen in the collection of fine blue and white Worcester porcelain in the collection at Godinton House, near Ashford in Kent. This beautiful house is reviewed in this edition of the Tea Clipper.
More details of this item and other tea related antiques can be found by visiting my web site at http://www.teaantiques.com.
Having driven passed Michelham Priory on a number of occasions, I was pleased to actually pay a visit and discover the delights that Michelham Priory has to offer. Situated near Hailsham, East Sussex, the Priory nestles behind the South Downs in a most tranquil and serene setting.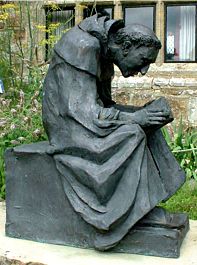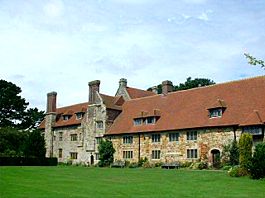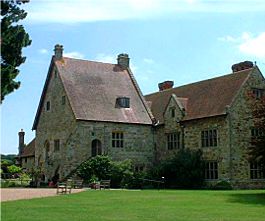 The old Priory dates from the early thirteenth century and was active until its dissolution in 1537. Originally there was a large church with cloisters. Sadly, the church and cloisters were destroyed during the dissolution, but the Priory itself remains, although much altered through the years into comfortable accommodation.
This beautiful Priory is situated on the bend in the River Cuckmere, indeed the name 'Michelham' means 'in the bend of the river'. It is surrounded by a mile long medieval moat, pleasantly calm and abundant with water lilies, its banks rich in waterside plants and wildlife.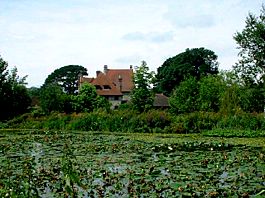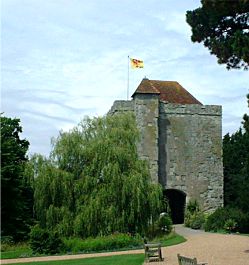 The moated island on which the Priory stands has a charming and very well maintained garden; these are reached by passing over a stone bridge and through the old gatehouse. The gatehouse is open to the public and has a small spiral stone staircase to access the rooms in the tower.
There is a 'Michelham nature trail' that leads the visitor round the moat walk and gardens highlighting the areas of special interest. The site and foundations of the church and other lost buildings are mapped out with stones to show the original layout of the whole Priory.
Inside this charming Priory there is a peaceful air and some of the rooms are furnished much as they might have been in their day. The Dining Room is set with a large refectory table upon which are some food fayre that would have been eaten then including 'knot biscuits', Jumbles and meat pies. In a Sitting Room there is a nineteenth century 'Tunbridge ware' tea caddy, with two tea compartments and central mixing bowl. The lid of the caddy is inlaid with a picture of the Priory's gate house making it a fitting thing to remain in the priory. Tunbridge ware uses tiny pieces of wood to produce inlaid mosaic and picture designs in small objects such as tea caddies, boxes, etc.
Upstairs, I noticed a cabinet in which there was a Spode 'Imari' part teaset, pattern number 2214. This was identified in the cabinet as being from the late nineteenth century, this I feel was a mistake and I believe this to date from the early part of the nineteenth century c1810-20.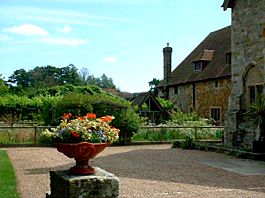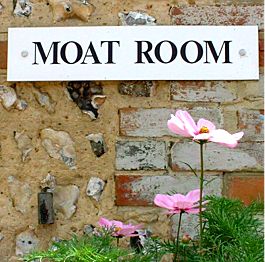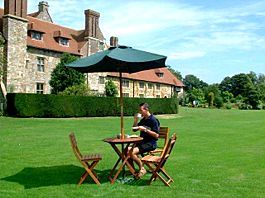 Michelham Priory is a perfect place in which to enjoy an afternoon tea, in a perfectly tranquil setting. In the old barn buildings is a very good restaurant for home made cakes and other food. I was intrigued by a Battenberg cake, not the usual pink and yellow chequered sponge, but of a chocolate and vanilla sponge construction. I just had to try this unusual variation of the traditional Battenberg.
It was a pleasure to be able to enjoy my tea sat at wooden garden furniture with green parasols on the expansive lawns of the Priory. There could be no better setting to enjoy a very peaceful afternoon tea. The chocolate and vanilla Battenberg cake was very good, its flavour of chocolate and vanilla a perfect combination, the whole wrapped in rich marzipan.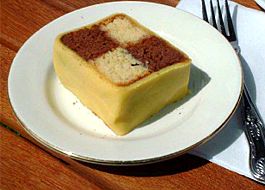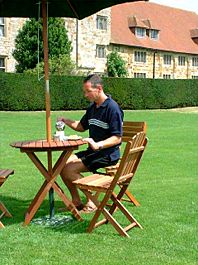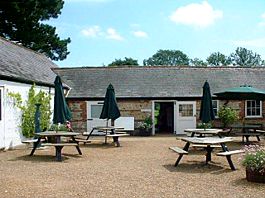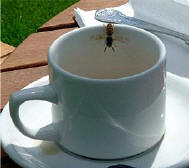 Being late summer, the population of wasps were out in force, they seemed to have been drawn to the Earl Grey tea that I was enjoying, so do wasps have a preference for this wonderfully aromatic blend of tea too?
Certainly, I would recommend a visit to this tranquil Priory, its delightful grounds, nature trail and most of all the perfect setting in which to enjoy a wonderful afternoon tea with home-made cakes.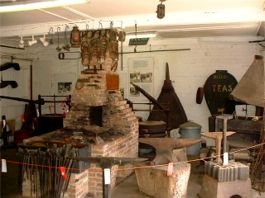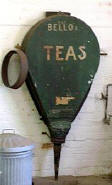 Apart from the Priory itself, the beautiful gardens and the tea room, there is also an old Forge museum, Water Mill and Bakery. In the Forge museum I spotted a large pair of Forge bellows, painted as a sign for a tea shop, a novel use of some old bellows!
Michelham Priory
Upper Dicker
Hailsham
BN27 3QS
Tel: 01323-844224
Website: www.sussexpast.co.uk
Click here for Local Map
Map courtesy of www.streetmap.co.uk
Earlier in the summer, I was fortunate to have been taken to a beautiful house and gardens by good friends of mine in Kent. The house is Godinton, near Ashford in Kent. This was to be a treat, a house to which I had never been and one that, I was to discover, houses a stunning collection of English, European, Chinese and Japanese porcelain from the eighteenth century.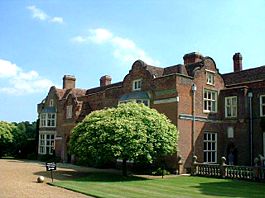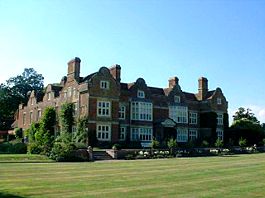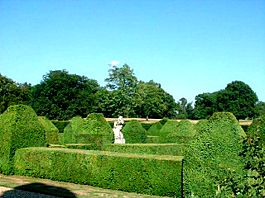 The house is approached through pleasant parkland and the house itself sits pretty as a picture, constructed from mellow red brick, it has a distinctive outline of 'Dutch' style gables and an attractively tiled roof. Set in beautiful gardens, with clipped and shaped yew hedging around it gives the visitor an impression of a country home rather than a grand stately home of grand proportions.
This delightful house has origins from the Medieval period which have been added to by generations of the Toke family and its later owners. The house was lived in until 1996 by Major Alan Wyndham Green. Unmarried and with no heirs, he decided to leave Godinton in the hands of a charitable trust, who today maintain this wonderful house and its gardens to be enjoyed by the public. The trust certainly is doing a capital job in maintaining the house and gardens and give very informative guided tours of the house and its contents.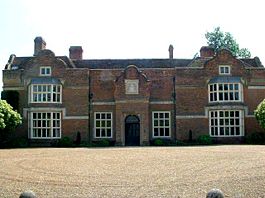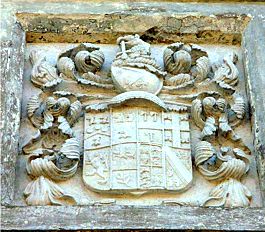 The North front of the house contains the original medieval hall, built by the de Godynton family in the 14th century. Subsequent owners have then added to this hall bit by bit to create the house that we see today. Inside the house the old timber framed construction of the early parts of the house can still be seen, especially in the Great Hall.
Entering the house and taking the guided tour, the first room to be visited is the Dining Room. This room has the appearance of a dark wood panelled room, but the panelling is false in that it a painted effect, painted onto the plaster walls. The furniture in the room reflects the elegant living from around the late eighteenth century. There is a fine William IV dining table in the centre of the room on which are some exquisite pieces of Georgian and earlier silver. Items include George III pierced and glass lined sugar baskets, silver sweetmeat dishes as well as much earlier two handled porringers from the reign of James I. A fine set of Grainger Worcester dessert plates, c1815 are displayed on the table, each painted with different botanical flowers and having an apple green ground border. Surrounding the dining table is a very fine set of carver dining chairs ordered by John Toke from the London cabinet maker Robert Mainwaring in 1770. It is unusual for each of the chairs to be a carver with its two arms, it is more usual to have a set of chairs with only two carver chairs for each end of the table. These dining chairs are in the style of Chinese Chippendale and date from the mid-eighteenth century. Each chair has a complete fret work 'latticed' back, carved from single sheets of timber.
To one end of the dining room is a Sheraton style side board, upon which is some fine silverware. One piece that caught my eye was a beautiful silver tea kettle and stand – complete with its burner underneath. Then, at the other end of the dining room a handsome side table on which stood a silver tea urn, later in date than the tea kettle.
There is a carved fireplace made of a local stone 'Bethersden marble' in which there are the fossilised remains of snails. Around the walls of this room are many fine family portraits.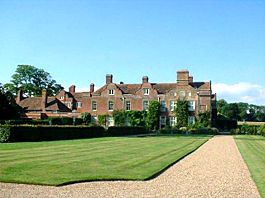 From the comfortable looking Dining Room the visitor is led to the Great Hall, the original medieval part of the house it still contains much of its early wood frame and carved wood decoration. It has had a false ceiling added, the original still in place above. Originally, this room would have had a central fire burning in the open in the middle of the room, the smoke leaving through a hole in the centre of the roof. Now it has a fireplace to one side. It contains some 17th century furniture, some original Toke family pieces amongst them.
An unusual item is a large carved wood key, gilded, which originally hung above the outside entrance to welcome guests to Godinton, now it hangs above the door, but on the inside for protection.
Beyond the Great Hall at one end is the Parlour, or Priest's room. This contains a grand piano on which the famous singer Noel Coward would play and entertain guests at the house when he was staying here with his host and friend. In the far corner of this room is a small hidden staircase which takes you up to the Gallery Room. This daintily decorated and furnished room is sometimes referred to as the 'needlework room' as it contains some very fine framed examples of eighteenth century needlework. The room is furnished with some beautiful pieces of gilt framed French furniture, including open arm chairs in French Louis XV style, but dating from the early Victorian period. There is a delightful escritoire and bonheur du jour, 1755 in satinwood and a gilt and ormolu bracket clock, from Paris.
The thing that attracted me in this pretty room was a stunning tea set of eighteenth century Sèvres, with its light sky blue and gilt ground with exquisite floral decoration.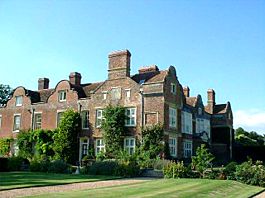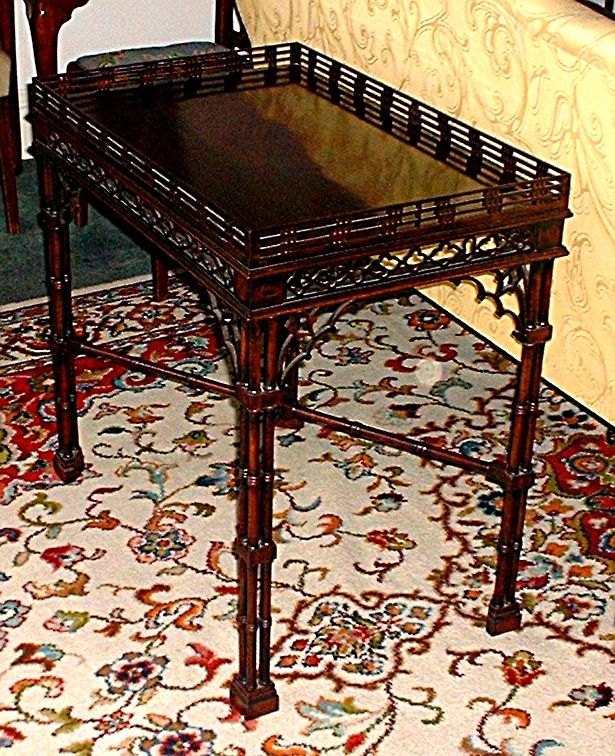 In the next room, the Great Chamber, my excitement grew when I saw the wonderful collection of porcelain unfold. This large room, comfortably furnished with winged armchairs, Chinese Chippendale style furniture as well as earlier 17th century cabinets housed some wonderful treasures. The Chinese Chippendale furniture included tables with fret galleried tops, referred to as 'Silver Tables' and can be seen illustrated in Chippendale's furniture directory, this one shown is similar and from my own collection.
There was a Meissen teaset that took my attention straight away. An eighteenth century lady's travelling service, complete with its original leather travelling box. This amazing and rare hand painted service from the 'Academic period', comprised a teapot, two cups and saucers, covered milk jug and sugar bowl, miniature tea canister, teaspoon and most unusual of all a porcelain tea urn! This tea urn, the like of which I have never seen before, ovoid in shape and standing on three porcelain bracket feet, had an ormolu spout and tap for the lady to top up her tiny teapot with hot water as required. The set was in remarkable condition and decorated with puce coloured painted scenes.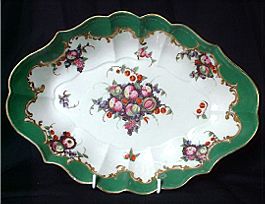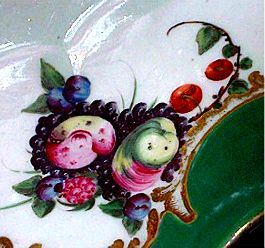 The cabinet in which the Meissen travelling teaset is displayed also contains some very important English eighteenth century porcelain, including Derby figures c1760, pierced chestnut baskets and a few items of early Worcester. There was a delightful First Period Worcester cup and saucer, pea green ground and painted by the Worcester 'spotted fruit painter' with fruits and flowers. The example shown here is of a similar decorated desert dish from a private collection.
As if this collection of porcelain so far were not enough, after passing through Mr Wyndham's Green Bedroom and then back down stairs via a magnificent carved staircase created for captain Nicholas Toke in 1628 and into the First Library, there was much more in store.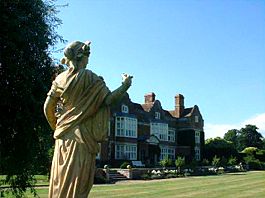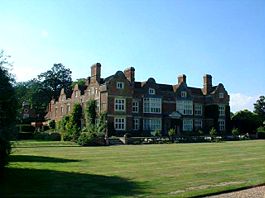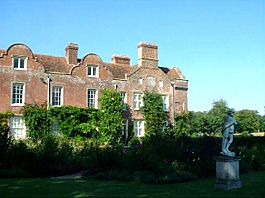 The First Library has a carved chimney piece and friezes that date from 1631; the wood panelling was painted white in the 1920's to create a much lighter feel to this room. There is a good set of English 'Gainsborough' open arm chairs in the room, c1760. A number of Dutch marquetry pieces of furniture stand in the room, including a beautiful pair of Dutch side chairs with inlaid floral designs. In cabinets on either side of the windows were shelf upon shelf of Worcester porcelain, mainly of the blue and white transfer printed period, 1770-90. These items are similar to those below, taken from my own current or past antique stock.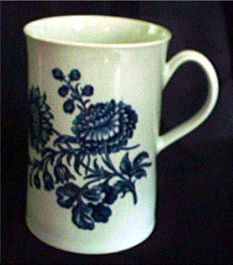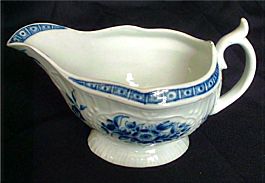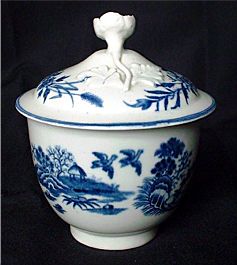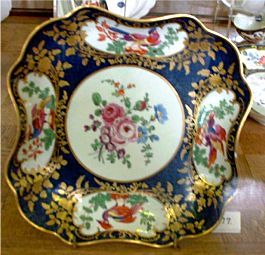 The Second Library housed an even more impressive collection of Worcester porcelain! In a fine Sheraton-style glass fronted cabinet from c1890 is some of the collection put together by Lord Doverdale, his daughter and grandson over many years. The cabinet holds many pieces of Worcester blue gros blue scale ground pieces. Here, there are tea sets, with teapots, spoon trays, cups and saucers, sugar bowls, milk jugs, and teapot stands. Many of these were hand painted with colourful exotic birds of the 'dishevelled bird' pattern and dating from c1760s. The dessert dish shown on the right c1770-72, is similar in decoration and is in the Ashmolean museum, Oxford.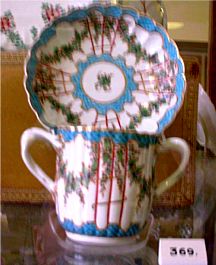 A rather appropriate pattern of Worchester's to find in a house in Kent is the 'Hop and Trellis' pattern, Kent being the home of the Hop fields. There were several such cups and saucers in the collection at Godinton. The example of the 'hop & trellis' pattern shown here on a cup and saucer c1775 is in the Ashmolean museum, Oxford.
Another teaset was of the Queen Charlotte' or 'Catherine Wheel' pattern with its underglaze blue decoration, with over glaze red and gold decoration, c1760-70.
Passing through the Chinese Room, decorated with hand painted wall paper and furnished with lacquered furniture, housing some fine Chinese porcelain from the seventeenth to nineteenth centuries, we enter the White Drawing room.
The White Drawing room is a very light and comfortable room and houses another collection of eighteenth and nineteenth century porcelain. On the mantelpiece is a pair of floral decorated Rockingham vases, c1830. In a cabinet are more blue and white pieces of Worcester porcelain c1770-90, including items such as a butter dish and cover, cylindrical mustard pot and cover and many more. I did notice a tea bowl and saucer of the fisherman and cormorant pattern which I think has been wrongly attributed to being Worcester, I believe it to be Caughley, as the print showed a 'straight' fishing line rather than a 'wiggly line' associated with Worcester.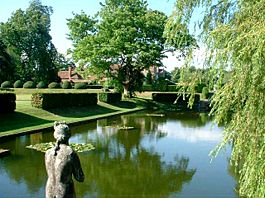 An amazing collection of very fine porcelain displayed in a wonderful house. What more could one wish to see?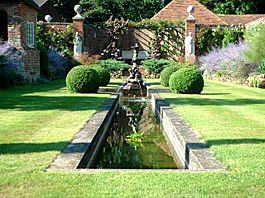 But, in addition, there are the delights of the gardens to be enjoyed as well and the quiet tea rooms located in one end of the house.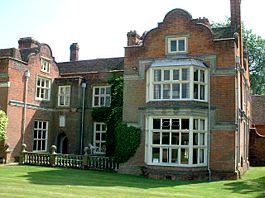 The tea room is very neatly laid out and a pleasant place to take tea. It is housed in one of the domestic rooms of a nineteenth century extension to the house with a large bay window at the far end.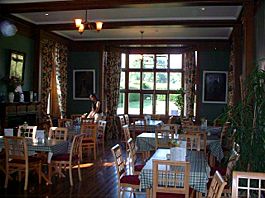 Unfortunately, the choice of food is rather limited, but service is good and I recommend that it is worth taking time there for tea with a slice of their Victoria sandwich sponge cake or Fruit cake.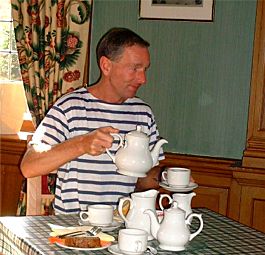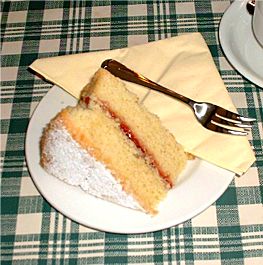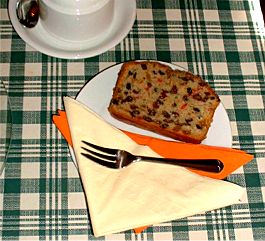 It was nice to see the china on display in a cabinet to one end of the tearoom. This display included a pretty Sèvres teaset, chamber pots, china bathroom sets and on the top of the cabinet, some fine copper cooking utensils.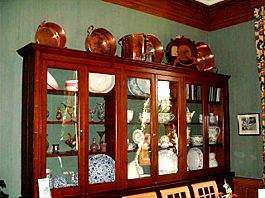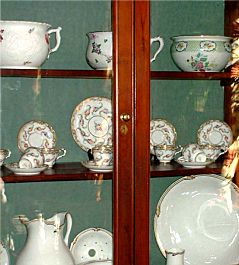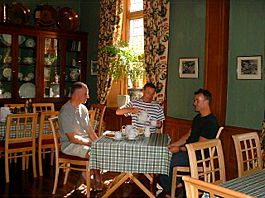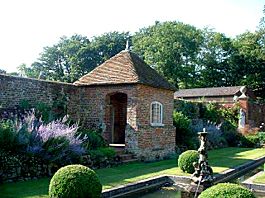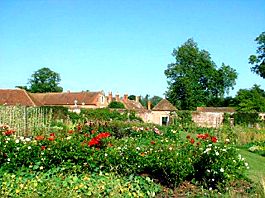 A wander round the gardens, which affords good views of the house too are a wonderful way to conclude the visit. A lot of care is being put into this attractive garden and some new planting of hedges and shrubs that will I believe look stunning as they mature. The Old Walled Garden now grows vegetables and plants, some of which are sold there and at the house. I came away with a bag of yellow and green courgettes continuing my enjoyment of me time spent at Godinton to my dinner table in the evening. A wonderful house and garden, one that I would strongly recommend to be visited and I am sure, greatly enjoyed.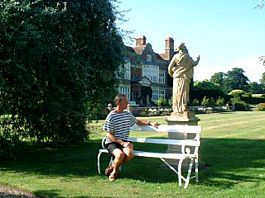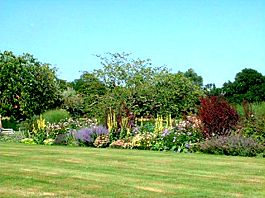 Godinton House
Godinton Lane
Ashford
TN23 3BP
Tel: 01233 632652
Fax: 01233 647351
Website: http://www.godinton-house-gardens.co.uk


Click here for Local Map
Map courtesy of www.streetmap.co.uk
---
To review past newsletters, just follow this link: Past newsletters.
To subscribe to this free newsletter - Click here
---
All information contained within any article on this website was considered to be accurate (as far as can be ascertained) at the time of writing. TeaAntiques.com Limited makes no warranty and accepts no liability regarding the accuracy of the content.
Copyright © 2000 - 2021 All rights reserved
TeaAntiques.com Limited. Company Incorporated in England No.: 5086843