Tea Clipper

from TeaAntiques.com

Edition

Thirty Six
Featured Antique-First Period Worcester Blue & White 'Fence Pattern', Jug & Cover with Flower Finial, c1775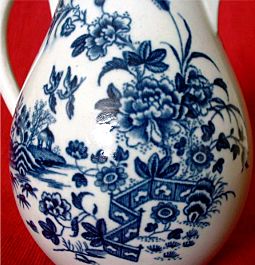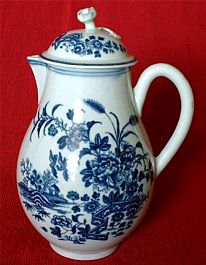 A delightful First Period Worcester jug and cover, decorated in blue and white with the charming 'fence' pattern. This beautiful jug and cover are of a pleasing shape and the lid is surmounted with a flower finial, c1775. It is is a very fine example of Worcester's high quality blue and white printed decorated wares.
The jug has the fence pattern in blue printed on both sides of its body. The 'Fence Pattern' as this pattern is known, was a popular one at the Worcester factory and gets its name from the fence which appears in this print on the jug and cover. The fence is surrounded by pretty flowers and foliage. This decoration is beautifully detailed and provides a charming scene.
More details of this item and other tea related antiques can be found by visiting my web site at www.TeaAntiques.com.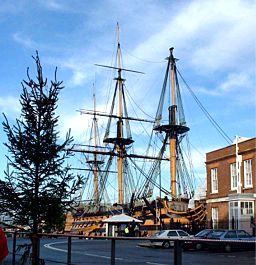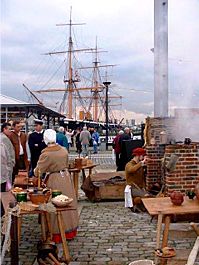 Although only November, I thought that I would share with you the Portsmouth 'Festival of Christmas', a fun few days when the historic Naval museum in Portsmouth's famous historic dockyard is transformed into a lively celebration of Christmas past. The festival takes place each year at the end of November, so reviewing it now gives time for anybody who may be lucky enough to attend to do so. This year the festival runs from 27th-30th November and I for one will be going along.
A ticket to this festival has the added bonus that it then gives free admission to all the attractions within the historic dockyard. These attractions include Lord Nelson's flag ship HMS Victory famed for the Battle of Trafalgar in 1805; the Tudor remains of the Mary Rose, Henry VIII's fated ship that sank as he reviewed it leaving the harbour and HMS Warrior, one of the first iron clad warship. There are also some excellent Naval museums where are displays of Nelson memorabilia, artefacts rescued from the wreck of the Mary Rose and many items relating to the history of the Royal Navy in Portsmouth. Portsmouth was, until recently, the largest Naval dockyard in the world. The first dockyard in Portsmouth was ordered to be built by Richard the Lionheart in 1194 and his brother King John, had a 'good stout wall' built round it to defend it. the importance of the dockyard was seen through the interest of following monarchs. King Henry VIII had the very first ever dry dock built there which gave Portsmouth the leading edge over the world and allowed him to have his fleet built in Portsmouth. King Charles II then made it the home of the Royal Navy where it has since become a thriving Naval port.
The cup and saucer below show the type of memorabilia produced after the Battle of Trafalgar, this cup and saucer is on display at the British museum and shows the arms of Nelson and Brontė - his wife. It was produced at the Coalport factory c1810 and has a border of green English Oak leaves and acorns.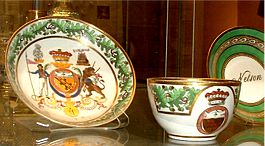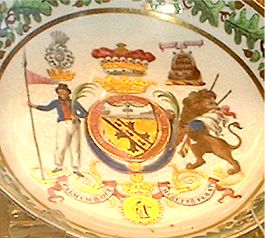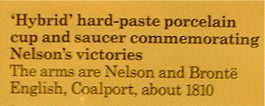 In addition to all these usual attractions of the dockyard, the Festival of Christmas provides a fun - packed day with live entertainment from scenes of Christmas past and long past, choral singers performing favourite Christmas Carols, street entertainers, fairground rides, craft fairs, French market and much much more besides.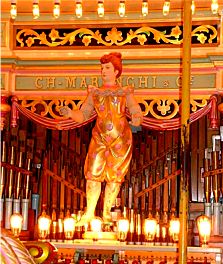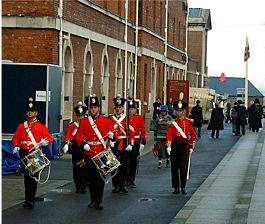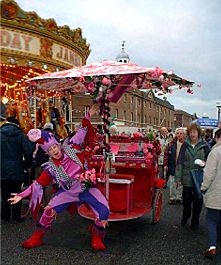 The historic dockyard has some of the earliest ship dry docks in the world and some very handsome eighteenth century brick buildings. HMS Victory, still the flag ship of today's Royal Navy, sits in one of the early dry docks and never ceases to impress me every time I see it. Its great hull, painted in brown and black, with cannon protruding through the ports, tall masts and miles upon mile of rigging.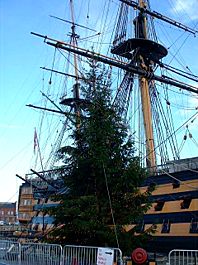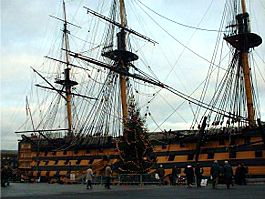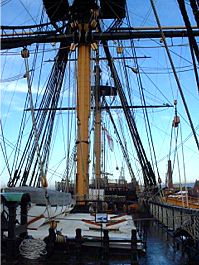 The Festival of Christmas is a perfect way in which to kick of the festive season and to get into the spirit of Christmas. This is helped by the entertainers in costume who parade around in costume, including some of historic heroes such as Lord Nelson and Lady Hamilton, the captain of the HMS Warrior, King Henry VIII as well as the fictitious characters of Charles Dickens's Victorian novels. With Charles Dickens's birthplace being Portsmouth, what better place to bring his characters back to life. Characters such as Oliver Twist, the poor young orphan wretch who was taught a life of crime and how to pick-pocket buy Fagin and his bunch of boys. A favourite Dickens character of mine is also to be seen-Mrs Gamp, the drunken wet nurse from his book Martin Chuzzelwit.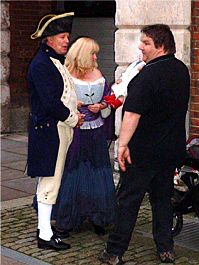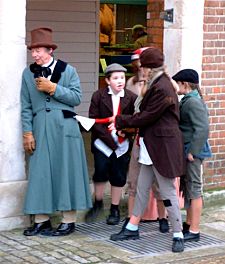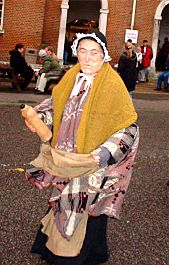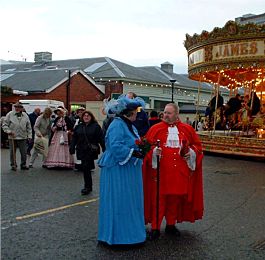 Another familiar face from Dickens novels Mr Bumble, the Beadle from Oliver Twist. Here dressed in his large red cloak and breeches.
The fair ground rides are always a favourite with young children (myself include!), the 'old merry-go-round' with its brightly painted wooden horses, bright lights and the beautiful organ bellowing out such fine and jolly tunes as the merry-go-round turns round to the delight of all those aboard.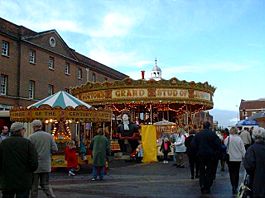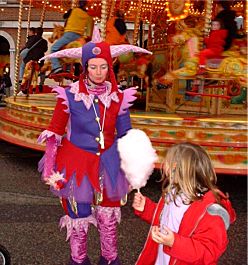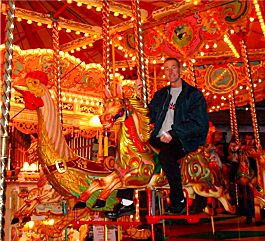 The idea of the street entertainers is to also bring a look at what Christmas might have been like in the past in Portsmouth. This includes these refugees from the second world war, making the most of what possessions they may still have after their houses have been destroyed by bombs. Portsmouth with its Naval dockyard was a prime enemy target and the city was heavily bombed and damaged, so such scenes would have been common place.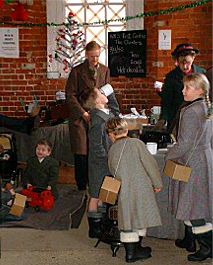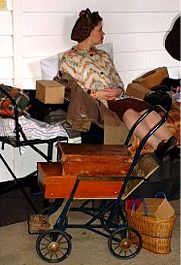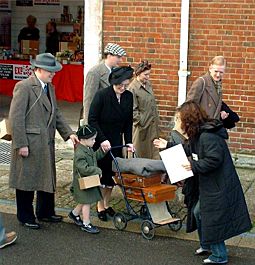 Passing back further into the past, there is a replica of the galley fire that would have been familiar onboard the Tudor Mary Rose ship. This replica is a working model and demonstration of Tudor cooking. The costumed galley staff wear typical Tudor clothes and are happy to inform visitors of their live in the Tudor kitchens-especially the cramped conditions aboard the Mary Rose.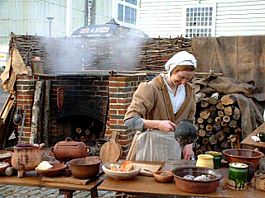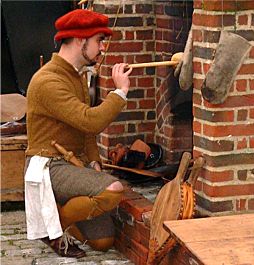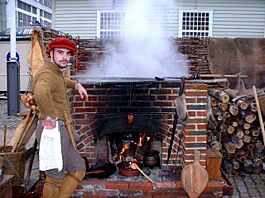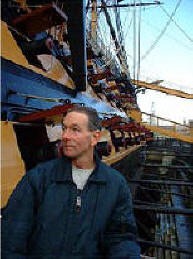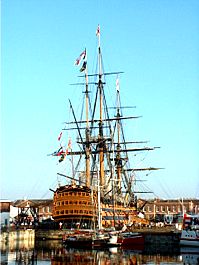 Do not miss the chance of going round HMS Victory, a magnificent warship built in the eighteenth century, but famed for the Victory at the Battle of Trafalgar under the guidance of Admiral Lord Nelson.
HMS Victory launched in Chatham in 1765, at the time of the battle of Trafalgar was already forty years old.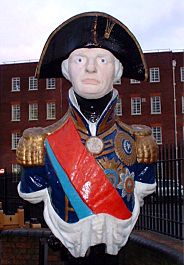 Admiral Lord Nelson headed the fleet at the Battle of Trafalgar on board the flag ship HMS Victory, now one of the world's most famous warships, which is still in commission. The battle was won by Nelson on 21st October, 1805. Nelson's fleet totally defeated the combined fleets of France and Spain without the loss of a single English ship. However, Nelson was himself killed during the battle by a single gunshot wound fired from an enemy sailor in the rigging of a ship locked in battle with the Victory. Nelson was to become a national hero and deeply mourned by the country after his death.
Nelson had fought in many sea battles; at this time England was in great tension with other countries. The fall of the French monarchy and the French revolution; American war of Independence and the up rise of Napoleon kept England and Nelson on his toes.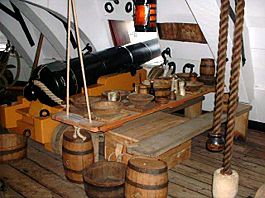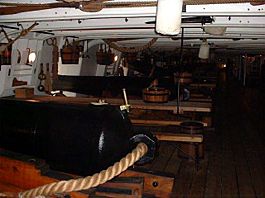 This magnificent ship is a monument to Nelson and shows clearly what life was like onboard in 1805. Entering the ship you set foot into one of the gun decks. HMS Victory was well armed with cannon on three main decks as well as further cannon power on the upper deck, quarter deck and forecastle. The ship's crew would have spent much of their time confined to these gun decks, sleeping and living between the cannon. A galley table hangs between cannon for the mess meals and hammocks would be suspended from the ceiling at night to rest. Should a member of crew die, he was buried at sea, wrapped in his hammock.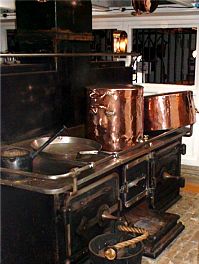 The ship's meals were cooked on board in the ship's galley kitchen, where there is a stove-rather a risk on a wooden ship filled with gun powder. Life for the crew must have been very hard and I do not suppose there would have been much Christmas cheer amongst them.
In contrast to the life of the crew on the gun decks, the accommodation and life for the serving officers on board would have been much more pleasant. The Captain and officers would take some of their own furniture and possessions with them to make their time on board more agreeable.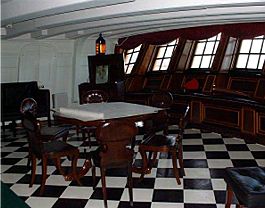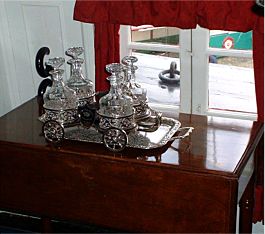 Lord Nelson's day cabin shows the more refined life that he enjoyed at sea. The beautifully appointed painted panelled room with its quality mahogany furniture. Behind the panels were storage areas and furniture would be stored behind them during periods of battle. A fine silver Port trolley sits upon a mahogany Pembroke table; it is easy to imagine a dinner for the officers with battle tactics being discussed over a glass or two of Port at the end of a meal.
On the Quarter deck is a plaque showing the spot where Nelson fell after he tragically shot and later died, by a bullet fired from a rifle in the rigging of the ship in which it was engaged in battle. Nelson's body was put in a barrel of rum to preserve it for the journey back to England for a state funeral.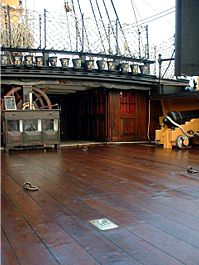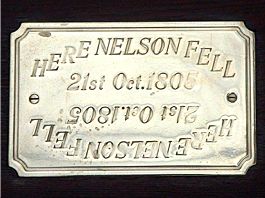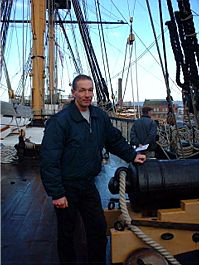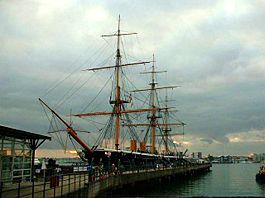 Moving to one of the world's first iron clad warship, HMS Warrior built in 1859-60, launched on 29th December 1860. It was to become the biggest and fastest ship of this period. This graceful ship was powered by steam as well as the conventional sail. There is much for the visitor to enjoy on this ship. I found the officers' rooms to be particularly agreeable. The Captain and his officers had very comfortable quarters and for the first time given full head room. As a third rate frigate, which was officially what she was, she would normally house a crew of 300. However, on her first commission, she had a crew of 705. This comprised 42 officers, 3 warrant officers and 455 seamen; 3 Royal Marine officers, 6 Royal Marine non-commissioned officers and 118 Royal Marine artillerymen; 2 chief engineers, 10 engineers and 66 stokers and trimmers.
The ward room has a very elegant dining table laid for dinner, a starched white table cloth upon which is the white and blue ship's porcelain and silver plated cutlery.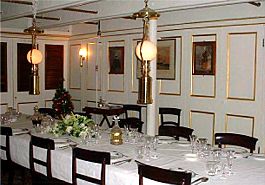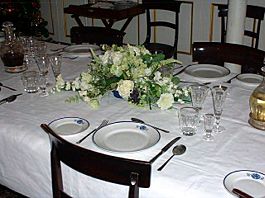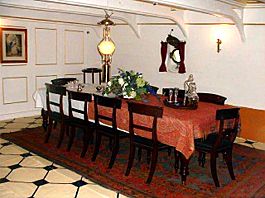 I was delighted to see in the captain's cabin a Rosewood circular table on which was a Victorian wooden tea caddy and a cup and saucer. Clearly home comforts were very much enjoyed by these officers and it is gratifying to know that afternoon tea would have been amongst their pleasures.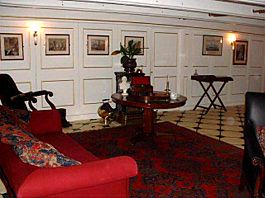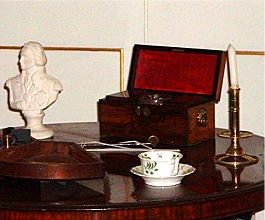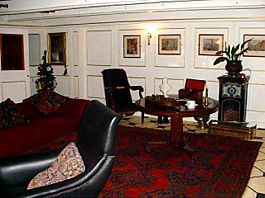 During the time spent in the Festival of Christmas, it was a relief to have a tea caravan selling tea, not in the best of quality porcelain, but a welcome and warming break!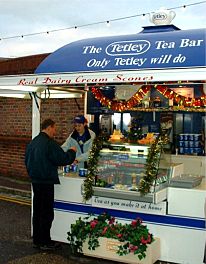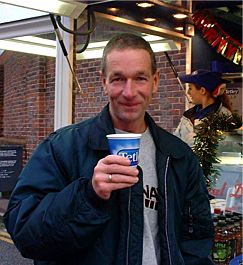 As the light fades, the Christmas lights around the dockyard on buildings and on traditional Christmas trees come into their own, creating a wonderful Christmas atmosphere. The smell of hot roast Chestnuts, roasting meats give a sense of warmth and comfort.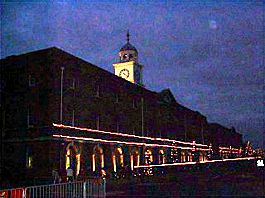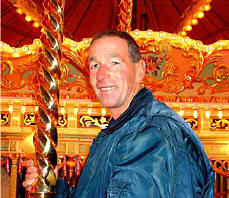 A long day, but one that is both entertaining and good value, a day to be recommended.
'A Festival of Christmas'
Portsmouth Historic Dockyard
HM Naval Base
Portsmouth
PO1 3LJ
www.historicdockyard.co.uk
Ticket Line (9-5PM): 023 9286 1533
24hour Fastrack booking on www.christmasfestival.co.uk
Click here for Local Map of main entrance to Dockyard.
Map courtesy of www.streetmap.co.uk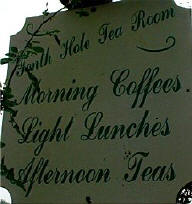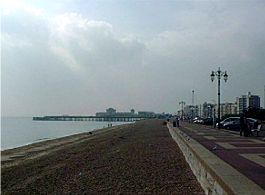 After the joys of the Festival of Christmas, I recommend a tucked away treasure, an unlikely place for a good afternoon tea. I refer to Southsea Golf Links-'Tenth Hole Tea Room' in the old 1930's club house on the Seafront of Portsmouth & Southsea. With the historic dockyard set at the West side of Portsmouth seafront, the 'Tenth Hole Tea Room' is set along the seafront towards the East, not more than a 10 minute drive from the dockyard.
The golf club is in fact a 'pitch and put' course, still active as a course and the club house still operates as the club house to the golf course. However, it also functions as home to a rather good tea room - as I discovered.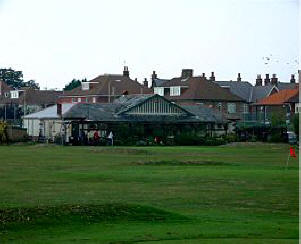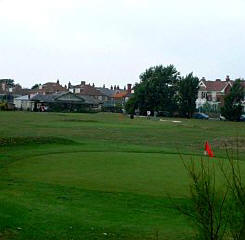 This end of Southsea seafront is the quieter end, with 1920's and later housing facing out to sea, between which is the 'pitch and put' course and club house. The club house, dating from the early 1900's, provides an excellent space in which to have inside tables and also has a narrow terrace for tables outside from where you can sit and relax with tea, take in the sea air and watch the golfers.
This tea room had been recommended to me by friends, so I thought it was a good time to try it, with the Festival of Christmas in the same town. I certainly was not disappointed by the recommendation. Inside, I could not believe the choice of food and cakes. The cakes piled into two display cabinets with a some delicious and unusual cakes and Tortes to behold. The cakes are not homemade on the premises, but I was informed supplied by two very good bakers, farm house bakeries and also from and Italian supplier for the rather delectable looking Tortes.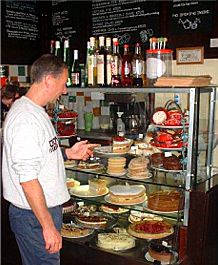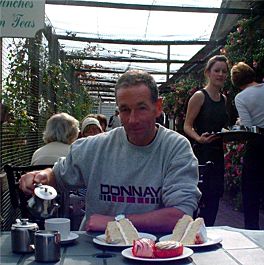 The choice of cakes made it very difficult to decide which to try. In the end I thought I would be rather greedy and try four cakes! These were the Elderflower and Gooseberry sponge; Strawberry jam sponge topped with fresh Redcurrants; a French fancy with pink fondant icing and an all time favourite of mine a Viennese whirl!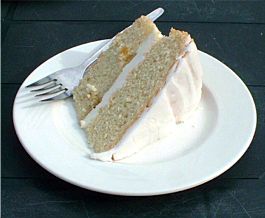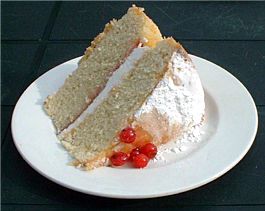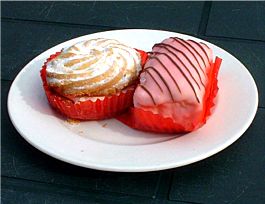 The choice of tea for this tucked away tea room was also surprising. The range of tea was very good-including Tisanes (fruit type teas) too. I plumped for the Lady Grey blend of Twining's, a light and rose scented tea, ideal with light sponge cakes.
The cakes were very good and a large size too. The Elderflower and Gooseberry was a delightful combination of light refreshing flavours and not a cake that I see much of. The others again were very pleasant (and filling-maybe I should not have gone for four, or followed them with a brisk round on the pitch & put!)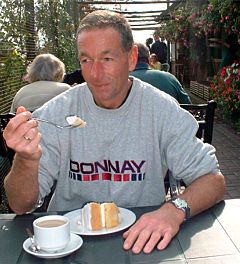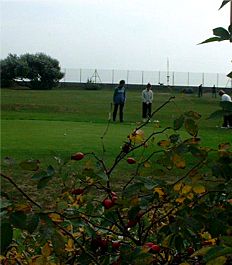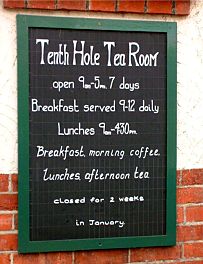 As well as the choice of cakes there looked to be some fantastic hot meals emerging from their kitchen. Seeing how busy the Tenth Hole Tea Room gets, especially being at the quiet end of the seafront, I think that it certainly has a very good reputation with its customers.

Being in my home town, it is a tea room that I will frequent on many more occasions and I hope that you too may get an opportunity too one day.

'Tenth Hole Tea Rooms'
Southsea Golf Links
Eastern Parade
Southsea, PO4 9RF
Tel: +44 (0) 23 9283 0009


Click here for Local Map
Map courtesy of www.streetmap.co.uk
---
To review past newsletters, just follow this link: Past newsletters.
To subscribe to this free newsletter - Click here
---
All information contained within any article on this website was considered to be accurate (as far as can be ascertained) at the time of writing. TeaAntiques.com Limited makes no warranty and accepts no liability regarding the accuracy of the content.
Copyright © 2000 - 2021 All rights reserved
TeaAntiques.com Limited. Company Incorporated in England No.: 5086843