Tea Clipper

from TeaAntiques.com

Edition

Thirty Seven
Featured Antique - Staffordshire Pearlware Cylindrical Tea Canister, Printed with Blue 'Oriental scenes', c1795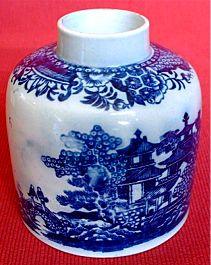 A charming 'Pearlware' tea canister, printed with blue oriental scenes including two men on a bridge, made in Staffordshire, c1795.
This delightful tea canister is of a cylindrical shape, with rounded shoulders and having a cylindrical neck. It is beautifully decorated with blue prints of oriental scenes.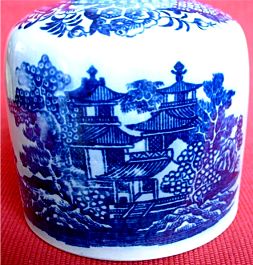 These scenes include temples, trees, islands as well as the two men crossing the oriental bridge in the foreground. These scenes are beautifully executed and of a rich deep blue colour.
There are no manufacturer's marks to this tea canister, but is of Pearlware and would have been made in the Staffordshire area of England, c1795.
More details of this item and other tea related antiques can be found by visiting my web site at www.TeaAntiques.com.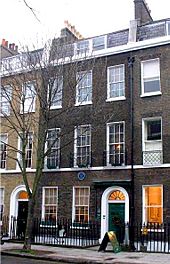 To get you in the festive spirit, what better place to visit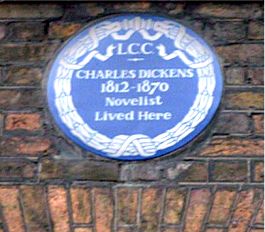 this year than the Dickens House in Doughty Street, London. Charles Dickens lived and worked with his wife and family in this house. Here he wrote many of his famous works and entertained his friends. At Christmas, the house, which is now a museum, is decorated to display the 'Dickensian ideals' of Christmas past. Ideals with which Charles Dickens would have been familiar and whose great literary works helped to spread these ideals, some of which remain the basis for today's Christmas celebrations.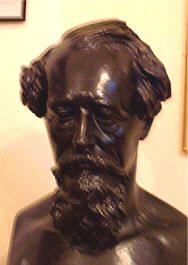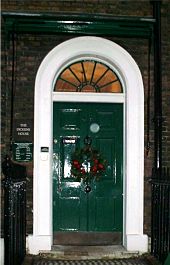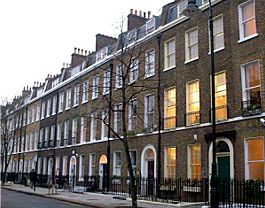 The house in Doughty Street is in a Georgian terrace of stiff looking houses, each with the accommodation spread over five or six stories. Dickens house has a circular blue plaque on the wall commemorating the time when Charles Dickens lived within the house. The house is entered through a green front door, above which is a fan light, this allowing lighting into the narrow hall and stairs. At Christmas, the door is hung with a traditional wreath of winter greenery such as holly.
Inside the house, there is a shop at the rear of the hall from where to buy your ticket to look round the house. The shop also sells Dickens souvenirs and books; maybe the Christmas present for which you are looking?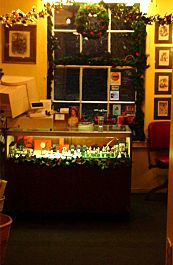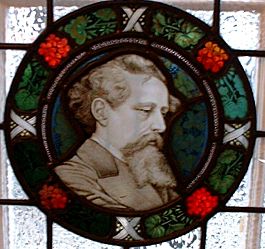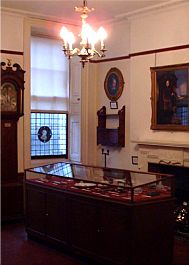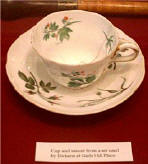 The ground floor has two rooms to view; at the front is the old dining room, now a display area. In the room are some of Charles Dickens's own belongings, including this cup and saucer from his later house at Gads Hill, Kent. It is no wonder that the cup and saucer are decorated with geranium flowers, this was Charles Dickens's favourite flower and he would often wear one in his coat lapel.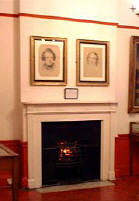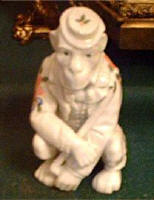 In the room behind the dining room are more display cabinets with some of his letters and personal items. Here sits the little 'Bow' porcelain monkey; it was this little monkey that constantly sat upon Charles Dickens's desk. I wonder how many times the monkey heard the stories as Charles wrote them?
From the ground floor, the visitor climbs the narrow stairs to the grander first floor. It is on this floor at the front of the house, where the all-important drawing room is located. In this, the grandest of the rooms in the town house, he would have entertained his family and friends, especially at Christmas time. During the Victorian period the Christmas traditions were growing in popularity, aided by the stories such as Christmas Carol' that he wrote and which still excite children today.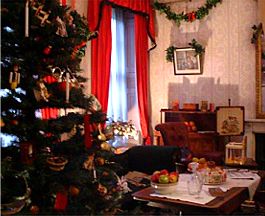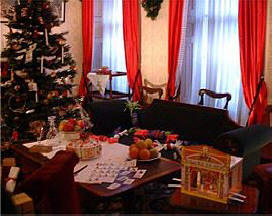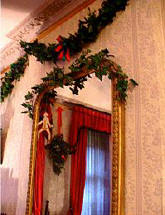 In the drawing room, we can see that houses at this period, between the 1830's and 1840's, would have been hung round with greenery from the country. Hawkers would come round the streets of London selling greenery with which to decorate the houses. Paper chains and steamers were not known to them.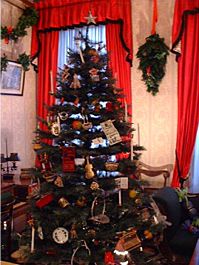 A Christmas tree stands in the room decorated with small toys and baskets containing sweets. Charles may not have had a Christmas tree during his time at Doughty Street as the Christmas tree had still not become a common feature in houses yet. Certainly later in life, Charles would have had a pretty tree to decorate his house to delight his children. He wrote an essay on the Christmas tree in Household Words in 1850. The tree displayed in this room is decorated much as Dickens had described the Christmas tree.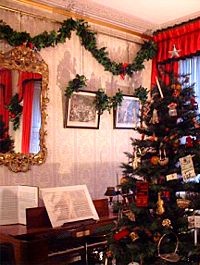 A square piano sits at one end of the room, this would have provided wonderful Christmas entertainment, all sat around joining in the songs and ballads. There would not have been many of the Christmas carols that we know today, but some do originate from this period. Such songs as 'God rest ye merry, gentlemen' would certainly been amongst the favourites sung. At this period there were a few religious songs sung like 'While Sheppard's watched their flocks'. Illustrated song sheets were 'cheaply' printed and sold around the streets.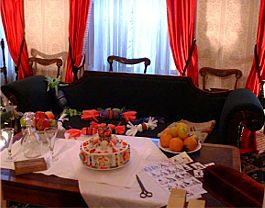 Upon the table in front of the Victorian settee is a twelfth night cake. Originally, this was eaten at the twelfth night party and Charles Dickens would be familiar with such a cake and party. The cake contained a dried bean and a pea, who ever had the bean in their cake became 'king' for the evening,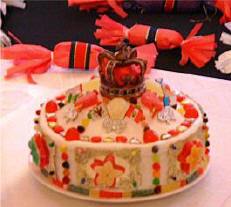 and the one with the 'pea' a queen. Originally, this cake would have been eaten by everybody, including servants, thus even a servant, if lucky, could become 'King' for the evening and all the other guests would have to treat him as such.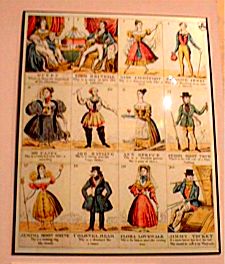 However, by this Victorian period the dried bean and pea were no longer used, instead cards were printed and sold that contained characters of the 'King' and 'Queen' as well as other colourful characters, like Mr Grumpy or Miss Flighty! These cards would be shuffled and drawn by each guest; you had to act out for the evening based on whichever character you drew. Therefore, as the cake no longer contained the bean and pea, there was no rush by guests to devour it without respect. As such, there was now more time taken in decorating the cake for the admiration of the guests. The one here on Charles Dickens's table is very elaborate in its decoration, with sweets and coloured confection.
Christmas crackers as such, had not yet been invented. Those that are displayed would have been around in the time of Charles Dickens, each 'cracker' comprised no more than a twist of paper containing bon bon. These are very similar to the French 'papillottes' which are still popular in France today.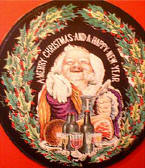 The idea of exchanging gifts was much as it is today, but there was no fancy paper in which to wrap them. Instead presents, if wrapped at all, would have been wrapped in simple brown paper or a linen napkin, tied with string. Dickens refers to 'brown-paper parcels' in his novel 'A Christmas Carol'.
Christmas cards had not become popular at this period. However, it was not much later that a great friend of Dickens, Henry Cole invented the Christmas card in 1843. Who knows, maybe Dickens received one of the first of Henry Coles Cards?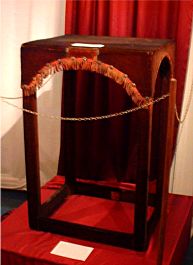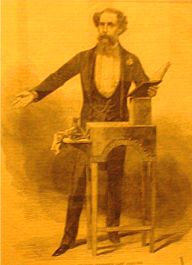 Upstairs to the second floor, we see Dickens's bedroom and dressing room, both now housing pictures and exhibits of Charles Dickens. One of the prime exhibits is a red velvet lined podium belonging to and used by Charles. This podium was taken round the country to theatres where Charles would energetically perform readings of his books. Such readings were very popular and people crowded to hear the great author read his tales. Here, an illustration shows Charles at his podium giving one such reading to his spell bound audience.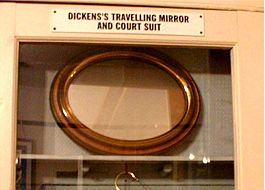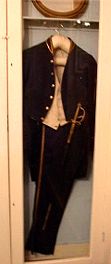 Other items on display include the court dress worn by Charles Dickens, when presented to Queen Victoria. In addition, an oval mirror that Charles took with him on his travels. Charles loved to have mirrors around him. He would often be seen talking to the mirror, getting himself into the characters about whom he was writing.
Taking the stairs back down to the basement of the house there is a film show, giving details of the life of Charles Dickens, from his hard and poor life as a child, through to his successful years as a popular novelist. There is also a room dedicated to the works of Dickens and where the Dickens Fellowship meets to read his books.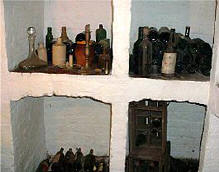 At the back of the house behind the basement are the cellar and laundry. In the laundry there is a large brick fireplace containing the copper for boiling up the washing. In this large copper boiler on Christmas day, the large fruit filled Plum pudding would be kept steaming away until ready to be taken proudly to the dining table. As described by Dickens 'the pudding like a speckled cannon ball, so hard and firm, blazing in … ignited brandy, and … with … holly stuck into the top'.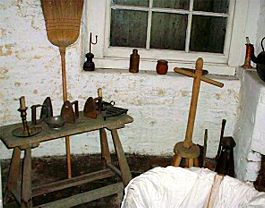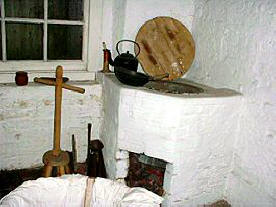 On Boxing Day, local tradesmen would expect to receive a 'Christmas Box' as a reward for their services to householders. Also, public servants such as postmen, lamplighters and 'beadles' hoped to get some Christmas gift.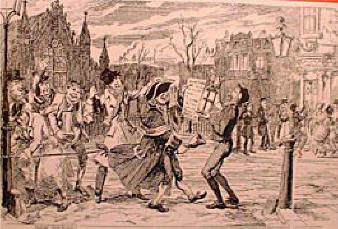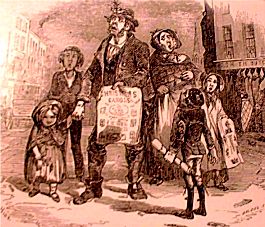 The stories and illustrations of Charles Dickens books provide us today with an insight of life in Victorian England, the divide between the rich and poor, the haves and have-nots! Dickens wrote of Christmas 'It is a time of all others, when abundance rejoices, but when want is keenly felt'. In his Christmas scenes of London, Christmas is shown as a time of joy, but also a time of sorrow! He and his stories live on, as do his spirits of Christmas past! 'Merry Christmas to one and all'.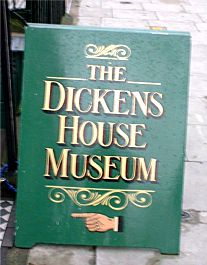 The Dickens House Museum

48 Doughty Street
London
WC1N 2LX
Tel: 020 7405 2127
Fax: 020 7831 5175
Website: http://www.dickensmuseum.com
Click here for Local Map
Map courtesy of www.streetmap.co.uk

With its long history, what could be more traditional to enjoy at the Christmas season than a cheery bowl of punch. There are many recipes for punch, some warm and steaming, others cold, usually alcoholic containing such ingredients as red wine, brandy and rum.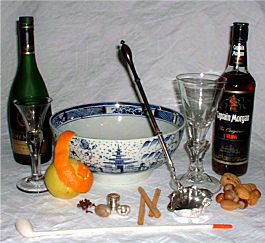 Punch was a popular beverage in the eighteenth century and no less so into the nineteenth century. Indeed Charles Dickens himself enjoyed a bowl of punch and even had his own particular recipe for it. His love for and the popularity of punch in the Victorian period is also evident in many of his novels.
One such reference to punch in the novels of Charles Dickens came in 'A Christmas Carol'. Here Scrooge is transformed into a setting for a perfect Christmas at Bob Cratchit's, after first being shown his mean and evil ways by the three spirits of Christmas past, present and Christmas yet to come!: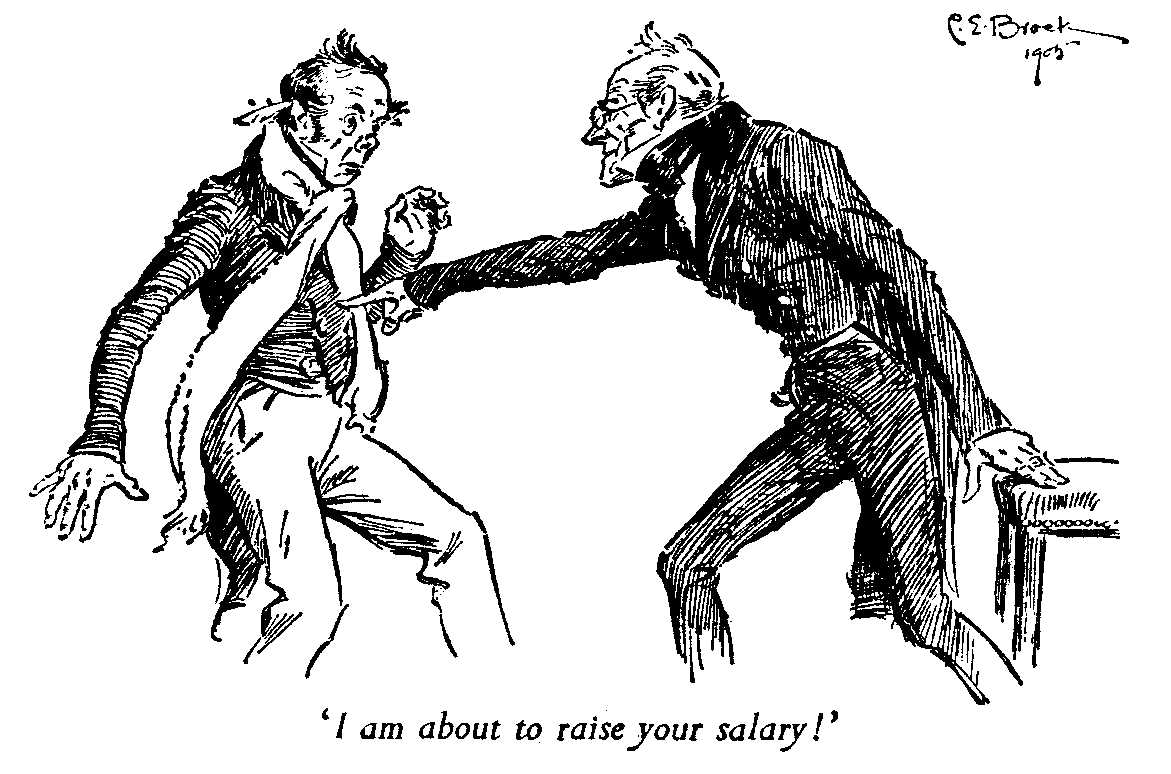 'A merry Christmas, Bob!' said scrooge, with an earnestness that could not be mistaken, as he clapped him on the back. 'A merrier Christmas, Bob, my good fellow, than I have given you, for many years! I'll raise your salary, and endeavour to assist your struggling family, and we will discuss your affairs this very afternoon, over a Christmas bowl of smoking bishop, Bob!'
The 'smoking bishop' to which Dickens refers, is a particular recipe of punch. 'Bishop' was also quoted by the famous Dr Johnson, in his English Dictionary dated 1755, as 'a cant word for a mixture of wine, oranges, and sugar.' Dr Johnson himself was known more as an incessant tea drinker rather than a punch drinker!
The recipe given for Charles Dickens's own particular punch goes as follows:
Peel into a very common basin (which may be broken in case of accident, without damage to the owner's peace or pocket) the rinds of three lemons, cut very thin and with as little as possible of the white coating between the peel and the fruit, attached. Add a double handful of lump sugar, a pint of rum and a large wine-glass of old brandy-if it to be not a large claret glass, say two. Set this on fire, by filling a warm silver spoon with the spirit, lighting the contents with a wax taper, and pouring them gently in. Let it burn three or four minutes at least, stirring it from time to time. Then extinguish it by covering the basin with a tray, which will immediately put out the flame. Then squeeze in the juice of three lemons, add a quart of boiling water. Stir the whole well, cover it up for five minutes, and stir again.
I do not think I would recommend Dickens's recipe for fear of cracking the bowl, if it were not of silver or worse catching the house on fire! However, there are some much easier methods of creating punch that require no flames. Indeed, Dickens probably had this recipe in mind when he wrote the following in David Copperfield (Chapter 28):
... I informed Mr. Micawber that I relied upon him for a bowl of punch, and led him to the lemons. His recent despondency, not to say despair, was gone in a moment. I never saw a man so thoroughly enjoy himself amid the fragrance of lemon-peel and sugar, the odour of burning rum, and the steam of boiling water, as Mr. Micawber did that afternoon. It was wonderful to see his face shining at us out of a thin cloud of these delicate fumes, as he stirred, and mixed, and tasted, and looked as if he were making, instead of punch, a fortune for his family down to the latest posterity. As to Mrs. Micawber, I don't know whether it was the effect of the cap, or the lavender water, or the pins, or the fire, or the wax candles, but she came out of my room, comparatively speaking, lovely. And the lark was never gayer than that excellent woman.
Another popular Dickensian punch was called 'negus'. This punch was a mixture of a bottle of port or sherry, one glass of brandy, the juice of one lemon, two pints of boiling water, four ounces of sugar, and grated nutmeg to taste. Again, this punch is mentioned in 'A Christmas Carol':
'I have no doubt whatever that the warm stuff in the jug at Bob Cratchit's Christmas dinner, had a very pleasant effect on the simple party. I am certain that if I had been at Mr Fezziwig's ball, I should have taken a little negus - and possibly not a little beer - and been none the worse for it, in my heart or head. I am very sure that the working people of this country have not too many household enjoyments, and I could not, in my fancy or in actual deed, deprive them of this one when it is so innocently shared.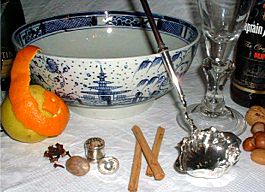 What could indeed be better and more enjoyable than to share a delightful bowl of punch with friends at Christmas. With just a few antique items of equipage, how impressive a bowl of punch can appear. In my recreation of a serving for punch I have chosen a very pretty blue and white decorated Pearlware bowl, c1790, with a Chinese landscape where it almost looks to be snowing! To serve the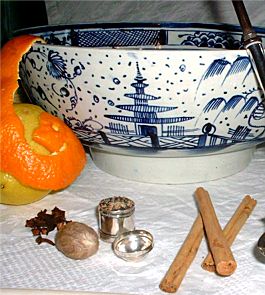 punch, what better than a fruit wood handled silver punch ladle, this one from the mid-eighteenth century and has a delightfully quatrefoil shaped bowl. What could then be better, than to drink a hearty glass of punch than from Georgian lead glass wine glasses, these two dating from the first half of the century. Finally, a small silver nutmeg grater, by Samuel Pemberton, a Birmingham silversmith know for such items as patch boxes and nutmeg graters, this one too dating from the eighteenth century.
Whatever punch recipe you choose and however you wish to serve it, I hope that you might too enjoy a glass or two of traditional punch this Christmas.
Merry Christmas one and all
---
To review past newsletters, just follow this link: Past newsletters.
To subscribe to this free newsletter - Click here
---
All information contained within any article on this website was considered to be accurate (as far as can be ascertained) at the time of writing. TeaAntiques.com Limited makes no warranty and accepts no liability regarding the accuracy of the content.
Copyright © 2000 - 2021 All rights reserved
TeaAntiques.com Limited. Company Incorporated in England No.: 5086843