Tea Clipper

from TeaAntiques.com

Edition

Forty
Featured Antique - A magnificent George III rectangular swing handle Cake Basket, stunning 'Armorial' engraving, made by J W Story & W Elliot, London, 1812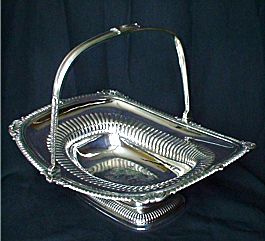 A magnificent George III rectangular cake (or bread) basket, beautifully engraved with an armorial, I believe, of a 'Knight' or 'Baron' (see full details below). This delightful basket is of the highest quality, made in London by J W Story & W Elliot in 1812, it is of very heavy gauge sterling silver and in excellent condition.
The basket has a rectangular boat shaped body with half gadrooned centre portion. It stands upon a rectangular raised foot, which like the body has gadrooned decoration to it. The basket is hallmarked on the underside of the rim at one end and a short version on the swing handle.
There is a richly decorated rim, having a gadrooned border and cast shell and foliate mouldings in each of the four corners. The detail of the shells is exquisite, they are beautifully sharp and crisply made.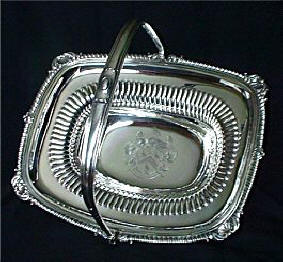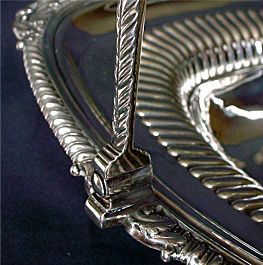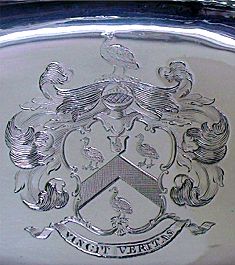 There is a magnificent and beautifully engraved contemporary coat of arm in the centre of the basket. The clarity and detail is quite amazing. The coat of arms has a central fancy escutcheon shaped shield formed with 'C' scroll borders. The shield has been divided by a chevron 'ordinary', this has hatched decoration within it.
At the point of the chevron within the shield (the central chief position) is a further small shield in which is an open hand (sinister hand).
The shield then contains three 'geese' type birds in full profile, two above the chevron and one below.
The shield is surmounted with a helmet, the forward looking helmet of this style I believe denotes that the coat of arms are those of a 'Knight' or 'Baron'.
Above the helmet is the crest of another goose standing upon a wreath.
On either side of the helmet and surrounding the shield is a mantle of foliage.
Finally, there is a motto engraved at the base of the coat of arms, 'vincet veritas', meaning 'truth conquers', this would have been the motto of the original owner whose arms are on the basket.
This is certainly a George III cake basket of distinction. A cake basket that would look stunning on a table or sideboard.

Click here for more details of this item and for other tea-related antiques.

With the stately home open season not quite with us - many houses not opening their doors until the end of March - I thought I would visit the Victoria and Albert Museum in South Kensington, London. Here I took a look at some of the treasures and tea-related items to be seen along with those rich aristocrats who followed or indeed set the fashion of the day.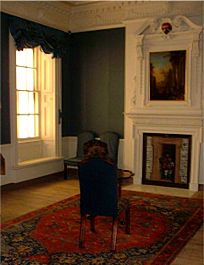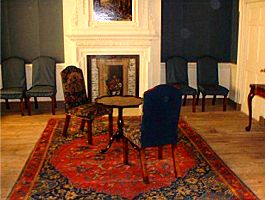 I started my mini-tour of the galleries starting in the British galleries, here I stumbled across a most handsome English parlour from the early part of the eighteenth century. It is a room that was in part rescued from a house at 11 Henrietta Street, London. One advantage of the V&A Museum is that it was able to save some of the treasures that would or may have been destroyed as houses were demolished for 'improvements' and redevelopments.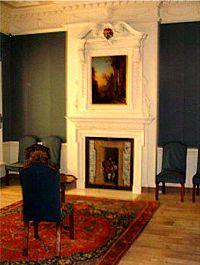 This parlour was designed and decorated around 1727-32 in the height of fashion of that period. It is quite obvious from the elaborate plaster work, painted panels and furniture that it was an important interior for a London town house of its size. The parlour was of course the main room for impressing your guests and a room in which you would entertain. This particular parlour was designed by the architect James Gibbs (1682-1734) who was at the forefront of fashion and design. He created what is an ordered interior with richly decorated plaster friezes and panels. The beautiful fireplace with its over mantle in which a classical painting provides the main focus. The broken pediment at the top of the over mantle has delightful swan neck scrolls leading the eye into the painted coat of arms of the owners of this impressive room.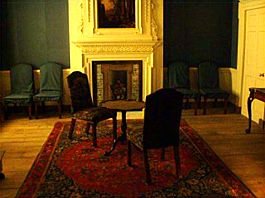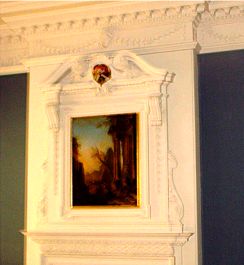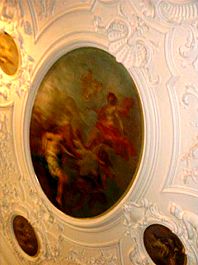 The ceiling has also been decorated to impress. It is centred upon an oval painting surrounded by ornate rococo white plasterwork, with four smaller circular painted panels in the four corners. Such a ceiling could not fail to impress your guests.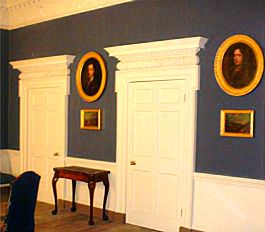 At this period of the eighteenth century, things were very ordered and structured. There were always pairs of things, including windows and doors, perfectly balanced in their position in the room. If only one doorway was necessary, a second 'false door' would be added to maintain the symmetry of the room. The doors in this room have ornate architraves and the doors are constructed with six panels, usual design in the eighteenth century.
There is a dado rail, sometimes referred to as a 'chair rail', running round the wall of the room at a height where chair back rails of the chairs positioned against the wall, would not damage the wall coverings or painting. This, together with the skirting board and the frieze to the ceiling, effectively gave the walls classical proportions of an implied column. That is to say, the skirting, dado and frieze emulated what on a classical column would be the base, plinth, column and capital. The walls in this room are decorated in a rich dark blue above the dado and matt white below.
The furnishings at this time were sparse and expensive to buy. Here we can see that even a grand room setting such as this still has a modest set of furniture. There is a set of high backed chairs, most of which are arranged around the room against the walls, this being their usual position unless brought into the room for a specific purpose such as to take tea at the tea table or perhaps to indulge in a game of cards.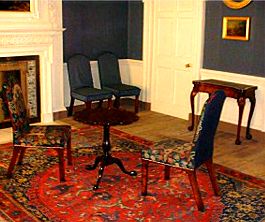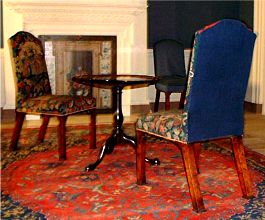 The two chairs in the centre of the room are beautifully embroidered on the back and seat covers with scenes of 'Aesop's fables'.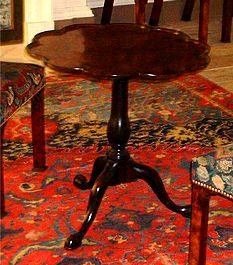 The table in the centre is a stunning early eighteenth century tripod tea table, c1725-50. The circular top has a scalloped edge - suggesting the circular shape of tea bowls and saucers that would be placed upon the table. These tables were also used as supper tables where small dishes of food would be placed within the circular rim of the table for guests to help them selves as they required.
Tea at this time would have been taken in the late afternoon after dinner, which then was around or just after midday. Tea, the important social occasion, involved the hostess serving her guests herself. Her table would have been set with the very latest and finest silver and china wares.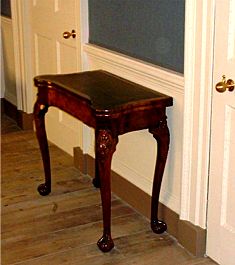 Against the wall, between the doors is a splendid fold over card table. This table was made c1700-25, a time when most furniture in England was still made from walnut. This table is walnut, veneered onto an oak frame. It would be brought into the centre of the room for afternoon or evening gaming parties.
An important and fashionable development is the rich carpet on the floor. Until now, carpets were so expensive and delicate that they were hung on walls rather than laid on the floor where they might get damaged. However, carpets were now much more readily imported from abroad and in use as floor coverings. This magnificent carpet is a Ushah Medallion carpet c1600-1700.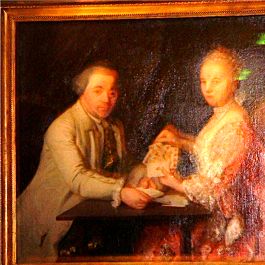 Moving from this room, I located an exhibition devoted to the eighteenth century fashion setters, Mr & Mrs Garrick. The Garricks were certainly a fashionable couple, David Garrick was a famous actor, theatre manager and playwright. David and his wife Eva Maria Veigel, a Viennese dancer, were very keen on fashionable society and created their own lifestyle to be at the height of London fashion. Married in 1754, they acquired a house at Hampton-on-the-Thames. This house was altered by the famous architect of the day, Robert Adam, and was furnished by Thomas Chippendale.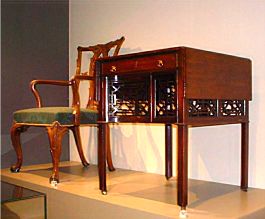 The type of fashionable furniture that the Garricks would have may have included a breakfast table like this one; Mahogany with a fret work cupboard below, where food may be placed - protecting it from pet dogs. There would also have been many Chippendale chairs in the house, used to hold fashionable dinner parties for their friends, such up to date furnishings would certainly have impressed their guests.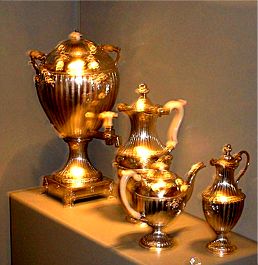 However, in 1772, the Garricks bought a more fashionable house still, this time one of Adam's houses in a newly created speculative built areas, the Adelphi, located just off the Strand and theatre land. Thomas Chippendale arranged the move of thirty cartloads of furniture from their house in Hampton-on-the-Thames to their new house. Here in the Adelphi they set new living standards and as Doctor Johnson wrote 'Garrick now lives as a prince rather than an actor'. In one display in the museum is a tea and coffee service that was commissioned by the Garricks in c1774-1775.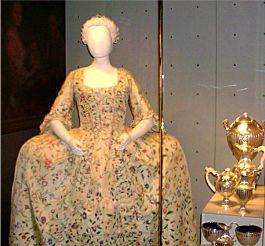 It was obviously of great importance to them to be able to serve tea and coffee to London's cream of society, using the very best and latest designs in silver tea and coffee wares. The service they commissioned shows the fashion now for the neo-classical designs, as led by Robert Adam himself. The service included a tea urn, tea and coffee pot and milk jug. Each piece with a classical urn shaped body, having half fluting and standing upon raised circular feet. Next to this delightful tea and coffee service is displayed a very fine dress that was worn by Eva Garrick, how easy it is to imagine her serving a fashionable afternoon tea to her guests in their new Adelphi home. This beautiful dress is English, woven from the finest silk and illustrates the latest triple ruffle sleeve. The dress is decorated with rococo styled flowers which were then the height of fashion in European designs. It has a very wide skirt hung on a framework underneath, a narrow waist and shaped bodice. Colours of malachite green, cochineal red and yellow are typical of the colours used at this period.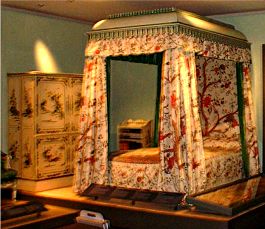 Such coloured materials were used for their Chintz bed hangings of their four poster bed, now on display here at the V&A. These complemented the furnishings of the room which were for Chinoiserie painted or lacquered furniture.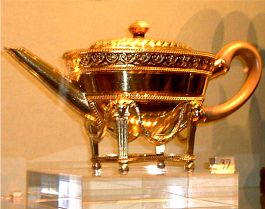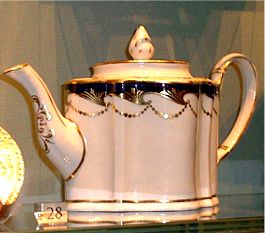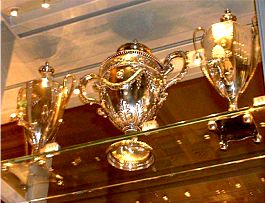 The popular Neo-classical shapes and designs are illustrated in more exhibits, which include a charming silver teapot with a bowl shaped body with neo-classical decoration and standing upon four unusual column legs and ball feet. A silver swag wends its way, draped about the four legs, like a swag of material. Then a New Hall silver shaped teapot, its shapely straight sided body embellished with underglaze blue decoration enriched with fine gilding. Also, I spotted high up in a display cabinet, some silver tea urns of typical Adam urn or vase shapes.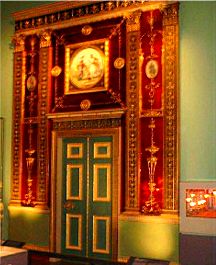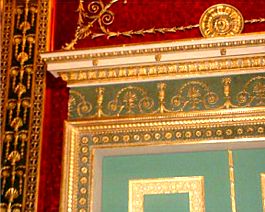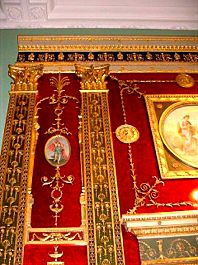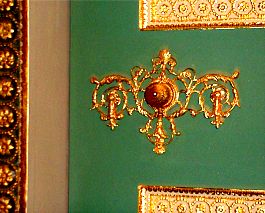 Robert Adam was quite a fashion setter with his neo-classical interior and furniture designs. There is a wall saved from one of Adam's finest and more unusual rooms designed for Northumberland House, London. Northumberland House was the town residence of the Duke of Northumberland, the house stood near to the site of the present Charing Cross railway station. This very elegant room was the 'glass drawing room', so called because the walls were indeed covered with foil backed red glass panels. This together with the gilt framed mirrors and the lavish use of gilding made the room absolutely sparkle and was quite dazzling. All the motifs that Robert Adam used in his designs are shown, including anthemion or honeysuckle, urns, vases, swags of flowers and foliage and guilloche mouldings. A close inspection of the ornate designs shows the detail that he even designed in to things like door handles and door plates. The gilded door handles are backed with ornate scrolling type gilt back plates.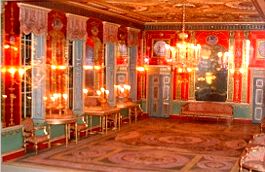 Even the door panels are embellished with gilt mouldings of neo-classical design. There is a cleverly constructed model of this glass drawing room displayed, which give a very clear indication of the true splendour of this room when it existed before the house was demolished in the nineteenth century. It is good to know that the V&A was able to at least save part of this important interior, which may otherwise have been lost to us for ever. How many of the most fashionable of London's society would have been entertained within this magnificent interior? A triumph of Adam's design genius, there could certainly have been nowhere much grander than this to entertain.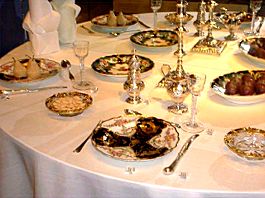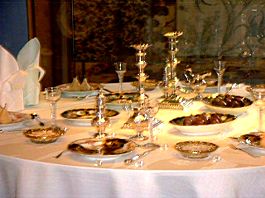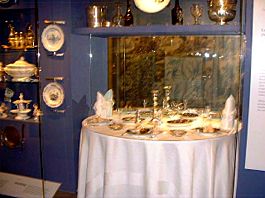 A fashionable dinner party of the last quarter of the eighteenth century is cleverly demonstrated with a circular table, covered with a damask white table cloth and the table laid with the finest of the latest table wares. The table is actually just a half circle with a mirror behind creating the illusion of a full circular dining table - very clever. This table display is beautifully set with blue ground Worcester porcelain, exquisitely painted with flowers and richly gilded, c1770. Set for dessert, there are delicate Georgian wine glasses with fine cotton and air twisted stems, c1760-70; silver cream jugs, with pear-shaped bodies, engraved with bright cut decoration and standing on raised circular feet, c1770-80. A fine pair of single silver candle sticks add to the grandeur of the setting. The dessert includes fruits such as pears and sweetmeats of many varieties.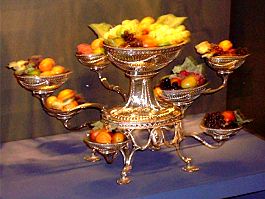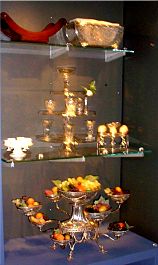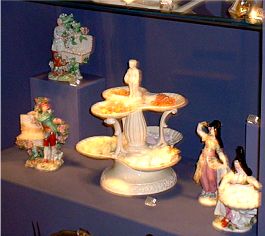 The dessert course of the dinner was a time to impress and show off the silver and sweetmeats that were affordable to you. Great lavish silver centre pieces, épergnes, were filled with all types of available fruits and look so elegant, the silver branches having small baskets supported or hanging to hold the dainties. As well as silver centre pieces, there were the glass pyramids constructed from diminishing sized glass tazza on which could be placed all variety of jelly and sweetmeat glasses. Finally, porcelain manufacturers, including Wedgwood, also produced table centres to hold sweetmeats, such as the one shown above, with shell shaped bowls of white Creamware, supported about a central fluted column with a figural finial. Delicate figures were designed for the tableware, giving colour to the table, they were designed for salt or small sweetmeats. How elegant a table of the fashionable society must have looked, particularly by candle light.

Victoria & Albert Museum
Cromwell Road
South Kensington
London
SW7 2RL
Tel: 020 7942 2000
Website: www.vam.ac.uk


Click here for Local Map
Map courtesy of www.streetmap.co.uk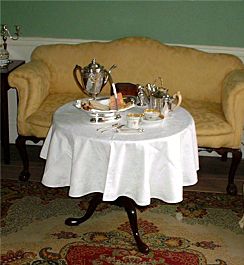 Having been inspired by the findings in the Victoria & Albert Museum regarding some of the fashion setters of the eighteenth century, I thought what's needed to create your own fashionable late eighteenth century afternoon tea at home? Afternoon tea, unlike dinners are far less formal and with a selection of a few carefully chosen Georgian items, it is indeed possible to create and enjoy a Georgian tea at home, a fine way to impress your guests too.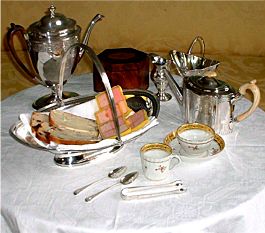 In the latter part of the Eighteenth century the food eaten at tea time would have been limited to simple things, such as thin slices of buttered bread or fruit loaf and maybe a plain cake of some description. Therefore, I thought the first item that may be considered as essential at this tea, is a Georgian silver cake basket. These were very fashionable from the mid-eighteenth century, starting with intricately pierced baskets with swing handles in the rococo style. Then in the 1780's, it was more usual for swing handled cake baskets to be constructed with solid oval shaped bowls, raised on an oval foot and embellished with bright cut decoration, this decoration being the height of fashion at this period. Later, these baskets became physically heavier and of different shapes such as rectangular, with gadrooned borders.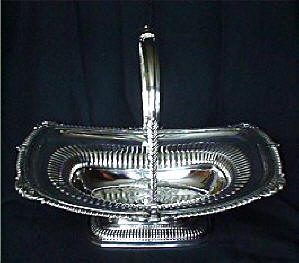 Cake baskets were certainly used to impress your guests. They would be used to serve the bread and cakes, they were either sat on the table or maybe passed round to guests by a servant. Such baskets being seen by guests meant the ideal opportunity to show off your social or aristocratic standing, as such, many were engraved with the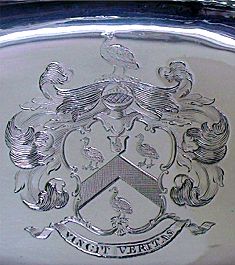 family coat of arms, their motto or family crest. This fine quality example, with a heavy rectangular shaped body, by J. W. Story & W. Elliot, London, 1812, has a very fine family coat of arms in the centre, these the arms of a Baron or Knight - (see Featured Antique at the beginning of this newsletter).
The cake basket I have used for the creation of my own Georgian afternoon tea is a delightful oval basket (shown below), with reeded swing handle and decorated with fine bright cut decoration, made in London in 1800. This, lined with a white damask napkin and filled with thin slices of buttered fruit loaf and delicate slices of Battenberg (or Tennis) cake, is just perfect for that elegant afternoon tea.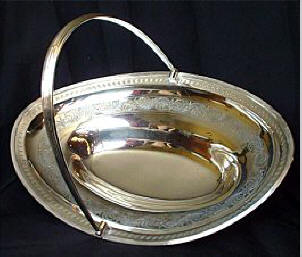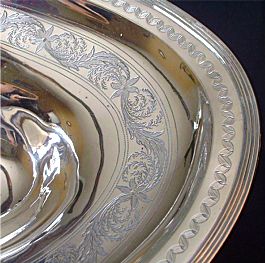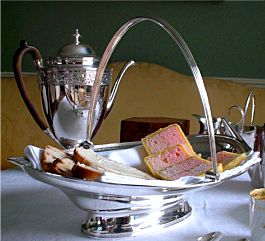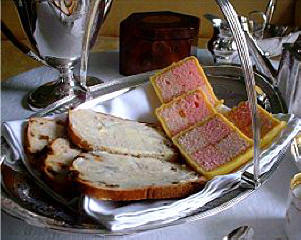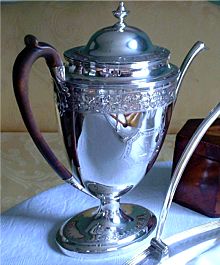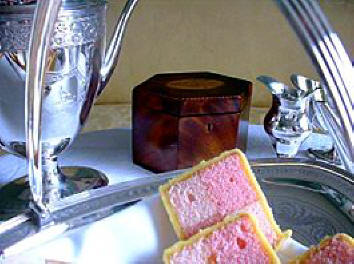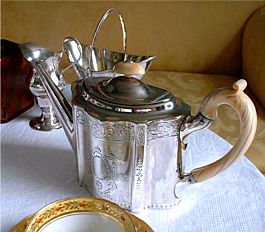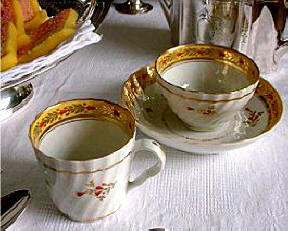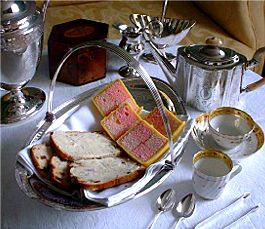 With these few selected items and some additional ones drawn from my own collection, it is relatively easy to create an elegant afternoon tea, just as maybe the fashionable Garricks may have enjoyed in their own fashionable home in the Adelphi, London. I hope that you too can have fun in creating your own stylish afternoon tea for which ever style is of interest to you - enjoy!
---
To review past newsletters, just follow this link: Past newsletters.
To subscribe to this free newsletter - Click here
---
All information contained within any article on this website was considered to be accurate (as far as can be ascertained) at the time of writing. TeaAntiques.com Limited makes no warranty and accepts no liability regarding the accuracy of the content.
Copyright © 2000 - 2023 All rights reserved
TeaAntiques.com Limited. Company Incorporated in England No.: 5086843