Tea Clipper

from TeaAntiques.com

Edition

Forty Seven
Featured Antique - Caughley Blue & Gilt 'Part' Teaset, c1780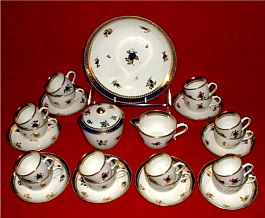 A beautiful Caughley 'Blue & Gilt' part teaset comprising a sucrier & cover, milk jug, bread & butter plate and eight trios (tea cup, coffee cup and saucer).
The body of these tea wares is beautifully decorated with blue and gilt flower sprigs. Each of the eight trios comprise a saucer, tea cup and coffee can.
Each piece of the set (apart from the inside of the sucrier lid) is marked with the underglaze blue 's' Salopian mark of the Caughley factory.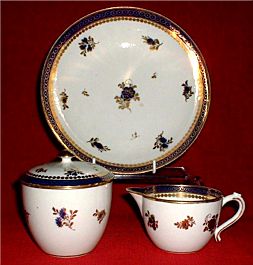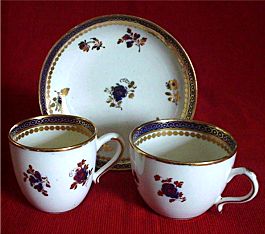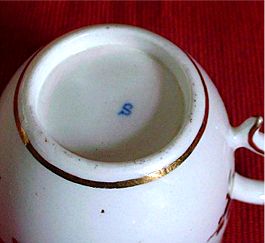 It is rare to have so much of one set from this period to have survived together. This part set is in extremely good condition and there are no cracks, repairs or restoration. The only minor imperfection is some slight wear to the gilding in places, mainly to the rims of pieces. Also, one tea cup has a few minor chips to its base. A fine set for the collector of eighteenth century tea wares.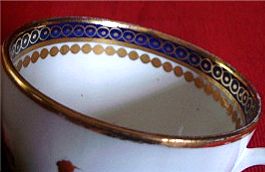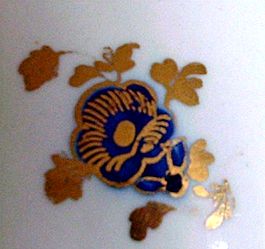 More details of this item and other tea related antiques can be found by visiting my web site at www.TeaAntiques.com.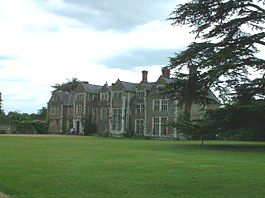 Living in the Portsmouth area all my life, I have regularly driven along the A3 road to London and passed sign posts south of Guilford pointing towards Loseley House, but ashamedly never visited. Why I had not visited I believe was because I had known it through its production of dairy ice-cream rather than as a historic house. Loseley ice-cream is widely sold in tubs on which is a line drawing of Loseley House, an early Elizabethan house which I had imagined would be rather dark and dreary. Also, if Loseley was the centre of an industry producing ice-cream, that it would be very commercial and no longer a home. Well, I could not be more wrong on both counts!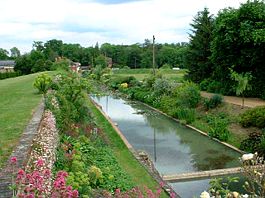 Back in the summer, on the spur of the moment I decided to visit Loseley House and I was certainly not disappointed with what I found. Far from just being the centre of this creamy ice-cream production, it remains an ancestral home from the time it was built in 1562-1568 and although Elizabethan, is a beautiful house that is light and airy inside with some very fine rooms. It also gave me a friendly welcome and an enjoyable tour by an exuberant tour guide, whose own ancestors, had been in service to the family that has owned it for generations.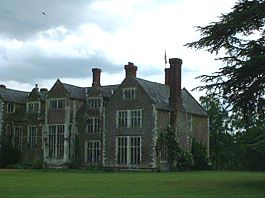 Loseley estate was bought in the reign of King Henry VII, by Sir Christopher More, a direct descendent of the present owners. It was then but a small Manor house, which stood near to the site of the present house. It was his son, Sir William More, who built this new house in the reign of Elizabeth I between 1562-1568. One reason for him to build this new house was that he was a good friend of Queen Elizabeth I, and she often travelled away from her London court to stay with her friends. She would impose rather on their hospitality in not only putting herself up, but all her courtiers too-at quite some personal expense to her host! However, Loseley Manor, was not favoured by the queen, it being to small, cold and unsuitable for her and her court. Thus she instructed Sir William More to build a new house that would be to her liking, which he did.
Sir William was meticulous at keeping records of his accounts and expenses and so it is documented that the house cost him £1,640 19s 7d to build. The stone used to build the house came from a nearby ruined Cistercian Abbey, close to Farnham, and so already had a mellowed age to it.
Once the house had been completed, Elizabeth and her court were frequent visitors. Maybe rather too frequent for Sir William's liking and on one occasion, he managed to deter the Queen from visiting by telling her that some of his servants had contracted the plague, which was not true. Although it did cost a lot of money to host a royal visit, which could last for several weeks or months, Queen Elizabeth I was known to be rather fussy and would bring her own animals and chickens from London for use in the dairy and kitchen. She also brought her own cook, to prepare her food. The chickens had their feet dipped in tar to help them make the long journey.
Like most Elizabethan houses, Loseley House faces due north, so can feel extremely cold inside, especially in the winter months. The reason for houses of this period to face this way is possibly because it was believed that the plague had come across from France to the South. They thought that the plague could be spread by winds from the South, thus in building houses that face north, windows would not allow the plague to spread inside. Customarily, the house would have had the principle bedrooms at the front of the house overlooking the front landscape. On one of Queen Elizabeth I's visits, she happened to spy a smaller bedroom on the West side of the house and decided that it was more too her liking, being somewhat warmer and cosier. She then chose to stay in it on all her subsequent visits to Loseley. This room is now known as 'The Queen's Room'.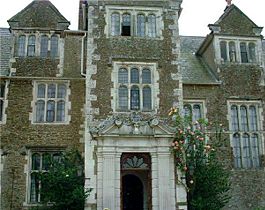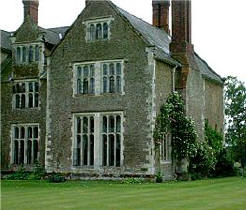 The North front of Loseley house shows the mellow grey colour of the stone, with white 'clunch' corner quoins and window reveals. This combination of stones and some large mullioned windows give the house an attractive elevation.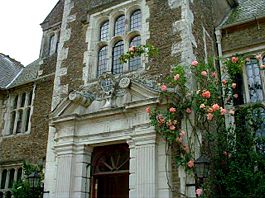 The entrance to the house originally led directly into the Great Hall, but this was later changed because this made it very cold in the Hall when the front door was opened in winter. The new position of the front door is now to the left of its original position and has a fine stone faced pedimented door case above which is the families coat of arms.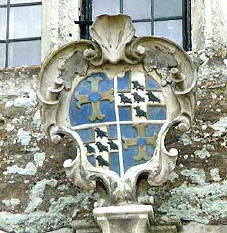 The window in the centre of the Great Hall, where the front door had once been, now has a false window, behind which is a fireplace.
The Great Hall is certainly impressive, not cold and dark, but beautifully light and airy. There are some large windows through which light streams into the room. This Great Hall is painted a creamy buttermilk colour in parts, with some oak panelling on the end walls and at lower levels on the other walls. The panelling itself is very impressive on the West wall, as it is finely carved in relief with Trompe l'oeil to imitate architectural archways with chequered flooring. These fine panels came from Henry VIII's 'Nonsuch Palace', which had recently been demolished.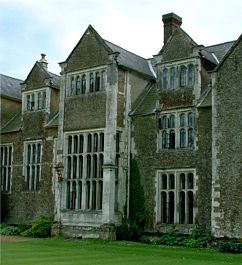 In the Great Hall are some fine pieces of eighteenth century furniture, as well as some contemporary Elizabethan furniture. There is a huge green covered George III Camel backed settee and another settee with a 'three seat back' in finely grained wood. Against the South wall are two cabinets containing a beautiful collection of eighteenth century Chinese porcelain This includes a number of tea ware items, such as tea pots, tea bowls and saucers in famille rose and famille vert. There are some tea bowls decorated with orange carp fish that are quite delightful. There is also a collection of Chinese blue and white wares to be enjoyed.
A large family portrait on the West wall of the Great Hall shows Sir More Molyneux, with his wife Cassandra and eight of their eleven children. This magnificent portrait was painted in this Great Hall in 1739. Other portraits in the great Hall include King James I and his wife Queen Anne.
In an alcove of the South wall of the Great Hall is a very large gilt framed chair, upholstered in a rich red material, this chair was the coronation chair of King George IV. It was in such chairs that the sovereign is anointed as the spiritual head. The chair is then given to the Dean. The chair on which the sovereign is crowned, remains in Westminster abbey and used by each sovereign.
From the Great Hall, the next room off a corridor is the Library, a cosy and warm looking room, lined with leather bound books in carved wood bookcases. This room is used very much by the current family and contains some soft arm chairs by the fire place. Sir William More was one of the first English gentlemen to create his own personal library. Above the fireplace is a wooden carving in which is the initials of Queen Elizabeth I, commemorating her visit to Loseley, dated 1570. Above the door is a painting showing Loseley House with a large wing built at right angles to the house on the West end. This extension was built, but it latter fell into disrepair and was demolished. It had contained many servant rooms, so when it was demolished, what had been the Elizabethan Long Gallery along the top floor of the original house, was divided up to accommodate the staff. I believe that there is now restoration going on to remove the servant rooms and thus reinstate the Long Gallery.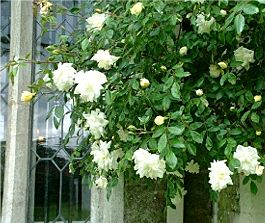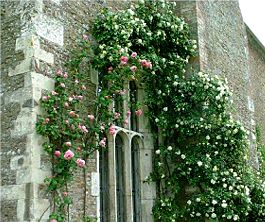 The next room is the Drawing Room, situated at the North West corner of the house it enjoys light from windows on two sides. These windows have old fashioned roses growing round them on the outside, thus providing a beautiful sweet fragrance when the windows are open in summer. Like the Great Hall, this room is very light and a joy to be in. One of the most striking features of this room is a stunning intricately carved fireplace, carved in solid white chalk-the like of which I have never seen before. The mantle piece is supported on both sides by pairs of carved Corinthian columns. Then above the mantelpiece to the frieze of the ceiling are four caryatid figures, two on either side, between which are six panels containing family coats of arms.
Either side of the fireplace are two extremely low chairs, these are Elizabethan 'Maid of Honour' chairs and it is believed that the tapestry covers were worked by Queen Elizabeth I herself - she was a fine needle worker. Such chairs would mean that the Queen would not be overshadowed, her own chairs being much higher.
On the wall to the left of the chimney is a portrait of Sir William More, builder of this fine house.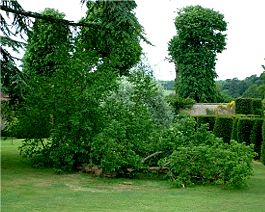 The gilded ceiling was done for the visit of James I. Depicted in the decorative moulded frieze around the ceiling, are moorhens, cockatrices and mulberry trees - these being the family emblems. Indeed, there is an old mulberry tree growing in the garden. It is said that all the time the mulberry tree lives in the garden, the family will remain the owners of the house. This old tree, has now fallen on its side, but is still very much alive. However, I did notice when walking round the grounds that a new mulberry tree has been planted near by- perhaps as an insurance policy by the family?
Many of the carved and moulded figures on the walls and ceiling show rather grotesque figures, their tongues poking out. These were there to frighten away evil spirits - and were something that the Elizabethans strongly believed would assist them.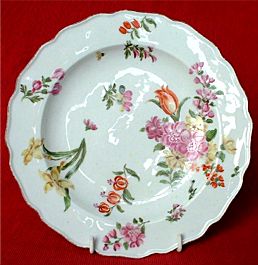 On the South wall of the Drawing Room is a decorative credenza, in which is displayed some delightful early English Chelsea porcelain from the mid-eighteenth century. These pieces are finely decorated with flowers, as well as on many, some delightful butterflies and moths. This Chelsea plate illustrated here is similar in style to the plates at Loseley, but not part of their collection.
The main staircase leads to the first floor bedrooms. There is a beautiful bedroom known as 'The King's Room', once occupied by King James I on his visits to Loseley. The walls of this room are hung round with Oudenarde tapestries c1650, in shades of blue and green depicting forest scenes. A fine four poster bed graces the room, which stands upon a carpet which is woven with the Tudor Rose, Crown and Thistle - in honour of King James's visit.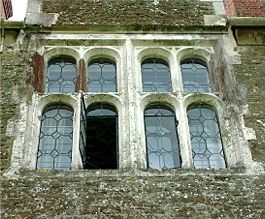 A second bedroom is Sir More's bedroom, in which stands another four poster bed with intricate fret work carving around the top. There is also a rare eighteenth century Vauxhall mirror hung on the wall. A trait of early Vauxhall mirrors is a distinct blue hue to the glass. It is constructed in sections, as in this early period, glass could not be made in very large sizes.
Finally, 'The Queen's Bedroom', the small bedroom on the West side of the house, favoured and used by Queen Elizabeth I on her many visits to Loseley House. Above the window in this room is an oak pelmet carved with a scene of a boar hunt - the Queen must have woken up to see this each morning. There is a Mortlake tapestry hanging in this room dating from the Charles II period, as well as a tapestry from Antwerp.
The excellent house tour, given by the enthusiastic and knowledgeable guide ends with this 'The Queens Bedroom', I was then left to enjoy the gardens and the teashop at my leisure.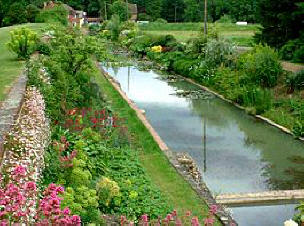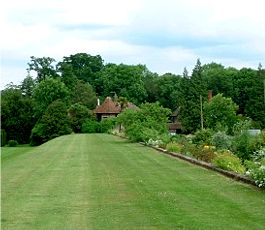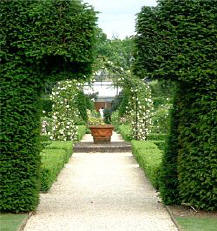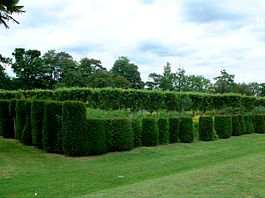 Loseley House from the front is set against a plain lawn with farm land sweeping away to the north. However, on the east side of the house is the magnificently restored walled garden and part of the original moat. The walled garden is divided into large blocks, including the rose garden, white garden, yellow garden, vegetable garden and herb garden etc. Each of these gardens is beautifully kept and growing some fine old fashioned varieties of flowers and vegetables. The rose garden in particular has some very fine old varieties in shades of pinks and reds, lots with cabbage like flowers that are rich in scent.

The teashop has some wooden tables and chairs situated in a small enclosed courtyard on the East side of the house just behind the gift shop. Needless to say, the shop sells the delicious Loseley ice-cream made from the Loseley heard of Jersey cows. This rich and creamy ice-cream has become big business, sold throughout the South of England and also country wide in some supermarkets.

I highly recommend Loseley House and its beautiful gardens for a visit, or failing that , if available try some of their ice-creams, delicious on a glorious summer's day.

Loseley House
near Guilford
Surrey
England
Tel: +44 1483 304440
Website: http://www.loseley-park.com


Click here for Map
Map courtesy of www.streetmap.co.uk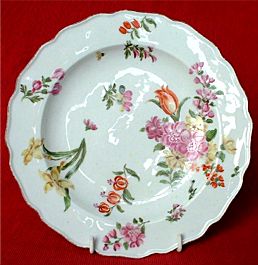 Chelsea porcelain was one of the earlier English porcelain manufacturers, a factory that produced some magnificent and decorative soft paste porcelain items that became extremely sought after by collectors. With the increasing demand for early Chelsea porcelain from the mid eighteenth century, it became a factory that was later copied by other English and foreign manufacturers, some of which may have been out to deceive the unwary collector. I would like to offer a few tips to collecting items of early Chelsea 'Red Anchor' period, porcelain which I hope may help the collector.
The Chelsea factory was established c1745 and was unique in that it concentrated its manufacture towards the luxury end of the market rather than day to day porcelain. The factory was established by Nicholas Sprimont who was actually a Huguenot silversmith by trade.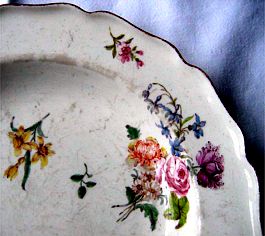 This may account for what became referred to as silver shaped plates - plates with a piecrust shaped rim, similar to the shape of silver salvers from that period. Indeed, many other Chelsea designs reflect the design of similar contemporary items made in silver. He opened his manufactory in the fashionable area of London at Chelsea, close to Ranelagh pleasure gardens where the cream of society would gather and be attracted by his wares.
There are four periods associated with Chelsea porcelain, each described by the marks used in the period. These marks in chronological order were the incised triangle period, c1745-1749; Raised anchor period 1749-1752; Red Anchor period 1752-1757 and Gold anchor period 1759-69. In 1757 the factory had closed for some months, due to the sickness of Nicholas Sprimont.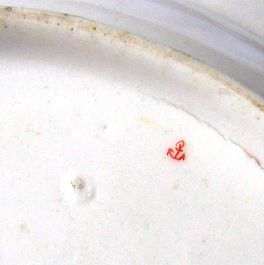 The period that I would like to look at is the 'red anchor period c1752-1757. The red anchor mark was placed on the underside of the plates, in iron-red. the mark was very neatly painted and of a small size, no more than about a quarter of an inch (7mm) in length. Quite often copies of Chelsea from this period carry marks in red, but which are considerably larger and not so neatly painted. These larger marks are usually easily spotted and identified as copies.
As examples of the true red anchor mark, compared to a foreign copy, here are two items, a genuine red anchor Chelsea plate and a continental sucrier, reporting to be red anchor Chelsea. The reverse of the plate shows the red anchor drawn very small and neat. However, on the base of the sucrier, the red anchor is very large in size, almost half and inch, and not very neatly drawn.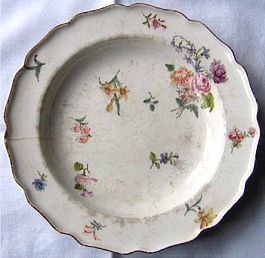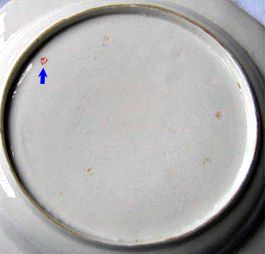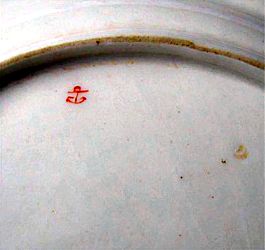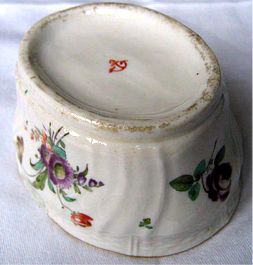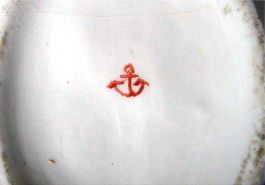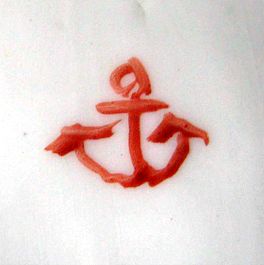 The body of Chelsea plates of this period are of soft paste, not glassy hard paste porcelain which would point to the piece being a continental copy. The body of the sucrier above has this hard paste porcelain body, again pointing to it being of continental origin rather than of Chelsea origin.
It is important to understand the style of decoration used during this period, which was mainly in the form of Meissen dueche-blumen scattered flowers or of the larger botanical painted specimens of the Sir Hans Sloane variety. 'Hans Sloane' plates are said to have been decorated from book illustrations of plants grown in Sir Hans Sloane's Chelsea Physic Gardens, which was also situated in Chelsea.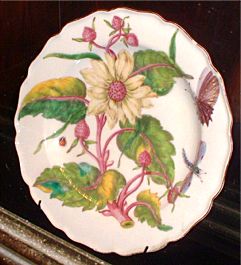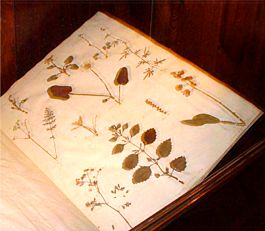 Holding a red anchor Chelsea plate up to strong light should show a greenish translucency. There are likely to be 'moons' visible in the body of the plate. These 'moons' are small circles that appear much lighter in colour within the body, like a bright moon in the sky.
When Chelsea red anchor plates were fired in the kiln, they were supported on three piles of sand, which created three rough little marks on the underside of the plate within the foot rim. These marks are referred to as 'spur marks' and are a good sign of the plates authenticity.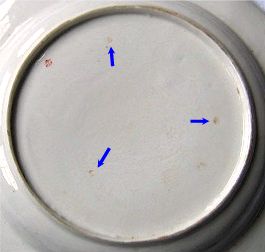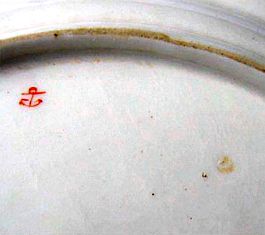 Finally, the glaze used on red anchor period pieces has a bluish tinge in areas where it has tended to gather in pools.
For me, red anchor Chelsea porcelain plates are beautiful decorated, colourful and being of soft paste porcelain have a wonderful soft and warm feel to them. They are some of the earlier English porcelains and were made for the luxury end of the market. today, they remain high on the scale of many collectors lists and I can understand why.
---
To review past newsletters, just follow this link: Past newsletters.
To subscribe to this free newsletter - Click here
---
All information contained within any article on this website was considered to be accurate (as far as can be ascertained) at the time of writing. TeaAntiques.com Limited makes no warranty and accepts no liability regarding the accuracy of the content.
Copyright © 2000 - 2021 All rights reserved
TeaAntiques.com Limited. Company Incorporated in England No.: 5086843