Tea Clipper

from TeaAntiques.com

Edition

Forty Nine
What better thing to do at this time of year to get into the spirit of Christmas past and present, than to take a day away from Christmas shopping and go on a day trail of London to places of interest with a Christmas theme. With this in mind, I will take you round a few of my favourite things to see in London at this time of year.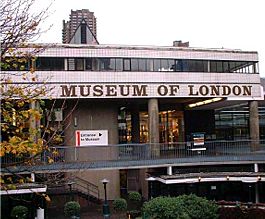 I start my trail at the Museum of London near St Paul's cathedral. This museum is free to the public and provides a good starting point for a day's entertainment. I will touch briefly on this museum, which traces the history of London from Roman times to present day, explaining the trade and expansion of the city as well as major events such as the great fire of London that destroyed a great part of the old city. Architecturally not an inspiring museum from the outside, and positioned in the centre of a road one-way system, it is still well worth a visit inside.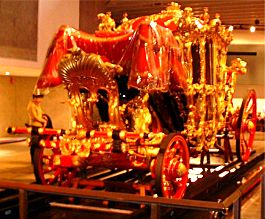 Being Christmas, one thing that we think of at this time are the traditional pantomime plays, such as Cinderella and Dick Whittington. In this museum, I was reminded of Dick Whittington, the young boy who walked to London with his pussy cat and later was made Mayor of London. Well, housed in this museum is the real Lord Mayor of London's golden state coach. This magnificent coach looking like it was straight out of the pantomime-except that it is still used on special occasions! This coach put me in the start of the Christmas mood.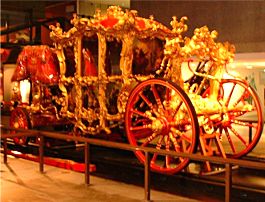 The coach was commissioned in c1757 and built by coach maker Joseph Berry at a cost of £860. The reason it was built is that up to then the Lord Mayor had to hire a state coach for Mayoral occasions, which was not seen to be fitting this high office. The finely painted panels on the sides of the coach feature allegorical figures of the genius of the city and are thought to be by a Florentine artist G.B. Cipriani, who came to London in 1755.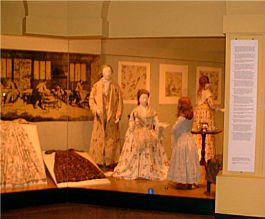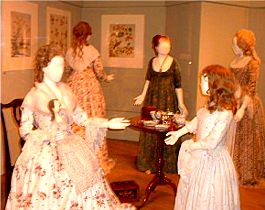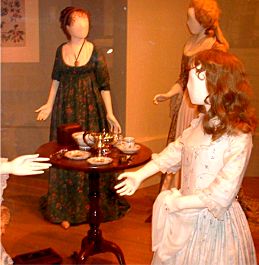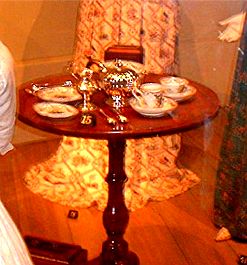 A section of the museum is devoted to life in London in the eighteenth century and I am pleased to say that tea drinking is represented well. A set displays a family at tea in the eighteenth century, the manikins dressed in fine clothes-tea drinking being enjoyed by the richer classes only. Later, tea drinking gradually spread to the poorer classes. There were large quantities of tea and porcelain imported by the East India Company and blue and white Chinese porcelain became widely available. It was possible to commission porcelain with your family coat of arms if you were rich enough.
The set contains a beautiful mahogany tripod tea table, displayed with a setting for tea. The items set out on the tea table include a bullet shaped silver teapot, this style of teapot was popular earlier in the century. This fine teapot was made by Gabriel Sleath, son of a tallow chandler, who worked in this area of London and was made in 1738. Teapots of this earlier period were of a small size, tea being a valuable commodity, drunk from very small Chinese tea bowls. Also on the table is a Hester Bateman cream jug, 1781, with chased decoration and Chinese porcelain from c1780.
Cabinets close by display some quality eighteenth century items, including some tea wares. I was particularly taken with a charming early Bow teapot, c1750, delightfully decorated with colourful parrots.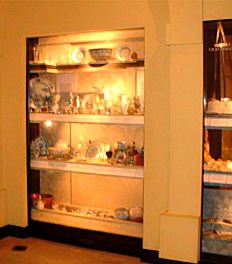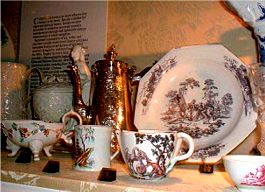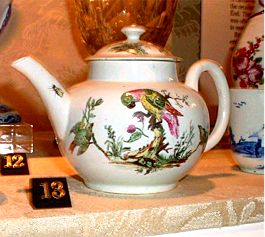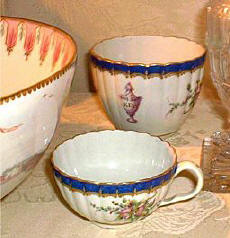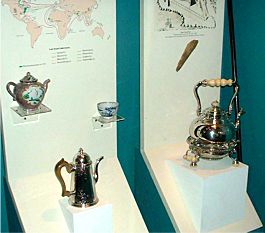 There were also a few pieces of porcelain that were made specially for Queen Charlotte at Kew Palace. These pieces, which include a sucrier, were made at the famous Worcester factory. Edged with a blue and gilt border, and painted with flower bouquets, there is a painted classical vase on which is written 'KEW'.
Another cabinet has some tea silver and porcelain in it and explains the tea trade. There is a very heavy silver tea kettle on its lamp stand. This was made in London in 1708. The stand contained a spirit lamp used to maintain the temperature of the hot water in the kettle.
The silver tapering Coffee Pot was made in 1712 by a Huguenot goldsmith called Augustin Courtauld.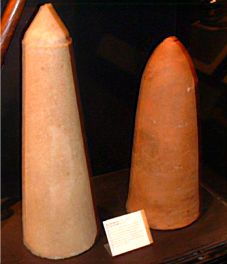 Something that is often seen in museums or country houses are sugar cones. Sugar was refined and moulded into great sugar cones which were then clipped, using sugar clippers to manageable sized lumps for serving at the tea table. However, I have not seen the clay sugar cone mould before, which I thought was rather fascinating.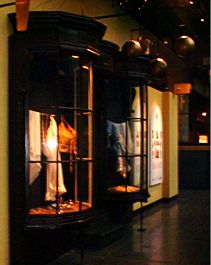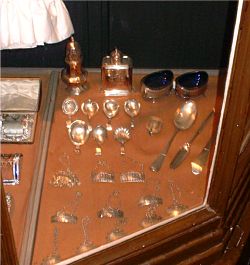 There are other displays in the museum of London, such as one that shows a typical pawn broker's shop. Here people in desperate times could pawn their valuable belongings and raise money against them, hoping that one day they will afford to buy them back again before they are sold off by the pawn broker. The shop here has Georgian bow windows packed with the goods received but never bought back, including silver tea caddies and caddy spoons amongst other things.
A recreation of Victorian shopping streets show some fascinating shops and businesses from this era. Included are a glass sellers, barbers, grocers, public house, tea warehouse and many others. I was particularly interested in the tea merchants. There is an office for the clerk to work, where next to him on the shelves are jars of tea of different varieties. Outside in the yard are tea chests and trolleys for transporting them around the warehouse.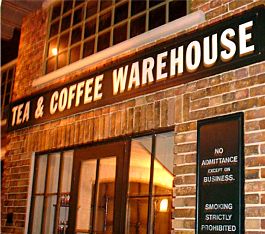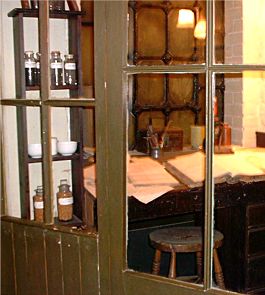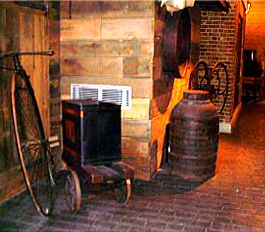 There is also a lovely old grocer's shop. Here there are rows of black and gold tea tins lining the shelves at the back of the shop. On the counter the old weighing scales and paper for wrapping the goods. In front of the counter are bins, glass fronted containing all sorts of biscuits. On a notice behind the counter is a reminder to join their Christmas club. A popular way of saving up for those Christmas treats and extras. Today we tend to just buy using a credit card!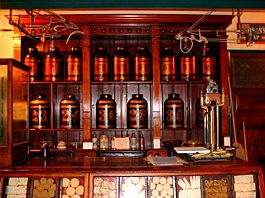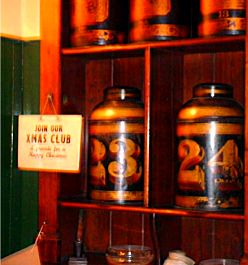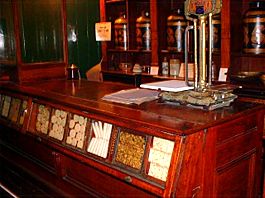 After this interesting short visit to the Museum of London it is time to head North towards Shoreditch.
I continue my trail North of Liverpool Street railway station at the Geffrye Museum, Kingsland Road, London, E2 8EA. Some of you may recall that I have visited this museum in a Tea Clipper a few Christmas ago, but I think it worth reminding you of the things that can be enjoyed in this delightful museum, free of charge. The museum is housed in a smart set of former eighteenth century almshouses of the Ironmongers' company. Inside, you are taken through a sequence of small rooms emulating town houses, each set in a different period in history. Starting with the seventeenth century with its heavy dark furniture and wood panelling, through to modern day living. At Christmas, these beautiful room settings are decorated as they may have been in their time.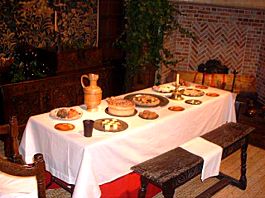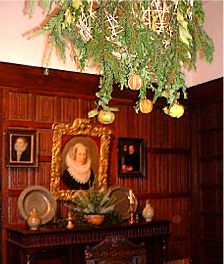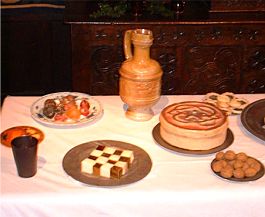 In the seventeenth century setting is a table set with festive fare that may have been enjoyed then. Benches and a few hard looking chairs surround the refectory table, this covered with a white cloth. Chequered sweetmeats, Glace fruits and nuts are laid upon the table and a flagon of wine or ale. a 'kissing bough' hangs from the ceiling, this the forerunner of Mistletoe.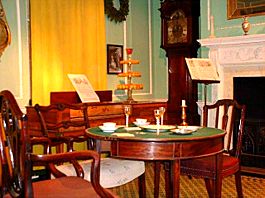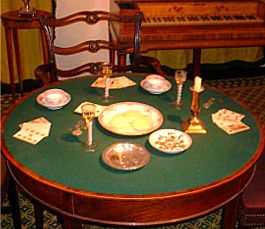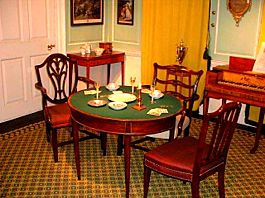 The period that I enjoy the most, the eighteenth century, is depicted in a charming room laid out to show a middleclass London family and how they might celebrate Christmas. By now, the celebration of Christmas was considered a festival for the poorer classes, so society tended to just use it as an excuse for some entertaining of friends and parties. The room shows little in the way of decoration as we know them, there are but a few classical laurel wreaths hanging on the wall.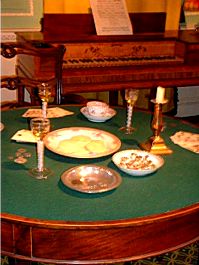 The room contains some fine furniture of the late eighteenth century and has been set for an afternoon tea party. The central fold over games table is used for the playing of cards and guests can enjoy tea, served from the Newhall tea set and silver tea urn on its urn stand. However, at this period, it was also fashionable for the ladies to enjoy a few glasses of a sweet flavoured liqueurs with their tea. These liqueurs served in exquisite Georgian wine glasses having small bowls and stems with opaque decorative twists. There may have been a plate of simple biscuits and silver coated sugared almonds-or sugar plums, as they became known.
The room demonstrates the simple elegance of the Georgian lifestyle and even if they were not celebrating Christmas in a big way, they certainly knew how to enjoy themselves, with fashionable tea drinking, fine wines and liqueurs, whilst having a little flutter on a hand of cards or listening to the square piano and even having a little sing song.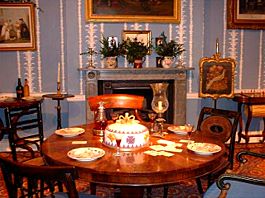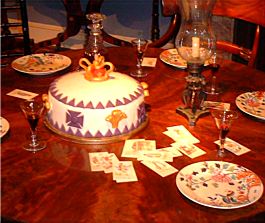 Moving to the Regency period, we see a room, now more elaborately decorated and containing more comfortable furnishing, looking a little more cluttered than the eighteenth century. Here, the family are about to enjoy a slice of the traditional twelfth night cake, taken with a glass of wine.
For a full review of the Geffrye museum, please refer to my Tea Clipper newsletters from March 2001, January 2002, December 2002 and January 2003.
After taking tea in the Geffrye museum's restaurant, it is time to head to Spitalfield, to the house of the late Denis Severs. There can be no better place in which to soak up the past and Christmas spirit. The house is in a character part of London, which became established as the silk weaver's quarter in the late seventeenth and early eighteenth century. There are still many houses here dating from this period, where the silk merchants would weave silk in the well-lit attics of these houses.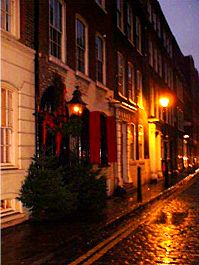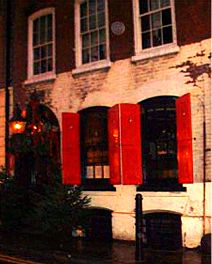 At number 18, Folgate Street, is the house bought by an American, Denis Severs when it was in an almost derelict state. He devoted his life to breathing 'old life' back into the house and has created a masterpiece capturing the life and times of an imaginary silk weaving family who would have lived in a house like this in the eighteenth century. It is a museum that I enjoyed immensely visiting, he created an atmosphere that is astounding.
The house outside, whilst looking a little tatty, evokes the period when the silk weaving family, the Jervices, lived in the house. At Christmas time, the house is decorated outside in festive mood, with Christmas trees against the door uprights and the overthrow, which remains a gas light, bedecked with greenery and red ribbons. A perfect match to the red wooden window shutters.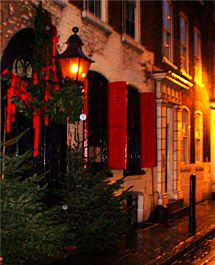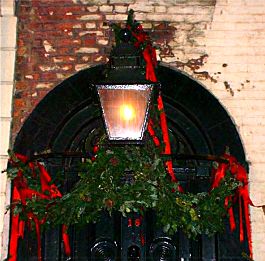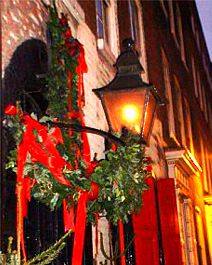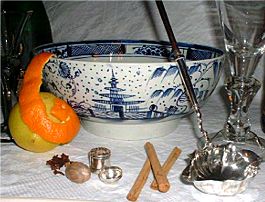 Denis created his family of the weaver, his wife and their son and as you walk round the house, in silence so as to not ruin the atmosphere, you enter the rooms at a moment when the family members have just that moment got up and left it. Therefore, when entering the dining room, it is set with a half eaten meal. the fire is blazing in the hearth and the candles are still burning. In many of the room settings the inspiration has been taken from a period painting. there is one room where above the fireplace hangs a painting of an eighteenth party by William Hogarth. It shows a circular table covered with a white table cloth and upon it a blue and white punch bowl, candle sticks, wine bottles, clay pipes and china cream jug. One of the candlesticks has been knocked over by the drunken guests and one guest has fallen to the floor, his chair knocked over and laying beside him. What you see in this room is a recreation of the painting in front of you. There is the same table, laid with the same things in the same position and the chair knocked on to the floor.
Denis wanted to take you into and out of the pictures on the wall, to be there with the family, but never quite in time to meet them. A very clever set up includes smells, sounds and smoke in rooms which give an eerie realism to the situation.
On the top floor in a bedroom, dark and dingy, with a large four poster bed, we meet Ebenezer Scrooge from Dickens novel 'A Christmas Carol'. a fitting end to a Christmas period tour of this exciting 'living' museum.
The museum is only open at restricted times for tours and should be contacted for details. Beware, that at Christmas time, the tours by candlelight get very booked up.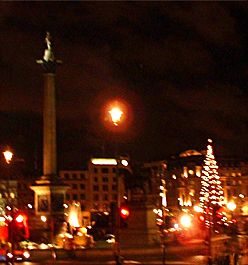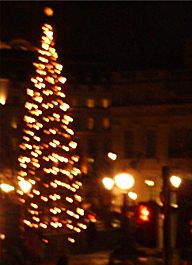 With darkness falling, what better way to conclude this trail than by going to Trafalgar Square. Here each year is a large Christmas tree, lit with white lights in front of the famous 'Nelson's Column'. Nelson, the famous hero of the Battle of Trafalgar in 1805, stands flood lit at the top of his column. On New Year's eve, people crowd into this square to see the old year out and the new year in, heralded by the sound of the 'Big Ben' chimes from Westminster's Houses of Parliament.
I hope that you have enjoyed this little tour to parts of London with a festive and tea antique theme. I hope that you might be able to follow the trail yourself one day. In the mean time may I wish you a very Happy Christmas and the very best that the new year has to offer.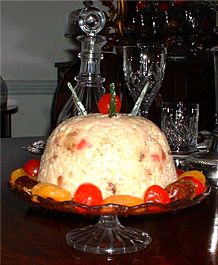 In a lecture at the Portsmouth city Museum, the tradition of Christmas fayre through the ages was explained. This covered the food that would have been consumed during our ancient ancestors Winter solstice, through to present day celebrations of Christmas. One item that I thought I would try to make for myself was the forerunner to the Christmas pudding as in England, we know it today. This early form of Christmas pudding is not made of suet and bread based mixture, but of cracked or 'bulgar' wheat. This simple form of pudding was made to be filling, idea for the poor to eak out their meat saved up for Christmas.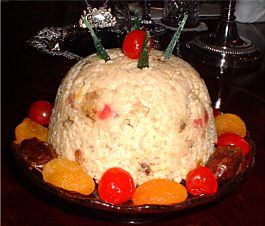 The pudding is made by boiling bulgar wheat in water for 15 minutes, the allowing it to stand for a further 15 minutes to allow the bulgar wheat to soak up the liquid. Once the bulgar wheat has softened, milk and stock are added, this may originally have been meat stock, but I used a vegetable stock to improve the pudding towards today's tastes! The mixture is returned to the heat and brought to the boil. Then the heat is reduced and an egg yolk added, the mixture is stirred until it thickens slightly. Once thickened, it is removed from the heat again and allowed to stand for 5 minutes before adding the fruits and spices.
For the fruits and spices it would have depended on how wealthy you were and what fruits and spices were available to you. For my attempt at recreating Frumenty, I mixed in dried raisins, sultanas, chopped dried apricots, dates and cherries. Then a teaspoon of mixed spice and a good grating of fresh nutmeg together with two teaspoons of brown sugar to sweeten it.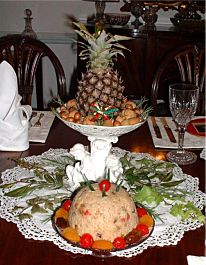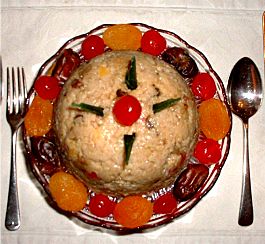 Frumenty could have been served warm or cold. I turned my mixture into a basin, chilled it and then turned it out, so giving the appearance of a traditional Christmas pudding. Once decorated with angelica, cherries, dates and apricots it made a fine addition to the desserts at table.
The flavour and texture of Frumenty is likened to a dry rice pudding which has had fruits and spices added, not at all unpleasant and in my opinion, a slightly lighter dessert than the Christmas pudding that fills us out at Christmas dinner!
---
To review past newsletters, just follow this link: Past newsletters.
To subscribe to this free newsletter - Click here
---
All information contained within any article on this website was considered to be accurate (as far as can be ascertained) at the time of writing. TeaAntiques.com Limited makes no warranty and accepts no liability regarding the accuracy of the content.
Copyright © 2000 - 2021 All rights reserved
TeaAntiques.com Limited. Company Incorporated in England No.: 5086843