Tea Clipper

from TeaAntiques.com

Edition

Fifty Two
Featured Antique-'Britannia' Silver Tea Canister, 'Queen Anne' Style, Rectangular With Canted Corners And Domed Lid, Inset Queen Anne Florin, London, 1902
A handsome 'Britannia' silver standard tea canister, made in the exact style of a 'Queen Anne' Tea canister of about 1705, this one made in London and dating from 1902. It faithfully reproduces the elegant and baroque style of the genuine Queen Anne tea canisters of the period (the genuine item now being very rare and extremely expensive!).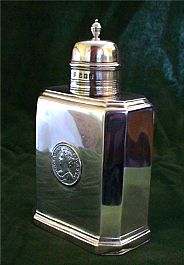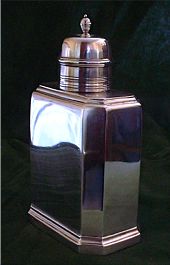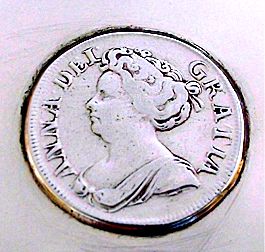 This type of silver tea canister was introduced in England in the last part of the seventeenth century. During this period the higher 'Britannia' standard of silver had been introduced.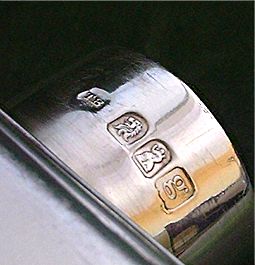 The reason for its introduction was that the practice of 'clipping' silver coinage or melting coins down by silversmiths had become so extensive that the standard of silver to be used was raised above that of Sterling silver thus preventing fraud. This made silverware more expensive, although raising the standard did make the silver softer to work with! This law to use 'Britannia' silver standard was repealed in 1820, so sterling silver could once again be used. Therefore, as a faithful later copy of a Queen Anne tea canister, this delightful one is indeed made of 'Britannia' silver and is marked thus. There are hallmarks on the neck of the canister, the removable base and the lid.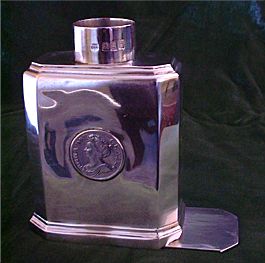 The rectangular base of the tea canister is removable by sliding it out from the side. Thus the tea would be poured into the canister from the base and the base replaced. During the tea ceremony, the tea would then be poured from the top circular collar into the lid, which would be used as a measure of the tea to be put into the teapot. Tea stored in this type of tea canister would be kept fresh from having a tightly fitting lid. Such a tea canister was an important part of the tea equipage and elegant tea ceremony, performed by the fashionable and wealthy society of the time.
This tea canister allows the collector of antique silver to own a faithful later copy of a Queen Anne tea canister, which might otherwise be out of reach due to their rarity and extremely high value.
More details of this item and other tea related antiques can be found by visiting my web site at www.TeaAntiques.com.
What connection does my home town of Portsmouth in Southern England have with the arrival and popularity of tea? Well, Portsmouth was one of the first places that tea arrived to these shores.
In 1662, King Charles II came to Portsmouth to meet his bride for the first time. An arranged political marriage, he was to marry Catherine of Braganza - daughter of King John of Portugal. This marriage was seen as a good one in the eyes of the Portuguese, as an alliance with England would ward off wars with Spain and Holland, who at that time were a threat to Portugal. Catherine brought with her an impressive dowry, which included Tangiers, Bombay, full trading rights with the Indies as well as £300,000.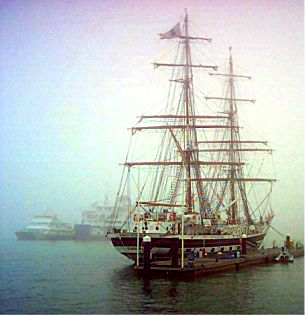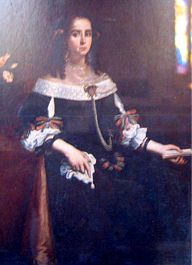 Catherine arrived at Portsmouth by ship from Portugal on May 14th 1662. Her journey had not been a pleasant one, the seas were rough from storms and she was not a good sea farer. After this distressing journey, she must have felt even more distressed that her husband to be, Charles II, had not come down from London to meet her. Instead, she was to be welcomed to our shores by the Duke of York, the King's younger brother. She was lodged in rather spartan accommodation at old Domus Dei (the House of God), which was centred around the Royal garrison church and included at this time, the Portsmouth Military Governor's House. All but the church itself were demolished in 1826 and the church was restored in 1866, but later bombed in World War II. As if this was not enough to endure, she was disillusioned to find that we were not drinkers of tea and the only tea that she had was in a casket that she had brought with her for the journey to England.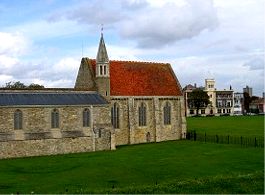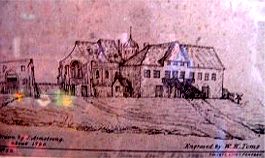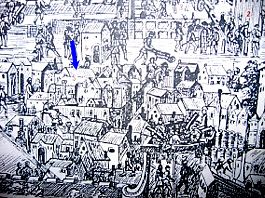 Portugal had been importing tea from the beginning of the seventeenth century and Catherine was an avid tea drinker, so she sent an envoy with instructions for tea to be shipped to her from her home land.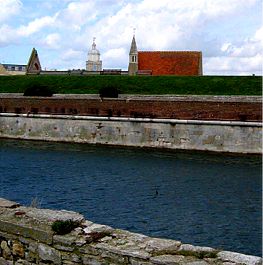 Portsmouth was the main Naval port but it was still only a small fortified town, the town walls surrounded by a water filled moat. Houses at this period were low built, so as not to project above the town's defences. There are some houses surviving in Portsmouth that date from the time when Charles II and Catherine of Braganza were here. These charming houses are timber framed with red tile roofs and locally made clay chimney pots.
There are sadly only a small amount of the moated defences left intact today, but it gives an idea of how the town looked in its earlier history. The roof of the Royal Garrison church and the Cathedral, with its white wooden lantern can be seen above the walls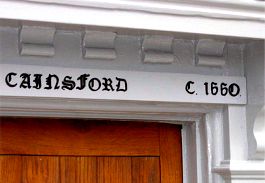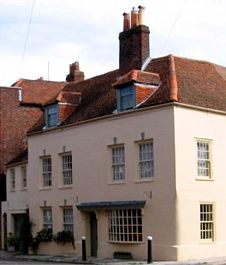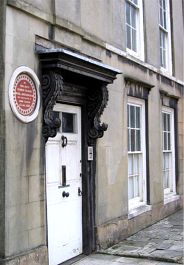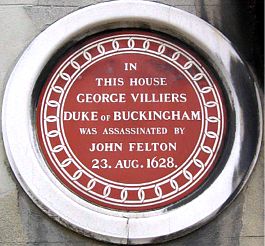 Portsmouth had long been the centre of the Navy, Henry VIII had built many of the defences around the town and had increased the size of the navy. Another famous character was King James II's 'favourite' George Villiers, Duke of Buckingham who was later a closely regarded friend to King Charles I, but who was assassinated in the High street of Portsmouth in 1628. So, Portsmouth must have held some strange memories for Charles II, whose father Charles I had been be-headed by Oliver Cromwell and that Prince Charles had to flee to France until the restoration of the monarchy with him becoming Charles II.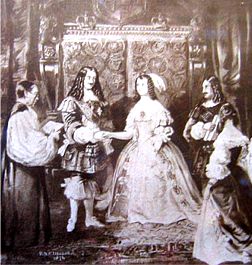 When Charles II, finally did come to Portsmouth to meet his bride on 21st May, it was a week after she had arrived in England. He wrote a letter to Lord Clarendon after the first meeting with Catherine, whom he married on the following day, 22nd May 1662:
I arrived here yesterday about two in the afternoon, and as soon as I had shifted myself I went to my wife's chamber. Her face is not so exact as to be called a beauty, though her eyes are excellent good, and not anything in her face that in the least can shoque one; on the contrary, she has such agreeableness in her looks altogether as I ever saw; and if I had any skill in physiognomy which I think I have, she must be as good a woman as ever was born.

Her conversation, as much as I can perceive, is very good; for she has wit enough and a most agreeable voice. You would wonder to see how well acquainted we are already; in a word, I think myself very happy, for I am confident our two humours will agree very well together. I have not time to say any more, My Lord Lieutenant will give an account of the rest.

21st May 1662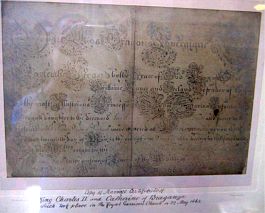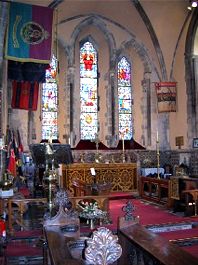 They were married in the fortified town of Portsmouth, in the Queen's apartments of Government house. The marriage was registered at The Garrison Church, Portsmouth and a copy of their marriage entry can be seen there to this day.
Charles II and Queen Catherine progressed to London and the Royal Court, where Catherine continued to enjoy her tea shipments. Tea then became popular with the English courtiers and society and it is from this that tea drinking became the social thing to do and its popularity swept the nation.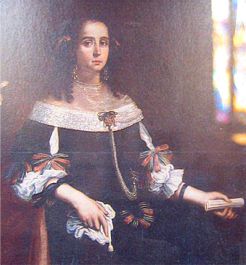 Charles and Catherine did grow to love each other, even though Catherine was unable to have children. Thus Charles took on a list of Royal mistresses, from whom he fathered many offspring. One of his favourite mistresses was Louise de Keroulle, she gave birth to a son, who was to become the First Duke of Richmond. Louise de Keroulle was granted the title Duchess of Portsmouth, and was the only ever Duchess of Portsmouth. Another of Charles's most famous mistresses was Nell Gwynne, rather common compared to Louise de Keroulle, who described her as 'the common orange wench'. Nell had been an orange seller at a London theatre, these were not only used as refreshment, but also as missiles to hurl at the actors should they be disliked by the audience!

Portsmouth therefore has a place in the history of the introduction and popularity of tea into England. It is with much thanks that owe our tea drinking to Catherine of Braganza.

Portsmouth
Southern England


Click here for Local Map of the Garrison Church mentioned.
Map courtesy of www.streetmap.co.uk
'Yo-Yo' Biscuits, filled with butter cream and jam - an alternative to scones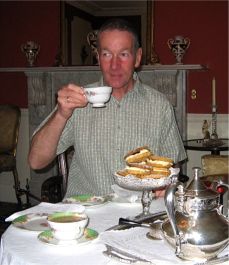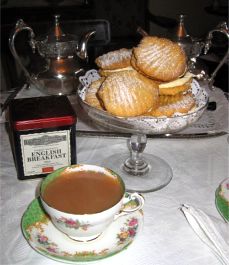 Having taken a tour round part of my home town of Portsmouth, I thought that I would return home and make some jam and butter cream filled 'Yo-Yo' biscuits to enjoy with afternoon tea. These sweet biscuits are so named as they resemble the once fashionable string wound toy, the 'Yo-Yo' and I think make a pleasant alternative to the more traditional scones, cream and jam.
These biscuits are simple to make, I made this batch in less than one hour, including cooking time! I thought that I would share the recipe with them with you, so that you may try them for your own afternoon tea, should you so desire. I had my biscuits accompanied by a fine English Breakfast tea produced by Taylors of Harrogate and found this a perfect combination. If you do have a go at making them, I hope that you enjoy them.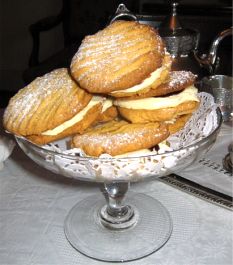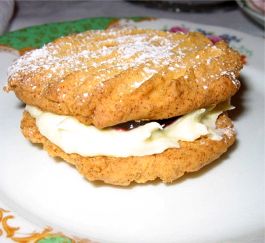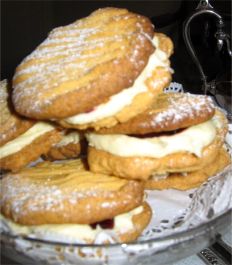 'Yo-Yo' biscuits recipe:
Biscuits:
6oz (175g) butter
60z (175g) self raising flour
2oz (50g) icing sugar
2oz (50g) custard powder
Filling:
Approx. 2oz (50g) butter
Approx. 10 Tbsp icing sugar
Jam (of your choice - blackcurrant is one that I used)
Method:
Pre-heat the oven to gas mark 4 ( or electric oven to 180C, 350F).
In a bowl, cream together the butter with the sieved icing sugar, sieved self raising flour and sieved custard powder. Once the mixture is thoroughly combined into a sticky paste, use a teaspoon to divide the paste into 18 small balls placed onto a greased flat baking tray, well spaced apart.
With a fork, flatten the paste into a biscuit round shape approximately 2-2½" in diameter. The fork will also add an attractive pattern to the biscuits.
Place the baking tray and biscuits into the oven and cook for 15 minutes, until the biscuits are golden brown. Remove them from the oven and using a palette knife or slice, lift them off and place them flat on a wire cooling tray.
Prepare the butter cream filling by beating the butter and icing sugar together in a bowl to form a light cream texture.
When the biscuits are cold, take half of the biscuits (9) and on their smooth side spread each with a layer of the butter cream. Next, add a small teaspoon of the jam into the centre of the butter cream and then place another of the biscuits, smooth side against the cream and gently squeeze the two biscuits together, thus creating the (9) 'Yo-Yo biscuits.
Finally, they look attractive if sprinkled with finely sieved icing sugar before serving.
---
To review past newsletters, just follow this link: Past newsletters.
To subscribe to this free newsletter - Click here
---
All information contained within any article on this website was considered to be accurate (as far as can be ascertained) at the time of writing. TeaAntiques.com Limited makes no warranty and accepts no liability regarding the accuracy of the content.
Copyright © 2000 - 2023 All rights reserved
TeaAntiques.com Limited. Company Incorporated in England No.: 5086843