Tea Clipper

from TeaAntiques.com

Edition

Fifty Three
Featured Antique - Rare Pair of First Period Worcester Fluted Ovoid Tea Canisters. 'Flowering Rock and Long Tailed Bird' Pattern, Open Crescent Mark, c1770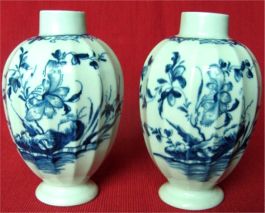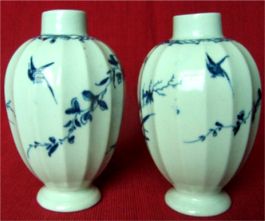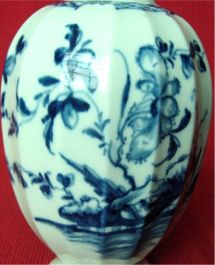 A rare pair of First Period Worcester fluted ovoid tea canisters, decorated in underglaze blue with the 'flowering rock and flying bird' pattern. Each canister is marked with the open blue crescent mark used at the Worcester factory c1755-90. This very fine pair of tea canisters date from c1770. It is good to find one such canister, but to find a pair is rare.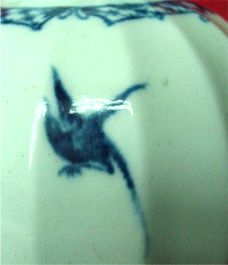 The shape of the canisters is beautiful, with vertical fluted panels around their ovoid bodies. They stand on stepped circular raised feet, have raised circular necks and are both beautifully decorated.
The painted blue decoration shows flowers and foliage emanating from rocks. There is also a delightful flying exotic bird painted on the canisters-which is absolutely charming.
They are a beautiful pair of tea canisters, being a pair make them even more rare and desirable to collectors of First period Worcester pieces or collectors of early English porcelain.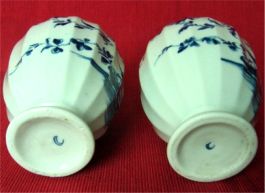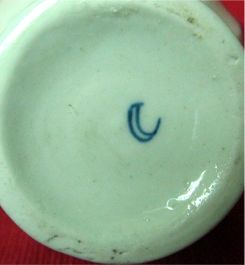 More details of this item and other tea related antiques can be found by visiting my web site at www.TeaAntiques.com.
Travelling to the West Country, I spent a late summers day in Lacock, near Chippenham in Wiltshire. This village, originating as far back as the 13th century, is rather like the set of a film, with its 'chocolate box' picture looking houses, in deed, it has been used in many period films. These include film productions of 'Pride and Prejudice'; Moll Flanders; Emma and the Mayor of Casterbridge. More recently, the Abbey sited to one side of the village was used in the making of the hit films 'Harry potter'.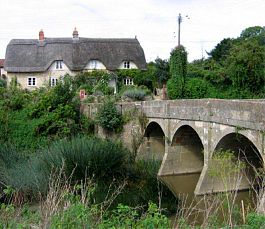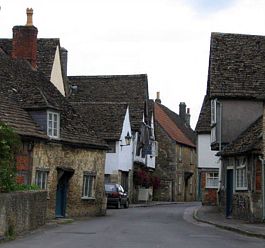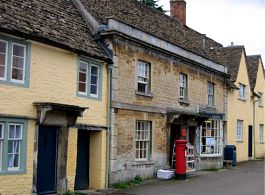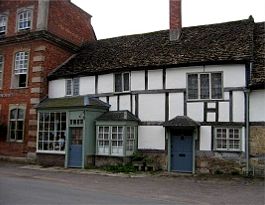 Most of the village is under the care of the National Trust, as is the Abbey, having been given it by the last Abbey owners, descendants of the Fox Talbots. Thus, being administered by the National Trust, there are many restrictions controlling the village to protect its appearance. Many of the attractive old houses have half timbered fronts or are of stone, with stone tiled roofs. This is certainly a must stop for tourists from all round the world and so in the summer months it can be rather busy. On my day there, not only being the end of the season, there were some very heavy rain showers and so it was much quieter.
Lacock Abbey is a fascinating house created from what was an earlier monastic Abbey. Located in a romantic setting between the very picturesque village and the meadows to the meandering river, the Abbey creates a romantic image. Founded in 1232 by Ela Countess of Salisbury as a nunnery for Augustinian canonesses, it was alter converted into a country house c1540.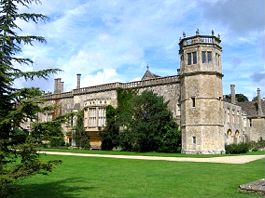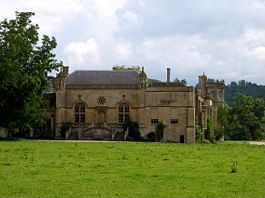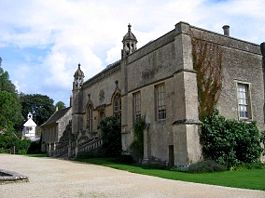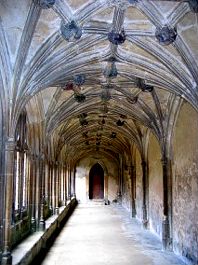 The fact that the house of Lacock was created from the old Abbey has given it an interesting architectural appearance. Below the rooms of the house are the original cloisters, round which the nuns would stroll, secretly observed by the Mother Superior through a 'squint' in her stair way up from the corner of the cloisters to her apartment. These cloisters have charming fan vaulting and form a quadrangle round an open court yard.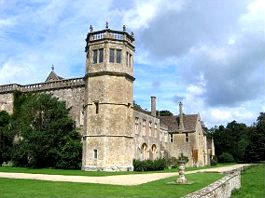 It was after the dissolution of monasteries by Henry VIII that it was sold to William Sharinghton in 1539. Amongst his alterations to the house was that he added the octagonal tower.
By the mid 19th century, the house had been bought by William Henry Fox Talbot, who totally remodelled the South front of the Abbey by adding three large oriel windows.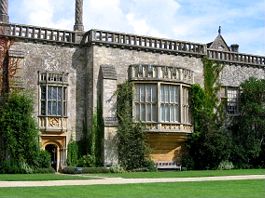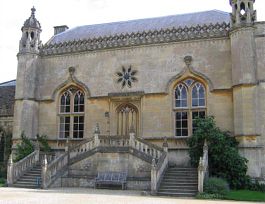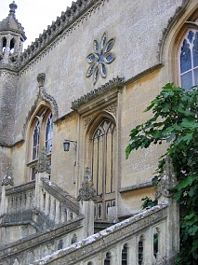 One of the most interesting elevations of the house is the Gothic front with central door leading into the Great Hall. It rather resembles 'strawberry Hill' Gothic with its high arched windows, turreted corners and fancy pediment - totally different to the rest of the Abbey's style. A sweeping drive was added to give a grand approach to the abbey by guests in their horse drawn carriages.
After wandering round the Abbey and its grounds, I walked back round the village to the end where the village church is situated. Just in front of the church in Church Street, I discovered a beautiful tea room and garden, 'King John's Hunting Lodge'. The tearoom is housed in a Tudor building, where in winter there is a blazing log fire to keep their customers warm. However, there is also a pretty garden round the back of the tearooms. Here in the garden one can enjoy a peaceful tea amongst the old English style mature garden. The tearooms have an old fashioned bicycle out the front with a basket on the front planted with flowers, a good way to attract customers into the tearooms.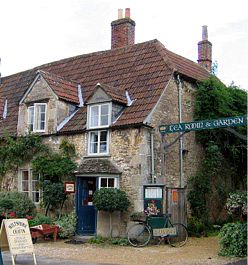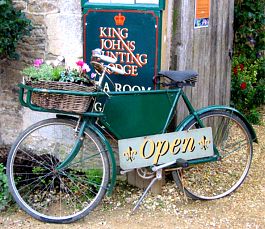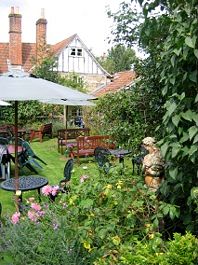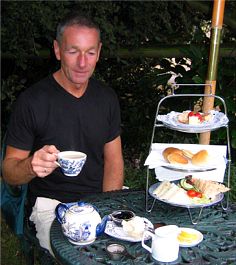 As it had just been raining hard, there was nobody in the garden having tea when I arrived, and I managed to find myself a small table under the shelter of a parasol that was dry enough for me to enjoy taking tea out in the garden. As the colder months approach any opportunity of tea out in the fresh air of an English garden is most welcome.
The tearoom offers a very fine menu for various afternoon teas - including a 'Royal tea'; Luxury cream tea; tea and cake; tea and toasties or a plain tea. On this occasion feeling rather hungry I indulged in the 'Royal Tea'. What a wonderful afternoon tea this was. It was presented on a three tier cake stand and comprised smoked salmon, cucumber sandwiches, home-made white, wholemeal and drop scones with lashings of good jam and thick clotted cream and a selection of dainty small cakes and pastries.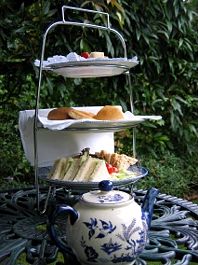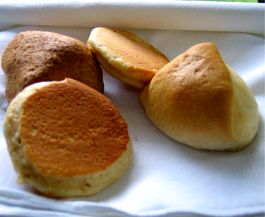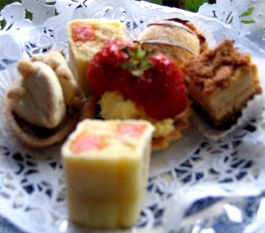 Tea came in blue and white country type china with a friendly service. I really enjoyed all that I had to eat and thought it most unusual to be presented with three types of scones. Drop scones, which are cooked on a hot griddle, are not often seen on the menus of teashops, especially East of this part of the country.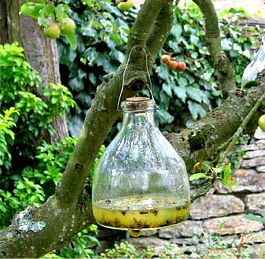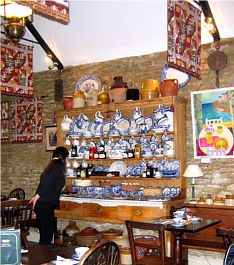 The only problem with taking tea out of doors at this time in late summer, is that there are lots of wasps around, especially after the sweet jam! This tea garden was prepared with Victorian style fly catchers hanging from the trees and they did seem to work in trapping a mass of wasps, leaving me to enjoy my tea.
Lacock is a stunning village, the Abbey serene and romantic and the tearooms an absolute treat. Lacock must surely be a place to visit on any holiday tourist trail - it certainly has my recommendation.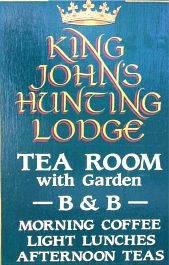 King John's Hunting Lodge
Church Street
Lacock
Wiltshire
Tel: 01249 730313
Click here for Map
Map courtesy of www.streetmap.co.uk
---
To review past newsletters, just follow this link: Past newsletters.
To subscribe to this free newsletter - Click here
---
All information contained within any article on this website was considered to be accurate (as far as can be ascertained) at the time of writing. TeaAntiques.com Limited makes no warranty and accepts no liability regarding the accuracy of the content.
Copyright © 2000 - 2023 All rights reserved
TeaAntiques.com Limited. Company Incorporated in England No.: 5086843