Tea Clipper

from TeaAntiques.com

Edition

Sixty One
Featured Antique - A beautiful Victorian Dessert Service, Hand Painted With Named Romantic Scenes, Dark Pink Borders, English, c1880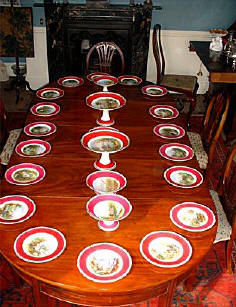 This stunning Victorian dessert service would be the perfect service to set off the table this Christmas. Imagine the joy in having such a comprehensive set, each piece hand painted with beautiful scenes, which are named on the underside. This large set comprises no fewer than 18 Dessert Plates; 3 Small Footed Comports; 2 Medium Footed Comports and 2 Large Footed Comports.
Each piece of the set is individually painted with very attractive and romantic scenes which include castles, houses, ruins, naturalistic features and even a pier. What also makes this a special service is that each of the pieces has the name of the scene painted by hand on the back, so each is identified.
The scenes painted on this delightful service are exquisitely painted with soft colour tones to create soft and romantic pictures. There are no repeats of any scene, they are all different. Most are of British scenes, including many from Yorkshire, Wales, Scotland, however, one of the large comports has a scene of a view near Athens, Greece.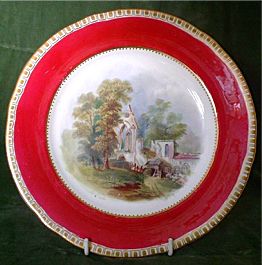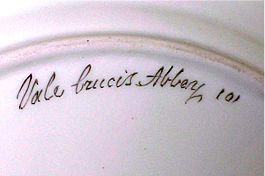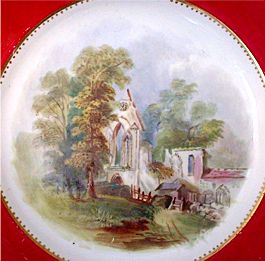 Each of the plates and comports have a very rich dark pinkie-red border which is a typical Victorian colour popular in the second half of the nineteenth century in English tableware. This border colour gives the set a very gracious and regal appearance and the perfect rich colour for a unique Christmas table setting.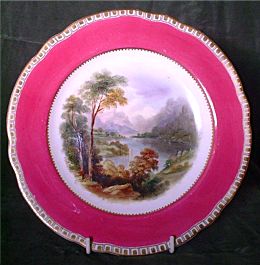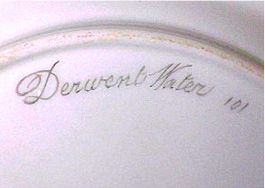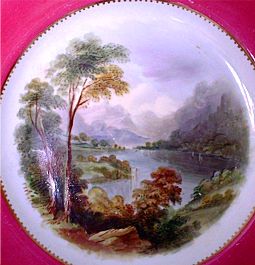 The rim of each piece from the service has a gilt border that comprises a cell type border with gilt dentils. On the inner edge of the rich pinkie-red border is further gilt embellishment of a gilt line and fine gilt dots, this perfectly framing each hand painted scene.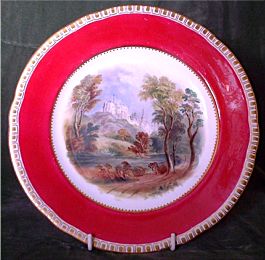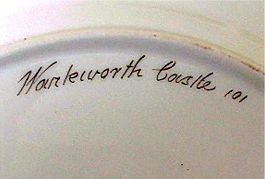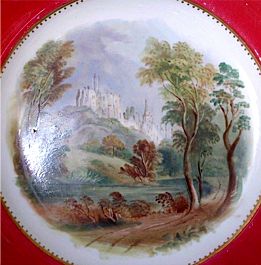 This is a very high quality English Victorian dessert service that would be a fantastic set for the collector of fine English porcelain. An important set too having beautifully hand painted scenes that are individual and each identified on the back of the plates. Spoil yourself this Christmas, or maybe the perfect present?
More details of this item and other tea related antiques can be found by visiting my web site at www.TeaAntiques.com.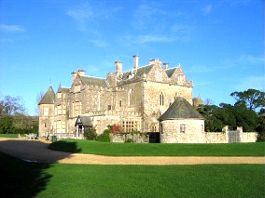 During the cold winter months and Christmas period, few stately homes open their door to the public, not the case with Beaulieu. At Beaulieu there is certainly a very warm welcome to visitors during the Christmas period when the house is transformed into a typical country house Victorian Christmas for all to enjoy.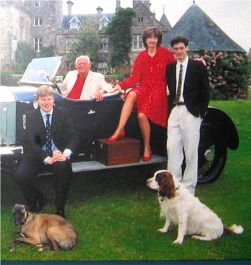 The Palace of Beaulieu is situated on the opposite side of Beaulieu river to the old village and is on the site of an old ruined monastic Abbey. The original Abbey gate still survives now forming a part of the house itself. Other parts of the Abbey cloisters and buildings also still survive in the grounds of the Palace. The Palace of Beaulieu has been the ancestral home of the Montagu family since 1538 and remains their home to this day.
As well as the Palace house itself, Beaulieu boasts other attractions including the famous National Motor Museum, this housing a vast collection of classic and celebrity cars.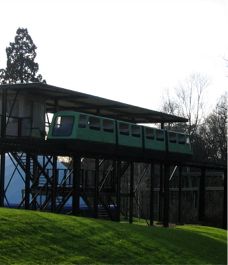 For those who do not fancy the short walk to the house from the entrance ticket office there is an alternative mode of transport in the form of a monorail. This rail system on raised iron tracks whisks the visitor through the grounds to the Palace. During this journey it travels through the Motor Museum high up at roof level, which affords a panoramic glimpse of the treasures to be seen in this museum.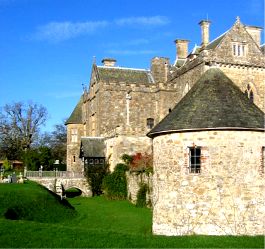 First stop for me on a cold, but fine and sunny December day was to visit the Palace of Beaulieu. This stone built house, with its stone mullioned windows, circular towers with conical roofs and dry grass moat around the house, it reminds me of a French medieval château. It is set in a fine landscape with views to one side of the quaint village of Beaulieu.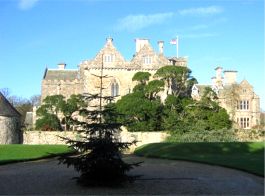 A Christmas tree stands outside on the drive way to welcome Christmas guests to the Palace.
Entering the house through the black beamed Porch, there is a welcome sight of a Victorian maid, dressed in black, with crisp white apron and cap offering a free glass of steaming warm (non-alcoholic) punch. What a very nice way to greet visitors and it was most welcoming to warm up a bit before enjoying my wander round the Palace.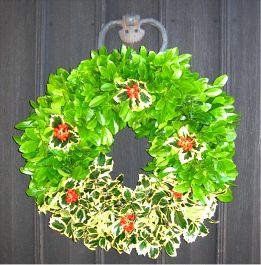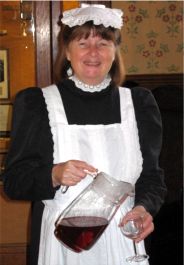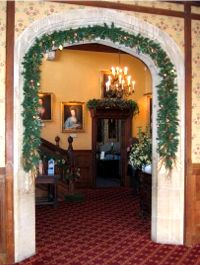 In the Victorian tradition of decorating the house for Christmas, there was a lot of greenery around the house, on mantle pieces, above paintings and door frames, as well as embellishing the tables, etc.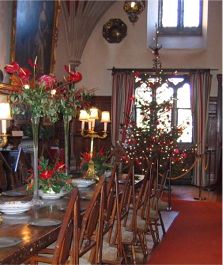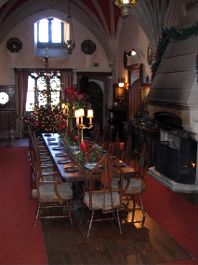 After finishing off my glass of punch, I made my way first into the dining room. A welcoming smell of a burning log fire greeted me, indeed the fire was merrily burning some fine large forest logs. This burning in a huge stone hearth added greatly to the atmosphere of the house. Most stately homes would not dare to light a fire because of fire insurance. In this great Dining Hall, is a central early refractory type of dining table commanding most of the room. Down the centre of the table are high electric candelabra, punctuated by equally tall vases of flowers in festive colours. The table is set with Pewter plates and some early plates that I think may have been Delft.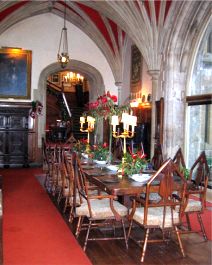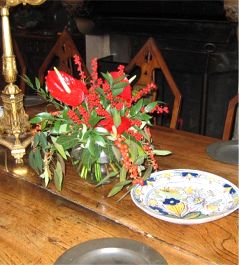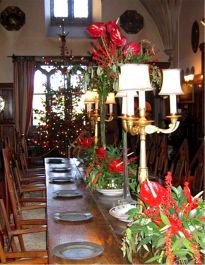 At the far end of this lofty Dining Hall, set against the window, is a large real Christmas tree decorated with red baubles and ribbons. This red and green colour theme is continued around the room's other decorations. The Dining Hall is graced with a fine fan vaulted roof, the vaulting picked out by a red coloured ceiling, thus the decorations complementing this beautifully.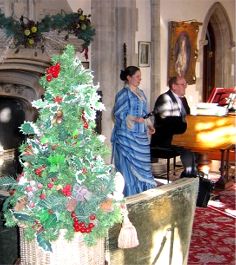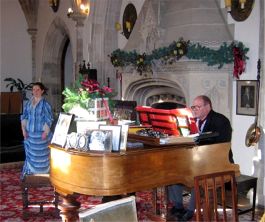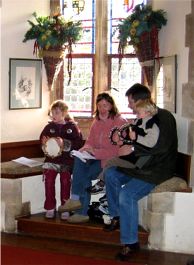 On the other side of the Dining Hall is a Drawing Room in which there is a lady singing Victorian Christmas Carols accompanied by a Gentleman seated at a grand piano. Both are dressed in Victorian costume, the lady in a very fine blue stripped dress with bustle at the back. The echoing sound of her singing can be heard in many of the other rooms within the Palace and epitomises a Victorian family Christmas entertainment. Victorian families would love to gather round a piano and all sing their hearts out; what better family pleasure could there be at Christmas time? In this room visitors, especially the children are invited to sing along and are even handed sleigh bells or tambourines to accompany the songs, what a jolly joyous result was to be heard and how the young children enjoyed it. Again in this gracious room the huge stone fire place was bedecked with garlands of greenery for Christmas.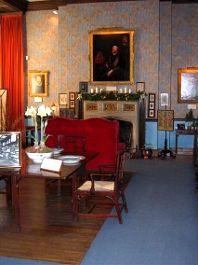 A blue and gold sitting room is the other room to be seen before passing up the stairs to the first floor. This sitting room has a rather Victorian Gothic stone fireplace, inset with geometric designed tiles. The mantle piece covered with greenery and candles for Christmas above which hangs an ancestral family portrait, indeed there are many such fine family portraits to be seen in the Palace. The room contains some Chippendale Style dining chairs and fire screens.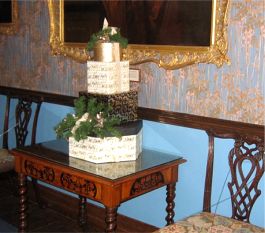 Also, there is a stunning marquetry inlaid side table with four 'barley twist' legs. Upon this fine side table are a pile of decorated presents, as they may have been for the family to open on Christmas or Boxing day.
Moving up the grand wooden staircase, the rail was hung with yet more garlands of greenery and a wreath containing rosy red apples, pine cones and ribbons. On a table on the top landing are more beautifully wrapped presents below another family portrait of a gracious eighteenth century lady in a sweeping blue silk dress.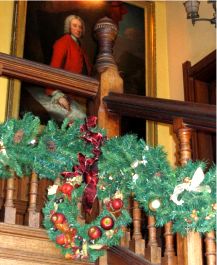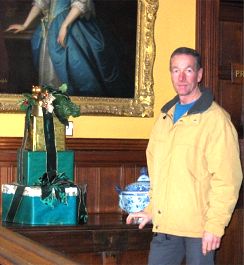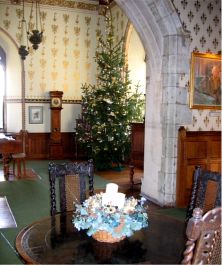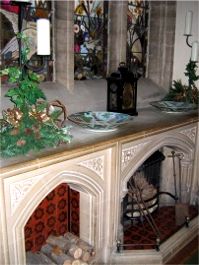 There is a small breakfast type parlour, large drawing room and a family dining room. The breakfast parlour has a round table around which are some early designed oak chairs, with twisted turned chair back rails. On the table is a Christmas decoration of blue pine branches, with pine cones and white candles. There is a low fireplace of stone with a log store integrated into it. Above this fireplace a stained glass window and on the mantle sits a fine quality early eighteenth century Ebonised Bracket clock. Like the other rooms of the Palace, there are family portraits to be seen, including some more up to date ones than those of early ancestors.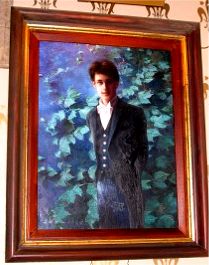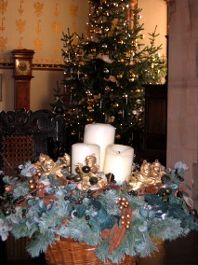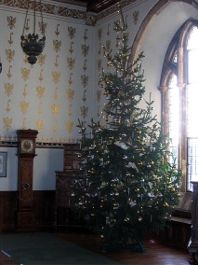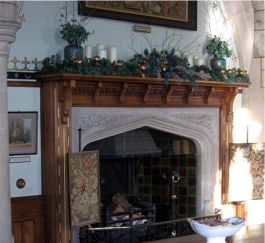 In the large drawing room across the way there is a very large Christmas tree, this time its branches decorated in a gild theme to match the decoration of the room. Next to the tree, in the corner, a magnificent early English long case clock.
In the family dining room, a Georgian mahogany side board sits at one end of the room, on which there are some fine silver food domes. How grand these would be delivered to the Christmas table under which would be all manner of roasted meats and game, possible shot on the Palace's own estate. Above the sideboard is a detailed set of oil paintings showing Venetian scenes. The stone fireplace with arched top is surrounded by a carved wooden mantle piece. On the mantle piece is a bracket clock and putti mounted candlesticks and above is yet another fine family portrait.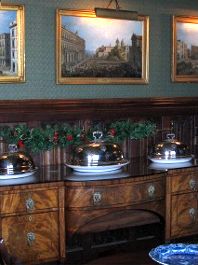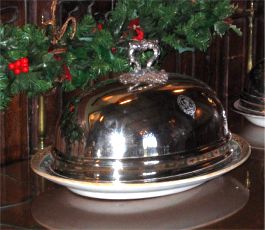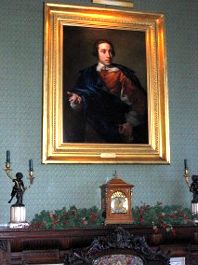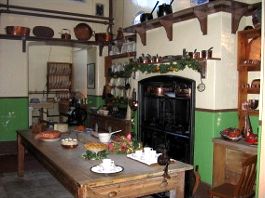 Returning downstairs to the ground floor, it is then onto the old Victorian Kitchens. These being laid out with Victorian utensils and mock ups of the food that might have been on the menu, it is very easy to picture this as a bustling working kitchen. On one end of the large rectangular kitchen table are some wooden tea trays, each laid with a white linen tray cloth and made up with tea china. There are fancy pies, trifle, stilton cheese and roast birds to be seen. The huge blackened Victorian cooking range stands proudly in the stone grate. High up on the kitchen shelving are china teapots waiting to be filled with a fragrant hot tea for the family and their house guests. Also, there is a sugar cone waiting to be clipped into small lumps for serving with tea and for use generally in the kitchen.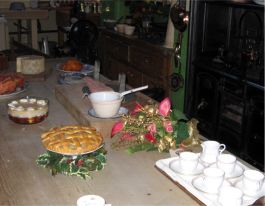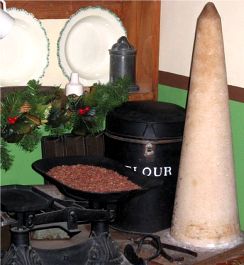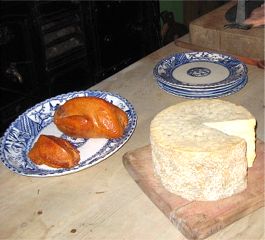 A well stocked pantry and game larder are filled with produce of the period. Hares, rabbits and pigeons are hung in the larder to mature before the cook transforms them into a tasty dish to serve at table. One thing that I noticed in the larder was a wooden tea chest, labelled with the famous 'Harrods' shop label.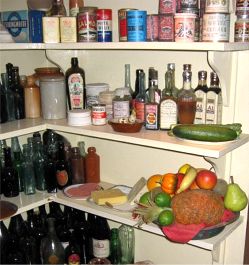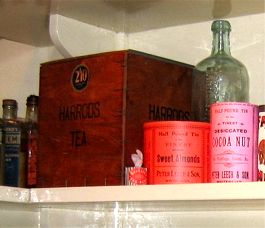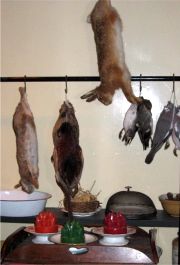 There is an abundance of all types of copper ware in the kitchen, from copper pans, to intricate moulds for jellies, ice creams, butter and desserts. On the wall opposite the cooking range and set high up are the multitude of bells which would have rang to alert the requirement of attention by the family and guests where ever they may be in the Palace. This kitchen must have been a hive of activity during the festive period and completed a wonderful viewing of part of the Palace.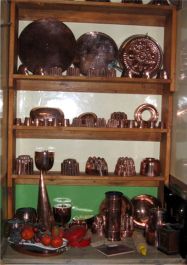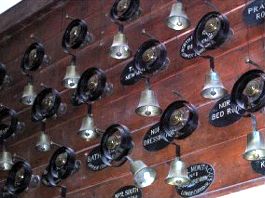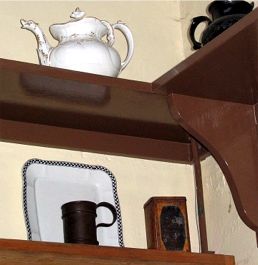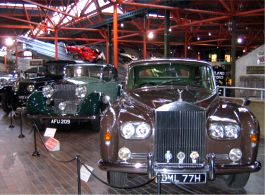 Before leaving Beaulieu, I paid a short visit to the National Motor Museum, housed in rather a dull 60's style concrete building it does not do justice to the collection of cars. Inside, the array of motor cars is bewildering. there are some very grand Rolls Royce's at the top end of the motoring market to the humble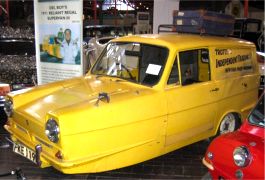 Robin Reliant (this one from the TV series 'Only Fools and Horses' which was set in Peckham, London). The museum traces the history of motoring from the very earliest open top vintage cars to the latest in motor racing cars. In the field of racing and land speed setters, there is the easily recognisable 'Blue Bird' which was driven by Sir Donald Campbell in his land speed record breaking drive. Even in this museum, Christmas is not forgotten and Father Christmas is there in one of the old cars ready to deliver his sack of toys to the children on Christmas Eve.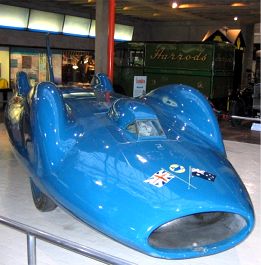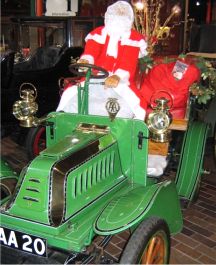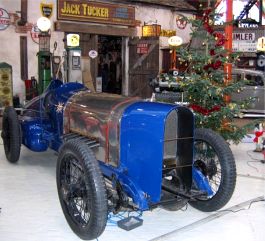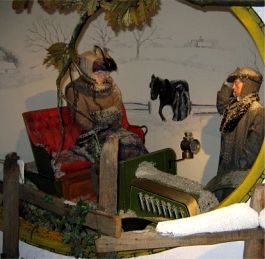 A rather fun thing to do in the Motor Museum is the 'Wheels' exhibition. This is like a tunnel of love, with small buggies which run through a winding tunnel where the history of motoring is depicted in a series of model tableaux. There are some very amusing ones that show how cold it must have been for the pioneering motorists in the depth of winter and travelling on narrow unlit lanes. Here a lady remains in the open top car, freezing to death, while her husband attempts to get the contraption started once more - will they ever make it to their Christmas party? On a more enjoyable note, there is an elegant Edwardian family outing in their old Rolls Royce to a place by the river for a spot of fishing. Here they have a traditional picnic with them laid out on a picnic blanket, the Lady protecting herself from the summer sun with her parasol. Another of the tableaux shows the mass production of family cars by Henry Ford, where you were able to choose any colour car provided it was black! It is thanks to the advances in the motor car that allow people like me to go round and enjoy so many stately homes and places of interest, and I hope that this then allows you to do the same, if only through these newsletters.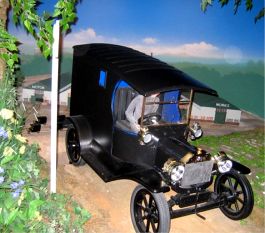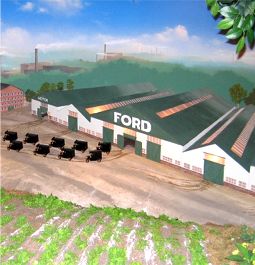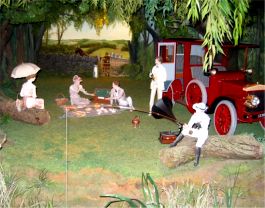 If you get a chance to visit Beaulieu this Christmas season, I hope that you enjoy it. In the meantime, thank you for your continued support of the Tea Clipper through out 2005 and I wish you a very happy Christmas and all the very best in the New Year.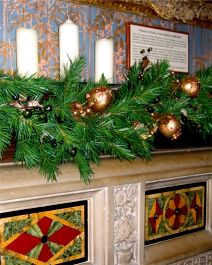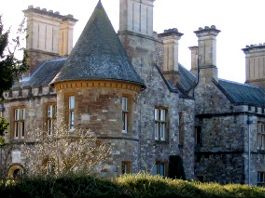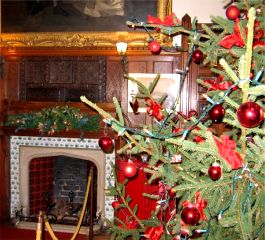 Beaulieu Palace & National Motor Museum
Beaulieu
Brockenhurst
Hampshire SO42 7ZN


Tel: 01590 612345
Website: http://www.beaulieu.co.uk
Click here for Local Map
Map courtesy of www.streetmap.co.uk
---
Merry Christmas Tea Clipper Readers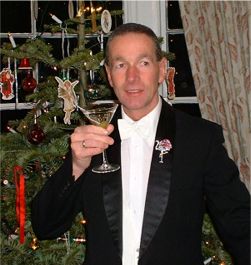 From Adrian
---
To review past newsletters, just follow this link: Past newsletters.
To subscribe to this free newsletter - Click here
---
All information contained within any article on this website was considered to be accurate (as far as can be ascertained) at the time of writing. TeaAntiques.com Limited makes no warranty and accepts no liability regarding the accuracy of the content.
Copyright © 2000 - 2023 All rights reserved
TeaAntiques.com Limited. Company Incorporated in England No.: 5086843