Tea Clipper

from TeaAntiques.com

Edition

Sixty Three
Featured Antique - Rare Caughley Asparagus Server, printed in blue & white with 'The Fisherman & Cormorant' pattern, c1785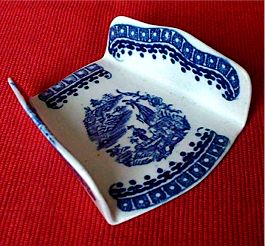 A delightful and quite rare Caughley asparagus server, printed in blue and white with the 'fisherman and cormorant' pattern, c1785. These servers were used to serve individual portions of succulent asparagus at the dining table, it holding a small bunch of asparagus nicely together for ease of handling.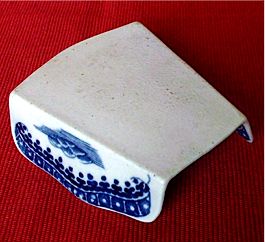 The base of the asparagus server is printed with the fisherman and cormorant print showing a fisherman who has caught a fish with his line and which is eagerly watched over by the hungry cormorant bird perched upon a rock, its wings outstretched. The fisherman is standing on his boat which has a mast and sail.
This same border decoration is applied to the raised sides on the inner and outer rims. Also on the outer faces of the sides are blue printed Islands within the sea.
A very good quality Caughley piece for the connoisseur collector of Caughley porcelain.
More details of this item and other tea related antiques can be found by visiting my web site at www.TeaAntiques.com.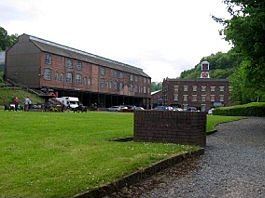 Returning to Ironbridge Gorge in Shropshire, after some interesting visits last year for which I reviewed Ironbridge, Blist Museum and the Coalport factory museum. This time I returned to visit the area of Coalbrookdale, set to the West side of Ironbridge town. Coalbrookdale is a testimony to the time of the industrial revolution in the eighteenth century. It still retains much of its industrial past, of which some are now museums within a world heritage site.
Coalbrookdale is set in a valley running at right angles away from the Ironbridge Gorge.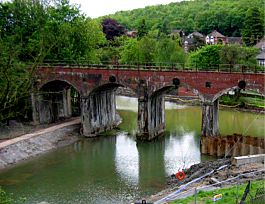 As you make your way up the hill to the Darbey Houses and the museum of Iron, you pass a series of ponds, created in the eighteenth century to power water driven machinery for the industries. The Museum of Iron includes some of the earliest iron foundry buildings and blast furnaces. The oldest blast furnace is on the site where Abraham Darby III invented cast iron, a discovery that was to revolutionise the uses of Iron, which until then had been wrought iron.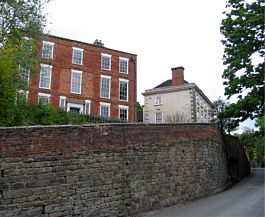 Abraham Darby III was a part of a large family of Quakers, who lived at Dale House and later, other members of the family were to live in the house next door - Rosehill House. these two houses are now part of the museum and are well worth a visit. Dale House, is a red brick fronted house set upon a rise above the iron foundry and museum. It was built in 1715-1717, by Abraham Darby I for him and his wife, but he died before the house was completed. His widow died shortly afterwards in 1718 and Dale House was inhabited by Abraham Darby's eldest daughter, Mary, who had married Richard Ford. Richard Ford had built the house next door, Rosehill House for himself, as he was the Clerk to the Coalbrookdale Company. Upon Abraham Darby's death, he became the manager of the company.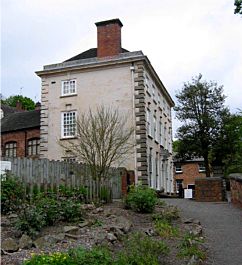 In 1734 Mary's eldest brother Abraham Darby II, married Margaret Smith of Shifnal, they later moved into Dale House, while Richard Ford and Mary moved into the newly built Rosehill House next door. From then, there have been many movements of various members of the families between these houses.
When Araham Darby II died in 1763, Abraham Darby III was only 13 years of age, and so the company was run by Richard Reynolds until Abraham Darby III was old enough to take charge of the company in 1768.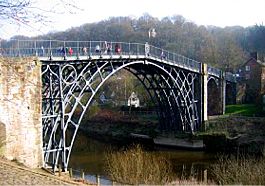 Abraham Darby III carried out some re-modelling of Dale House before he and his wife Rebecca Smith moved into it in 1769. It was here, where they lived for four years and from where Abraham Darby III designed and directed the building of the now famous Ironbridge across the river gorge. The bridge was a master-piece, constructed of his newly developed cast iron.
They moved out of Dale House in 1780 to a large farm house at the far end of the gorge to escape from the smoke that became a feature of the Gorge. Early in the nineteenth century, Abraham Darby III's youngest son Richard and his wife Maria Sorton moved into Rosehill House, where they remained for nearly 50 years. Today, this house is a museum furnished as it might have been during their occupation in the house.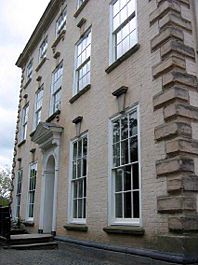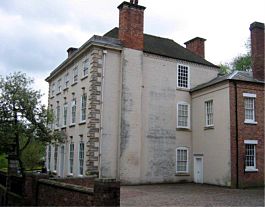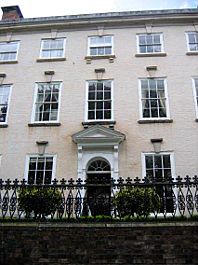 Unlike Dale House, Rosehill house has a painted rendered front. The facade is of a formal three story, five bay design, with large sash windows on the first two floors and a central door with simple pedimented wooden door case.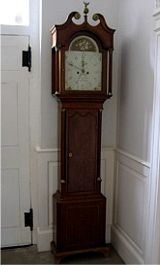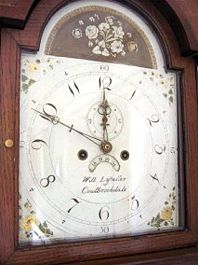 Entering the house through the front door, you step into the hall, ahead of you and to the left is the turned oak baluster rod staircase, which angles its way up to the floors above. At the far end of the hall stands a beautiful long case clock, the face painted with simple flowers in the four corners and also in the arched top. This clock is early nineteenth century and although the mechanism was made in Birmingham, the case was made by a local Coalbrookdale maker, William Lyseller.
To the right, as you enter the Hall, is the dining room. This has, like the rest of the house, been decorated and furnished as it may have been around 1850, when Abraham Darby III's son Richard and his wife Maria lived here. This Dining Room is of very elegant proportions, well lit from the large sash window at one end. It was a room in which formal dining or family suppers would take place. Informal meals, such as breakfast and lunch were taken in a room behind the dining room.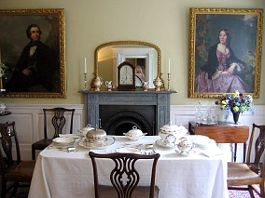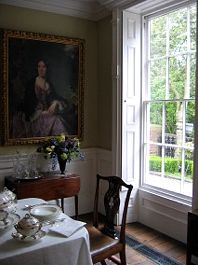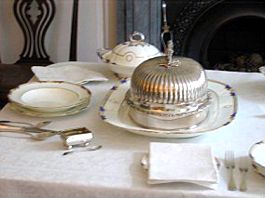 A rectangular table is set in the middle of the room laid with a damask white table cloth and set with some family pieces of silver and porcelain. Around the dining table are a set of Chippendale style dining chairs with pierced back splat.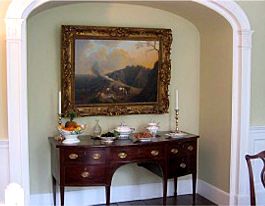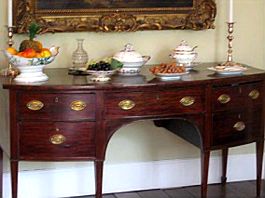 At the end of the room opposite the window is a very fine mahogany sideboard with oval brass drop handles, it is set within an arched niche. On the sideboard, there are parts form a splendid Swansea dessert service. Each piece of this service is exquisitely painted with botanical flowers. This service belonged to the family and much more of it is displayed in the display rooms of the house.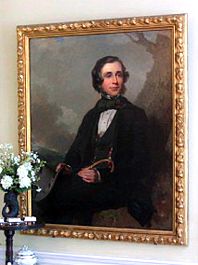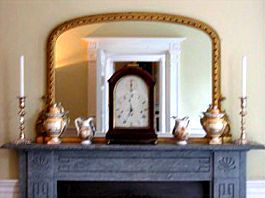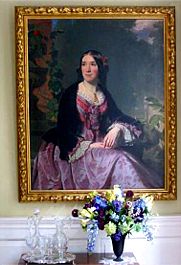 The cast iron grate of the fireplace which dates from 1810, was cast by Coalbrookdale Company and has around it an elegant grey marble surround. Above the mantle-piece is a gilt framed over-mirror, in front of which stands an arched Bracket clock, some Worcester vases and silver candlesticks. To the left of the fire place is a portrait of Alfred Darby I and to the right a portrait of his wife Rebecca. These two portraits are the work of Philip Westcott.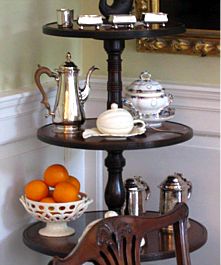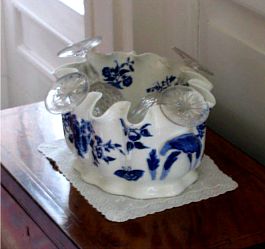 In a corner of the Dining room stands a mahogany three tier dumb waiter. These were designed to allow guests to help them selves to food, usually dessert, when the serving staff had been dismissed, so conversation could then be in private away from the domestic staff. On this dumb waiter are some pieces of family silver, including a baluster shaped mi-eighteenth century coffee pot and covered tankard, of slightly earlier date. There is also a Wedgwood Creamware fruit shaped sauce tureen and stand and a pierced fruit bowl. Another very interesting thing in this room is a porcelain blue and white 'montieth', used to chill wine glasses before serving white wines. Although they were a family of Quakers, their religion discouraged the drinking of alcohol, but did not actually ban it. Also, guests would not be expected to refrain from the pleasures of wine at dinner.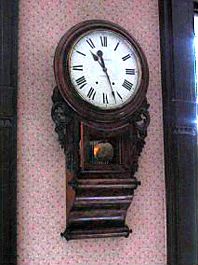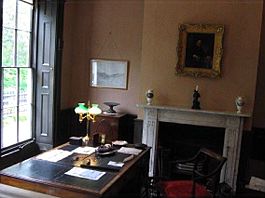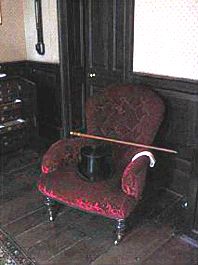 Leaving the Dining room and crossing the hall, you enter the Study, where the Gentlemen would conduct business etc. In the window there is a partner's desk, so called as it is designed that two people can sit on either side to work. On the wall is a clock that has a movement made in America, but with a case made nearby at Birmingham. A top hat and gentleman's cane rest on a plush upholstered Victorian armchair. As in the dining room, the fire grate was cast at the Coalbrookdale Company, this time surrounded by a classical white marble surround.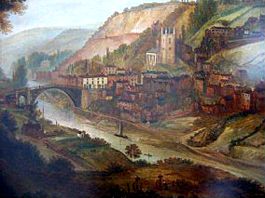 From the Study, making your way up the flight of oak stairs to the second floor, you pass on the half landing an oil painting c1845, of Ironbridge gorge. This shows the small town set within the steep sided wooded gorge which is spanned by Abraham Darby III's famous cast iron bridge, made in 1779.
On the second floor above the Dining room is the Parlour. This very attractive room would have been the domain of the ladies of the house during the day for such pursuits as reading, needlework and a place to entertain guests to afternoon tea. These activities are very well illustrated in the setting of this room, with a tea table set in the middle of the room and also in the room are needlework boxes and books laid on chairs as if they had just be put down to enjoy afternoon tea.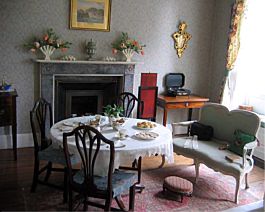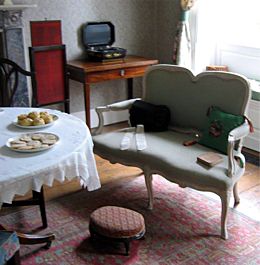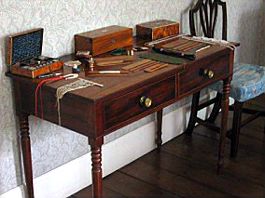 For me, it was a treat to see a beautifully elegantly laid up table for afternoon tea and what nicer room could there be in which to enjoy it. The table is a circular table with a central column on splayed feet terminating in brass casters. This table is covered with a lace edged white table cloth, a perfect foil for the delicate china teaset and silver tea service. The three-piece tea set, like the china belonged to various family members, so it is wonderful to see it back in this house.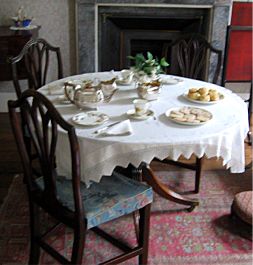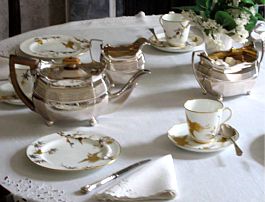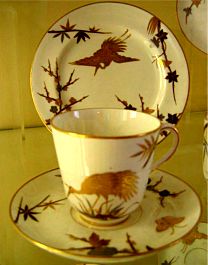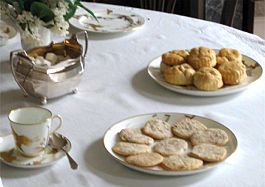 The china teaset is a Worcester set of the flying Crane bird, this decorated in exquisite gilt and white decoration showing the graceful Crane on the ground and also in flight, a very stylised set. There are further pieces from this tea service displayed in the Display room. The silver teaset, dating from the early nineteenth century is of a rectangular shape and each of the three pieces standing upon silver ball feet.
There are two cake plates on the table, one with scones, the other with biscuits. A bowl of flowers and linen napkins complete this afternoon tea ensemble.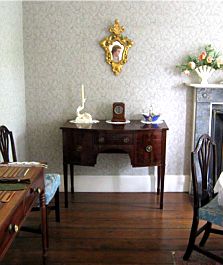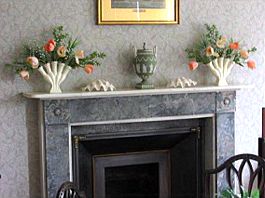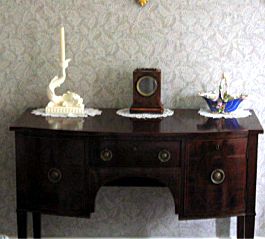 Between the tea table and the large sash window is a delightful French settee and other items of furniture in this pretty room include a small mahogany sideboard, desk and set of mahogany shield back eighteenth century chairs, c1780. A grey marble fire surround is decorated with Creamware tulip vases and reproduction green jasperware Wedgwood vase. On the sideboard is a blue Coalbrookdale china basket, decorated with moulded and painted flowers. This is typical of the decorative china baskets produced in the area in the nineteenth century.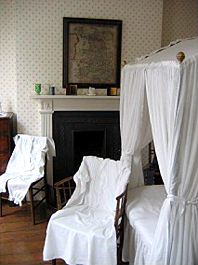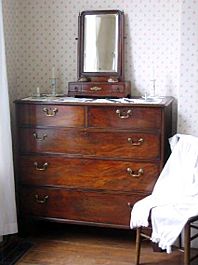 On the opposite side of the landing to the parlour is a bedroom. This has been decorated and furnished as if it were occupied by Richard's youngest daughter, Rebecca who was born in 1832. An iron bed is of the type that was available in c1835, but is a later reproduction. It is covered in white bed coverings and white bed clothes are dotted around the room.
A simple mahogany chest of drawers sits next to the fireplace, this having three straight long drawers and two short drawers, each with loop drop handles. On this chest is a swing dressing table mirror with a drawer in its base.
From the Bedroom, you enter the back part of the house which is home to the Display rooms, filled with family items, including a selection of wonderful porcelain, including items made by Caughley, Worcester, Flight & Barr Worcester and also the botanical dessert service made at Swansea's factory. A few of the pieces on display are shown below, including Caughley blue and white wares, Flight and Barr Worcester orange and gilt bordered teaset and polychrome decorated Caughley wares.
Caughley blue and white leaf shaped pickle dish c1785; Pagoda pattern coffee can and saucer; Asparagus server decorated with the fisherman (or pleasure boat pattern as it was known by in the eighteenth century).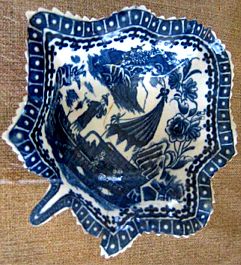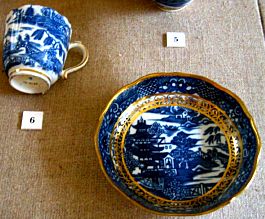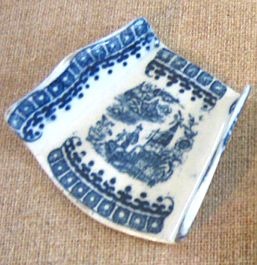 Caughley Polychrome tea bowl and saucer, beautifully decorated with colourful flower sprays with blue and gilt lined decoration. Also, two items from a Flight and Barr teaset, decorated with and orange and gilt band border.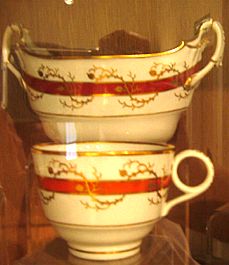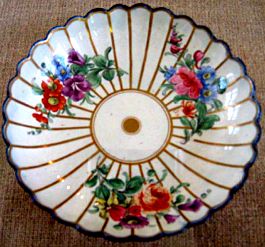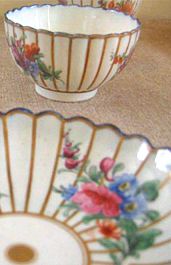 Parts of the exquisitely decorated Swansea botanical dessert service. each of these crisp white items are decorated with detailed paintings of individual botanical specimens, such as shown here, the Hellebores and Iris.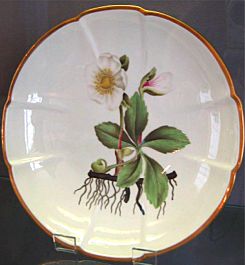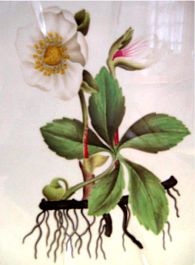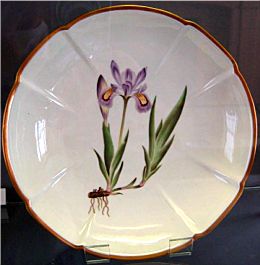 Finally, descending a back stair case, you find your self in the kitchen of the house. This was originally in a room behind the dining room, but when the house was altered, it was moved to the extension out the back of the house. It is typical of a kitchen of the mid nineteenth century. A large black cast iron range used for all the cooking and the heating of the water used for hot water around the kitchen and for afternoon tea. A massive work table stands in the middle of the kitchen. On this is a sugar cone on a circular marble base with sugar clippers next to it. The sugar would be clipped into small lumps ready to be served at the afternoon tea table. Above the table is a ganoo, an early clothes drier.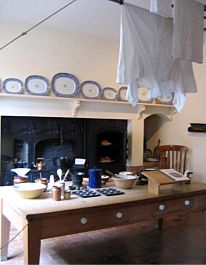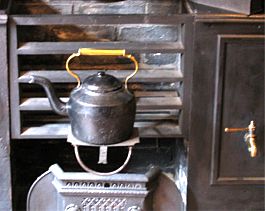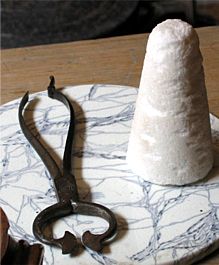 That concludes a visit to what I consider a delightful period house, not only very well presented as a museum, but also an important house in the industrial success of this country and which had wide reaching world consequences with the development of cast iron. Please check on opening times of the Darby houses, as they are only open during the summer season, whereas the Museum of Iron is open all year.

Darby Houses and Museum of Iron
Coalbrookdale
Ironbridge
Shropshire

England
Tel: 01952 884 391 (tourist information)
Website: http://www.ironbridge.org.uk
Click here for Local Map
Map courtesy of www.streetmap.co.uk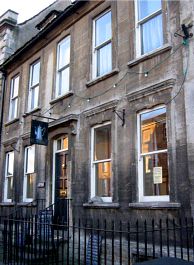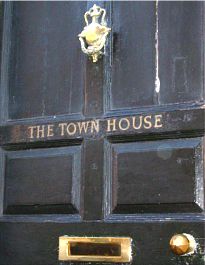 I have recently discovered an amazing Coffee Room that not only serves coffee, tea and wonderful homemade food, but is an eighteenth century experience! The Coffee Room is housed in a delightful early eighteenth century town house just a short walk over the bridge from the centre of the town. It is built of bath stone, with symmetrical frontage about an old wooden front door, painted in dark brown with 'The Town House' written on it in gold painted letters.

The only indication of this house being a Coffee Room, is a sign hanging above the entrance on which is painted an old pewter coffee pot and a chalk board by the door proclaiming it to be so.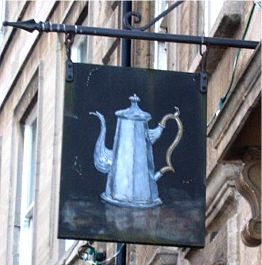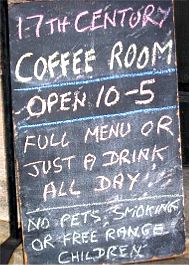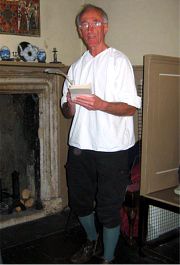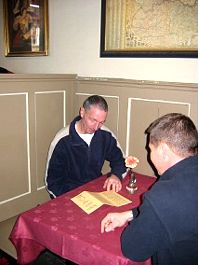 Inside, the Coffee Room is run by the friendly, if not slightly eccentric Mr Salvat himself. From here the atmosphere of an eighteenth century Coffee Room begins, as you are greeted by Mr Salvet wearing simple eighteenth century style breaches, knee length stockings with buckled shoes and white smock shirt. He ushers you into a small room, rather like an eighteenth century parlour, in which are arranged several tables and benches with high panelled backs which match the wainscoted panelling round the room, which is origin. At the far end of this atmospheric room is a fire blazing in an open stone fireplace, this again, original from the early eighteenth century. There are bare painted original floorboard and Georgian panelled door.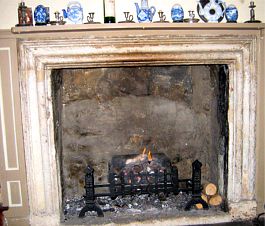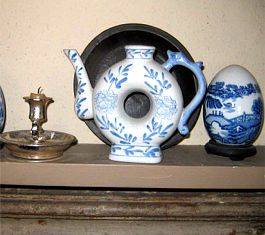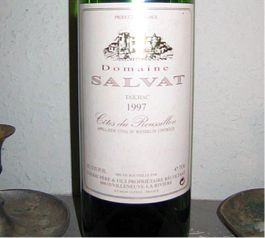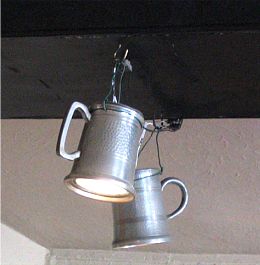 Displayed on the stone mantle piece are a selection of blue and white porcelain and chamber candlesticks. There is also an empty wine bottle that on the label has the same name as Mr Salvat.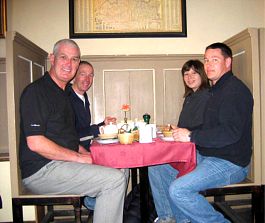 Seated at my table, I notice an ingenious method of lighting the room. Mr Salvat has used old pewter tankards of eighteenth century style, except they have glass bases and used to house the light bulbs rather like spot lights. These hang from the wooden ceiling beams, as tankards may have done in the period. Also, concealed in the ceiling are sound speakers through which beautiful eighteenth century harpsichord music is played to sooth you through your coffee and tea etc.
The menu has a choice of home-made cakes, cream tea as well as a selection of savoury fare.
When Mr Salvat came to take the order, he appeared with a quill pen and folded note paper, another very nice little attention to eighteenth century detail. I chose to have one of his home-baked scones, cream and jam together with a pot of his own blend of loose leaf tea - 'Mr Salvat's own blend'. He scribed my order with his quill and disappeared to the kitchen on the opposite side of the hallway.
Mr Salvat's menu, has on the back, some information about the history of the building, Roman Bradford and the history of Coffee. This made for interesting reading while I waited the arrival of my food and tea. Rather amusingly, there is also a passage written about the owner, Mr Salvat - 'The earliest origins of the proprietor are uncertain, but carbon dating puts him in the last century. Originally a scientist from London, it is rumoured he's a contemporary of Sir Isaac Newton. Later and antiquarian & tour guide, he now employs local serfs in his business. Give them sympathy'.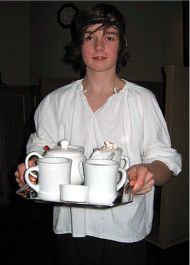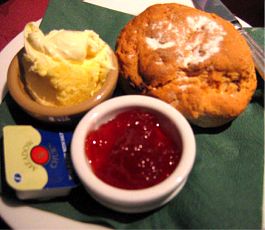 The local serfs mentioned, are very young members of staff, also dressed in the same manner as Mr Salvat and offer you good, friendly service, with a smile. The serf who kindly brought my order was named 'River'.
The food of this establishment is both excellent quality and value. My fresh baked scone, was lightly fruited and had a nice crispy outer with light textured inner, absolutely delicious with the thick clotted cream and jam.
Mr Salvat's blend of loose leaf tea was the perfect accompaniment to the cream tea. He uses thick white china mugs for the tea, rather echoing the shape of the old fashioned pewter tankards. After enjoying this, he kindly invited me to try his latest cake creation - Ginger cake with fresh ginger. This too was most excellent, the sticky sweet ginger cake was offset beautifully with the sharp lemon icing.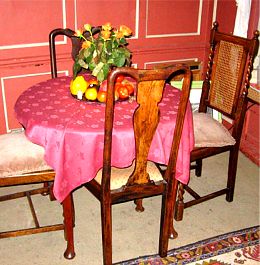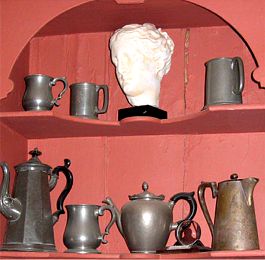 Before leaving, I noticed in the kitchen room, there was an original parlour niche in which were displayed some old pewter wares including teapots, tankards and a coffee pot which looked remarkably like the one painted on his sign outside!
This has to be one of the best tea time experiences that I have, not just excellent tea, food and service, but for its flavour of the eighteenth century and times long past. I hope that if ever you find yourself in this past of the country, that you are able to give it a try for yourself. One important thing to note, is that Mr Salvat's Coffee Room is only open Thursday to Sunday inclusive, from 10-5.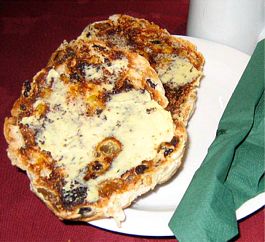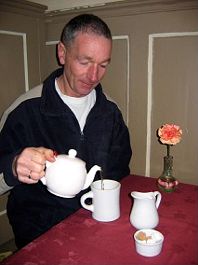 I was so impressed with this tea, that I had a long walk round the countryside in the area to walk down the cream tea so I could return once more to indulge this time in a large toasted teacake, served with lashings of butter.
Mr Salvat's Coffee Room, c1700
'The Town House'
44, St Margaret's Street
Bradford-upon-Avon
BA15 1DE
Tel: +44 (0) 1225 867474

Click here for Local Map
Map courtesy of www.streetmap.co.uk
---
To review past newsletters, just follow this link: Past newsletters.
To subscribe to this free newsletter - Click here
---
All information contained within any article on this website was considered to be accurate (as far as can be ascertained) at the time of writing. TeaAntiques.com Limited makes no warranty and accepts no liability regarding the accuracy of the content.
Copyright © 2000 - 2023 All rights reserved
TeaAntiques.com Limited. Company Incorporated in England No.: 5086843