Tea Clipper

from TeaAntiques.com

Edition

Sixty Five
Featured Antique - Worcester Globular Teapot & Cover With Flower Finial, Beautiful Polychrome Floral Decoration, c1770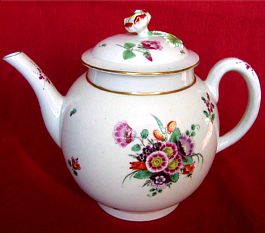 My Featured Antique is this attractive and rare Worcester teapot, complete with its original cover, beautifully decorated with 'polychrome' flowers, c1770.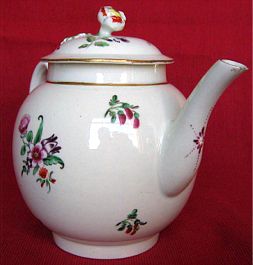 This very elegant teapot is of a large 'globular' shape and of excellent proportions. It is made of soft-paste porcelain and is typical of the shape popular at the end of the eighteenth century.
The smooth body of this beautiful teapot is delightfully decorated with a very pretty flower bouquet on either side and single flower sprigs spaced around these bouquets. These floral decorations are exquisitely painted by hand and of striking colours.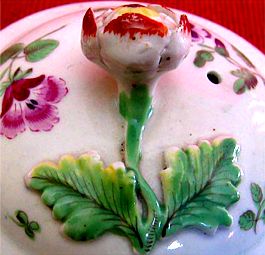 The decoration on the domed shaped lid of the teapot continues the same theme as that of the teapot's body decoration, with two separate main flower sprigs with smaller ones dotted between them. The finial of the lid is of a moulded open flower, rather in the shape of a buttercup and having a curved stem and leaves moulded onto the lid. This charming flower finial has orange-edged petals and yellow embellished stamens in the centre of the flower. The leaves and stem of the flower finial are painted in green with fine black line embellishments to the leaves. This most charming finial to the lid of the pot adds such elegance to the teapot.
More details of this item and other tea related antiques can be found by visiting my web site at www.TeaAntiques.com.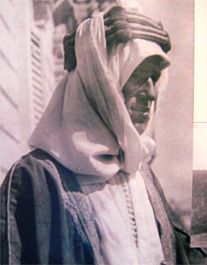 Born on 16th August 1888, Thomas Edward Lawrence was to grow up into a legend as 'Lawrence of Arabia'. He gained a First Class Honours Degree in modern history at Oxford in 1910. As part of his interest and studying, he had visited the Middle East to research his thesis on the architecture of the Crusader Castles. This keen interest in the Middle east and travel took him to Syria in 1911 to join the British Museum's excavations there of the Hittite city of Carchemish. Here he remained as an archaeologist until 1915 and the outbreak of World War I. He was then posted to the British Military Intelligence office in Cairo, Egypt.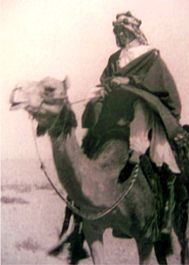 During his time there, he became somewhat of an expert in the Arab provinces of the Turkish Empire. It was he who sought to promote schemes for a rebellion. In 1916, the Emir of Mecca took up arms against the Turks, which started the Arab Revolt. Travelling to Hejaz, Lawrence set forth on an intelligence gathering mission to find ways to offer effective support. His successes in this led him to have a long term liaison post with the Arab leaders. From this, he was later to be instrumental in the campaigns which resulted in the capture of Damascus in 1918. Returning to England, he was personally committed to the long political campaign for Arab self-determination. He believed that one of his own personal triumphs was the political settlement reached at the Cairo conference in 1922. As advisor to Winston Churchill, then Secretary of state for the Colonies, he was successful in arguing for self government in both Iraq and Jordan. His works took their toll on Lawrence who after writing his book 'Seven Pillars of Wisdom', an account of his experiences during the Arab campaigns, he was drained and on the verge of having a nervous breakdown.
In 1922, he resigned from the Colonial Office and enlists with the RAF under the name 'John Hume Ross'. Then in 1923, he resigned from the RAF and joined the Tank Corps at Bovington, Dorset, under the name T.E. Shaw. His routine life in the Tank Corps allowed him time to continue his ambition of writing.
Lawrence rented the small house at Clouds Hill as a nearby retreat in which he could work on his book Seven Pillars, which he produced as 100 lavishly illustrated copies, printed on hand-made paper. He took on the responsibility of every aspect of the book's production.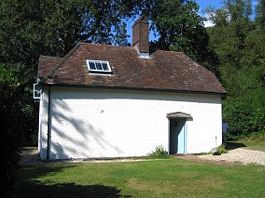 Built in 1808, Clouds Hill cottage was half ruined when Lawrence took it over and had for many years only been used by passing tramps. He made it water tight and then to fund its restoration, he sold a gold dagger which had been made for him during the Mecca war. As part of the changes to the cottage, he moved a partition wall on the first floor and put in a large window. This gave him the perfect room in which to work on his book in good light.
His later work on Clouds Hill's decoration and re-modelling created a home that was a cross between a tiny bungalow his parent had built for him in their garden in Oxford and the archaeologist's house at Carchemish. For Lawrence, Clouds Hill was a place to write, read and listen to music.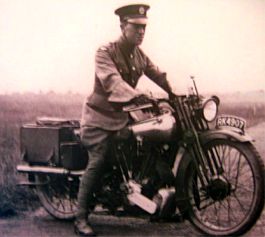 In 1925, he is transferred to RAF Cranwell. He then bought a fifth Brough superior motorcycle 'Boanerges'. Then in 1926 he is posted to India, where he writes 'The Mint' before returning to England in 1929 and completes the purchase of Clouds Hill. During 1930 he works on high-speed seaplane tenders, followed by the supervising of the over haul of fast-target boats.
Lawrence was discharged from the RAF in 1935 and on 13th May he crashes on his bike on his way from Bovington camp to Clouds Hill. Without regaining consciousness, he died in hospital on 19th May 1935. Subsequently, Clouds Hill was presented to the National Trust by his brother.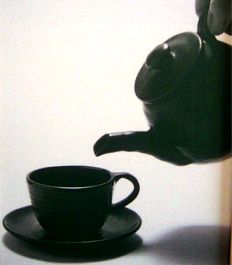 During his life, Laurence did not serve alcohol at Clouds Hill to his guests, amongst whom were ex-RAF colleagues and famous writers of the day. Instead, he would serve them tea from a teaset of his own design. He threw the first cup and saucer at his local pottery, Sibley pottery, Wareham, they then copied it to make a complete teaset for him. A replica of this very set is displayed at Clouds Hill today. The thickly potted pieces are covered in a thick, dark lustre glaze. Not the type of teaset designed for that delicate afternoon tea, but one that fitted the odd lifestyle of Laurence and his home.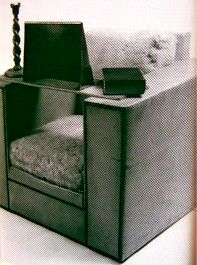 Laurence was a clever designer of many things around his cottage. This included a special reading chair, which he had in his book room. During daylight hours Lawrence would read his books laying on his bed, with light coming through the window behind the bed. However, in the dark, he would sit at his special reading chair. This had a leather covered wooden frame and had a sheep's fleece seat and back cushions for comfort. The wide flat arms provided room for two candles with plenty of room for his cup of tea. Also, a tray shelf could be placed across the arms and a reading stand placed for his book.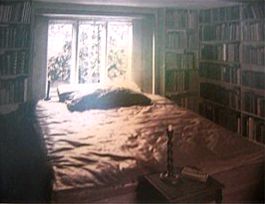 The book room also served as his bedroom. The bed, to Lawrence's design, is a wide low leather covered bed which backed against a three mullioned window for light. This room had previously been a kitchen, but Lawrence felt that he did not need a kitchen at Clouds Hill. He preferred to eat at a Café in Bovington or to eat from prepared tinned food. Shelves around this room contained books of English prose and poetry amongst other fine books, many by contemporary writers. There were also books written in Greek, Latin and French - all languages that Lawrence could read. There many were books personally inscribed to him by the authors, including Winston Churchill, Thomas Hardy, Bernard Shaw and H.G. Wells to name but a few.
Above the book room, on the first floor is the Music Room. It was here that Lawrence would burn a log fire and pass afternoons reading and listening to music. In one corner of the room stands a wind up gramophone with an enormous sound trumpet. In this room Lawrence would offer his guests tea or maybe to join him for a tinned food dinner, eaten upon the specially low fire mantle piece.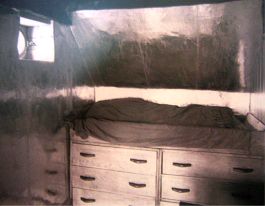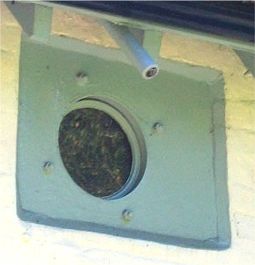 At the other end of the cottage to the music room, was what is known as the Bunk Room. This room had only been decorated in the last few weeks of Lawrence's life at Clouds Hill in 1935. With very little in the way of storage space in the tiny cottage, he made a bunk-bed with storage drawers underneath. In order to provide damp proof walls, he lined them with an aluminium foil. Then just days before he was killed by his motorcycle crash, he fitted the porthole window above the bed to allow extra ventilation in the room. This is a real ship's porthole taken from HMS Tiger which was in the breakers yard.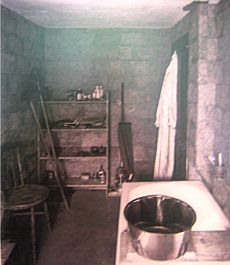 Below the Bunk Room on the ground floor was the bathroom. Lawrence enjoyed taking a good hot bath and he saw the hot water system at Clouds Hill as one of the most important benefits made from the profit of his books. Today it appears much as it did in a black and white picture of it, with cork tiles stuck on the wall and a large steel shaving bowl on a wooden shelf across the bath.

This tranquil cottage is set in a naturalistic surrounding with a hill to one side, this covered with pine trees, rhododendrons and purple heathers. From the hill one gains a view over this delightful cottage which had provided Lawrence of Arabia a perfect home in which to live and write his books. One can still sense his presence when visiting this place today.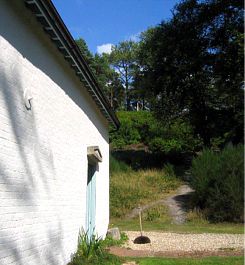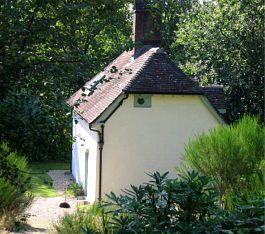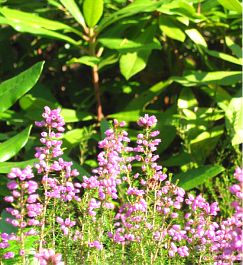 Clouds Hill
Wareham
Dorset
BH20 7NQ
Tel: 01929 405616
Website: Click Here
Click here for Local Map
Map courtesy of www.streetmap.co.uk
Postscript to the above article
Recently, I received more information about TE Lawrence from one of Elizabeth Faulkner, née Hoggett. It is a fascinating tea-related story; I have been given permission to publish it. The text below is Elizabeth's account of the story.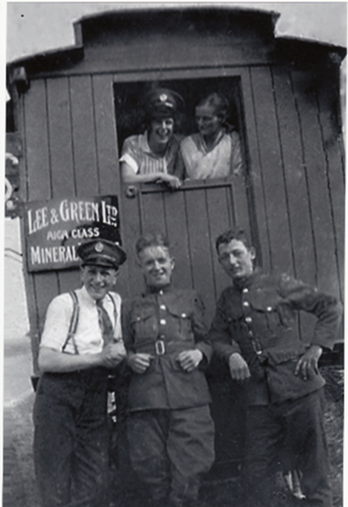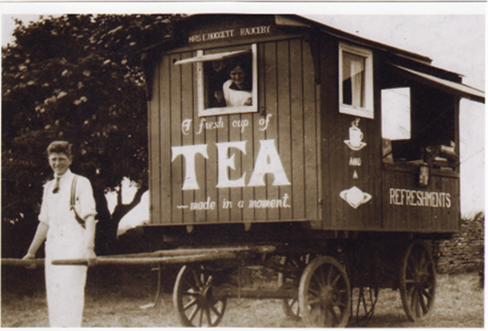 The first picture is of A/C [Aircraftman] Shaw aka Lawrence of Arabia [in the centre] whilst serving in the RAF at Cranwell. It is taken at Lizzie Hoggett's tea cart. Standing next to him is Lizzie's son Jack. Lizzie and her daughter Jess are looking out of the hatch. Unfortunately the name of the other serviceman is not known.
The second picture shows Lizzie Hoggett being pulled along in her tea cart by her son Jack whilst at Cranwell.
Lizzie Hoggett was my Nan, Jack my Dad and Jess my Aunt.
RAF Cranwell have confirmed that the airman in the middle of Picture 1 without a hat is in fact A/c T.E. Shaw, aka T.E. Lawrence.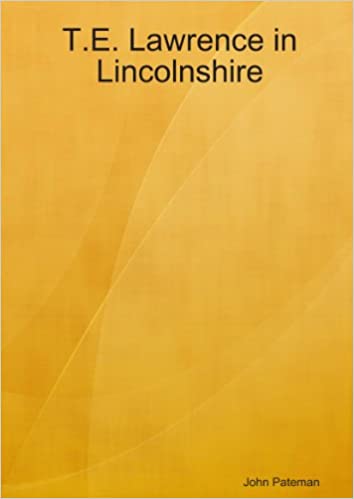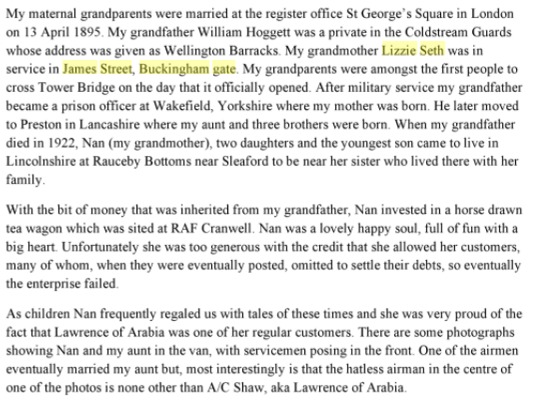 On the right is the text of a letter sent to RAF Cranwell- it is contained within the book "T E Lawrence in Lincolnshire" by John
The letter was the one sent to RAF Cranwell by my cousin Vic Harrod (Jess's son) who after receiving it invited Vic to the RAF College, where he spent a very enjoyable afternoon in the library, where there is a special section dedicated to Lawrence.
They also gave him a guided tour of the college.
Because of your interest in tea and your article on Lawrence of Arabia I just thought you might be interested.
Once again thank you for replying and I send you my kindest regards.
Elizabeth Faulkner (née Hoggett).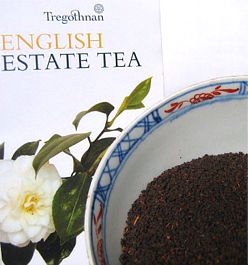 Is it possible that here in England we can grow our own tea? A few years ago, I reported that tea plants (Camellia Sinensis) were being grown at the Eden Project gardens in Cornwall. Well further to that, I can now report that there is an estate in Cornwall that is now producing and selling its own grown tea!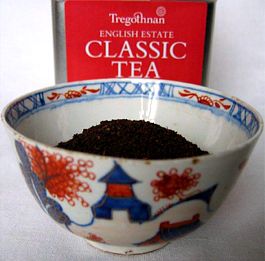 The Tregothnan garden near Truro have, after seven years of trials, established a tea plantation. The private estate, which employs a team of gardeners, has been been growing all kinds of rare plants and trees, including Magnolias and varieties of camellias. Indeed, they were the first garden in England to grow ornamental Camellias out doors over 200 years ago! It has been found that the tea plant does well on the estate and now they produce a relatively small amount of high quality tea for sale, available from specialist outlets.
The Tregothnan tea is plucked from the tips of the bushes between April and October. Harvesting (or 'plucking') the tea involves taking the top two leaves and centre bud, repeated monthly during the growing season. It is these tip leaves that hold the best flavour and softness to create the perfect cup of tea.
To maintain the same flavour for a brand of tea, they are usually a complex blend of different estate teas, as the quality from one estate can vary. A typical brand of tea may have around 30 different estate teas within it to maintain its reliable taste and quality.
The Tregothnan estate offers several teas. They have their 'Classic Tea', which I have tried and rather enjoyed; Afternoon Tea; Green Tea and Single estate (as a limited edition).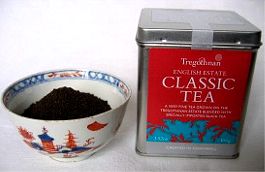 I was fortunate to have been given a gift of a tin of the Classic Tea, from Asako Stewart, of Infuse tea, a lover and expert of teas. I was very pleased with the results of making a pot of this tea for afternoon tea, had with a home-made chocolate sponge cake, filled with gooseberry jam and topped with dark chocolate. I was a bit worried that this tea might be a bit delicate in its nature to be suitable with this rich cake. However, I was pleased to find that the Classic Tea had a very deep, bright colour, with a complex and quite intense flavour. It coped admirably with the chocolate cake, and actually complimented it well.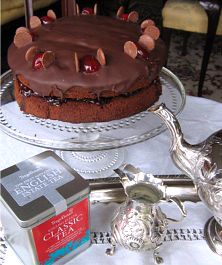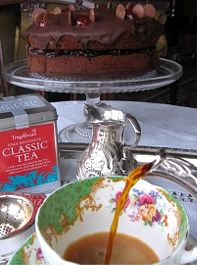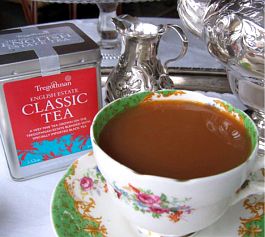 The Classic Tea is a blend of the finest quality Assam and China type leaf teas with the home grown Tregothnan tea leaves. In my opinion, this is a relatively strong flavoured tea, that could be enjoyed at any time of the day, but would be most perfect as that early morning cuppa, when a stronger cup is often preferred.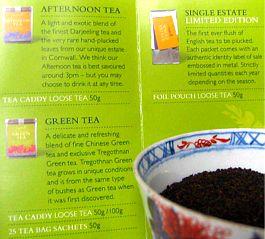 For the afternoon tea, Tregothnan have produced an Afternoon Tea which has the best Darjeeling tea blended with their own estate tea, giving a tea with a lighter colour and flavour ideal to accompany sandwiches and cakes mid-afternoon.
Green Tea is also available from the Tregothnan estate; this a blend of Chinese green tea with their estate's own green tea. For green tea production the fermentation stage of the tea production is left out.
Finally, for the connoisseur of tea, there is their Single estate Tea - a limited edition. This tea is from the first ever flush of English tea to be plucked from their estate tea bushes and is packed with an authentic identity label. there are very limited amounts of this tea produced each year, so it is expensive.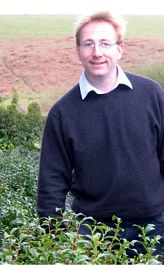 If you would like to find out more about this fascinating tea plantation at Tregothnan, then visit their web site, which also allows you to buy on line at www.tregothnantea.com.
At the end of March, I was fortunate enough to be able to visit the Tregothnan estate and was delighted to be given a tour of the estate by Jonathan Jones, the Head Gardener, (Garden Director, pictured right), who was responsible for spearheading the tea growing venture. In next month's Tea Clipper you can read about my visit to the estate and my review of the tea plantation.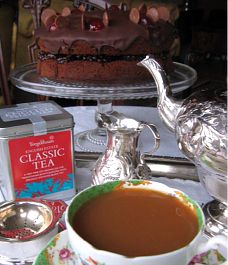 Tregothnan Estate
Tregothnan
Truro
Cornwall, TR2 4AN
Tel: 0800 970 1674
Website: http://www.tregothnantea.com


Click here for Local Map
Map courtesy of www.streetmap.co.uk
---
To review past newsletters, just follow this link: Past newsletters.
To subscribe to this free newsletter - Click here
---
All information contained within any article on this website was considered to be accurate (as far as can be ascertained) at the time of writing. TeaAntiques.com Limited makes no warranty and accepts no liability regarding the accuracy of the content.
Copyright © 2000 - 2023 All rights reserved
TeaAntiques.com Limited. Company Incorporated in England No.: 5086843