Tea Clipper

from TeaAntiques.com

Edition

Seventy
Featured Antique-Spode oval Cream Jug, moulded body, hand painted with figures in a landscape with castle and ruins, Pattern'1926', c1810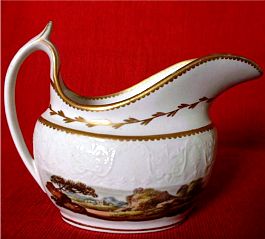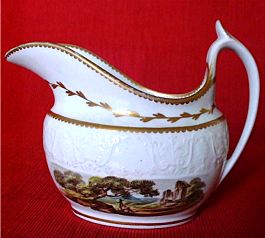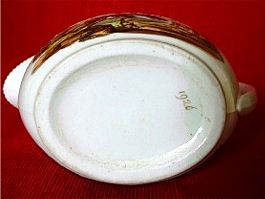 A very attractive oval Spode creamer, hand painted on both sides with rural figural and castle scenes, c1810.
The oval body is beautifully shaped with an elegant pouring lip and perfectly balanced loop handle. The body has applied moulded decoration around the upper portion of its body. This moulded decoration is in the form of foliate swags.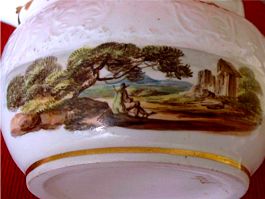 Below the moulded border are exquisite hand painted scenes on each side of the creamer jug. The scene on the left hand side of the jug is of a gentleman sat upon a rock under the shade of a shapely tree. He is gazing out towards a ruined castle or abbey building in a rolling landscape of hills and trees. It is a most charming scene that is beautifully painted in full colour.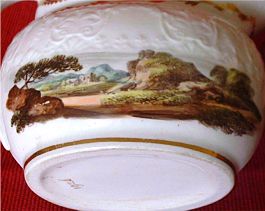 The right hand side of the creamer jug is painted with a similar scene, but this time it shows a stunning English landscape that is rocky with hills, trees and in the middle distance a castle. The colours and perspective of these paintings is very fine indeed.
The base of the creamer jug is painted with the pattern number 1926 in gilt numerals. Although there are no manufacturer's marks, this creamer jug is attributed to the Spode factory.
More details of this item and other tea related antiques can be found by visiting my web site at www.TeaAntiques.com.
The very 'ruin' of tea!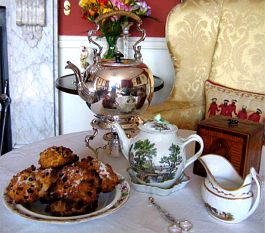 In the eighteenth century, it was an essential part of a young Gentleman's education to spend up to five years embarking on the 'Grand Tour' of Europe - improving the education and mind. The Grand Tour would take the young traveller across the English Channel to France and from there on down through France to Italy, returning via Switzerland; Germany; Austria and the Netherlands.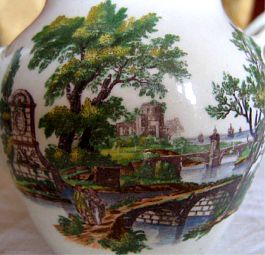 This educational tour gave the traveller views of great cities such as Rome, Florence and Naples during which time an appreciation of buildings and art treasures could be amassed. Architectural study would give him a view on the ways of Classical design so expertly conducted under the eyes of the ancient Romans. They could enjoy and marvel at such wonders as the ancient Coliseum in Rome, other Roman ruins and the gracious villas to the design of Palladio, from whom originated our Palladian architectural designs for English houses. The ruinous buildings they encountered were regarded as being romantic in nature, set within a perfect landscape, something they would be eager to recreate in their grand English gardens back home thus creating the latest fashion for classical landscaped gardens. These, the perfect setting for l'amour between the sexes.
As with modern day travellers, the eighteenth century tourist returned home with his souvenirs collected along the way, only these would not have been the cheap postcards and tourist tat that we seem to return with from our holidays today, but with great paintings of the landscapes by artists such as Caneletto or portraits of themselves, often in classical poses by fine artists such as Pompeo Batoni who were much in demand. As well as paintings to furnish the walls of their English houses, they may buy works of ancient art, classical marble statues, busts and columns and fine furniture. Often these were bought specifically to furnish their newly built or altered houses which followed the Palladian or Neo-Classical styles. The idea was very much to show off your knowledge gained from your travels of the arts and architecture to your friends and guests back home.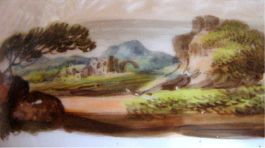 It is then without wonder, that in creating their English houses and landscaped gardens that they were heavily influenced by what they had learned and seen abroad. To this end, the naturalistic landscape garden replaced the formal gardens of the early eighteenth century. No more the symmetrical and neatly laid out flower beds, now it was landscapes filled with classical temples, follies and grottos set around an often serpentine shaped lake. Here the true romance of these gardens could be enjoyed and there was plenty of l'amour going on within them. It was then an obvious step for English porcelain manufacturers to supply the needs of the English Gentry with their growing craze for classical landscape and buildings. Thus they started to decorate many of their finest wares with scenes showing such romantic scenes to remind them of their travels and maybe also to show off and encourage tea table talk on the subject.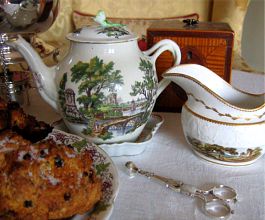 All sorts of tablewares were decorated in such a way, including many tea wares which included teapots, jugs and cups and saucers, painted with scenes of European style landscapes which included ancient ruins of a romantic nature, often including travellers themselves within the scene.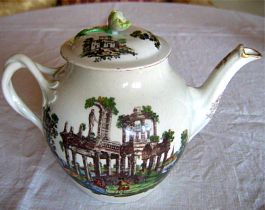 The famous Worcester factory was one such factory to provide such pieces of porcelain to the top end of the market. The newly invented method of printing scenes onto porcelain allowed them to create such beautiful classical scenes, which once printed in black or another colour could then be coloured in by hand. This is illustrated on the tea table shown here by a delightful Worcester teapot, c1765-70. This teapot is of a truncated pear shape, with elegantly entwined handles, low domed cover with flower finial. It is marked on the base with an under glaze blue 'crossed swords' mark with the number '91' between the hilts of the swords - a pseudo Meissen mark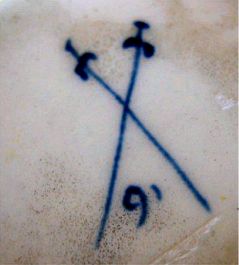 used at the Worcester factory in this period. There is a printed scene on either side of the teapot's body. These scenes would have been coloured in, by relatively unskilled young workers using coloured enamel washes.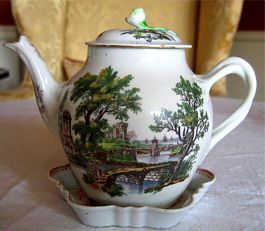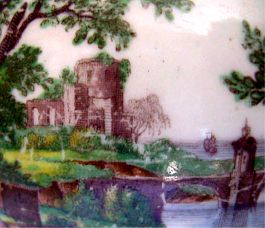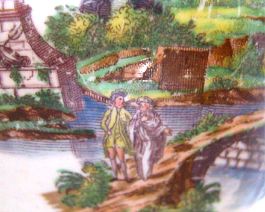 One side of this teapot has a scene depicting two bridges, a ruined building, a rocky landscape with some tees and in the distant tall ships at sea. On the left is a monumental stone fountain. Two people are walking over the bridge in the foreground and are undoubtedly wondering upon the scene in their conversations.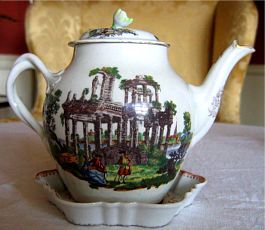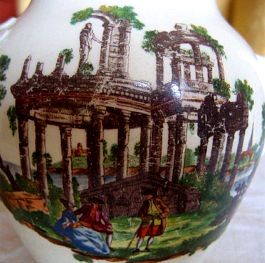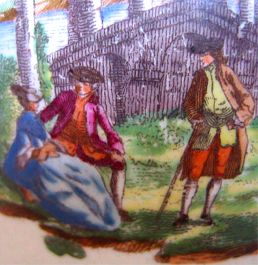 On the other side of the teapot, the scene shows a very large ruined classical building, with magnificent columns and statues positioned precariously on the top of the building. In the foreground are an elegantly dressed young lady and gentleman sat upon some rocks in conversation with a standing gentleman who rests upon his swagger cane.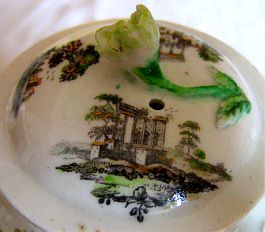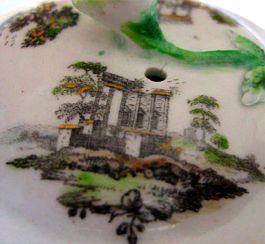 Even the lid of this teapot with its beautiful naturalistic flower finial, is embellished with three minor scenes of buildings and ruins.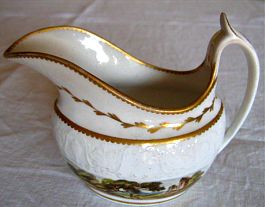 The jug on the tea table illustrated is a Spode example and dates some 40 years after the teapot, c1810.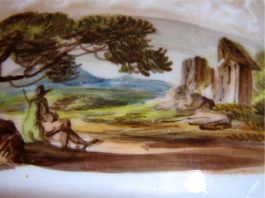 However, like the teapot, it too has a scene painted on each side which depicts a European landscape with ruined buildings as their focal point, these appreciated by the man who sits upon the rocks by a tree.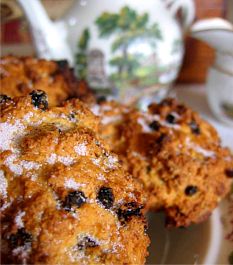 So, the romance of ancient ruins found on the European tours were brought back to the English afternoon tea table to be enjoyed by the Gentry. This legacy of such beautifully decorated porcelain items allows us the collector to enjoy and in some ways to take part in the Grand Tours of the eighteenth century. What more appropriate than to serve for tea some 'rock cakes', these could easily resemble the rocky landscapes and grottos they had seen or later created in their own landscaped gardens back home!
As antique collectors today, we might consider our tour to be one of searching out and collecting such fine pieces of porcelain as these which relate to the Grand Tour of the rich eighteenth century young gentleman.
---
To review past newsletters, just follow this link: Past newsletters.
To subscribe to this free newsletter - Click here
---
All information contained within any article on this website was considered to be accurate (as far as can be ascertained) at the time of writing. TeaAntiques.com Limited makes no warranty and accepts no liability regarding the accuracy of the content.
Copyright © 2000 - 2021 All rights reserved
TeaAntiques.com Limited. Company Incorporated in England No.: 5086843